Played Gay for a Role
Actors and actresses who have played a LGBT character; this article is not meant to bash anyone. This article is only for educational purposes.

What is "Gay For Pay"? Gay for pay is when male or female actors, pornographic stars, or sex workers who identify as heterosexual are paid to act or perform as homosexual professionally. The term has also applied to other professions, and even companies trying to appeal to a gay demographic. Gay for pay also has another term called "Pink face," the term is very similar to black face and yellow face.
Why do people [Hollywood] do this? I'mnot gonna lie, I couldn't just find a single answer for it. Many people of the LGBT community have expressed their concerns that Hollywood is "straight washing" films and tv shows, to make them more "palatable" for straight audiences. Also the biggest complaint that I read, was that it takes away the chance for an equally talented LGBT actor/actress to play a character, that is given to a hetrosexual actor/actress. And many straight actors win awards for those roles. Yes I know that these people are actors and they get paid a lot of money to make characters come alive from page to screen. But it still hurts to know that person was "acting," and you really didn't see a representation of yourself on and off screen.
Is there a bright side to this subject at all? In a way, yes. Many celebs who take these roles do appreciate the fact that they get to play these roles, and hope to make the community proud. A lot of the time, fans come up to these celebs and talk to them about how the portrayal of a character helped them come out to their parents, friends, family, etc.
Darren Criss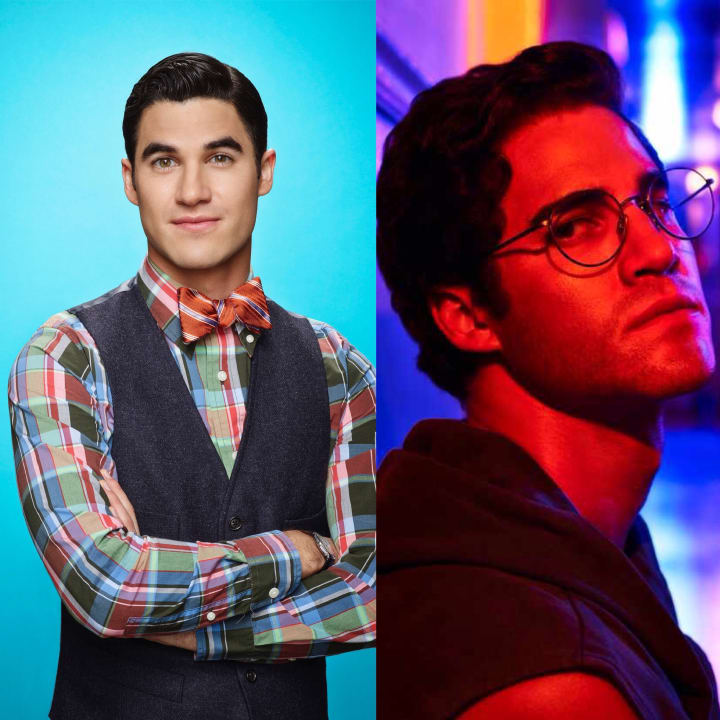 Darren Criss played Blaine Anderson on the hit show Glee. Blaine Anderson was a new character, introduced during the second season of the show. Blaine is the leader of the Dalton Academy Warblers. Throughout the show, Blaine and Kurt become one of the shows main couples. "This is the first time I'd really seen an out student that was so young and innocent, and really struggling with the big ordeal that it is to be an out student at such an early age. When other shows present the gay character thing, it's typically been in much more adult situations, like gay men living in New York or closeted men, who are married and struggling with that ordeal, or having sex on the subway, but never really the core of the journey of defining your sexuality. Blaine offers a beautiful counter to that and makes such a great addition to the many-colored palette that is Glee." Darren grew up in the gay community and theatre, and knows about how touchy that combo is. On Ellen he explained, "As an actor, your objective is always to play the scene. And this in case, he happens to be a gay teen."
Darren played Andrew Cunanan, a gay spree murder on The Assassination of Gianni Versace: American Crime Story. Darren's role is actually based off of Andrew Philip Cunanan, the serial killer who shot Gianni Versace. Darren read many reports, articles and books on Andrew Cunanan to get into the mindset of the murder. Darren won an Emmy, a Screen Actors Guild award, and a Golden Globe award for his role.
In December of 2018, Darren said that he will not play gay characters. In the interview with Bustle, he said "There are certain [queer] roles that I'll see that are just wonderful," he explained, "but I want to make sure I won't be another straight boy taking a gay man's role."
Nick Robinson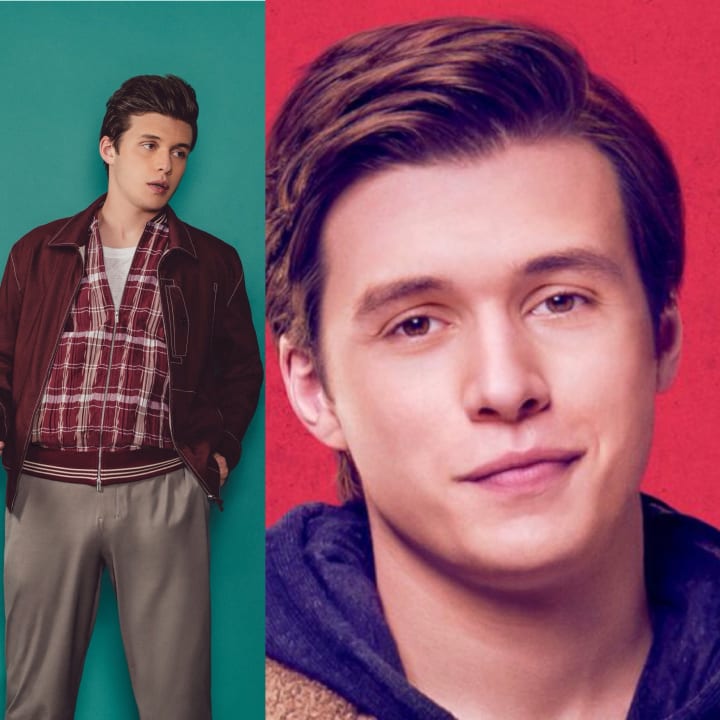 Nick Robinson may be young, but his resemè is filled with credits, such as Jurassic World and Everything, Everything. Nick played the main role of Simon in the movie Love, Simon, based off the book Simon vs. the Homo Sapiens Agenda, written by Becky Albertalli. Love, Simon follows the story of Simon Spier, a closeted gay high school boy, who is forced to come out, after a blackmailer discovers Simon's private emails to another student, who is also in the closet. In an interview with GQ, he was asked if there was any hesitation upon taking the role because of the arguments that gay actors should play gay roles, to which replied, "It was a concern of mine. Initially I thought that maybe making this movie was not my place. But in speaking with Greg (co writer of the film), he was very adamant that I was right for this role, so I just had to trust in him and believe in his vision. I think that now is a better time than ever to be not just playing a gay part, but just in general to be playing parts that are outside of your experience or comfort zone. I know it didn't have bad intentions at all. I really just had to trust in Greg's vision for this thing based off of his experience and what he had to say."
Cate Blanchette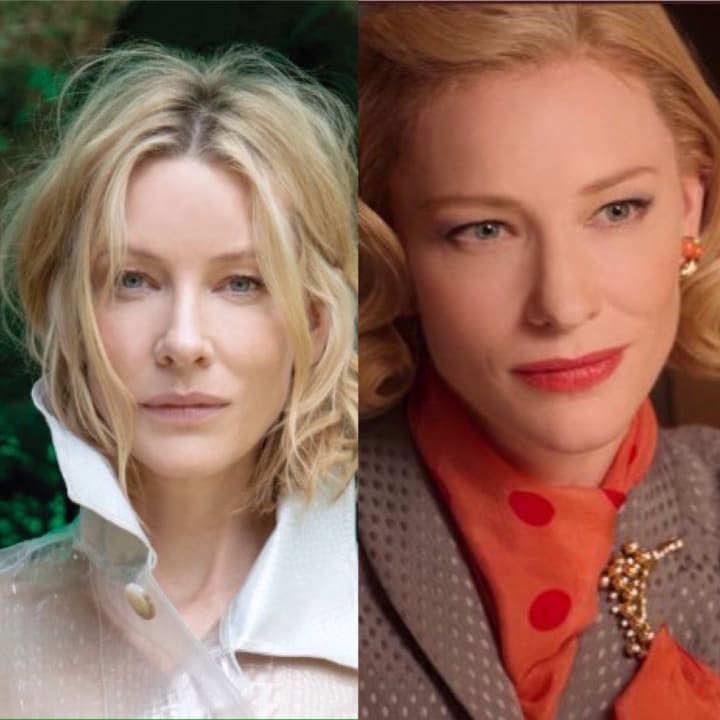 The book The Price of Salt, written by Patricia Highsmith, and then made into a movie in 2015. Except it was renamed Carol. Cate Blancette played the title role of Carol, who is a woman going through a divorce and having a forbidden love affair with another women in the 1950s. This film got a lot of press, about not being included for best director and best motion picture for the academy awards. When Cate Blancette was asked about the hype about playing a LGBT role and the Oscar snub she replied, "Art is supposed to be a provocation, not an education. In 2015, the point should be: Who cares if I had lesbian relationships or not? Call me old-fashioned, but I've always thought that my job as an actor was to raise and expand the audience's sense of the universe."
Tom Hanks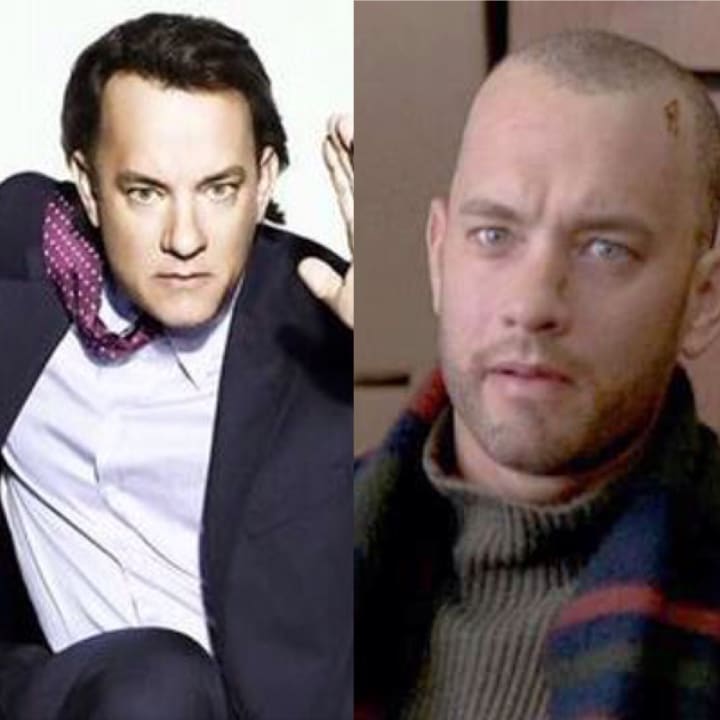 The voice behind the cowboy Woody, played Andrew Beckett, a in the closet lawyer, who is hiding his HIV status, who is suing his former firm for discrimination, after a co worker noticed his telltale lesions and he got fired. The film Philadelphia is considered to be the first mainstream Hollywood films to acknowledge HIV/AIDS, homophobia and homosexuality. The 1993 film ended up with many nominations, and Tom Hanks ended up winning both the golden globe and academy award for best actor in a feature film. During his speech he did mention those who died from the virus: "I know that my work, in this case, is magnified by the fact that the streets of heaven are too crowded with angels. We know their names. They number a thousand for each one of the red ribbons that we wear here tonight. They finally rest in the warm embrace of the gracious creator of us all. A healing embrace that cools their fevers, that clears their skin, and allows their eyes to see the simple, self-evident, common sense truth that is made manifest by the benevolent creator of us all, and was written down on paper by wise men, tolerant men, in the city of Philadelphia two hundred years ago. God bless you all. God have mercy on us all. And God bless America."
Daniel Radcliffe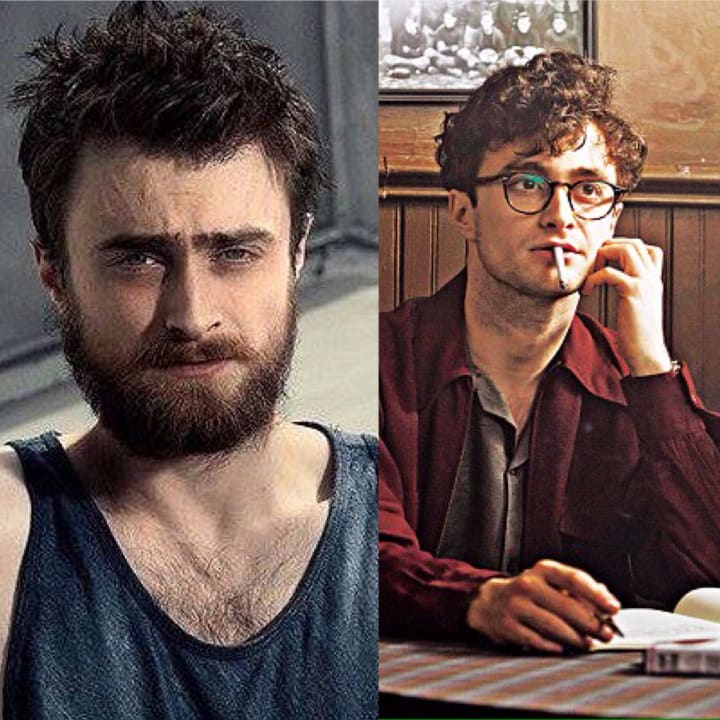 Yep, Harry Potter star Daniel Radcliffe played a gay role in the biopic drama Kill your Darlings. He played Allen Ginsberg, a poet going into his freshman year at Columbia University, in the 1940s. Ginsberg gets into to a bit of trouble, and ends up becoming one of the lead writers of the Beat Generation, literary movement post World War 2, that involves experimentation with psychedelic drugs, and sexual liberation and exploration. In the film, Ginsberg loses his virginity, in an interview with the huff post, he commented on the process of getting ready to film that scene: "I don't think there's any difference between how one falls in love. People express love differently, person to person, but it's not gender or sexuality related. The only difference it made was obviously the actual sex scene, of course… I was talked through it by the director. He would be telling me what I would be feeling in each take. Basically, gay sex, especially for the first time, is really f**king painful. And [Krokidas] said that he had never seen that portrayed accurately on film before. He wanted it to look like an authentic loss of virginity."
Casey Cott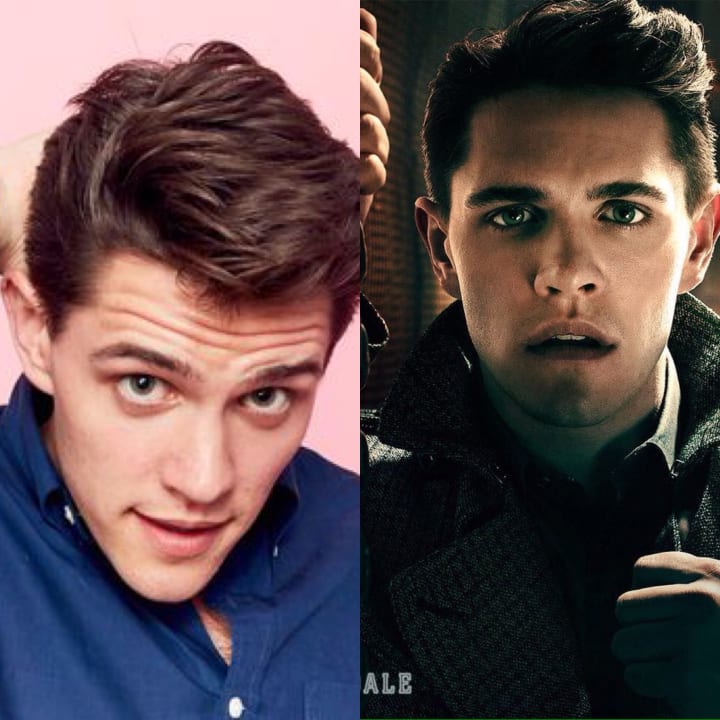 "Archie got hot!", the most iconic line, said by Casey Cott, who plays Riverdale's resident GBF (gay best friend). Casey Cott was studying acting at Carnegie Mellon School of Drama, and auditioned and got the part of Kevin during his senior year of college. Kevin is the first openly gay in the Archie comics universe, both the writers and Casey Cott wanted to make sure that Kevin was not solely defined by the character's sexuality. In an interview Casey stated: "I had a talk with Roberto, our show runner, about this. What's really cool about Kevin is that it's clear he is gay and it's not hidden. It's recognized but it's not who he is. He's an incredibly dense character, and I think it's really important that it's just a part of him. It's just not him. That's what makes playing Kevin such a joy."
Eric Stonestreet
On the Emmy winning show Modern Family, Eric Stonestreet plays Cameron, husband to Mitchell (Jesse Tyler Ferguson) and Dad to Lily (Aubrey Anderson-Emmons). Cameron has a lot of stereotypical gay characteristics, like being overly dramatic at the sight of a spider, love for musical theatre, and the love for the color pink. But as much as a stereotypical gay man Cameron may seem, he was actually a football player, in an episode he dramatically expresses: "Football was my salvation—every time I stepped out on to that field, I wasn't that weird, gay outsider kid anymore. I inspired my entire team, because I had something to prove!" Eric Stonestreet won an Emmy award for best supporting actor in a comedy series. In a interview with the Huffpost, he expressed that he feels "more on the front lines of what it means to stand up for people's equality, I'm just more active in that community and I feel a little bit more responsible for people's words and actions, I was worried from the beginning that I was going to be part of a gay bashing of sorts."
pop culture
About the author
You know I'm just your average femme, Gay, Disney nerd, history nerd, Broadway nerd, Lovatic, hair stylist, make up enthusiast, Gemini sun guy that everyone knows and loves! (Don't forget to share!)
Reader insights
Be the first to share your insights about this piece.
Add your insights