Philip Seymour Hoffman: Remembering an Acting Titan
On the sixth anniversary of the actor's death, we look back on his most notable roles.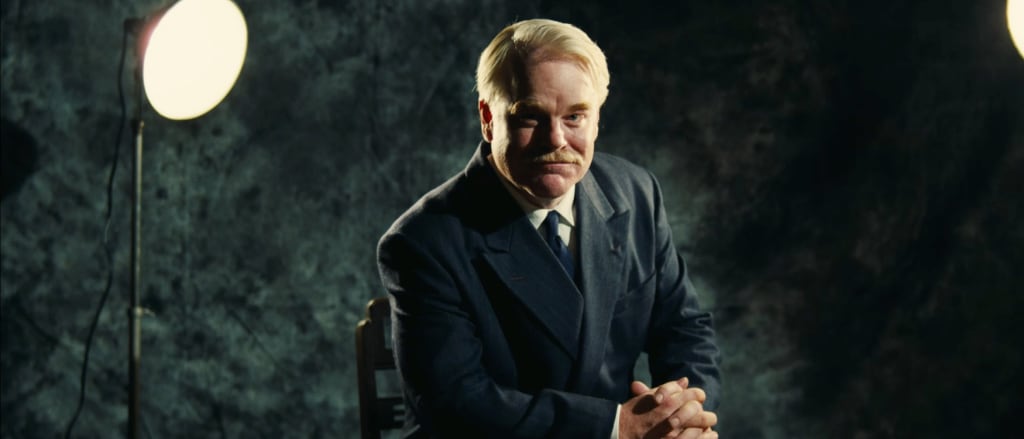 When discussing acting alongside his costar in the 2012 Paul Thomas Anderson masterpiece The Master, Joaquin Phoenix recalled the following:
"In the scene... where Phil is arguing with the fellow who's saying that the Cause is a cult, I saw Phil genuinely shaking with power and energy and things coursing through his body that he couldn't control, because he was putting so much into the scene. I did not want him to look at me, I did not want to make eye contact with him, I tried to stay away from him. I was terrified of him, because he was a f--king volcano."
A sentiment many costars of the late Philip Seymour Hoffman share is that the man was an absolute titan in the craft of acting. Throughout his career spanning over twenty years, Hoffman seemingly never shied away from roles and opportunities that challenged him in every facet of his being.
He earned an Academy Award for Best Actor for his work as novelist Truman Capote in the 2005 biopic Capote, he starred as a priest accused of pedophilia in 2008's Doubt, a womanizer who wonders how the peeping is going in 1999's The Talented Mr. Ripley among a myriad of other performances that exhibited his phenomenal range including Boogie Nights, Scent Of A Woman, Twister, The Big Lebowski, The Ides Of March, Red Dragon, The Savages, A Most Wanted Man and Charlie Wilson's War to name just a few.
On February 2nd, 2014, Hoffman died from a drug overdose in his Manhattan apartment. He was 46 years old. A Most Wanted Man was the last of his films to be released before his death while both parts of The Hunger Games: Mockingjay where he portrayed Plutarch Heavensbee were posthumously released at the end of 2014 and 2015 respectively.
A wave of despair was felt throughout Hollywood as many considered the actor to be an immense talent. His Mr. Ripley costar Cate Blanchett dedicated her BAFTA trophy to him when she won her Best Actress award for Blue Jasmine. His frequent collaborator, Amy Adams, whom he shared the screen with in three films that earned him Oscar noms for Best Supporting Actor (see below) appeared on Inside The Actors Studio shortly following his death and immediately broke down when discussing what he meant to her:
"He had this unique ability to see people, to really see them, not look through them... I just really loved him and I know so many people did... The things that I value about actors - there's talent, there's skill - but without work ethic without that generosity of spirit to take people with you on your brilliant journey that you take... both Meryl [Streep] and Philip have this ability to create... [*chokes up*] to create a world which, as an audience you get to experience that, but you experience that in the room acting with them as well and... it's transformative."
In that same interview, James Lipton revealed that he believes Hoffman would've "become the greatest actor of his generation."
Let's take a look back on some of Philip Seymour Hoffman's most memorable performances and bask in the glory that is his immeasurable talent.
Paul Thomas Anderson Collaborations
When he was on Marc Maron's WTF podcast, PT Anderson revealed he "knew what love at first sight was" after seeing Hoffman in the 1992 drama Scent Of A Woman:
"It was the strangest feeling sitting in a movie theater and thinking, 'He's for me and I'm for him.' And that was it."
This affection for the actor led to their initial collaboration on Hard Eight in 1996 and resulted in a dynamic professional relationship. Following that film, Hoffman starred in four of Anderson's feature-length productions: Boogie Nights (1997), Magnolia (1999), Punch-Drunk Love (2002) and The Master. Anderson released a 20-minute short entitled Back Beyond in 2013 which was composed of the unused shots from The Master.
While their working chemistry in front of the screen was undeniably amazing, it was their friendship behind the camera that Hoffman seemed to cherish the most as he previously revealed in an interview with Little White Lies' Adam Woodward:
"... [M]y working relationship with Paul doesn't matter; it's my friendship with him that does. I get concerned when we don't talk for a few months, not when we don't make a movie together for a few years. I make sure that we stay close as friends and that's what we concern ourselves with."
Happiness (1998)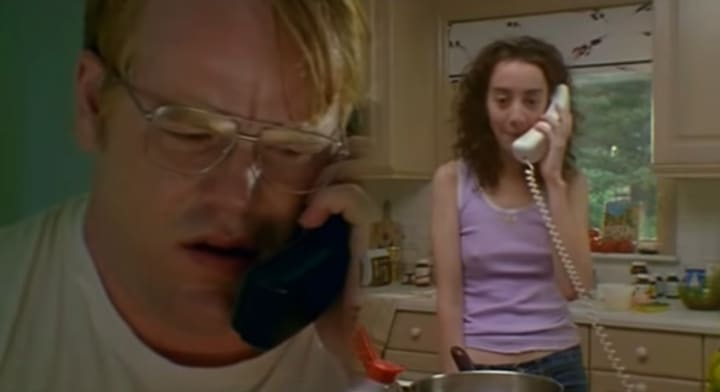 Director: Todd Solondz.
The 1998 black comedy Happiness depicts the lives of three sisters and those around them as they undergo the daily experiences of their respective lives. While the film was shrouded in controversy due to its depiction of heavy sexual and mature themes, many critics lauded Happiness for its refusal in shying away from presenting these themes.
Hoffman's character Allen portrays a disturbed office worker who frequently makes obscene sexual phone calls while he masturbates on the other end. Despite the aforementioned controversy (the Sundance Film Festival refused to accept it as they deemed it "too disagreeable), the film went on to win numerous awards including the National Board of Review's Best Acting by an Ensemble along with the great Roger Ebert giving it a perfect four out of four stars.
The Big Lebowski (1998)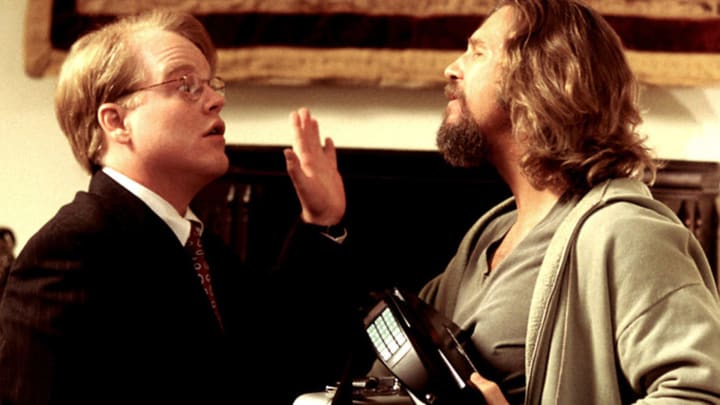 Director: The Coen Brothers.
The Big Lebowski tells the heartbreaking story of a case of mistaken identity involving a cardigan enthusiast desperately attempting to seek restitution for his sullied carpet plus the little issue of a millionaire's kidnapped wife.
Hoffman had a supporting role in the film as the millionaire Lebowski's executive assistant/butler named Brandt. Although his role was a minor one, Hoffman deservedly left a long-standing impression on Lebowski followers and revealed during the 10th anniversary of the cult classic that he was still recognized as the devout butler a decade following the film's initial release.
Patch Adams (1998)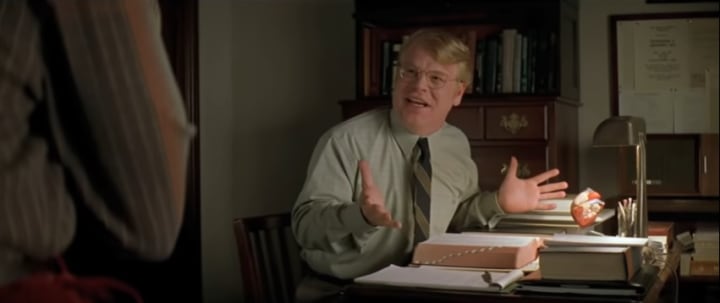 Director: Tom Shadyac.
Philip Seymour Hoffman was on an absolute roll in 1998. He starred alongside the late and oh so great Robin Williams in Patch Adams which tells the true story of a doctor's unconventional approach in treating his patients with humour and pathos. Williams beautifully portrayed the titular doctor earning him a Golden Globe nomination for Best Actor - Motion Picture Musical or Comedy.
Hoffman portrays Williams' stickler roommate Mitch who takes issue with Patch's unorthodox methods. The two greats share a scene where they clash about their respective approaches to medicine and although the viewer may tend to agree more with Patch's method, Hoffman is able to effectively convey the frustration Mitch feels at Patch who simply "doesn't have It."
Almost Famous (2000)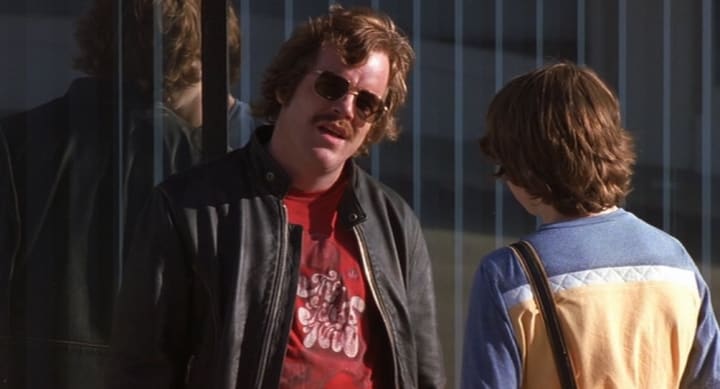 Director: Cameron Crowe.
Cameron Crowe's award-winning film Almost Famous starred Hoffman as real-life rock critic Lester Bangs.
In a 2014 interview with Rolling Stone, Crowe stated he knew Hoffman from his "amazing" performances in Twister and Boogie Nights which "saw [the viewer] melt into this compassionate figure you just ached for. And that was part of Lester."
He went on to praise Hoffman at his seemingly immediate understanding of the character as well as noticing Hoffman's thought process while watching an interview featuring the real Lester himself:
"... You could see he had a glint in his eye. He already knew this character. He had a leather jacket but he didn't look like an actor — more like a rock critic. It's a subtle difference. Instantly he was a huge presence, not unlike Lester."

"We watched a bit of Lester from a BBC interview on TV and I remember looking at Phil and feeling, 'He's putting the pieces together.' He was studying some of Lester's movements. He had a process. Lester was talking about Bryan Ferry, and I could see Phil was soaking in the mannerisms, but even more than that, the gregarious sharpness of Lester's wit"
Along Came Polly (2004)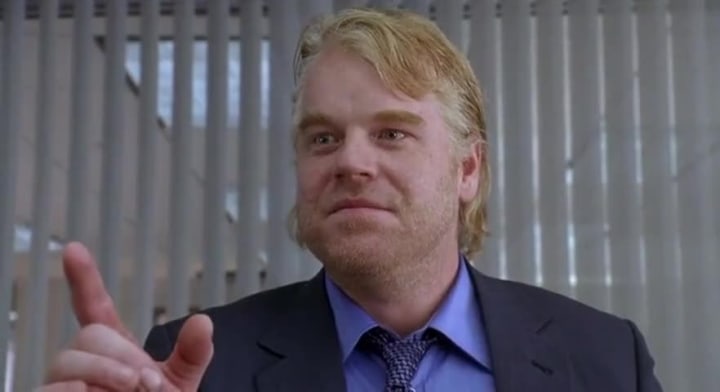 Director: John Hamburg.
... As you know, this is a highly complex role *violently clears throat.*
In a performance that highlights his range of talent, Hoffman stole the show in the 2004 romantic-comedy Along Came Polly. While the film focuses on Ben Stiller and Jennifer Aniston's characters potentially falling in love, one may find themselves craving for another nugget of (relatively inappropriate) wisdom from Hoffman's best friend/former child star Sandy Lyle... And by "one" I most certainly mean "the writer of this piece."
The film may be best known for its basketball sequence which featured Stiller's character Reuben Feffer getting up close and intimate with a sweaty, hairy man...
... And while it's always fun to reminisce on such a delightful encounter, my personal favourite scene is when "Sanford" acts as a proxy for Reuben during an important meeting and it never fails to make me laugh hysterically:
Capote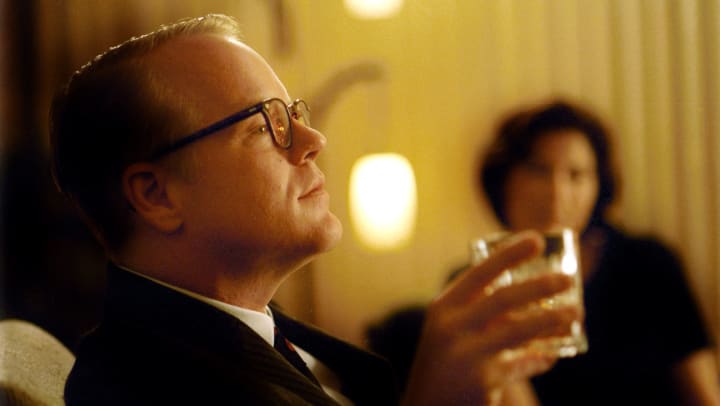 Director: Bennett Miller.
Hoffman received immense critical acclaim for his portrayal of American author/screenwriter/actor Truman Capote which was based on Capote's true crime novel In Cold Blood . The Bennet Miller-directed biopic not only earned Hoffman his first Academy Award nomination for Best Actor, he beat out the likes of future co-star Joaquin Phoenix in Walk The Line and Heath Ledger in Brokeback Mountain to take home the revered statue.
His portrayal of Capote was universally beloved as he swept the award season that year, not only earning Hollywood's greatest achievement in an Oscar but also winning Best Actor honours from the BAFTAs, the SAG Awards and Golden Globes. Ebert praised Hoffman's "precise, uncanny performance as Capote" stating he "doesn't imitate the author so much as channel him, as a man whose peculiarities mask great intelligence and deep wounds" which is an aspect of his performance I admire the most - Hoffman is not a picture-perfect reflection of Truman Capote yet he managed to effectively capture all of his internal struggles, ultimately embodying him as a character masterfully.
During the 2014 Cannes Film Festival circuit for Foxcatcher, director Miller became overcome with emotion when he was asked by journalist Chaz Ebert (wife of Roger Ebert) what the process is like to have an actor completely disappear into their respective role as he achieved with Hoffman on Capote:
"... To work with actors... [*pauses*] who are willing... [*pause from Miller as he composes himself while audience claps*] all of these guys, and of course Phil, but to work with actors who are willing to y'know put faith in you is... you have to be grateful for the rest of your life."
Mission: Impossible III (2006)
Director: JJ Abrams.
Similarly to his performance in Along Came Polly, Hoffman's remarkably haunting portrayal of Owen Davian causes me to crave whatever scene I'm watching to feature a moment involving the sinister arms dealer.
In JJ Abrams' directorial debut, Tom Cruise's Ethan Hunt is pulled back into the world of impossible missions to track down Davian on the hunt for a an object called "Rabbit's Foot." What could have been a performance Hoffman could've easily done in his sleep with little to no effort, he took the role and managed to make a count down to ten one of the most unforgettable moments in this entire franchise:
Synecdoche, New York (2008)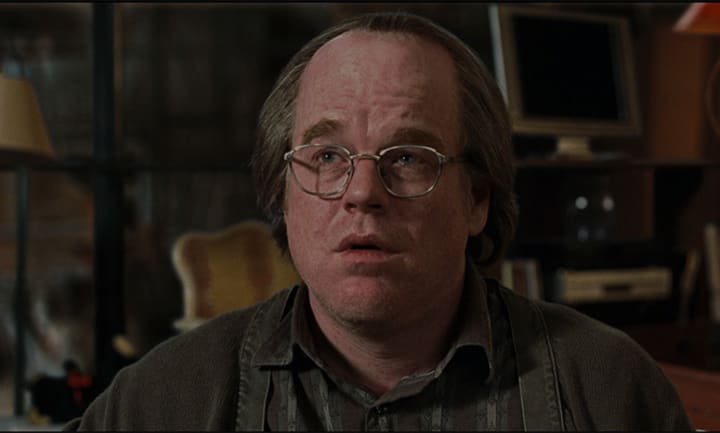 Director: Charlie Kaufman.
In what is a role many may point to as being their absolute favourite Philip Seymour Hoffman performance, Synecdoche, New York follows ailing theatre director Caden Cotard as he works on an increasingly elaborate stage production which begins blurring the boundaries between fiction and reality.
Anyone familiar with Kaufman's work knows he is anything but unoriginal. After writing such films as Being John Malkovich (1999), Adaptation (2002), and Eternal Sunshine of the Spotless Mind (2004) Kaufman enlisted Hoffman for his directorial debut in Synecdoche, New York. After initially reading the script, Hoffman reveals how it felt "different" from other scripts he read and how much he seemingly appreciated that feeling:
"It's a challenge set out before you that's really exciting, you know? There's a lot to do in that film. You know, there's a lot of things that happen in that film. And to go through all those - to really go through a man's life like that - I mean, it was really something. To really experience everything in such a full scope. It's intense."
As seen in the numerous films starring Hoffman, Ebert gave the film a four out of four stars. In his 2009 published piece detailing the best films of that decade, Ebert adored Kaufman's work so much so that he bestowed the honour of being the best film of the 2000s to Synecdoche, New York.
Moneyball (2011)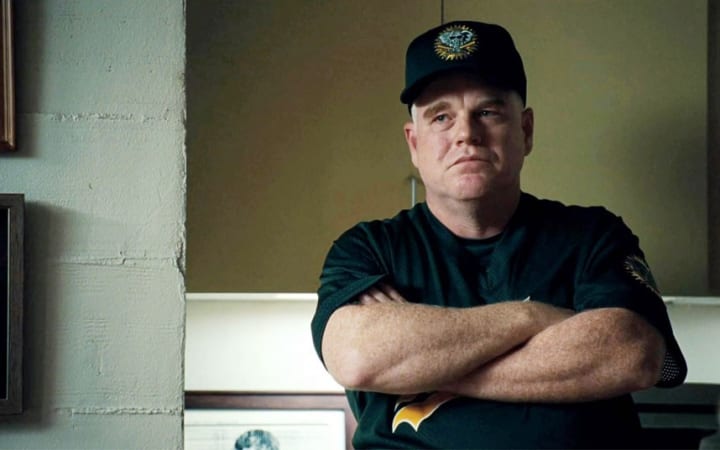 Director: Bennett Miller.
Hoffman reunited with his Capote director in Moneyball where he portrayed the real-life manager of the Oakland Athletics named Art Howe. The film is based on the 2003 nonfiction book of the same name which stars Brad Pitt as general manager Billy Beane and Jonah Hill as assistant GM Peter Brand and explores an account of the Oakland Athletics baseball team's 2002 season and their GM's attempts to assemble a competitive team.
The film earned six Academy Award nominations including Best Picture.
Robin Wright, Chris Pratt, Stephen Bishop, Reed Diamond and Brent Jennings round out the stellar cast.
Charlie Wilson's War (2007), Doubt, The Master.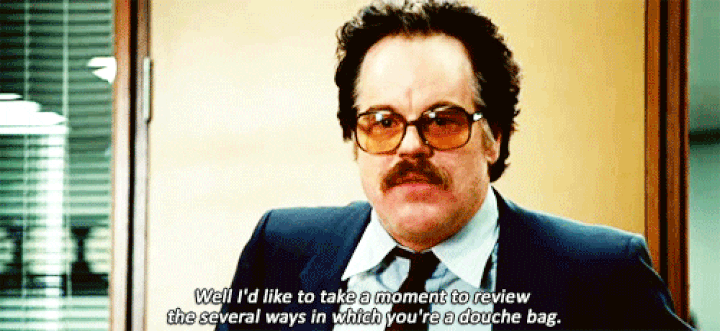 Directors: Mike Nichols, John Patrick Shanley, PT Anderson.
The three named films earned Hoffman Academy Award nominations for Best Supporting Actor further cementing his spot in Hollywood history.
Charlie Wilson's War is based on the real-life story of U.S. Congressman Charlie Wilson and CIA operative Gust Avrakotos whose efforts led to Operation Cyclone, a program to organize and support the Afghan mujahideen during the Soviet-Afghan War. The film starred Tom Hanks and Hoffman in these roles respectively while Julia Roberts portrays American socialite and political activisit Joanne Herring . The film also stars Amy Adams, Ned Beatty, Christopher Denham, Emily Blunt and John Slattery. When asked about how factual characters based on real life should be on film, Hoffman stated how important it is to realize "it's not a documentary" and that the work done on these kinds of films should focus on executing what's best for the film itself:
"When I did Capote I learned that you have to look at characters and the way they lived as if they're fiction. Ultimately they are, and it's the way you're interpreting them. Unless it's a documentary there's no way that you can actually have a facsimile of somebody's life and show the real person. So you need to look at it almost as if it's a character that hasn't lived."
John Patrick Shanley wrote and directed the 2008 drama Doubt based on his Pulitzer Prize-winning and Tony Award-winning stage play Doubt: A Parable. The film is an incredibly intimate and poignant depiction of a Catholic school principal's questioning of the relationship between a priest and a young boy and features impeccable performances from its main leads. Hoffman, Streep, Adams and Viola Davis all earned Academy Award nominations for their respective roles. In an interview with Collider, Hoffman detailed how comfortable he was working with everyone despite such difficult subject matter to work with:
"I've worked with everybody. I knew. I had a rapport and a good rapport with all of them and so it was… as dramatic as the film is it was great fun that was had, I think. It was very serious-you know-the work was you know, but ultimately the minute we could have fun, we did. We had a lot of laughs and enjoyed each others company."
In what was his final collaboration with PT Anderson, the director wrote and co-produced The Master which featured Hoffman portraying Lancaster Dodd, a leader of a religious movement known as "The Cause." The film stars Joaquin Phoenix (whom Hoffman previously bested at the 2006 Academy Awards) as Freddie Quell, a World War II Navy veteran struggling to adjust to post-war society. The film features stellar performances from both Phoenix and Hoffman with Amy Adams proving once again just how phenomenally talented she is as she portrays Dodd's wife Peggy. The trio all earned Academy Award nominations for their respective roles. Anderson has stated The Master is his favourite film in his impressive repertoire:
"I think that won't change. The amount of emotion I put into it and they put into it — they being Phil [Seymour Hoffman], Joaquin [Phoenix] and Amy [Adams]. I'm not sure it's entirely successful. But that's fine with me. It feels right. It feels unique to me. I really hope it will be something people can revisit and enjoy in a way that equals my pride in it. And pride can be a dangerous thing, and I'm not being very quiet about my pride in saying all this. But I just feel really proud of it. And of course, there's a particular sentimentality attached to it for a number of personal reasons. It's all wrapped up."
I will leave you with Philip Seymour Hoffman accepting his Academy Award in 2006. He ends his acceptance speech by thanking his mom who "took me to my first play... stayed up with me to watch the NCAA Final Four" and whose passions ultimately became his passions.