Patrick Stewart Discusses His 'Doctor Strange 2' Appearance
'We Should Tell Him The Truth.'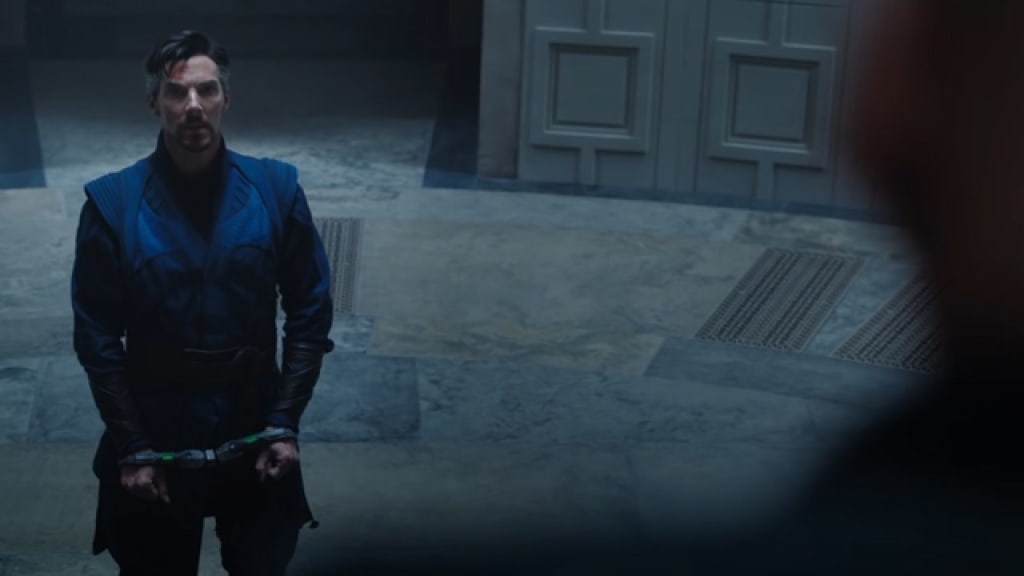 Doctor Strange in the Multiverse of Madness is only a few months away, and fans are eagerly awaiting the sequel. Avengers: Endgame planted the seeds of the multiverse, Loki and WandaVision took us closer, and Spider-Man: No Way Home brought the multiverse to us. Now, Doctor Strange in the Multiverse of Madness looks to be taking us through the multiverse. No Way Home barely scratched the surface of the possibilities and dangers of the multiverse, and it defied expectations and precedents by giving us three Spider-Men on screen at once. With Doctor Strange promising a maddening journey through the multiverse, there could potentially be a Marvel character from any comic or film appearing in the movie. Fans already have a pretty good idea who might be returning based on the trailer for the film which premiered during the Super Bowl. 
The new trailer for Doctor Strange in the Multiverse of Madness dropped during the Super Bowl. We see Strange seemingly dealing with the repercussions of interfering with the multiverse. At one point in the trailer, Strange is led in restraints into a large chamber with some hidden figures in chairs as if he is being put on trial. Then we hear a voice saying, "We should tell him the truth," as the camera zooms in on Strange. Most fans would agree that the voice is unmistakably Sir Patrick Stewart's. This seems to imply that Stewart's version of Professor Charles Xavier from the original X-Men films may be appearing in the film. The Professor himself has now chimed in on this possibility too.
RELATED: Is 'Doctor Strange 2' Going To Introduce Marvel's Illuminati?
Stewart recently spoke with Kevin McCarthy of ReelBlend about the rumors of his appearance in Doctor Strange. His response was as clever as if it came directly from Professor X in the comics:
"I don't look at a lot of social media, and that is mostly a time issue. But, I must say, before bedtime on Sunday evening, I've had plenty of communications, friends, and some people I hardly knew at all making reference to 'Is that you?! Is that you?!' Well, of course, you know, I was just at home waiting to watch football, so how could it possibly have been me? So we'll have to wait and see, won't we?"
While he was cleverly able to answer the question, he did not outright deny his appearance. He went on to say:
"You know, people have been imitating my voice ever since I came on the stage sixty years ago. So, I can't be held responsible for that."
That, again, is not a "no." 
Stewart definitely seems to have taken a page out of Andrew Garfield's "Rumor Denial Book" with his response. However, he has not outright denied his appearance. Even though Marvel is not stating outright that this is Professor X, they are not hiding it as much as they did with the other characters appearing in Spider-Man: No Way Home. It looks like Marvel, at the very least, wants to plant the seed that Professor X is in this movie somewhere. Many fans believe that Professor X's inclusion means the film will feature the Illuminati, a supergroup from the comics consisting of Namor, Doctor Strange, Professor X, Black Bolt, Reed Richards, and Iron Man. The fact that the monster Doctor Strange encounters in the first trailer is credited as Gargantos, which is one of Namor's villains, seems to support their appearance as well. This would also support several theories that an Iron Man from another universe played by Tom Cruise will make an appearance in the film. 
Of course, there is no way to know if any of these rumors are true until the film is actually released. While all evidence hints at Patrick Stewart's return as Professor X, Stewart could be playing someone else entirely, which would be the biggest fake-out Marvel has ever pulled. However, if it is Professor X and they reveal it this early, it can only mean there are far larger surprises in store when the film is finally released. The multiverse also allows almost any possibility for the film. Hopefully, Doctor Strange in the Multiverse of Madness will meet and exceed all expectations when it premieres on May 20, 2022.
Thank you for reading our article today. If you want to keep up to date with our latest stories, please consider becoming a pledge or, alternatively, please consider leaving a tip. This will help us continue to keep bringing new and interesting content. You can also check out our video content on the following YouTube channels, where you can subscribe to keep up to date: Star Wars Culture, Eye On Canon, The Star Wars Underworld, Chatter Squadron, The Roll Out, Meg in the Morning.
READ NEXT: Charlie Cox Discusses His Daredevil Future Within The MCU
Written By Alex Lenzini
Source(s): The Direct
Syndicated From Culture Slate
Reader insights
Be the first to share your insights about this piece.
Add your insights