PAINTING FOREVER
Top 10 Monet Paintings To Know About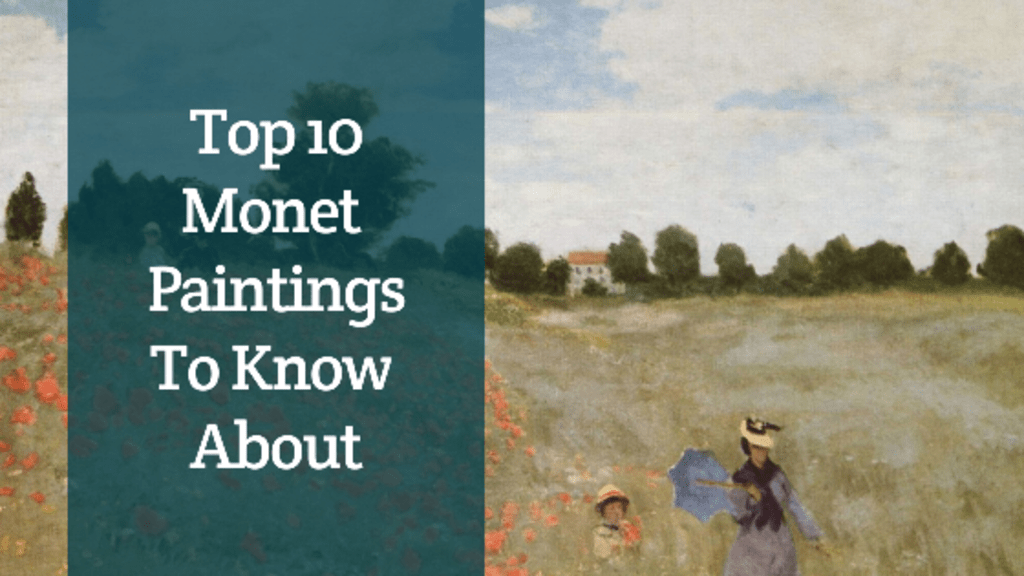 Ten Most Popular Paintings by Monet admired globally!
Claude Monet was a Popular 19th-century artist from France. In fact, the influential impressionist movement in art took its name from his painting called Impression, Sunrise.
Along with other artists who had a similar philosophy, these impressionists deemed paying excessive attention to subtler details in their work unnecessary. They used thick, short strokes in their art to achieve this.
The Impressionists did not bind themselves to the confines of their studios rather they went outside. Thus they could observe and demonstrate how light affects nature.
Consequently, Monet as well as other artists of the same taste began painting with colors unusually bold and bright. In this way, impressionism departed from tradition and laid the foundation for what we know today as Modern Art.
Monet's artworks numbered well clear of 2000 but we have attempted to make a list of 10 of his most popular paintings.
Impression, Sunrise 1872
The Impressionist art movement took its name from Claude Monet's painting titled Impression, Sunrise. The subject of the painting is the port city of Le Havre located in Normandy -- Monet's hometown.
When inquired about what he was going to call the painting, Monet decided that the term impression suited the painting as it did not depict any fine details.
One of the most famous Monet Paintings is Impression, Sunrise 1872.
This painting alongside other works of art was displayed in April 1874 at the earliest exhibition of Impressionism. One of the critics present, Louis Leroy, did not look favorably upon the displays and accused the artists of only painting vague impressions.
Despite being intended as a scathing criticism, the description stuck and actually became the name of this controversial, new movement.
Impression, Sunrise by Claude Monet can be viewed at the majestic Musee Marmottan Monet located in Paris. It is the largest collection of impressionist paintings and contains over 300 works by Monet himself.
La Grenouillère, 1869
At the time in the 1869s, La Grenouillère was a well-known tourist resort. It had a spa as well as a floating café and boating facilities. It was a located short distance away from Paris, overlooking River Seine. This was the spot chosen for a painting trip undertaken by Monet and Renoir in their youth.
They prepared their tools and set up shop outside to capture the open-air atmosphere. They depicted the resort and its visitors, mainly middle-class men and women vacationing. Curiously, both artists drew very similarly.
The two artists set up their easels outdoors and painted en-Plein air. They captured the resort and the middle-class people enjoying themselves. Interestingly, both Monet's and Renoir's rendition of La Grenouillère is very similar.
Monet's painting offers a glorious impressionist throwback to how outings were in the 19th century.
Monet's rendition of La Grenouille can be seen at The Metropolitan Museum of Art located in New York City.
Rouen Cathedral, Facade (Sunset)
Rouen Cathedral, Façade (Sunset) is just one an entire collection based on the Rouen Cathedral. Claude Monet had a habit of repeatedly painting one subject many, many times so that he could depict how colors and lights changed. In fact, he painted the awe-inspiring Rouen Cathedral over 30 times in a period between 1892 and 1893.
To do this, Monet rented an apartment directly overlooking the cathedral. He would start working early in the morning and finish at night. As the days rolled on and the lighting varied, Monet jumped from one canvas to the next. He finished these paintings of the cathedral upon his return to his studio in Giverny.
2 years later in 1895, Monet displayed 20 of his painting from this collection at the renowned Durand-Ruel Gallery located in Paris.
The Rouen Cathedral Series by Monet can be viewed at each of the following museums located in France:
Musee Marmottan Monet in Paris
Musee D'Orsay in Paris
Musée des Beaux-Arts de Rouen in Rouen
Elsewhere in Europe, a painting from this collection can be viewed at the below-listed art museums:
Folkwang Museum, Essen, Germany
National Museum Cardiff, Wales
Beyeler Museum, Riehen, Switzerland
In the US, the following art museums own one of the Rouen Cathedral paintings:
J. Paul Getty Museum, Los Angeles
Clark Art Institute, Williamstown
National Gallery of Art, Washington D.C.
Read the full article