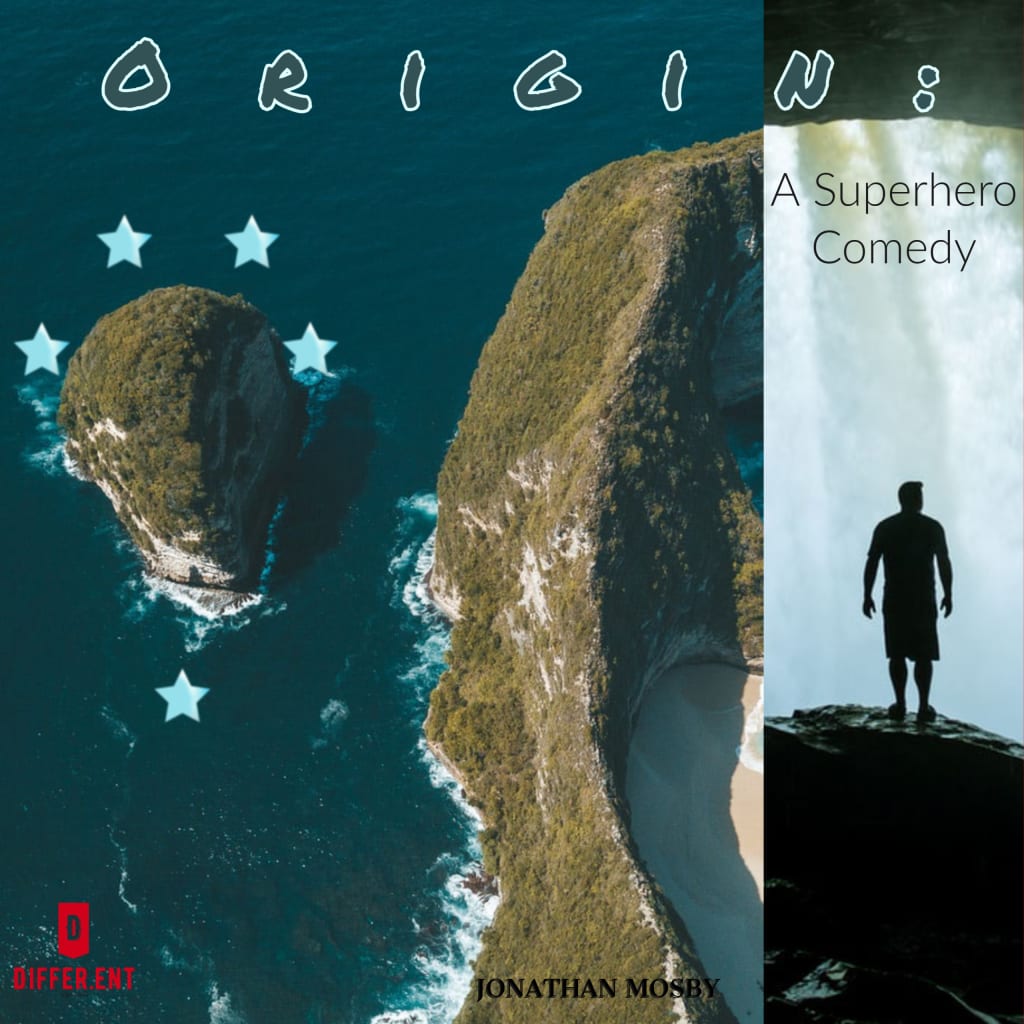 Across the water...destiny awaits.
Authors Note: So I wrote this way back in 2009 for Adult Swim.
A New Superhero Comedy
Show Bible:
A. 18 years after a drunken orgy with multiple other superheroes, Ponder Whore has a baby(without the other superheroes knowledge) and raises him on the island of women. But eventually, he decides against his mother's will, to take off across the water in pursuit of his destiny and origin.
B. Main character descriptions and designs--- The main character is called Dedrick Devon—the bastard child. He is mixed, about 5'8, and has little gills (special gills, not the ugly ones) on his legs that spiral up from his ankles to below his knee. This is how he is able to breathe underwater. At the beginning of the show, he is dressed in Amazonian clothing, but after he leaves the island and meets new people and encounters problems, his new costume will look like the following: Red pants with gold soles under his feet that sprawl out into little gold lines that wrap around his red pant legs, a blue shirt with lightning bolts on the side; by pressing his collar he can extract or contract his cape at will, which is also gold. He has brownish-red hair and the ability to shoot web from all 10 his finger tips.
C. Secondary characters and descriptions—Dedrick has a love interest—a girl named Tasha, who just like him, was raised on the island. But unlike him, she is a simple Amazon. They grew up together; She's a very beautiful woman, whose nipples are always hard, showing through her white gown-like clothing. She thinks Dedrick is the only one for her and will do anything for him. Next is his mom; Ponder Whole is the all-American slut that isn't afraid to kick ass. She has yellow booty shorts and a red halter-top; her big breasts always bouncy delicious. He eventually meets a girl inland name Kelina who is part human part Saiyan—Looks like Goku couldn't keep his dragon balls in the marriage, huh?
She and Dedrick have a common ground; they both don't know who they are or where they came from. Goku had had an affair with a chick and flew her body into outer space after finding out she was pregnant. The only problem was it was when she was 9 months pregnant. And she was in labor. Of course we all know Goku wasn't the sharpest crayon in the box—the mother eventually died from exposure to outer space. But the baby inside however, a beautiful baby girl, lived on, crash landed back to Earth, and was found in the woods by a rich family camping—Dedrick will be faced with the Love Triangle on this one. They will meet sometime later through comic (maybe cosmic?) circumstance.
After her, it's the fishes Dedrick befriends in his toilet stool. He uses his aquatic calling ability to summon them from the sewers (which is also a whole different setting; it will come into play later) to bring him company and good ganja from Compton, La. The two officers that Dedrick first meets are husband and wife, but they have an odd relationship.
D. Description of the environment that the show is set within---In the beginning, the setting is an island, covered with lush forests and deep jungles with dots of Amazonian civilization throughout the island. Afterwards, it changes to a metropolis.
Basic Run Down--- To be more detailed after the following
Basically the premise of my show…the heroes have just come back from fighting crime (they'd just saved the world again) and decided to celebrate; they all got really drunk ( Ponder Whore, Ultra Guy, Bat Guy, Super Streak, Waterman, Tarancha Man) and Ponder Whore got pregnant. Now of course she knew of the tremendous scandal that would arise if the others knew, so she had the child on her island of Women and her sisters kept him a secret… And he stayed that way for 18 years. Now, he's nearly a man and one day on the island he questions his existence and wants answers for his origin. His mother, however, doesn't tell him…in fact it was all around commonly accepted knowledge that Yusspionia was the only land mass on the planet. The rest of it was covered in water….so one night while everyone is sleep, he creeps down to the shoreline…..takes a deep breath...and takes off across the water, faster than the speed of light...in search of his origin and destiny. his name: Super Backalashman! His alter Ego:
Dedrick Davon With the powers of all his parents combined, he has the flight of Ultra Guy (show him flying), the agility of Tarancha Man (show him then suddenly spring a web and cling to a building), the detective style of Bat Guy, the water breathing abilities of Waterman (show him underwater), the super streak's speed and finally, Ponder Whore's ability to obtain truth. Only he does it by doing the "titty twister of truth". And he has an invisible moped (which he can morph into anything he wants) he uses to race to the scene in times of super-villainy. What follows is the pilot episode: I have more written; this is just a snippet of an even greater storyline, like all my other works.
Pilot: Origin: A Superhero Comedy
"Across the Water"
It was 1987 and our heroes have just saved the world once again from some form of evil. They all come back to headquarters and celebrate. Shortly after the orgy, the Ponder Whore senses something is different and heads to her home Yusspionia on Paradise Island where she eventually gives birth to a healthy baby boy. However, she knew she couldn't let him know the painful truth and tried her best to shield him from it by constantly training him to be a warrior. She wanted him to eventually lead a revolution on the Island by becoming the first and only male ruler, but his destiny would prove to be much more important. There is a strange connection between Dedrick and his 25th birthday in the year 2012…but it cannot be revealed just yet. The problem with fate is that it doesn't care who or what it affects, and our young hero will learn the hard way things aren't always what they seem. While on the island, he develops a close friendship with Tasha, one of the young daughters of the Queen's vast workforce. He loved her, but he always knew inside there was something greater for him…across the water.
Scene One:
The sun shines on yet another day in Paradise. As Dedrick wakes up in his large bedroom, we see his little gills that run from his ankles to just below his knees, curved around his leg in a spiral pattern clearly as he get out of the bed. As he moseys to the bathroom, he catches a glimpse of himself in the mirror.
Dedrick:
Who are you? What are you?
We hear his stomach gurgle and he grabs it. He lifts up the seat on the toilet and leans his head in and makes a calling sound.
In the toilet, 2 fish pop up through the hole.
Fish 1 and 2:
Yo!
Dedrick:
Are the sewers clear? Cuz I'm bout ta unleash a massive dump and yall might wanna clear out your little fish villages… or prepare for a wave of the worse Poo-Nami the world has ever known!
Fish one:
You can't be serious, man!
Fish two:
Yeah man we just got through cleaning up after your last dump! What was it you had that night---60 boxes of wheaties?
Dedrick:
60 boxes of wheaties…yep. Hey, don't blame me! You know how mom makes me train…and I got hungry! I…I was like one of those people…you know, the kind that's just happening to be watching TV…at 3 in the morning… a-and a commercial about 3 rd world children starving just happens to come on.…and…I mean, you know w-what what was I supposed to do? Not be hungrier?
Fish two:
Wow. That's just awful.
Fish one:
Yeah, but 60 boxes of wheaties? That's gotta be like, what, 4 tub fulls? Shidd, hungry my tail-fin!
--Show a reaction shot of Dedrick squinting his eyes—
Dedrick:
That was worse!
Fish two:
Your dump was so huge you wiped out our entire satellite system!
Dedrick:
Satellite system??…H-how can you guys have a—
Fish two:
Not important! The point is you gotta stop wit all the irregular pooping. It's overflowing our ecosystem. How would you feel if it rained shit for six hours at a time on any given day?!
Dedrick:
I would not be happy…..not at all…although I'd have really tall grass..
Fish two:
Whatever. Look man just take your dump… just let us move first.
Dedrick:
No! You know I need you guys! Who else sneaks in the weed? And all the way from Compton!?
–----L.A. rap music plays, then stops abruptly----
Fish one:
Nah cuzzo...not anymore. Not if you release this "Poo-nami."
Dedrick (aggravated):
Fine!
The next shot we see of him; he is pooping in a small pink trashcan beside his bed. He is almost done when his mother walks in. (Shot/reverse shot in following) :
Ponder Whore:
Dedrick, you left your shoes out in the--
Dedrick:
Ahh!
Ponder Whore:
Ahh!
Dedrick:
Ahh!
Ponder Whore:
Ahhh!
He falls backwards off the small trashcan and the force makes the poo splash and gets in his face and hair.
Ponder Whore:
Is that a trashcan? –She leans in closer—Is that my trashcan? Why are you pooping in it?
Dedrick (stammering):
Toilet's on the fritz again mom…and if you don't believe that I'm pooping in your trashcan cuz I get high.
Ponder Whore:
What?
Dedrick:
Nothing!
She looks in the bathroom and sees the toilet is starting to overflow with water.
Ponder Whore (while hurrying to the bathroom):
Well, you do know its overflowing , right? Go get cleaned up! You're a warrior for Zeus's sake!
Shot of Dedrick looking confused.
He comes back all cleaned up just as Ponder Whore passes him on the way out the room.
Ponder Whore:
Next time you gotta take a dump, and you gotta do it in a trashcan, do it in your trashcan, ok?
She walks off, mumbling.
He returns to the bathroom and it's clean. He leans his head in again to call the fish. Only one of them pop up.
Fish one:
Yeah?
Dedrick:
Where's the other guy?
---Cut to the other fish on a love sofa (from torso up), his phone on the left arm of it.---
--It vibrates—
A girl fish pokes her head up suddenly and he eases it back down shaking his head humming with his eyes closed saying:
Fish two:
Mmm…mm…mmm…….That's why its on vibrate..
--Cut back to before---
Fish one:
I don't know. I know where I was. Where were you?
Dedrick:
Whatever look, what happened in here? Why did the toilet overflow?
Fish one (clearly high as a kite):
What?
Dedrick:
Why did the toilet overflow? Are you high?
Fish one:
Uhhhhhhh…What?
Dedrick:
Ok, I'm done!
He flushes the toilet.
We hear Fish one going "weeeeeeee!" as he slides down the pipe.
Dedrick shakes his head smiling and goes to his room, and walks out on his balcony. He takes a long look at surrounding Paradise Island. Then he becomes fixated on the horizon of the sea…it seemly beckoning him to come towards it.
He is interrupted by Tasha's arrival. She hops up from below.
He staggers back and looks over the balcony. We see it's a long way down to the beach.
Dedrick:
I don't care if you're super strong normally that will always scare the shit outta me.
Tasha:
Whatcha doin?
Dedrick:
Just out here thinking....
He turns to her.
Dedrick:
You know, I keep having this dream…Where I'm running across the water so fast but I always wake up before I get to my destination. And it's killing me…to know just what is out there? Does the ocean go on forever?
Tasha:
That same dream huh? You know, I've always wondered something every time you tell me that. Why run across the water when you can fly?
Dedrick (shrugging):
It just seemed natural…If you could both fly and run as fast as I could, wouldn't you do the same? It's fun as hell.
Tasha:
I don't know what to tell you…But everybody knows the ocean goes on forever dear. You'd just be out there running forever and ever…..until you got tired and then you'd just swim….then you'd do that til you got tired. Then you know what?
Dedrick:
What?
Tasha leans in, lowering her voice to just above a whisper.
Tasha:
That means you won't get this...
She kisses him on the left cheek.
Tasha:
And this…
She kisses him on the right cheek.
Tasha:
And this?
She grabs his hand and we see them standing nose to nose with one another. It's obvious what she's talking about.
Dedrick (smiling):
Uh huh?
Tasha:
Out of the question!
She pushes him away and he flies off the balcony and we hear him scream .
Dedrick:
Ahh my nuts!
As he crashes into the ground below. We see him get up and dust off just as Tasha lands.
Tasha:
Oh crap my bad I didn't mean to push you that hard! Sorry! Got a lil emotional!
Dedrick (brushing himself off):
Yeah I see. It's okay though…
---He turns again to the sea---
Dedrick:
You know, what if the sea didn't go on forever? Would you go out there then?
Tasha (standing next to him, her arm around his waist):
I don't know…hey why don't we forget this silly lil fantasy, huh? You've been such a strong man ever since the day we met. Remember that? Remember when that earthquake shattered the southern part of the Island?
Dedrick:
Yeah…Mom wasn't here to help the other Amazons so I stepped in. The island was split in two.
----Flash Back----
The scene shows women running and screaming in all directions with destruction in the background.
Dedrick appears, wearing Amazonian battle armor, springing webs to stop pieces of rubble from falling on people, punching through pillars of marble, flying and finally using his super-speed to extinguish the fire. He meets Tasha under a pile of rubble surrounded by ring of fire. He grabs the tired Amazonian and races her to a safe place.
--Flash Present---
Dedrick:
I still can't get the smell of your cindered hair off my chest!
They laugh together and shortly afterwards, Tasha leaves and Dedrick smiles as she makes her exit off the beach and watches her as she disappears behind a hill in the distance.
----End Scene---
The next scene opens: Dedrick and his mom Ponder Whore are training on a stretch of the Island and talking at the same time.
Ponder Whore:
You've improved much since last time!
Dedrick:
Yeah.….it's nothing…I know your moves like the back of my hand!
Ponder Whore:
Really?
She does an unexpected move.
Dedrick:
Whoa! Ahh!
Ponder Whore:
How bout that?! I still got it!
Dedrick:
Yeah…still got nothing!
He runs up quickly and wraps her leather whip around her and she falls.
Ponder Whore (on the ground):
Ok…this isn't funny. You cheated. Now let me up.
Dedrick:
Nu uh…not til you tell me once and for all the truth.
Ponder Whore (confused):
Wha? Why do you pick the strangest times to play jokes? Let me up this instant what's wrong with you? What truth?
Dedrick:
The ocean mom. The dream? Remember? The one I keep telling you about?
Ponder Whore:
Ugh, not that again! I told you already there's nothing out there! Everybody knows that! *She flexes her muscles and the whip loosens*
Dedrick: Well what if I ran, then mom?
Ponder Whore:
Then you'd die! *She wraps the whip around her left forearm*
There is a long pause for a few seconds…Then Dedrick stands back as Ponder Whore get into a fighting stance.
Ponder Whore:
Now stop these crazy theories of yours and let's get back to business!
They continue training maneuvers as the camera pulls out slowly and fades out.
---End Scene---
--The next scene opens—
It is night time now and Dedrick is in his room, contemplating the inevitable. He is standing on his balcony thinking of all the things he'd be leaving behind, including his sweetheart Tasha if he decided to leave. He contemplates the possibility of running forever and swimming forever...but then we hear his heart beating louder out of his chest. The sea is beckoning him again…and stronger now…even stronger than fifty of the last times combined….he suddenly takes off into his room, grabs his clothes, and walks right past his mothers room, and out the front door. His destination? Destiny. It didn't matter which direction; just as long as he made it to the beach. He got down to a spot and prepared to run. Suddenly, Tasha appears and stops him.
Tasha:
Where are you going?
Dedrick(with conviction):
Oh I gotta go baby! If I don't it's going to eat at me forever and if I do and it turns out it was a bad idea then oh well but I can't keep going thru this cycle! Its mind wrenching--- its terrible--- its crazy--- it's…. it's fucked the fuck up!
She looked into his eyes and gave him a look as if to suddenly "get it". She kissed his hand.
Tasha:
I understand. Good-bye baby.
Dedrick:
This isn't good-bye. I mean c'mon what's the worst that can happen? If anything I'd end up back here, right?
Tasha:
But if you run in the wrong direction….
He pulls her close to him.
Dedrick:
Don't worry about that. I will return for you. Wait for me baby. I just gotta find this out for myself…I promise I'll return someday.
There is a close-up on their hands as they separate.
Dedrick (to himself):
Alright…here we go…Destiny? And possible certain death? Here I come!
He takes a deep breath and, just like in his dream, takes off into the night across the ocean in a blur. We see Tasha on the beach as she falls to her knees crying. In the background, we see Ponder Whore hurrying down to the beach.
Ponder Whore:
Where's my son?
Tasha looks out into the ocean sadly.
There is a close up on Ponder Whore's face.
Ponder Whore:
Ahh shit.
---End Scene—
--The next scene opens—
We see Dedrick running as a blur across the water as the sun is beginning to rise. Off in the distance, a roaring sound could be heard approaching from behind him. He looks, and it's his mom, flying in her somewhat visible plane.
Ponder Whore:
Stop!
Dedrick:
NO!
He speeds up and the resulting wave causes her ship to flip, only slowing her down. In the next shot we see a cruise ship from the side with passengers along the railing. As Dedrick with his mom close behind zip by, we see in a quick close- up the screen crack on someone's brand new blackberry touch-screen cell phone. We can barely hear the disgruntled passenger say
"Ah what the fuck!"
As the camera perspective zooms alongside our mother-son duo as they race on.
Dedrick:
You know I deserve to know the truth, mom!
Ponder Whore:
You're wasting your time! Come back with me right now!
We see him become so frustrated when he hears this.
Dedrick: AHHHRRRGH!
He stops so abruptly, we see his mom's ship continue up head for bit before quickly turning around. Dedrick is now floating above the water in front of his mom's ship.
Dedrick:
How can you still act like I don't know what's going on? Look around, mom! Just what was that thing back there? I've never seen it before! And way out here? I would have explored it if you weren't following me…
Ponder Whore:
Oh you're being irrational! And--
Dedrick:
Are you gonna tell me next that it was a figure of my imagination? Huh? Some, pot-induced illusion?
Ponder Whore:
I—you smoke pot?
Dedrick:
Not important! You know I know you know they knew what I just found out.
Ponder Whore:
What? I knew you know I knew they knew…?
Dedrick:
No, I know you knew when I found out you heard about me knowing-
Ponder Whore:
Enough!
Dedrick:
I'll say!
He takes off again this time while in the air. He zips past his mom.
Ponder Whore:
You little brat! Get back here!
She rushes off after him.
In the next shot we see land approaching.
Dedrick:
Yes! I knew it!
He speeds up even faster with his mother right behind him. She thinks she can maneuver her whip to grab him, but just as she gets into position, he dives underwater and we see his image continue on shore-ward just under the waves.
Ponder Whore:
NOOOOOOOOOOOOO!
In the next shot we see him jump out of the water, but unlike what he is used to, he sees and crashes into a shipping dock and because of his speed, he is unable to slow down; he rolls and crashes into things for a quarter-mile before coming to a stop in the middle of a busy street—laying in a concrete hole. Up above we see his mom's ship turn around, but not before we get a medium shot of her reaction.
Ponder Whore:
You're going to regret this! Just remember I tried to protect you! Dumb ass!
She roars off before anyone can see her.
---End Scene—
He gets up out of the rubble and dusts himself off. There are cars piled up around him, the people inside yelling and screaming at him. Dedrick, in his Amazonian clothing, looks around at his brand new surroundings in amazement,… --(the camera pans quickly on the people in the following)
Man in car #1:
Hey buddy, ever heard of being human?
Man in car 2#:
Oh my God, who's gonna pay for this?
Dedrick:
Pay?
Black woman in car #1:
Hells yea! I'ma black woman so I add unnecessary S's to my curse words!
Cowboy on horse in wreckage:
Hey now, what the? How did I even get here? (Horse neighing)
Woman in car #2:
I just got this car!
Dedrick:
Sorry people…my bad! I didn't mean to—
Man in car 3:
Ahh shut the hell up! Sorry won't bring back my Ferrari! They continue yelling at him as the police race from around the corner and pull up to the scene.
Officer Hardy:
Aight, everybody clear the scene. If you've seen one man crash-land in the middle of the street causing a massive traffic pile, up you've seen em all!
The other officer is a woman. It's obvious she is in a relationship with her partner.
Officer Nutzsuace:
No baby, lets let em, watch! You know that gets me off like an expensive lawyer in high profile case…Kitties and sprinkles and day-time Cartoon Network programming!
Officer Hardy (whispering):
Not now! We gotta do this right now we talked about this!
--Shot of Dedrick looking like "what the?"—
Officer Nutzsauce:
Kay… I'll be a good girl.
She turns to Dedrick.
Officer Nutzsauce:
Now what the hell is going on out here? Are you insane? Who are you? What are you? I oughta punch you in your head!
Dedrick:
What? C'mon I said I was sor-
Officer Nutzsauce:
And spit in your ear…
Dedrick:
Wha-?
-Shot of Officer Hardy looking pissed--
Officer Nutzsauce:
And make you eat my finger nails...
Dedrick:
I—
Officer Nutzsuace:
After I bake em in brownies….
Dedrick:
Brownies? I—
Officer Nutzsauce:
And you're gonna be like ooo these walnut brownies are sooo good but they're not gonna be walnuts…
Dedrick:
They're gonna be…
Together:
Your/My fingernails.
Dedrick:
Right, got it. Listen, I have no idea what any of that has to do with anything…I'm---
Officer Hardy:
Under arrest!
Officer Hardy turns to his wife.
Officer Hardy:
Why don't you go wait in the car, huh sweetie? Yeah. Go wait in the car my little sugaboogah.
Officer Nutzsauce:
KAY!
She dances while walking back to the patrol car.
Officer Hardy:
Yeah….
He walks up to Dedrick while talking.
Officer Hardy:
She got shot in the head a few months back…She thinks she twelve years old….the doctors say it might be permanent… a walking manifestation of a mixture of memories they say…just jumps in and out…one minute she she's on top of me talking dirty, the next I'm Snoop- doggin it from the behind and she's like--
*Cut to them having sex. It is in the morning time and she is facing the TV*
Officer Nutzsuace:
Ohh! Hanna Montana's on! Stop, get off me! Move!
--Cut back—
…..the worst part is it happened right after we got married…Figured I'd keep her close to me though..…I dress her up in a cop uniform and pick up her from home after I clock in everyday….it sucks but what sucks even worse, is I just found out recently that people think I'm a pedophile.
Dedrick:
Wow….that is...fuck it, that's sad bro. For real man….I'm so sorry your life is fucked up and you have to bang a hot 35 year old prepubescent/middle aged woman named Nutzsauce—
----Shot of Officer Hardy shrugging---
Officer Hardy:
Such is life, I guess.
Dedrick: Wow..well, anyway I didn't do any of this on purpose. See, I'm on a mission to—
Officer Hardy:
I don't care about your mission you just destroyed a whole city block! You stupid superheroes….you never care about any damages to city property…you make me sick.
Dedrick:
Superheroes?
Dedrick: What do you mean, superheroes? What's a superhero?
Officer Hardy: You know, super strength, flying, bullets bounce off of you, saving people on a daily basis? How could you not know what a superhero is? Aren't you one of them?
---Shot of Dedrick looking confused---
Officer Hardy:
You've gotta be shittin me kid! Although I haven't seen you before…
He gets in his face in an attempt to check out his features.
Officer Hardy:
Ah c'mon your clothes are…Well, that's different… You look like you could be…Well….well actually you kinda resemble Ultra Guy.
Dedrick:
Who?
Officer Hardy:
Yeah…you must be his brother! Oh man! No one ever told me he had a brother! What are you, visiting? Holy shit man, well don't worry about the city damage then!
Dedrick:
Really?
He turns to the disgruntled people in their cars.
Officer Hardy:
Hey people …people listen! It's Ultra Guy's brother!
All:
Ultra Guy's brother?
Man in car:
He has a brother?
Woman:
I never knew that!
Man:
Did they ever find Carmen Sandiego?
Officer Hardy:
Yeah! See the chin? How could we hold someone we're so gracious for this? You're off the hook! What do you guys say?
(all agreeing positively)
Dedrick:
Really? But I thought you said you hated superheroes! Didn't you just say that like 3 seconds ago? How could it change that quick?
Officer Hardy:
Well, while I do hate all superheroes…I make an exception for Ultra Guy. That guy is amazing! He just saved the planet not too long ago! What was it, a something-something gamma-ray burst or something?
Dedrick:
Oh, I know about those! They're the explosions of stars out in space. When stars explode, they blast plasma everywhere but at the poles it's stronger….one of the bursts must've been headed for Earth…
Officer Hardy:
Yeah….all of that. Listen I don't know about all that science-y mombo jumbo, alls I know is a bright radiation-filled light was headed here and he stopped it.
Dedrick:
HUH? Just him? Impossible! ONE man was able to deflect a gama ray burst???!!
Officer Hardy: Yep. Didn't walk away unscratched though. He eventually healed up and he went on his way. Not before tapping every piece of ass in town before he left.
Officer Nutzsauce:
Including me!
Officer Hardy:
Including her! Including my wife. Yeah… Any other time I'd hate a bastard in a situation like that, look for him, gut him, and make him eat his own intestines but…he saved the planet from annihilation! See, here's how I see it: if I divorce my wife, I can bang other women! But if the planet fries, I'm a walking bubbling-at-the-everything mutant who is married to another walking, bubbling mutant. You think that's ok? No, and he stopped that reality from happening that's how I look at it! He's awesome!
Offier Nutzsauce:
He's the greatest!
Dedrick (to himself):
No wonder mom kept me on the island. Yall all crazy! On the other hand, maybe they know where this Ultra Guy went. He might be my dad…Maybe I should try to find him.
Dedrick:
Do you know where he is?
Officer Hardy:
Oh sure, everyone knows where he lives! None of us can get there though *he leans in* legend has it he has a dwelling in the middle of the hot desert, surrounded by pillars of hard sand *he leans back up* Well, its not really a legend, seeing as how his libido is just as strong as his endurance for pain….bangin' all our women. Man….gotta love to hate that guy! But you love him! It's a complicated relationship! It's like being a fan of the show House!
Dedrick:
Oh yeah, I love that show. I-It's like you see the guys an asshole…b-but you see him save lives too….a-a-and he has that cane so he has that element to his character, ya know?.. that makes him sorta like the lion with a thorn in his paw. And he's addicted to meds but the guy has a charm to him, ya know?
Officer Hardy:
And so cute too!
Dedrick:
What? He's old! Ohh you know who else is old but hot? That chick from CSI Miami. You know, the one with the funny name.....What's her name, Dalane?
Officer Hardy:
I think its De-Kane.
Dedrick:
No, I think that's the cop's name, isn't it? I don't know, but the—
Officer Hardy:
Dusquene! That's her name!
Dedrick: Yeah. Is that French? Sounds French. Oh it doesn't matter I'd hump her in her wheelchair……I-I'd bend her over her walker and ram her like some sort of hard drive…
Officer Hardy:
Oh me too…What were we talking about?
Dedrick:
I don't even know…
Suddenly, in the background and offshore, a giant monster roars from the sea.
Officer Hardy:
Holy shit! Looks like you might get your chance to see your bother after all, kid!
Dedrick looks to the sea. As he does, we see the monster come ashore and start wreaking havoc.
Dedrick:
Wow! Awesome! So, he's gonna come to kick this guys ass?
Officer Hardy:
He shoulda been here by now! Where is he? No time! We need ya kid!
Dedrick:
What? I've never done this before! What if I'm not strong enough?
Officer Hardy:
Oh, you're strong enough, kid! C'mon you can do it!
(people chanting "you can do it")
Dedrick looks at the monster and clenches his fists.
Dedrick:
Well….you only live once!
He takes off flying towards the monster.
As he approaches, the monster flings out a tentacle, which Dedrick see in time and lands on it and starts to run super fast up it;
Dedrick:
Oh, no you don't!
The monster flings another tentacle at him but he misses and Dedrick grabs and we see him wrap it around the monster, making him fall. But before he does, Dedrick gets behind him and kicks him so hard he flies off into space moaning and screaming.
The people start cheering on the ground below.
Dedrick:
I did it! Hey maybe I can get the hang of this!
He flies back to the ground—people cheering all around him.
Officer Hardy:
See? I told ya kid! I knew you could do it!
Officer Nutzsauce:
What are you doing later big boy?
Officer Hardy:
Ahh, you better watch this one!
Dedrick:
Wow. Look, thanks everyone but I've gotta be getting on the move now. Which way is the desert?
Officer Hardy points westward.
Officer Hardy:
That way! But be careful. The land and the air that leads to the desert is a treacherous one. You don't look like you're from around here so I'm telling you this for your own benefit.
Dedrick:
Treacherous huh? Well, officer, I assure you I'm in no danger. If that guy back there was a sample of what this new strange land has to offer, I'd say I was over trained back home!
Officer Hardy:
Oh no…that beast was a common grade D monster by inland standards. It's why I became a cop…I thought I could make a difference…til the day one of those….things attacked and killed my family…was a long time ago.…came here to start over.. Why do you think I moved to the beach? It's better to have Ultra Guy come through every once and while to kick that guys ass, than to live inland and have to face..—gulp----the Anamatrailzon: the most evil metamorphing slithering piece of shit on Earth. He rules over a territory six times larger than our peaceful dwelling here. And where does his territory lie? You guessed it! Towards the desert.
Dedrick:
Okay…so all I gotta do is get to the desert and kill an unbeatable monster along the way….(sighs) Jeez I've haven't been this on edge since I played video games with my cousin who had that stuttering problem!
---cut to them playing a video game—
Dedrick:
Cmon I've only got 10 percent of health left, they're shooting at me, I haven't reached the check point yet, and you've played this board like a million times before now where is the health box?!
Cousin:
It-it-it-it-it's in the—th-
Dedrick:
Damit man, c'mon! Where? Where?
Cousin:
It's-it-it-it-it-it's o-o-o-on tha c-c-ca—
(video game explosion)
Dedrick:
Ahh damit nevermind.
----Cut back----
Dedrick:
Aight yall, I'm out!
He takes off flying inland—the people below cheering him on.
Officer Nutzsauce:
COME BACK AND READ ME A BEDTIME STORY SOON, OK?!?!?!
Dedrick:
Wow this lady here….ALRIGHT WILL DO!
We see him fly off into the distance; in the background far off we also see a mountain with its snow-covered peak shrouded in the clouds.
---End scene---
About the Creator
Born and raised in Atlanta Ga, Flow brings an introspective flavor to hip-hop. Beginning in 2003 with beat making, and 2005 with protools, there has been an exponential growth in both productivity and creativity. Won't let me say more smh
Reader insights
Be the first to share your insights about this piece.
Add your insights