OpenMountain starts support for BSC-based NFTs
OpenMountain, the venture-backed marketplace for non-fungible tokens, has begun going live with its long-anticipated integration of Binance Smart Chain.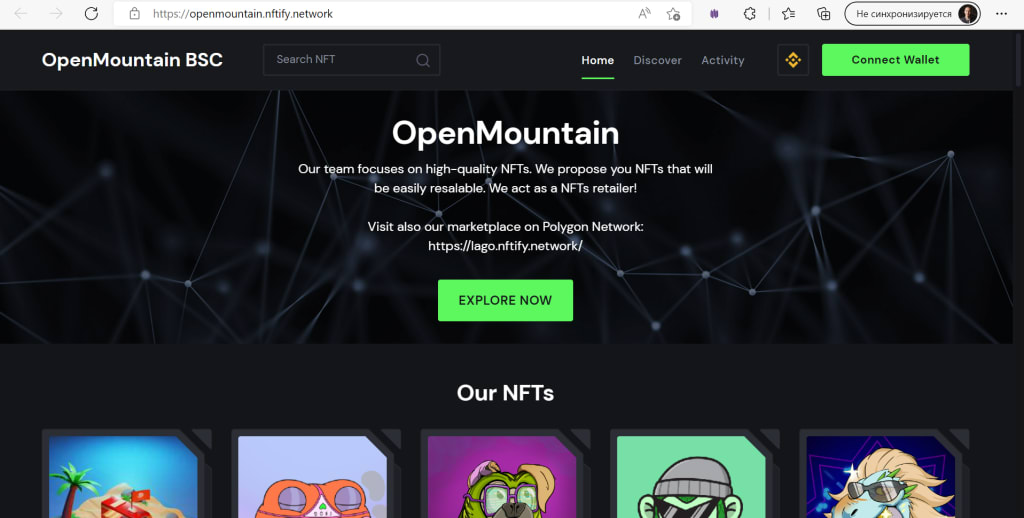 What is OpenMountain?
OpenMountain is an NFT marketplace that connects NFT sellers with buyers. You can buy or sell NFTs through the online platform. NFTs are digital assets that represent proof of digital items (e.g., collectibles, artwork, music, and videos) that utilize blockchain technology.
You can find below the link to visit their website:
https://openmountain.nftify.network
The website deals in a wide range of tokens split into various categories. The categories are; art, photography, games, metaverses, music, domains, and DeFi, which is the shorthand for "decentralized finance."
What was done by OpenMountain team on BSC network?
Data from the marketplace indicates BSC-centric collections are being listed on a brand new website: https://openmountain.nftify.network/
Design was reviewed and improved compared to the Polygon Network marketplace. Quality of NFTs seems to be even better and categories appeared to facilitate the navigation.
At the moment, not so many NFTs are available but the choice remains very interesting and for all tastes. No doubt that more NFTs will be added in the nearest future.
The move enables a wide crop of NFTs on the platform, which prior to today catered largely to Polygon-based NFTs. Still, the Binance Smart Chain news represents a significant expansion for OpenMountain and confirms the obvious success of this platform on the Polygon Network.
As long as you have an existing cryptocurrency wallet (you can set up a crypto wallet if you don't), you'll be able to sell, or purchase NFTs on the platform.
OpenMountain is also available on both iOS and Android devices.
We remind that OpenMountain's business model is based on the mass sale of NFTs at relatively low prices, allowing users to make extraordinary profits on resale. While sales are high, everyone wins. But, it is clear that the platform will raise the prices of NFTs when it becomes even more well known.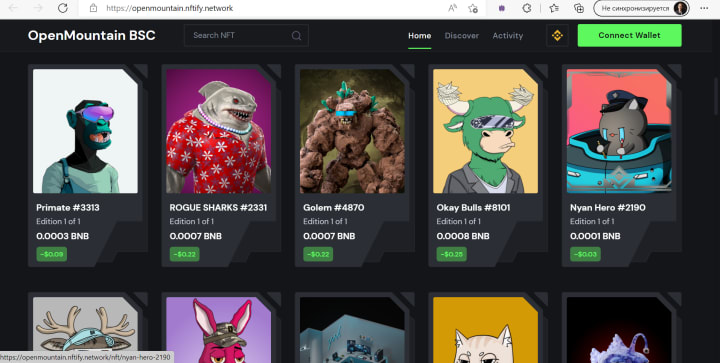 On Binance Smart Chain, prices are slightly higher than on Polygon due to gas fees. For instance, on OpenMountain, the average cost of a NFT is 0.05$ on Polygon but it is close to 0.15$ on Binance Smart Chain. But, the potential for resale profits is much higher given the success of NFTs on Binance. Also, do not forget that OpenMountain sells the most single NFTs on BSC whereas it focuses on multiple NFTs on Polygon. It is really an advantage of their new platform over the last one.
How do you make money on OpenMountain?
You can earn money through two ways on OpenMountain: (1) You can sell NFTs you have in your wallet, or (2) you can resell collectibles you've purchased from the original creators of the NFTs (when you take this route, the original artists earn royalties for each secondary sale of the item).
Is OpenMountain safe?
OpenMountain is safe and secure because it is protected by blockchain technology.
It's also non-custodial, which means your NFTS remain in your wallet until someone buys them from you. When your NFT is sold, the smart contract you agreed to when listing it activates and takes it from your wallet, depositing the money you are due. This blockchain process works smoothly and secures and verifies everything.
OpenMountain is safe but always ensure that you do not give your seed phrase to anyone claiming to be from the Rarible's team. The Rarible team will never DM first, asking for any details of your wallet.
How to purchase NFTs on OpenMountain?
Purchasing an NFT on OpenMountain goes like this:
Connect a wallet. Choose a blockchain then the corresponding wallet to connect. Select Sign in on the top-right corner to connect.
Browse NFTs. On the OpenMountain homepage, you'll find top collections, hot bids, hot collections and the Explore option.
Choose NFT. Select the NFT that you'd like to purchase. Buy some NFTs via an auction or instantly purchase others. For ones in an auction, view the current bid, bid details and previous bids in the bottom right of the screen.
Buying time. If you're buying in an auction select Place a bid and enter the amount you'd like to bid for the NFT. Otherwise, choose Buy and hit Proceed to payment.
Conclusion
What do you think, what will be the next step for OpenMountain? Some rumors announce a potential integration of FLOW or Ethereum but nothing official at the moment.