Once Upon a Time in Hollywood
Best Supporting Actor and Best Production Design Oscars Winners®️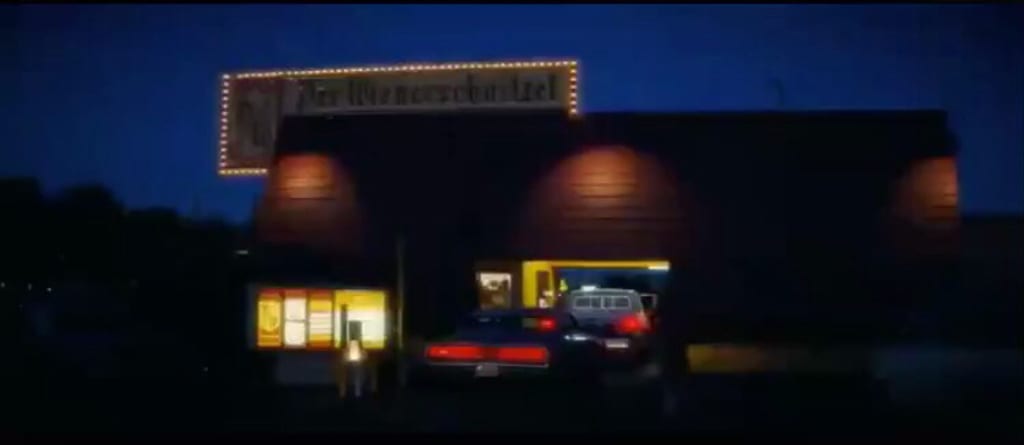 Tarantino's second to last movie forever.
A ending impactful as Hitler getting shot in the face from one of my favorite movies of all time, a top ten of all time list and most rewatchable for myself personally 'Inglorious Bastards' written and directed by the same person as this film. A love letter to Hollywood. Two time Oscar winner best supporting actor and best production design. Shout out to Parasite for their Oscar wins and the most important one of night best picture (movie) win. Monumental moments stoned in history for powerful representation for all ethnicities in more similar to Moonlight's win created by a black director Barry Jenkins. Congratulations to Bong Joon Ho in the entire cast and crew for their work. Filmmaking is a lot harder than people think it's highly physical and mental work so well deserved definitely one of best movie of the past decade get past your bias of no subtitles movie in see something special. Congrats again and to the people of South Korea. Lastly major shout out to the director of directors the one and only everybody across the world who wants to be a filmmaker is in the shadow of, with a highly deserved shouting standing ovation for Martin Scorsese. The greatest director to live and of the century.
RIP KOBE & GIANNA BRYANT
Before I began all I'll say on this and this is a brief header because I do not want this to come across as distasteful: a very severe tragic, highly tragic moment happened and this being a LA based piece I must state RIP Kobe and Gianna Bryant. Genuinely truly devastating heartbreaking news sincerely send my deepest condolences to the Bryant family respectfully and all families involved. The world is in mourning of this enormous lost and so on in are still. Personal being a lover of basketball along with being from PA I've always had respect for truly one of the greatest top three basketball players to ever live, like to state thank you for countless great memories and moments you gave me in my family through out my life, and beyond that as a man, a human being, a worker, unmatched work ethic, no complainer in life thank you for that and the inspiration. Class in grace you shown me as a kid. Micheal Jackson level impact I come from a basketball family my brothers favorite player, and tears has been shed thank you for what you have brung us and the world. That's all I have to say respectfully it's still heavy on my heart in I think will be on everyone's forever to a since and just had to get that off my chest in it would have been heavy on my heart if I did not say anything on this, a LA centered piece I began writing months ago in it's just such horrible devastating heartbreaking news. That's all again prayers and light in deepest condolences to all family's. RIP Kobe. Black Mamba forever.
The Opening
The opening scene to the movie above is a rare and appreciated feeling of cinema, cinema, film is something you feel. Regular movies is different and I'm far from being into regular movies. The ninth film written and directed by Quentin Tarantino starring Margot Robbie, Al Pacino, Dakota Fanning, Bruce Dern and many more notable actors. I'll be discussing key moments, main meanings, and meaningful outcomes or outtakes. No spoilers I don't like ruining experiences. Aesthetics and facts over folklore literature in information no one with a day to day working life has time for, I'm here to showcase the meaning in movies, art etc. for people's better gain of self info is power. Wealth is in the mind. In my intentions of being a Paulo Coelho (author of The Alchemist) author in my own way to people from where I come from overall the hood 'urban America'. Overall meaning message from the jump to y'all from me about this movie is to remain humble never know what's on your path and have discipline for the win to get what you want out of life. Plot of the movie is it's a personal love letter to Hollywood and for anyone who truly loves movies, cinema, the heart of it with a dark ending twist. Also in top tier Tarantino style switch's real actual history events in the best fashion with the movie also being based on one of the most tragic events in history rerovling around American sweetheart the lovely Sharon Tate.
Best Picture (Movie), Best Director, Best Lead Actor, Best Supporting Actor, Best Original Screenplay, and etc. Golden Globe winner for Tarantino (best original script screenplay) and Brad Pitt for (best supporting actor).
The win of that night was a surprise and lock in moment for possibly Brad Pitt's first Oscar win in a twenty plus career span with a few Oscar nods under his belt for timeless classic performances. While though this is his first time working in collaborating with Tarantino the first film he's starring in of a stamped legendary director of the ages who's movies will be remembered for hundreds of years possibly til the end of time, was Pitt's pinnacle of a mature role for him in his career. Leading as a smooth, strong, charismatic stuntman who goes through life with a breeze from being through some hell in the past and who will also beat your ass. Stuntman's are known to be the actual coolest guys on the movie sets besides the most well known actors some of us love or hate. Hate is a strong word in my belief and not to hate the human being but dislike their performances of acting for me.
Sharon Tate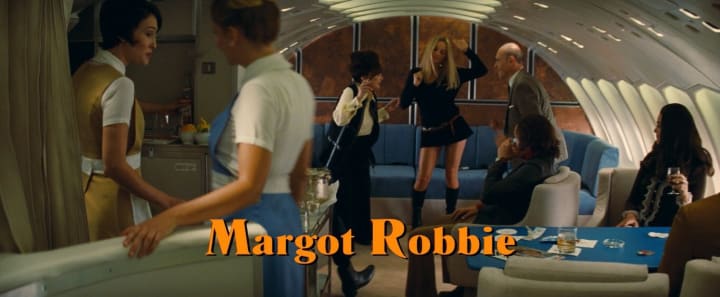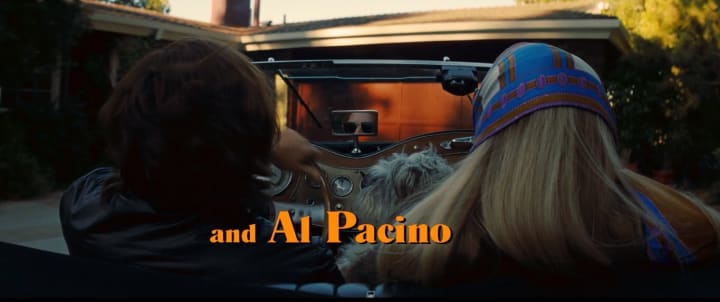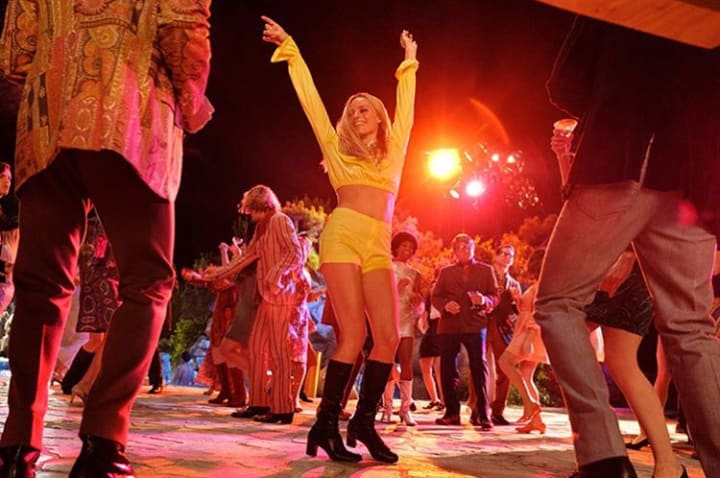 Throughout the opening scenes and credits we and for those who's not aware of who she is figure out who's the main storylines of whose life's we are getting into. Those knowingly of this actual history know we see a lovely beautiful essence of Sharon to begin with and til the end but the hightest expection going into it isn't really exciting or fun we expect to see her story playing out ending in a very dark and tragic horrific way of a well known story of her untimely demise. Which is the contrast of the above film still, during the middle of the movie we really get to see and gain more insight on the perspectives of Sharon Tate in this story. Played wonderfully by Margot Robbie as a sweet kind soul of Ms. Tate showing as Tarantino said in his speech the most good in any of his movies ever. As seen when she leaving out of LAX with her husband Roman Polanski director of Rosemary's Baby tying into a gruesome detail of the real life story but this is a real life spin on it head universe of Tarantino a original story out of his mind which was shown to be somewhat even rare to a sense in that time period of Hollywood creations. Beginning though her existence in the story is the girl next door who randomly overlaps with two other Hollywood employees who feels they're on the way out. Now that being Leo is next door neighbors with the star of a new era of Hollywood he see's befriended the couple as a way for a continuation of his career he's fearful of losing. Therefore he doesn't want to bring the late Ms. Tate any harm.
Popcorn's Peter Travels conversation with Oscar Winner Quentin Tarantino
The discussion that confirmed my theory's on the ending meaning and premise of this entire movie and story for Sharan Tate. As I told to family and friends I've seen it with that the way Tarantino ended this movie will forever have Sharon Tate live on in a better and more positive light along with her legacy. A beautiful love letter to the industry entirely and lovely sending off slash continuation of her life again especially for those who never heard or doesn't have a clue who Sharon Tate is, I believe it was very well done. Tarantino quote it leaves Sharon Tate with a better perception instead of what you get from first thought.
Popcorn conversation with Tarantino below.
Spahn Movie Ranch with Brad Pitt (Cliff Booth)
Cool, calm, and collected beside the paranoid, insecure, and self proclaimed alcoholic. You can tell who's who.
One of the greatest scene's I've seen of the decade also noted by Tarantino hisself that is he believes one of his best sequences in his career. The ambiance, next level unexpected tension, fully engulfed by the atmosphere like your being choked by it into submission by the suspense. Instantly understanding the weight and stakes of when Brad Pitt steps out his car dropping a random hippie girl off walking towards uncertainty, with this girl he met off the street asking to be taken somewhere where he's familiar with former work space and would feel safe. Unknowingly the hippie girl is apart of the Manson family and he ends up in a weird, creepy atmosphere surrounded by a family of misfit's with a eerie aura makes it interesting to see the outcome of Pitt's situation. The entire time I was sliding down into my seat in the movie theater feeling this is the end for Pitt's Cliff Booth.
Leonardo DiCaprio starring as Rick Dulton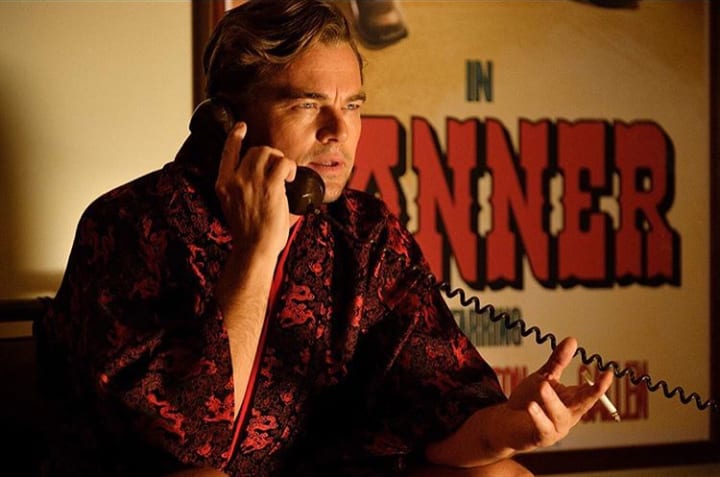 Leo's first role in five years since his first ever long overdue Oscar win. Ultimate character defining conversation which was so beautifully acted while on top of him basically doing six roles in one, but before we get the classic lines from one of the most professional 8 year old child actors to exist Julia Butters starring as Mary Belam a flip on her actual being a young Meryl Streep who's considered as ultimately the greatest living actress. Lines being that's the best acting I've ever seen in my life when she whispers that into Leo's ear Im share that's but representing the feeling of what most of us feel. Quick side bar to a personal tie in ranking for Meryl to me she's numbers one along with Angela Basset end of side bar. The essence of the Easy Breezy Story being told by Leo spurs a resonating feeling of pure dread in heart crumbling feeling by the performance of someone feeling as when they grow and get older they're becoming less in less meaningful, useful, and important. As were told everything's about the youth and a young mans game but mortality is apart of everyone and is Inevitable.
Leonardo DiCaprio describing the journey of Easy Breezy. "He's not the best no more, actually far from it, he's coming to terms of ultimately being slightly more, useless." Thus the reasons of his paranoia, insecurity's, and self proclaimed addictions.
Cannes Film Festival
Interesting discussion at the most prestigious film festival in the world. One question done in unpour taste to Tarantino leads to a stand out moment.
Al Pacino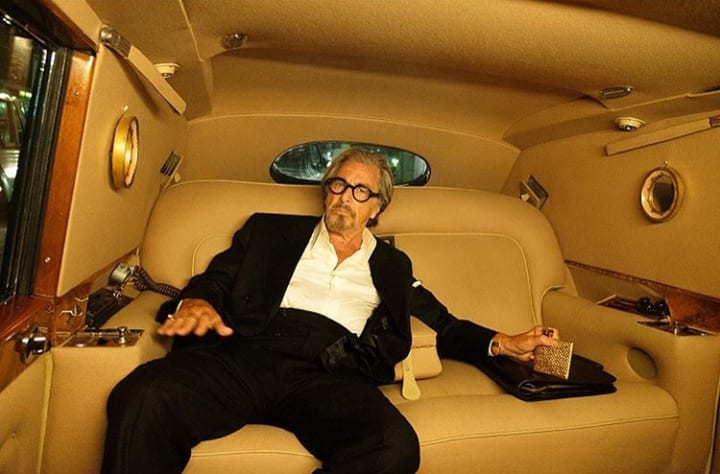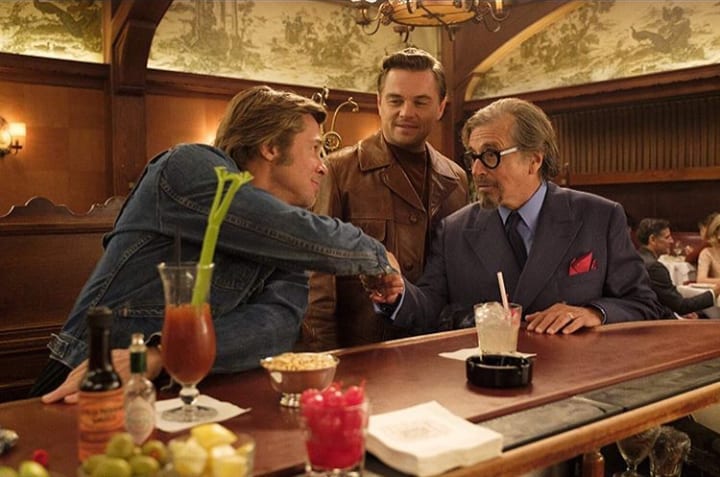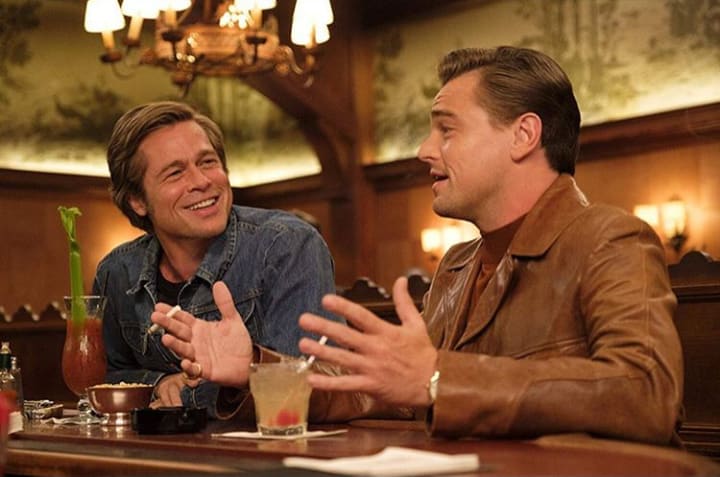 Double heavy weight movies of 2019 both nominated for best picture (movie) starring the one of the greatest to do it, Al Pacino. Ease of a cool elegant effortless performance as a movie producer based upon a real producer.
FBI 60s-70s TV Show Scene by Scene replication of to my surprise Leo's character is mainly the basis of the late legendary Burt Reynolds who was the tv star of the show FBI. Link below to see scene by scene comparisons and more info.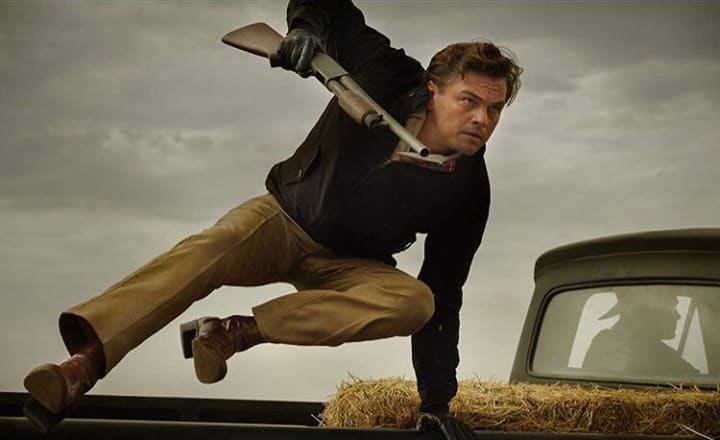 Ranking and Rating
Not my favorite Tarantino movie but ranking it out of all his nine movie's let's see I'll rank this from Pulp Fiction always being my number one than Inglorious Bastards, Kill Bill Vol. 1, Kill Bill Vol. 2, Reservoir Dogs, Hateful Eight, Jackie Brown and then Once Upon a time in Hollywood. Ranked at number eight I like it more than Django. Love Django to as well and none are bad movies by far highly considered across the world as the greatest movies apart of history starting from the early 90s with his debut film Reservoir Dogs to his second movie beyond a cult classic landmark movie that'll be stored away in a honorable prestigious library of important movies to never be able to be destroyed or go away from human existence and so on with timeless classics Pulp Fiction, Jackie Brown, Kill Bill's etc. mainly the entire filmography of Tarantino. Eye opening and gazing treats as a kid falling in love with movies. Once upon a time in Hollywood still a great movie better than others with moments that'll stay with you forever.
Hollywood 1969
Oscar winner for best production design agreeably so. A over used word now but still rings true and I love when I'm immersed into another time or world. You actually feel as if you're in 1969 a rare feeling due to boring, corny, cheesy time period movies set in early 1800's, 1700's etc. The production design in recreation of the world, the feel of it, and exact dead on representation of the time period was spot on not from knowing through my years of being on this earth but just humbly through my years of knowledge on film. I'd say I grew up like Tarantino and most of the great directors to a sense in love with movies from a very young age. Never loved them for the star celebrity aspect as a kid you don't even know what a celebrity is, it was the feeling it gave me and experiencing it in movie theaters was the cherry on top while being one of the top three ultimate bonding moments with me and my late father and the rest of my family. Movies changed my life for the better being where I come from Germantown, Philadelphia PA. The hood well known throughout PA with cops I wish I could put a laugh out loud after that statement but yeah learned that from county out of the city cops as a youngster. Nonetheless that's my full report and personal helpful meanings and breakdowns to me. To be more at ease and try to remain with a good soul at the end of the day.
Still get some dirty hippie weirdos if they try to break in on you at the end of the day also.
Stick around for a special commercial after the credits.
Oscar winning performance and ending of a lifetime?
First time Oscar winner for Brad Pitt. Long overdue and well deserved. Best top three performances of the movie: 1. Brad Pitt 2. Dakota Fanning 3. Leonardo DiCaprio
Spoiler discussion and the final making of the movie discussion.
The end written by Yenomi Wesley.
Personal favorite Tarantino films.
1. Pulp Fiction
2. Inglorious Bastards
3. Kill Bill
4. Kill Bill 2
5. Reservoir Dogs
6. Hateful Eight
7. Jackie Brown
8. Once Upon a time in Hollywood
9. Django Unchained
P.S: Death Proof would be number five if I could officially include it but can't because it's not a technical standalone Tarantino movie. Even though it was directed by him it's apart of a double feature film release like a double album with two different artist and two different standalone sides on it apart of the project like the 'lovebelow' for example.