No Sudden Move (2021) Movie Review
Crime / Drama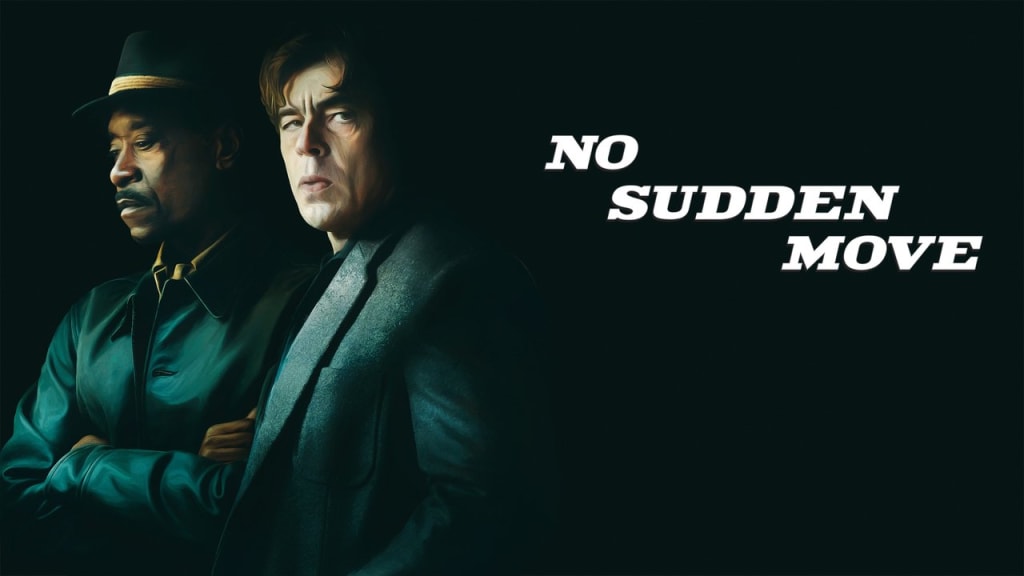 92% Rotten Tomatoes | 6.4/10 IMDb
Steven Soderbergh's latest film, "No Sudden Move," is a captivating genre exercise that serves as a testament to the director's talent for assembling sharp ensembles and interrogating power structures. With a cast of criminals and auto executives bouncing off each other against the backdrop of the auto race in Detroit in 1954, Soderbergh delivers an old-fashioned film with a sharp social commentary. The film is a steel drum of betrayals and twists, and its plot is a classic example of compounding mistakes and hidden motives that release skeletons from closets.
The story follows Curt, a tough guy who has just been released from prison and needs one good job to get out of town before some of the criminal power players that he's crossed come after him. He's partnered with Ronald, who is having an affair with the wife of mob boss Frank Capelli. They are both on incredibly thin ice with two of the most powerful people in the Motor City, and they need one job to escape with their lives. Rounding out the trio is the wildcard Charley, who leads the criminals into the home of the milquetoast Matt, taking his wife and kids hostage and ordering the low-level employee to retrieve an item from the safe in the office of his boss.
As the trio of criminals think on the fly, the names of Capelli and Watkins filter through their dialogue, representing the criminal powers that control their lives, always in the background, always threatening. Solomon's script is a classic example of compounding mistakes and hidden motives—nefarious intent always releases skeletons from closets. While some might find the midsection of the film overly complex, it is a minor complaint for a film that's never boring. It's almost more enjoyable when one stops trying to connect the dots and just enjoys the experience from scene to scene.
"No Sudden Move" constantly moves in a subtle manner, following various POVs and strands, and it feels like it could be almost done about halfway through before shifting again to become something else. The film arrives at a fascinatingly cynical and yet truthful place regarding how greed and crime impact the rich differently than those who made them rich in the first place. It's about how often people like Curt, Ronald, and even Matt have to think on the fly, keeping their head above water in the river of life.
The film's craft is also remarkable, as Soderbergh, under the pseudonym Peter Andrews, gives the movie a unique visual language, sometimes shooting with fisheye lenses that exaggerate the situation in which the characters find themselves, skewing the world around them in a manner that reflects their confusion. The film has great visual set-ups, but they don't call attention to themselves. It's succinctly cut and never flashy, as economic in its craft as it is sleek in its storytelling.
There are elements of "No Sudden Move" that feel like a Soderbergh Greatest Hits. It's a reunion with stars of "Traffic," "High Flying Bird," and the TV version of "The Girlfriend Experience," as well as composer David Holmes of "Out of Sight," doing great work again here. The film is an ensemble crime picture, a genre that Soderbergh returns to every few years and rarely disappoints. It's a pure joy to watch an expert filmmaker doing what he does so well. "No Sudden Move" is like watching a musician return to the themes and ideas explored throughout a career but with the renewed insight that comes after decades of success.
One of the film's greatest strengths is its impressive cast, which is one of the sharpest and most eclectic that Soderbergh has ever assembled. Don Cheadle is a standout as Curt, a smart and smooth-talking ex-con who finds himself in over his head. Cheadle imbues the character with a likable charm that makes him a perfect anti-hero, and his chemistry with Benicio Del Toro's Ronald is electric. Del Toro is excellent as Ronald, a grizzled veteran criminal who is not afraid to get his hands dirty. He brings a quiet intensity to the role that is captivating to watch.
Kieran Culkin is a scene-stealer as Charley, the unpredictable wildcard of the group. He injects the film with a darkly comedic energy that is a welcome respite from the tension and drama that permeates much of the film. Brendan Fraser is also a standout in a small but memorable role as Jones, a mysterious character with his own agenda. The rest of the supporting cast is equally impressive, with Ray Liotta, Bill Duke, David Harbour, and Julia Fox all delivering strong performances.
The film's 1950s setting is captured with exquisite detail, from the vintage cars to the period-appropriate clothing and hairstyles. The production design and cinematography work together to create a moody and atmospheric world that feels lived-in and authentic. The film's score, composed by David Holmes, is also noteworthy, with its jazzy, noir-inspired sound adding another layer of texture to the film.
In conclusion, "No Sudden Move" is a fantastic addition to Steven Soderbergh's already impressive filmography. It's a smart and stylish crime thriller that is anchored by a talented cast and a well-crafted script. Soderbergh's direction is as sharp as ever, and the film's 1950s setting is captured with meticulous detail. It's a film that rewards careful attention and multiple viewings, as the many layers of its intricate plot slowly reveal themselves. "No Sudden Move" is a must-watch for fans of the crime thriller genre and anyone who appreciates expert filmmaking.
Reader insights
Be the first to share your insights about this piece.
Add your insights