New UHRS Update: Contractors ask workers to stop using multiple accounts (Full Guide)
If you used multiple accounts with UHRS in the past (or are still doing so), then you risk losing your money and access to your account. Here's how to comply with the new policies.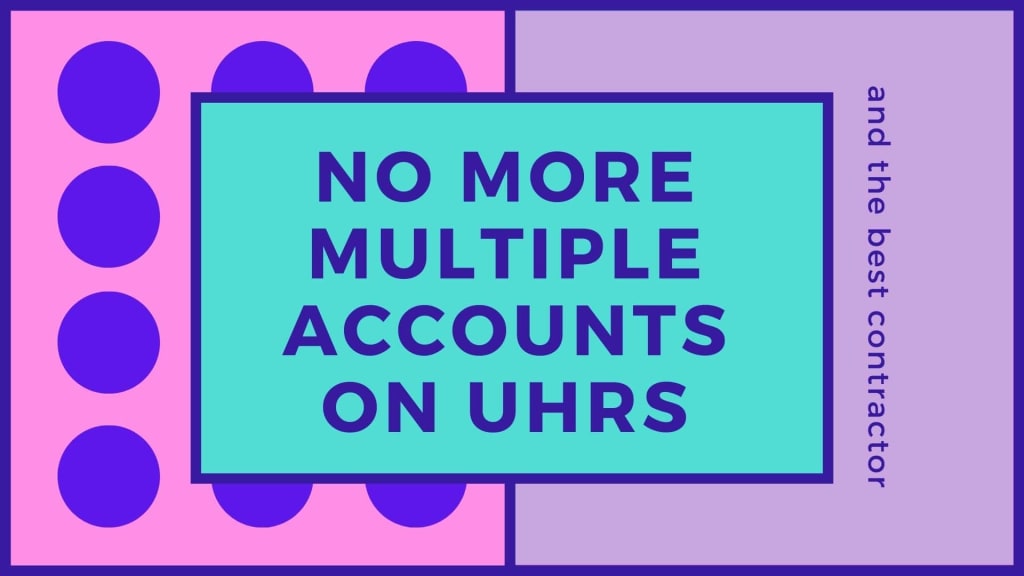 I recently posted about the updated UHRS guidelines where they specifically asked users to only work on UHRS through a single contractor.
Now, it seems like the contractors are getting together to educate users about these changes and take stricter actions against those who don't comply.
I have been receiving a lot of messages from concerned UHRS workers regarding this change. So I decided to write an article explaining
What it means for the workers and how it affects them.
How to comply with these policies
Which contractor would be the best to work with in the days ahead
what do you mean i cannot have multiple accounts?
To be honest, we all knew it was coming. Especially after they issued the new UHRS guidelines last month.
UHRS workers of Clickworker, Teemwork and Oneforma received a mail in the past few days, saying something on the lines of:
"Each freelancer can only have a unique instance of their identity work on a single Microsoft UHRS project at any given time not only within OneForma but across all vendors. This means that if you are already collaborating with another vendor, you will not be able to open a UHRS account through OneForma." (Mail from Oneforma)
Further, they said that if you use multiple accounts with UHRS, you may be banned from the UHRS platform and even get your earnings forfeited.
While Clickworker has asked people to comply immediately, Oneforma has given 10 days for users to settle up.
Also, let me clear up that you can still have accounts with the contractors, such as Clickworker or Oneforma. You can even do other tasks with them; but you cannot work on UHRS tasks with multiple platforms. So you don't need to delete/disable your account with any contractor.
It is clear that you cannot have multiple accounts (on UHRS), and you need to stick with just one Contractor now. So how does it affect work availability and payrate?
How this change might affect work availability and pay rate of Hitapps
I think there's a silver lining in there. While the workers are unhappy that they will lose out on a lot of Hitapps, and their earnings will decrease, I would like to think of it this way:
Recently, people observed a Hitapp that paid an extremely low amount per hit. It was kind of boycotted and no one worked on it for 2 days.
The Hitapp disappeared and soon came back with a revised pay rate– more than twice the previous rate. Turns out the Hitapps pay on a demand-supply basis. So if less people are available to do the work, these Hitapps will pay more.
This is just my personal logic, and it might not be 100% correct, but you can definitely expect work availability and pay rates to become better after this.
Now you just need to make sure you sign up with a good contractor that has lots of Hitapps available to work on.
how to delete or disable my other uhrs accounts
You are only supposed to have one unique instance of your identity on UHRS. This basically means you can only work with a single contractor from now on.
You need to delete your Microsoft account or ask the contractor to disable your UHRS access to comply.
Deleting/Removing your Microsoft Account
The easier way is to simply delete the Microsoft account (hotmail/outlook) you use to access UHRS. It is instant and easy to do.
Simply go to accounts.microsoft.com and login with the account you want to delete.
Click on the "Your Info" tab on the top.
Scroll down to "Account Info" section and click/tap "Edit Info"
Remove all the aliases associated with your account.
All done.
But if you don't remember your login credentials for some reason, you might need to ask the contractor to disable your UHRS access.
Disabling your UHRS Access
You can also mail or raise a support ticket with your contractor, asking them to revoke your UHRS access. Different contractors have different ways to contact support, so here's a handy list of support emails of different UHRS contractors.
Make sure to include your account details (such as customer id/username) in the email. This is a slower method, especially because it can take almost a week for the support team of some contractors to reply to you.
But make sure you get all your other accounts disabled so that you don't end up losing your earnings.
which uhrs contractor should i work with exclusively?
Now that you can only work with a single contractor, it makes sense to choose the best contractor. It should have plenty of hitapps and should be disciplined and transparent with their payments.
Clickworker is the only contractor that I can recommend for this. They usually have the most number of Hitapps at any given time, and have never been late with their payments.
Another contractor that has a lot of Hitapps is Quadrant Resource. But they are often late with their payments and I simply don't recommend anybody to sign up for it. It would be hell dealing with their payment issues, as I have seen many workers go through it.
That's it folks. Let's see how this major change in UHRS policy turns out for the workers. I personally hope things go back to how they were before 2020.
---
Hello, people of Vocal. I write about online earning tips on https://digitalbazaari.com
I re-publish my website's articles here, but vocal does not port over the links and formatting. So if you want to follow the links mentioned in the article, read the original article here: https://digitalbazaari.com/how-to-delete-uhrs-account/
My ultimate goal is to have a digital nomad lifestyle, but right now my goal is to get to 100 followers on Vocal.
About the Creator
I quit my full-time job for an adventure. To live a digital nomad lifestyle by working and earning money online. Follow my journey at digitalbazaari.com
Reader insights
Be the first to share your insights about this piece.
Add your insights