Netflix's Blood Sisters series and the importance of most characters.
You CAN be a good person AND a good friend but which would you prefer?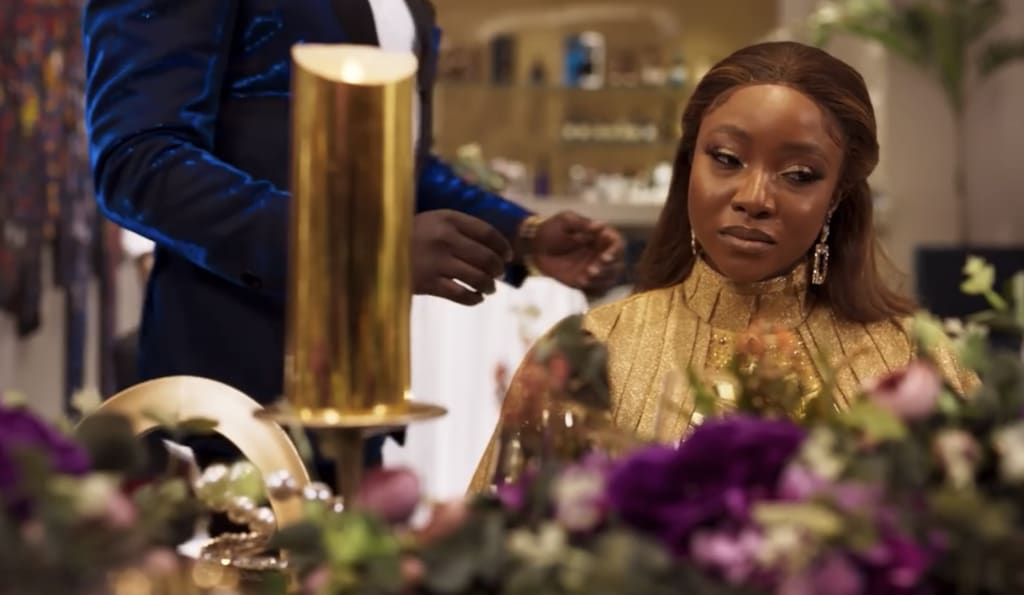 Image Credit: Screenshot from Netflix on YouTube.
Blood Sisters is a recent Netflix series addition from Nollywood. A spoiler warning and sensitive topics (including domestic violence, drugs etc.) warning are in effect! The series centers on various sensitive topics such as domestic violence, culture, overprotection and more issues necessary to be aware of. It follows the lives of Sarah (Ini Dima-Okojie) and Kemi (Nancy Isime) before and after the death of Sarah's abusive fiancé, Kola (Deyemi Okanlawon). Kola is the CEO of Ademola Pharmaceuticals, the family company he runs after the death of the head. We get a glimpse of his power financially and socially as he draws during a business pitch meeting. He uses a helicopter to his wedding and the lyrics of the soundtrack state " I got the drip and they know it". Kola's power is also shown in his relationship. His speaking carries a harsh tone as he coerces Sarah to change her dress to one he prefers disregarding her appreciation for the dress she wore. His power is also shown as he signalled his bodyguard, Uncle B (Ramsey Nouah) to rough up Kenny (Ibrahim Suleiman), the man who tried to protect Sarah, stop the wedding and portray his love. Kola embraces his power in all forms and is depicted to be savvy as he led and overpowered Blade(Maurice Sam), the hitman sent to kill him. During a life-ending strangle after Sarah tried to cancel the wedding, Kemi's action of shooting Kola after an attempt to stop him, killed him.
If you like this, you can get more of my articles when you subscribe to my account.
Each character in this story is extremely important and carefully as well as properly portrayed. These are some:
Sarah- She felt indebted to Kola and his family not solely from her emotions but from the financial benefit brought to her family. The matrimonial seal of their wedding was also a seal on a business deal. She made excuses for his actions and tried to prevent any embarrassment for the family which could be seen when she lies to Kemi about why she changed her dress, how she handled Kenny's presence and in her discussions with them.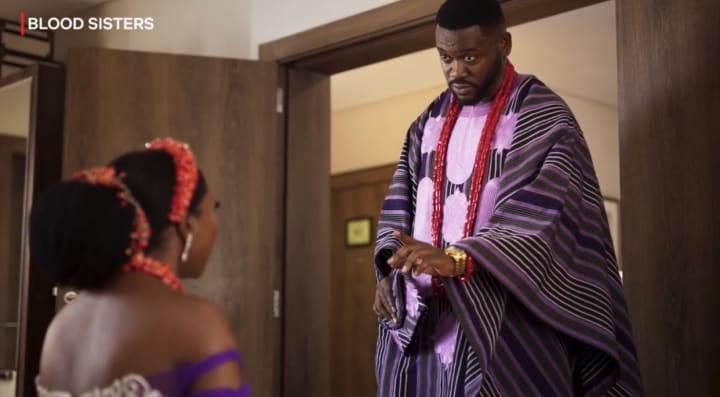 She found the strength she needed to try leaving with the support from Kemi. It is important to embrace one's self-worth and get the proper support to avoid a continuation. She still had nightmares from the trauma but felt safer with her friend.
Kola- He portrayed the evil many people experience and the possible factors that make them the way they are. He is a psychopath determined by definitions from VeryWellMind and Wikipedia. He could be perceived as " someone who is callous, unemotional, and morally depraved" or "characterized by persistent antisocial behavior, impaired empathy and remorse, and bold, disinhibited, and egotistical traits". Kola had a trail of mistreated partners and to soothe his ego he would tell them to stay as they are, so he could draw them.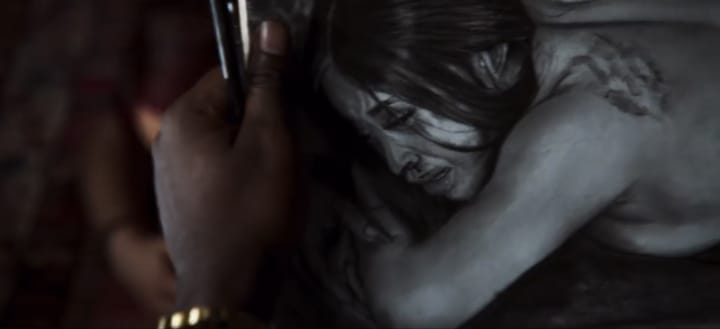 Kemi-She is the representation of a trusted friend, support and love. Not only were they blood sisters because of the blood they shed but also from the sisterhood they share. Sarah firmly encouraged her parents to adopt Kemi after her parents died at a young age which formed and strengthen their bond. Although Kemi could be seen as a bad influence or source of peer pressure in certain situations, she was the support Sarah needed to survive.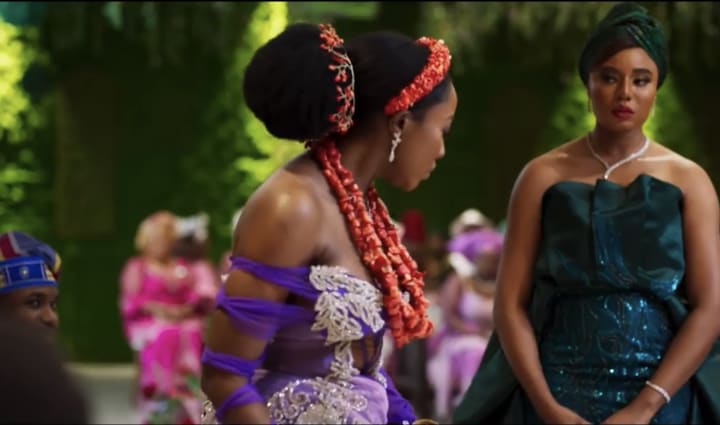 Akin (Daniel Etim-Effiong)-Arguably THE BEST CHARACTER IN THE WHOLE series. He's the just influence and representation needed in situations to avoid harm to others. Many people don't try to find out or worse they know of the evil someone is doing and decide to ignore it. It could be ignored to avoid the perception of betrayal, snitching or whatever but the justification of saving another person's life or people's lives from the possible harm someone you know could cause should be more important than any emotion of destroyed loyalty. I loved this character so much and the way he handled it too. It was truly refreshing. He kept an open mind, actually investigated despite what he said to Kemi and was respectful about it. He was a good friend to Kola as he helped find out the cause of his death but was also or more of a good person by uncovering the monster that Kola was.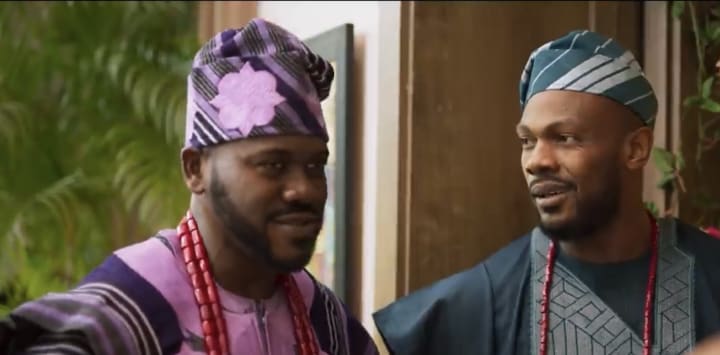 Mrs.Duru (Uche Jombo)- She is the representation of most outsiders and relatives in situations like this. She tells Sarah to endure the beating and that it may be a result of something she did before guilt-tripping her with the benefits the family provides. This is often a cultural perception to tolerate it all hoping people change or overlook certain actions as possible one-time or justified actions. This is such a harmful ideology or version of submission that spans across the globe in all cultures but still exists to the detriment of the abused. Mrs.Duru changed after acknowledging the wrong as her daughter could have been killed but it should not get to the extreme before an out is created or support is given.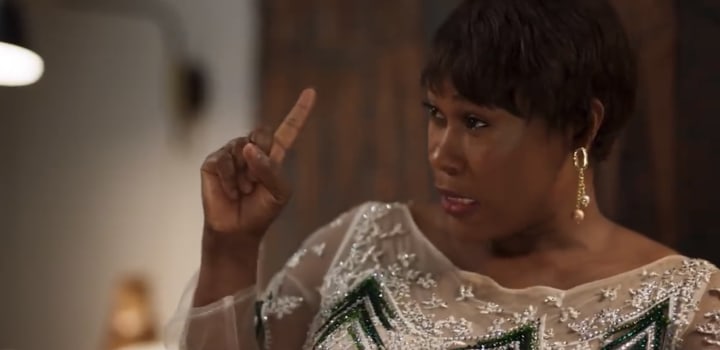 Timeyin (Genoveva Umeh)- She is one of the three Ademola children, however, she is treated devastatingly. She has issues with drugs and more as she is seen as an embarrassment to the Ademola name claimed to always be overseas. She tries to do better and has been to rehabilitation centres but gets no support or love. She is persistent in doing well and adamant about not returning to her vices as seen when she avoided temptation from her brother, Femi (Gabriel Afolayan)and his wife, Yinka(Kehinde Bankole). She feels incapable of progress as she's constantly said to be worthless by her mother. She had no one to turn to except surprisingly the monster brother, Kola. She represents the need for support and the impact negativity and hatred could have on someone. She was taken to an "extreme Christian rehab" and was mistreated until she ran away.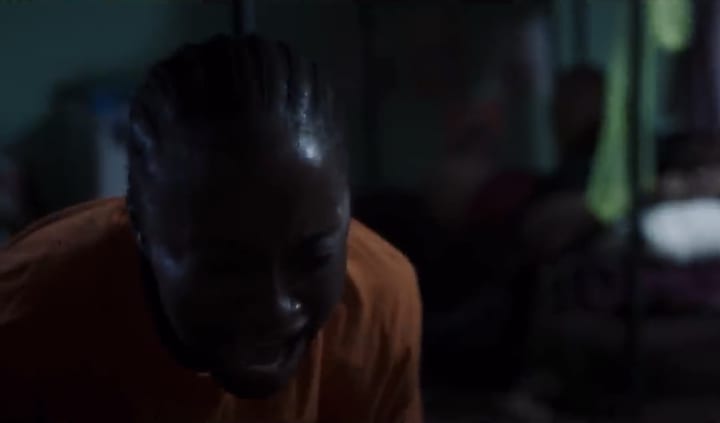 Uduak (Kate Henshaw)- The most important character is the Ademola matriarch. She, as stated in the series, is the core of everything not only for the family status but for their sins as well. She killed her husband and biological father to Femi and Timeyin but cherished his name with prestige. She cheated on him with a minister, David (Zack Orji)and was broken when he picked his wife over her but took their son Kola to live the Ademola lifestyle. She is the embodied notion of overprotection. She sheltered Kola so much from reality and is a major factor in Kola being the way he was. Her relationship with him was a bit strange to me but I digress, she favoured him so much as the youngest child that he was CEO of the family company and a harm to society. She caused more harm to women because supporting her psychopathic abusive child by saying the women deserved the torture because they did not deserve him is quite vile. She is emotionless and harsh to the other children as well as everyone really but always smiled with Kola, he was the source of her joy. You almost become empathetic towards her as she searches for Kola but remember she's heartless. The death of Oladayo Ademola affected the children as they were left with their mother and a disdain for each other. She caused Timeyin to drink and indulge in her vices to forget all this. Femi had a support system but planned to kill Kola despite not actually wanting to because he still loved him. Uduak is the source and cause of so much negativity.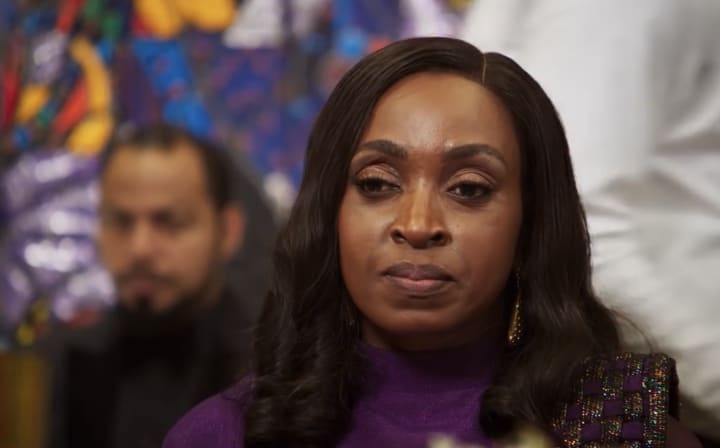 Other characters I thought were important were:
The inspector or Joe (Wole Ojo) avoided the hierarchical pressures and followed the evidence with integrity to bring justice despite putting his job on the line. He also seemed like an overall nice person. 
Abasiama(Toke Makinwa)wanted Kola back as his mother said and came right before the wedding to stop it. This was quite interesting as their history unfolded to show she just like any other ex-girlfriend was mistreated as well. However, she seemed to have Stockholm syndrome which according to Cleveland Clinic is "a psychological response to being held captive. People with Stockholm syndrome form a psychological connection with their captors and begin sympathizing with them.". She like the other girlfriends were imprisoned in their relationship with him but with the Stockholm syndrome effect, she still wanted him and seemed to be in love with him. She was visibly annoyed when his aggression with her was questioned and instead worried about his death. The Cleveland Clinic website also states that "many medical professionals consider the victim's positive feelings toward their abuser a psychological response - a coping mechanism - that they use to survive the days, weeks or even years of trauma or abuse.".
Femi and his wife, Yinka are a committed couple based on their marriage and determination but Yinka brings out the evil in him and like his mother, emasculates him. This emotionally weighed on him because he felt little and inadequate but he voiced her negative influence on him as he stood up for himself.
The good doctor or Dr. Adeboye(Tope Tedela)was an organ harvester. I know the girls were tired from running but I was surprised they trusted someone in their fugitive state. His character reminds you not everything is blissful and you should be careful.
The Hotel laundry security guard (Abiodun Kassim) saw the girls when they tried relocating Kola's body for disposal. He did not recognize Sarah as the bride and shared his opinion on how he thought the bride was the reason for the groom's disappearance. He claimed she looked like someone who would be controlling and he ran away from her. This ties into societal beliefs and was an interesting interaction.
It is a great story in a limited series very important not only in the Nollywood and African societies but to the world as well. The representation is good showing different beliefs (church and gods), different ways of life (rural and city life) and different kinds of people. It helps negate stereotypes by showing the variety which exists all at once. The series shows characteristics and could help people in real-life situations identify the evils to gain strength like most characters did to do the right thing. I enjoyed watching this. The outfits were spectacular and the talent was excellent. There are so many recognizable faces and respectable actors, actresses as well as producers in Nollywood involved.
Netflix also has a new African podcast called Never Late|African time which you could listen to where you listen to podcasts or watch on YouTube.This is the teaser:
Video Credit: AfricaonNetflix on YouTube.
If you enjoyed this, for more of my articles:
About the Creator
I write on various things: social issues, well-being, cinema and out of curiosity. More!
Reader insights
Be the first to share your insights about this piece.
Add your insights