Netflix Favorites List
Some of My Favorite Shows and Movies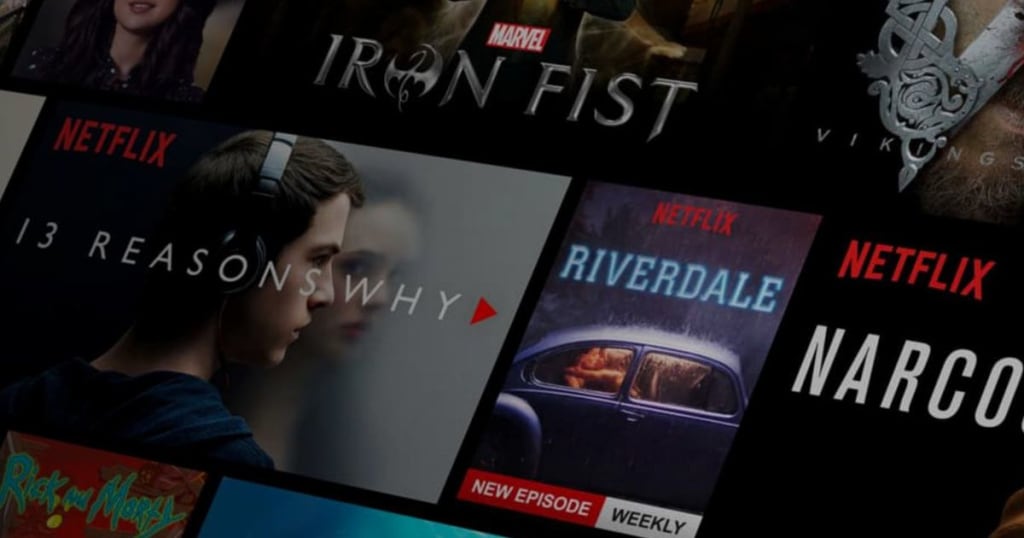 Before I start naming and going crazy with a big list that never ends, I should say that you may or may not love these shows or movies as much as I do but I'm happy to make my list anyway. I would also like to add that this list is in random order, not from worst to best or best to worst. Don't get it twisted. Here we go, so buckle up.
Shows
Shameless
Gossip Girl
Dynasty
Parks and Recreation
Black Mirror
Orange is the New Black
iZombie
The Office (US)
The Good Place
Arrested Development
13 Reasons Why
Ozark
New Girl
Grey's Anatomy
American Horror Story
Dexter
The 100
Better Call Saul
Breaking Bad
A Series of Unfortunate Events
Wentworth
Bates Motel
Hemlock Grove
The Following
Big Mouth
The End of the F***ing World
Nurse Jackie
Glee
Freaks and Geeks
Haters Back Off!
Now, ending the 'Series' list, I left out a few. Not because they weren't good enough or whatever but because I wanted the list to be 30 and had to sacrifice some room. Out of these 30, my personal top five down the list would be: Shameless, Dynasty, Black Mirror, Orange is the New Black, and Grey's Anatomy. I do love Gossip Girl with all of my heart, so she's got a special place there. Now, lets get on to the top 30 movies of Netflix, which I have to warn you is mainly horror movies and some comedies.
To dive a little deeper into some of the shows, if you're a fan of Miranda Sings then you will enjoy Haters Back Off! because it's all about her. If you want a raunchy cartoon deal like Rick and Morty or Bob's Burgers, I would definitely go for Big Mouth. Do not let your children watch that show for crying out loud. That is, unless you want them to learn about sex and the human body.
If you liked Orange Is The New Black then you might like Wentworth. It's kind of comical but more dark and twisted. There's a lot more violence and scandals in Wentworth than in OITNB. So, if you want more of a hardcore vibe then that's your winner.
There's a lot of controversy surrounding 13 Reasons Why but whether you think it pushes boundaries too far or not, it doesn't. It could be "triggering" for some people but, if you already know what it's about and you feel it will "trigger" you, don't watch. If you want to know more about it though, I do recommend watching Behind the Reasons which is also on Netflix, because it goes into depth about the show and characters.
Movies
The Descent
47 Meters Down
Deep Blue Sea
Cult of Chucky
Last Shift
Scream 4
Clown
The Conjuring
The Ritual
It Follows
The Lazarus Effect
Hush
13 Cameras
1922
Would You Rather
Scream 2
The Lovely Bones
The Boy
V/H/S 2 (Only because they took the first one off. The first is better.)
Teeth
Father of the Year
Mamma Mia
The Kissing Booth
Despicable Me 3
The 40 Year-Old Virgin
Masterminds
The Do-Over
So Undercover
Coco
Coraline
I do realize that my movie choices are all over the place, so let me explain some of them. I love horror movies with all of my being, they fuel my soul. Out of this list, I think my favorite horror movie would be Last Shift. It wasn't highly recommended a while back when no one had really watched it on Netflix yet, so I didn't expect much. After giving it a go, it really turned out to surprise me. So, if you haven't seen it yet and enjoy a good horror flick, then it comes highly recommended by me.
My second explanation is Scream 2 and 4. I love that entire franchise. I wouldn't mind if they went on for three more movies but lets be honest, that won't happen and yes, I am crying about it. But the movies are very good. I'm sorry if you think you're too good for the Scream movies.
Anyway, if you're looking for a movie that's kind of cheesy and a teen flick, something you would've watched when you were 12 years old, I did enjoy The Kissing Booth. It gave me nostalgic vibes because it reminded me of Angus, Thongs and Perfect Snogging. Which I think used to be on Netflix as well but don't believe it is anymore. It's pretty corny but it's enjoyable.
The Ritual. I watched this movie with my boyfriend after a night of watching random horror flicks and we didn't have very high hopes for this movie but it turned out very good. If I could rate this out of 10, 10 being the best, I'd give it an 8.5. Even though I really liked it, I'm only giving it 8.5 because I feel it could've went into further detail about backstory. Otherwise, it's basically a 10. I'd definitely add it to your list.
I get that people will read my list and be like, "These suck; that show is terrible," and that's fine. These are just some of my favorites and I felt like sharing. If you have any suggestions or comments, you can find me on Instagram, Twitter or even my Mixer channel at LynnLegendx. Lets talk and have a discussion. Until then I hope that you try out some of these series and movies for yourselves and have yourself a good time.
list
About the author
Reader insights
Be the first to share your insights about this piece.
Add your insights