My Top Three Animated Confirmed Cowards
These characters have "back trouble"--a yellow streak runs down it!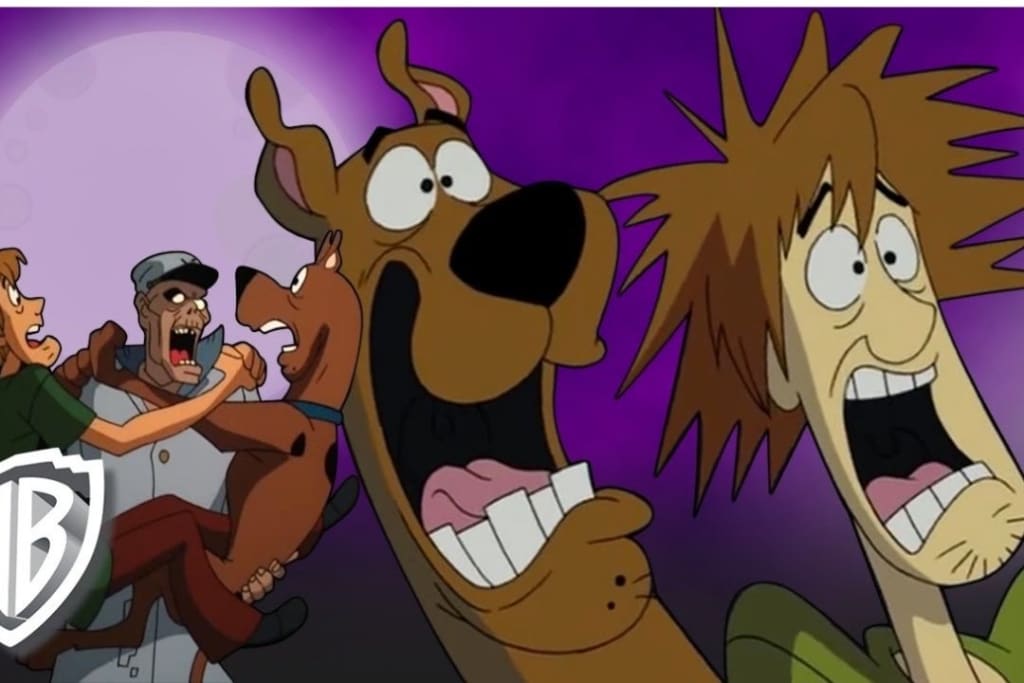 Scooby & Shaggy: The OGs of animated chickens!
Just about every action-adventure team--especially the funny ones--have at least one of them: the confirmed coward character. These turn-and-run guys, well, turn and run when danger strikes, but eventually come through for the team in the end. Here are my picks for the Top Three Animated Confirmed Cowards, in no particular order:
Scooby Doo and Shaggy, the SCOOBY DOO franchise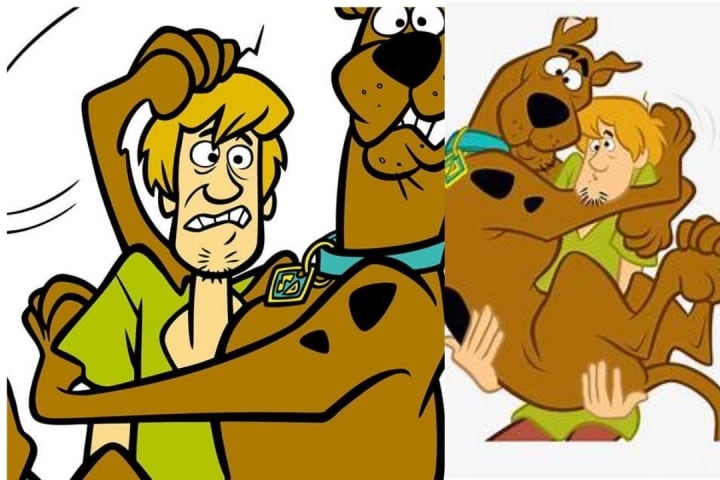 Scoobert "Scooby" Doo and Norville "Shaggy" Rogers have been running away from spooky ghosts, trapping and exposing said ghosts, and solving mysteries around the world as part of Mystery Incorporated, along with their braver friends Fred Jones, Daphne Blake and Velma Dinkley.
The original SCOOBY DOO, WHERE ARE YOU? started out as an animated version of the primetime sitcom DOBIE GILLIS, so Shaggy was once an animated version of DG's Maynard G. Krebs. When Scooby was added to the gang, his original name was "Too Much" because that was the slang the kids were using back then. When a CBS executive heard the lyric "Dooby dooby doo..." from the Frank Sinatra song "Strangers in the Night," he demanded a name change, and so we have Scooby Doo--and have had him for over 50 years.
Scooby and Shaggy have had dozens of iterations--and more than a few different actors portraying them--but the most famous ones, of course, were the late, great Don Messick and Casey Kasem, respectively. Rest in Paradise, you two.
Alexander Cabot III, JOSIE AND THE PUSSYCATS and JOSIE AND THE PUSSYCATS IN OUTER SPACE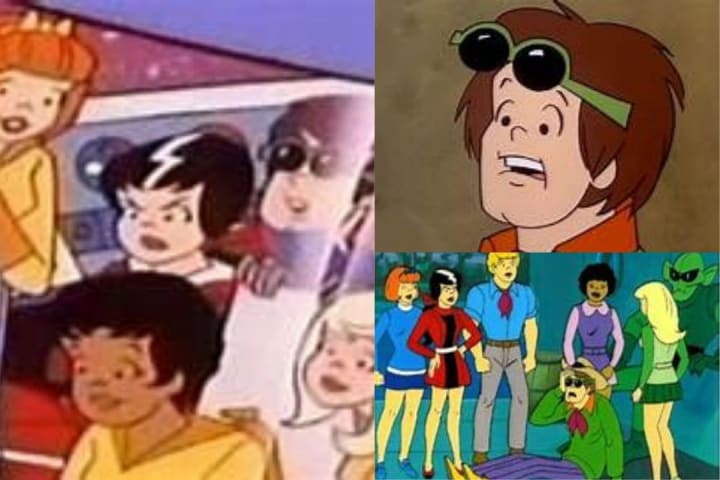 JOSIE AND THE PUSSYCATS premiered in 1970 as one of those teenage rock bands who ended up accidentally fighting supervillains trying to take over the world, with a climactic chase scene in the end set to one of the group's hit songs. The "chicken-in-residence" of Josie's entourage was their rich-kid manager Alex Cabot III.
As voiced by Casey Kasem, Alex's schticks include: literally flipping his sunglasses when scared, fainting when danger rears its head, having to be literally dragged by the feet by the rest of the gang, and when the villains were captured, taking all the credit for their capture! When the show became JOSIE AND THE PUSSYCATS IN OUTER SPACE the next season, Alexander added crybaby to his lists of character traits.
The last original appearance of the Josie gang was in an episode of the second season of THE NEW SCOOBY DOO MOVIES, so Casey's voice got a real workout doing Shaggy and Alex!
Eddie Spenser, Jr., FILMATION'S GHOSTBUSTERS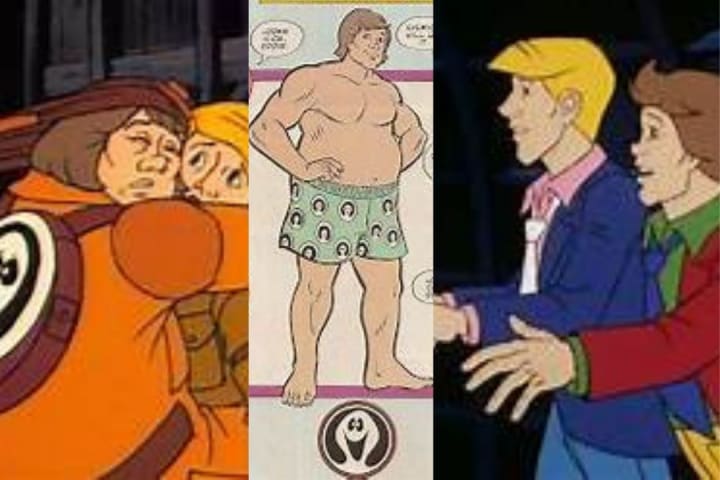 I've gone and saved my fave for last! FILMATION'S GHOSTBUSTERS was the animated spinoff of their live-action SatAM comedy series THE GHOST BUSTERS. Kong and Spencer from the earlier series left the Ghostbuster business to their grown sons, Jake and Eddie; Tracy the Gorilla worked with the fathers and sons.
With his longish brown hair, cuddly chubby body and high-pitched voice for a guy, Eddie to me was more attractive than his tall and blond best friend and leader Jake, whether in his Ghostbuster aviator's outfit, his colorful civilian suit...or his "Ghostboxers" (underpants with the GB logo all over them) during the "Transformation" sequence. He's also klutzy, dimwitted, and of course, a big scaredycat, constantly jumping into Jake's arms (and sometimes Tracy's) when frightened.
Some of Eddie's best moments: Getting a wizard to make him a superhero to save the team and impress them, only to learn they already liked him the way he was and asking to be changed back; offering to help his "little brother" (from the Big Brothers program) with his homework and the boy answering him with a polite version of "I can get them wrong all by myself"; taking up painting and learning (the hard way) that he can only get better at it through dedicated practice and no shortcuts; reading a novel instead of his usual comic book--Cervantes' DON QUIXOTE (which he mispronounces "Don Quicksotty"); and any time his childlike curiosity about someone's invention leads him to accidentally wreck something. But Eddie never gives up on his friends and family, because as cowardly as he is, his heart is bigger than his tummy.
FUN FACT: Eddie Junior was voiced by Peter Cullen, the voice of Optimus Prime in the 1980s TRANSFORMERS animated franchise.
Well, there you have it: my Top Three Cartoon Cowards. I leave you now with Eddie Spenser in mid-transformation. He looks better in shorts on a giant spider web than his pal Jake!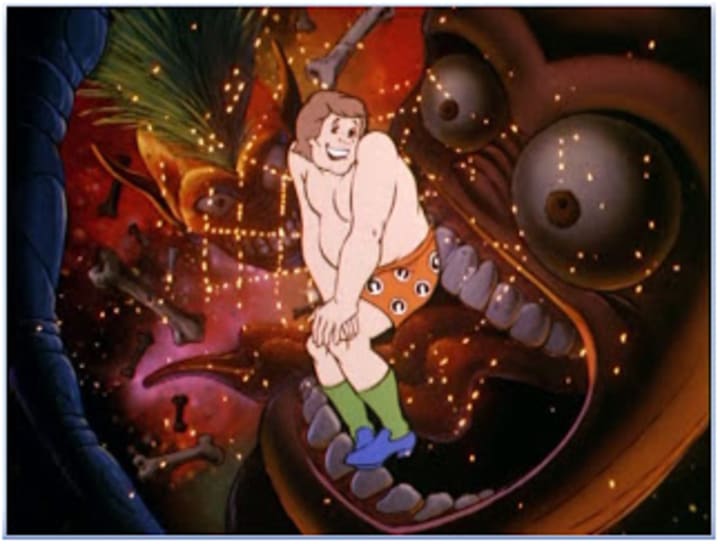 tv
I call myself the baby boomer with the heart of a millennial. As an animator/cartoonist/ caricaturist, I'm inspired by the SatAM cartoons of the 60s, 70s and 80s--a wonderful time to watch TV!