My Recipe For Your Next Binge-Watch
The next 5 shows I recommend you put on your binge-watch list.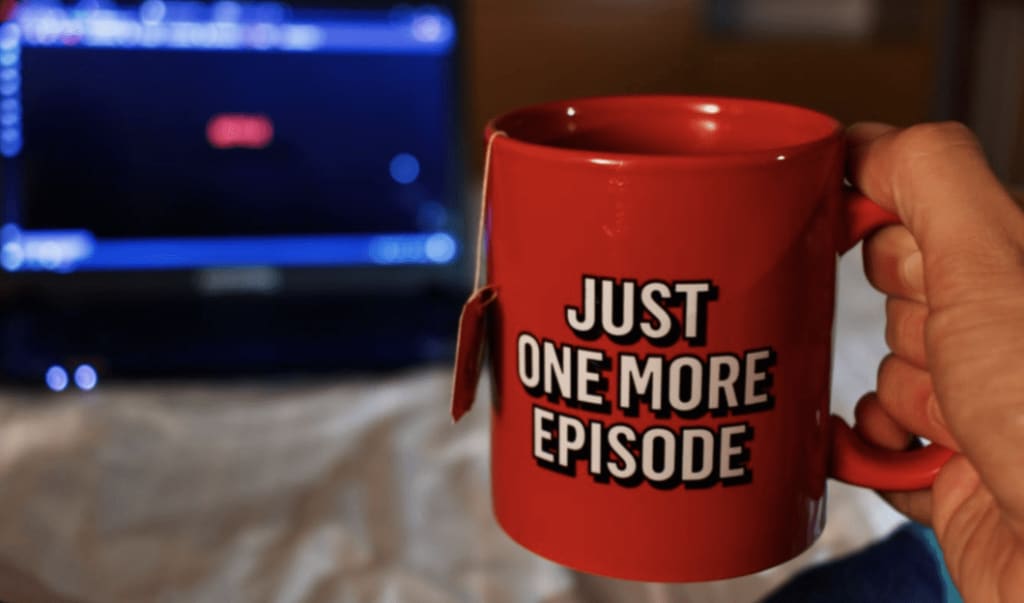 Let's face it, the last year has not been easy on any of us. With the entire world dealing with so much, we need some distractions. And what better way to distract yourself than with a good TV show? There are definitely quite a few shows that helped me get through a lockdown and now I'm here to share with you my recipe for your next binge-watch.
The Office + Parks and Recreation = Brooklyn Nine-Nine
If you enjoyed The Office (and who hasn't?) and shows like Parks and Recreation, then Brooklyn Nine-Nine is gonna be your next 20 min per episode addiction. At first glance, these shows might not have much in common other than the fact that they are all comedies. But let's take a closer look at them. What do the names Greg Daniels, Michael Schur, and Dan Goor have in common? Greg Daniels adapted the original British version of The Office for the American version of the show. Michael Schur served as writer, producer, and occasional actor on the show. They went on to create another workplace-based comedy together with Dan Goor: Parks and Recreation. And in 2013 Schur and Goor created Brooklyn Nine-Nine, a police procedural drama, starring an ensemble cast lead by Andy Samberg and Andre Braugher. If you enjoy great comedy and on top also crave some action and twists, then Brooklyn Nine-Nine is a show for you. But be aware, it is very addictive and one 20 minutes episode per day can very quickly turn into 1 season per day. The show is available on Netflix.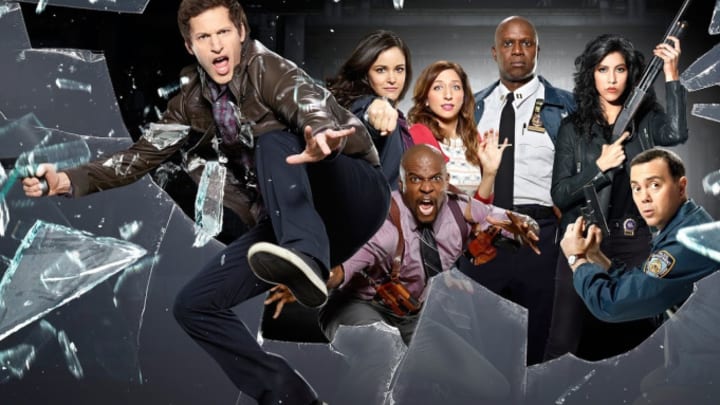 Mad Men + Fleabag = The Marvelous Mrs. Maisel
Let's be honest, there never was a show quite like the next one on my list, but if you enjoyed shows such as Fleabag and Mad Men, then you will love The Marvelous Mrs. Maisel. Hold on… I know what you are thinking. What on earth can a serious period drama like Mad Men have in common with this fresh period comedy? Well, both shows are based in the repressive yet glamorous New York City in the 1950s/60s. Both shows feature very compelling female characters and The Marvelous Mrs. Maisel doesn't shy away from dealing with the challenging times the show is set in, and the counterculture revolution. On the other hand, Fleabag, created by and starring Phoebe Waller-Bridge, lets us into the life of a strong woman, fighting through very challenging times as The Marvelous Mrs. Maisel does. In Fleabag the main character is trying to get her life back on track after experiencing a tragic loss of a dear friend and is trying to balance the challenges she faces as a young, single woman living in modern-day London. In The Marvelous Mrs. Maisel, we follow a young New York housewife Miriam Maisel, whose life is blown to pieces when her husband suddenly leaves her. And remember, we are in the 50s when divorce was considered to be one of the biggest scandals. Now add the fact that she is from a very well respected and very Jewish family on top of that: DOUBLE SCANDAL! But Miriam finds light in all this drama and she finds it where no one would expect it (from a woman in those times): in stand-up comedy. And trust me, she will make you laugh. Both shows are heartbreaking to watch at times, but they manage to give you hope that somehow everything might work out. The Marvelous Mrs. Maisel is available on Amazon Prime.
Veep + Modern Family + Grace and Frankie = Schitt's Creek
If you enjoyed shows like Veep, Modern Family and Grace and Frankie, this sitcom created by the father/son duo - Eugene and Dan Levy - will be your next guilty pleasure binge. The show tells the story of a wealthy family that loses all their fortune after their business manager steals all of their money. The family is now forced to move to a dreary small town their father Johnny Rose (Eugene Levy) once purchased as a joke and called it Schitt's Creek. A family used to luxury finds itself living in a motel that is anything but sumptuous, and it's forced to adjust to their new life - a life with no money and each other's constant presence. And trust me, it's entertaining and cringy, but at the same time heartwarming. Dan Levy found inspiration for the series in American reality television shows and started wondering how would those people ever survive if they lost all their money. The writing and the performances by the ensemble cast are phenomenal; the show did not become the most Emmy-awarded comedy in a single year for no reason. The show is available on Netflix.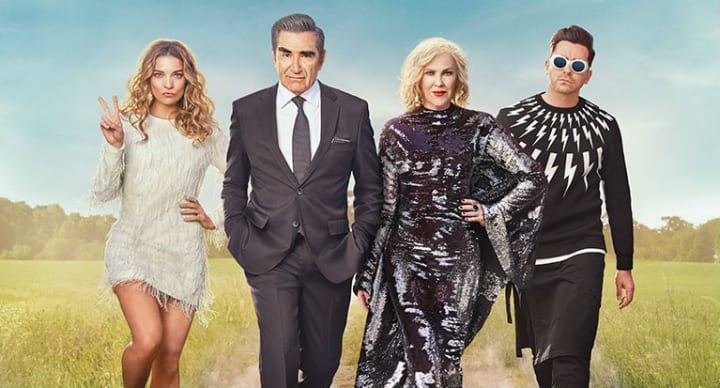 Game of Thrones + The Vikings + Peaky Blinders = Outlander
All right, time to move to a different genre. I'm pretty sure there are some fantasy period drama fans out there. If you are one of those who enjoys and gets hooked into fantasy worlds and can't stop until they get to an end, and then feel sad because it's over, then you might want to check out the next series on the list. If you are a fan of shows like Game of Thrones, The Vikings, and Peaky Blinders, then Outlander will be your next go-to historical drama. The show is set in 1945 and follows the story of Claire Randall, a former World War II nurse, who accidentally travels through time and finds herself in the eighteenth century, specifically 1743. The show is set in beautiful Scotland and the stunning shots of its landscape will be just one of the many things you will be captivated by. There is a little bit for everyone in this show;
romance ✓,
history ✓,
adventure ✓,
fantasy ✓,
epic battles ✓,
drama ✓.
After a few episodes the show might strike you as a laid-back historical piece, but do not get fooled! Very soon you will be praying to get that easy-going vibe back because some really serious s... is about to go down! And that's all I'm going to say because if I type one more sentence I will unintentionally throw some spoilers at you. Outlander is available on Sky and Amazon Prime.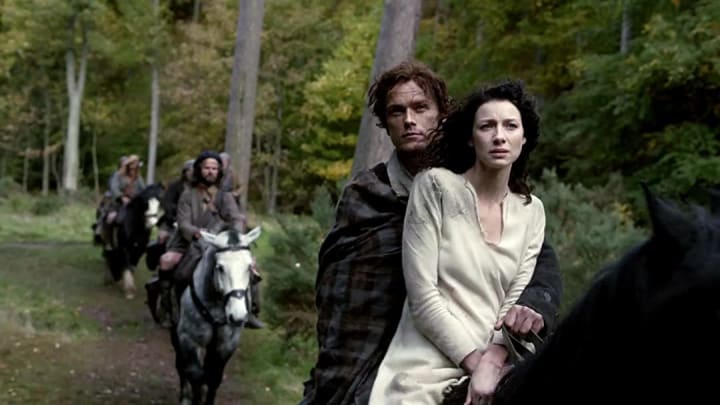 The Crown + Peaky Blinders + Mad Men = The Queen's Gambit
I know it's almost impossible to find someone who hasn't watched this next mini-series on the list, but apparently, there are still individuals who have been deprived of 7 hours of high-quality television. This show will be perfect for you if you enjoyed shows like The Crown and the above-mentioned Peaky Blinders and Mad Men. The Queen's Gambit is a coming of age drama, covering an arch of time from the beginning of the 50s into the 60s, and it follows the life of Beth Harmon (portrayed by Anya Taylor-Joy, who shows us her best performance to date). Beth is an orphaned chess prodigy and the show takes us on her journey to become one of the top chess players in the world. But the road in front of Beth is a bumpy one, full of struggles, drugs and alcohol dependency, love, and loss. Just like Beth's story, the show had its fair amount of obstacles to face. The story, based on the novel of the same name by Walter Tevis, was unsuccessfully attempted to be adapted for screen multiple times. Back in 2007, the show's creator Scott Frank was working on the show with the late actor Heath Ledger, who was interested in directing the series. But it wasn't until 2019 when Netflix ordered a limited series spanning over 7 episodes that the show's creators were finally given a green light to bring now one of Netflix's biggest scripted limited series to date.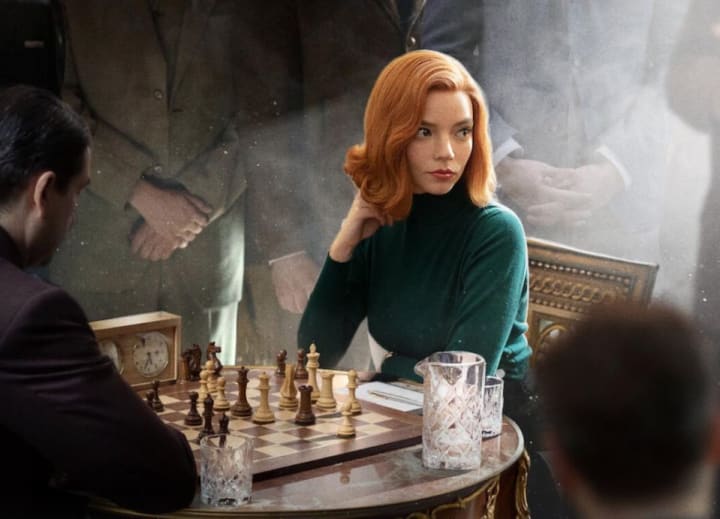 Now if any of these shows become your new addiction I will take full responsibility! And also... You are welcome.
tv
About the author
Leap day baby, a Slovenian girl following her dream to become an actress. Currently living and studying at Acting Coach Scotland in Glasgow.
Reader insights
Be the first to share your insights about this piece.
Add your insights