Must See K-Drama 3
List of best K-Drama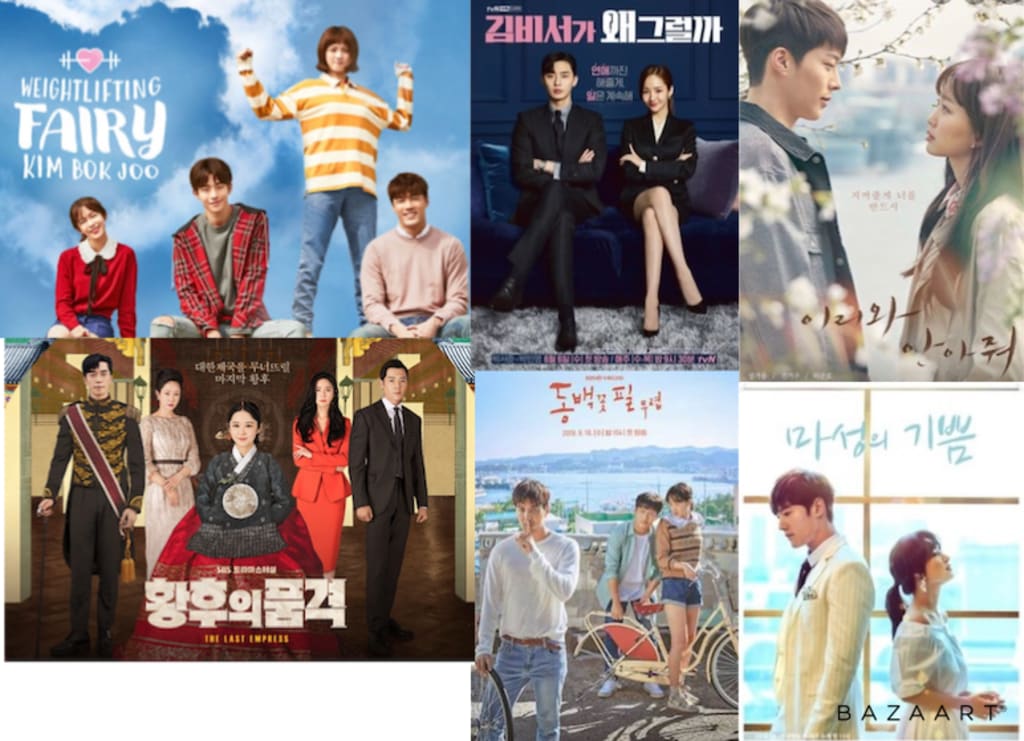 I still writing about K-Drama. 😆 This is last one, I promise. There are so many good TV shows and it's hard to choose. 🤷🏻‍♀️😊
Weightlifting Fairy, Kim Bok Joo (2016)
20 years old weightlifter Kim Bok Joo, who has known nothing but lifting barbells all her life, has her heart taken by storm when she meets her first love in this touching, young adult drama.
I love this TV show! I watched it several times and never got sick of it! 😁 I love Bok Joo's relationship with her best friends, so cute! Her first love relationship are so adorable. Well written! Must watch! ❤️😊👍🏻
When the Camellia Blooms (2019)
The story of Oh Dong Baek, a single mother who moves to the fictional town of Ongsan and opens a bar named Cameila. 6 years later, Dong Baek meets playful Yong Sik who declares his love for her. However Dong Baek does not reciprocate his love but Yong Sik persists in wooing her. When Yong Sik's mother finds out about this, she strongly opposes as Dong Baek is a single mother with a son. Despite Dong Baek's past lover and father of her child trying to win her back. Yong Sik eventually gets Dong Baek to fall for him. Meanwhile, a notorious killer sets out to claim Dong Baek as his next victim and Yong Sik protects her fiercely doing his job as a policeman and figuring out who the killer is.
I just finished watching this. Really good! There was a twist about the killer that I wasn't expecting. 😱😊 Love the relationship between the main characters. ❤️👍🏻
The Last Empress (2018)
Situated in the present in a fantasy depiction of Korea under the rule of a constitutional monarchy at the height of its turmoil, an exuberant and aspiring musician actress marries the emperor. Soon she discovers within the Royal Family of its corruption and secrets and becomes entangled in its struggle to lead.
Meanwhile, she fall in love with a man who is a bodyguard for the Royal Family, working only to get revenge against them. Armed with only her pure love for the justice of humanity and a bulldozer like passion, she escapes from their false conviction of murder, resolves public welfare, recaptures the people's respect, and finds her true love. Together they fight the absolute power of the palace until it crumbles.
I love this! It's a long TV show but totally worth the time watching it. I love Jang Nara. She is so good! The plot is amazing! Full of different emotions such as love and anger while fighting for justice. So many good actors and actresses starring in this TV show. 😁
What's Wrong With Secretary Kim (2018)
Can you be so self-absorbed that you have no idea what's truly going on around you? Lee Yeong Joon (Park Seo Joon) is vice president of his family-owned company, Yoomyung Grour, he is so narcissistic that he doesn't pay attention to what his trusty secretary, Kim Mi So (Park Min Young), is trying to tell him most of the time.
After nine years of making Yeong Joon look good and stroking his very large ego, Mi So decides to quit her job. Yeong Joon's older brother Lee Sung Yeon (Lee Tae Hwan), is a famous author who is in love with Mi So. Can Yeong Joon accept the fact that Mi So no longer wants to work for him or will he get the wrong idea?
I watched this few times. Love the actor Park Seo Joon and actress Park Min Young! The story is sad at the beginning but turn to happiness in the end as the main characters overcome their traumatic experience in their earlier life. 😊
Devilish Joy (2018)
A highly respected and brilliant doctor, Gong Ma Sung (Choi Jin Hyuk), gets into a car accident, and as a result suffers from a memory loss disorder that causes his memories to disappear every night after twelve o'clock. He wakes up every day with no recollection of the past, so every morning he reads back and memorizes his notes of all events that happened the day before. Then one day, he meets Joo GI Bbeum (Song Ha Yoon), a once-popular star, and they fall in love with each other. How will he keep their relationship if he forgets everything the next day?
This TV show is so sad at the beginning as the main character got in the accident and lost his memories. But I'm glad it's ended with a happiness. Great plot! ❤️😊
Come and Hug Me (2018)
Such is life. Sometimes, you are grateful and happy that you are alive, but when you lose the reason to live when you gradually lose things or people that are dear to you. When you face hardship, you start to wonder if living just means you are walking down a path of misery. However, while you are walking down that path alone, there comes a time when you become desperate for someone's hand. That hand may save you from lingering in your own misery and may also spark the desire to live although life is full of hardship. This drama shows that exact moment when two hands reach out to each other and bloom, keeping one another warm and safe. Come and Hug Me wishes to tell viewers that although life may not be full of miracle, there is still that small hope of its getting better.
This TV show is so sad but good at the same time. Such a thrilling and suspense but have romance as well, 😊❤️🥰 Great plot along with amazing actors and actresses.

Jade Renteria
"ART is something that makes you breathe with a different kind of happiness." - Anni Albers
"Writing is hard work. But if you want to become a writer you will become one. Nothing will stop you." - Dorothy Day
See all posts by Jade Renteria →