Must See K-Drama 2
List of K-drama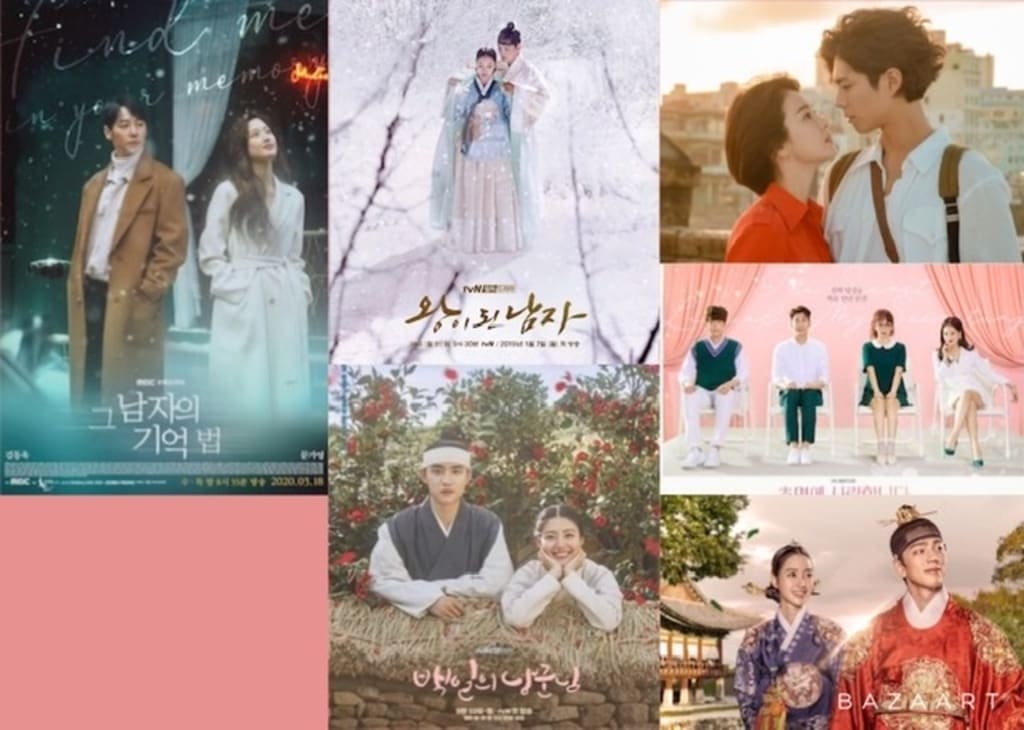 Since there was so many TV show that is good, I couldn't fit all into one story. So I made another one to add more up. Enjoy! 😁
The Secret Life of My Secretary (2019)
Do Min Ik is a competent and clearheaded man who works as an executive of a leading telecommunications company. This smart guy not only recognizes people who he has met just once but also has an insight to read others' thoughts until he is diagnosed with face blindness.
Gal Hee, a loyal secretary of Min Ikl is a dowdy and a little disheveled woman who worked for Min Ik with all her might. On the day she gets fired out of the blue, she happens to witness Min Ik almost getting murdered by someone and becomes his right hand man.
Min Ik who suffers from face blindness mistakes Gal Hee for Veronica Parkm a charming and influential figure in the filming industry, and fall in love with her. Gal Hee starts to pretend to be Veronica, and as time passes, even she herself get confused who she really is. But Veronica finds out about Gal Hee's double life and put an end to it. Would the intertwined relationships and feelings be untangled in the end?
This TV show is awesome! I laughed a little and I really like the plot. Gal Hee is really good actress as she play 2 different women roles. 👍🏻😁
Encounter (2018)
Cha Soo Hyun (Somg Hye Kyo) is the daughter of a powerful, political family. She recently divorced her wealthy husband from an arranged marriage. Tired of living life guided by others, she decides to travel overseas. She meets Kim Jin Hyuk (Park Bo Gum), a free-spirited young soul on the way. Despite their differences, they are undeniably drawn to each other. Will the two find true love amongst their differences?
This TV show is a MUST SEE! So romantic and I love the chemistry between the main character. I love Park Bo Gum, such a good actor. Many good actors and actresses in this show. I love the soundtracks of this show as well. ❤️😁
Find Me in Your Memory (2020)
Jeong Hoon is a news anchor for one of the countries most popular broadcasting stations. He's a handsome man who can always pull off a great suit. However, unlike with his gentle appearances, he gradually becomes abrasive with his interviews and causes people to feel uncomfortable due to his interrogatory like questions. Due to his hyperthymesia, he recalls everything that he has experienced since childhood. A memory he wishes he can forget is that of Seo Yoon, a woman he once loved before she disappeared 8 years ago.
One day, Ha Jin, a rising star who attracts everyone's attention, crosses path with Jeong Hoon. Depsite the recent negative press, her compute and confidence never seem to waiver. The complete opposit of Jeong Hoon, her memory has slowly been fading away. Will they be able to overcome their differences, understand each other, and find common ground?
I currently watching this TV show. Seem so good so far. I got a lot of questions but have to watch further to find out more. I love the actress who is playing Ha Jin! Saw her in another TV show that she is starring in, she is good! 😊
100 Days My Prince (2018)
A political coup sees Lee Yul (D.O.) become a somewhat reluctant Crown Prince of Korea-after his uncle disposed to make way on the throne for his father. His father's cruelty and the death of his mother have left him emotionally scarred, although most of the court think he is cold and aloof. As part of his duties, he issues an edict that forces all of the throne's subjects to marry before they turn 28.
One woman struggling to stay on the right side of the new law is villager Hong Shim (Nam Ji Hyun), a woman with a secret identity even she is not fully aware of. Hong Shim works tirelessly in her village to support her ailing father. A bizarre twist of fate brings her together with the prince who edict is burdening her so much, unaware that their paths have actually crossed once before...
While on his way to an official function, Lee Yul's party is attacked in an ambush while passing through the village. His life is only saved by a quick-thinking official, who dresses the Crown Prince in peasant garb, Regardless, Lee Yul is struck by an arrow and hits his head, falling unconscious. When he awakes, Lee Yul finds himself in Hong Shim's house. Unaware of who he is, she and her father treat his wounds. The attack has left him with memory loss, and - taking him for an unmarried commoner - the villagers wonder if he could marry Hong Shim, saving her from her predicament, unaware of his true identity.
Will anyone ever discover Lee Yul's true identity? Will he ever regain his memory? Will Hong Shim and Lee Yul recall the time they met before these events, many years ago? And can a Royal prince really find true love with a common villager?
This TV show is so good! So funny to the relations between the main character. Well written plot! Must watch. 👍🏻😊
The Crowned Clown (2019)
The kingdom of Joseon is plagued by disorder, with violent political uprising breaking out, and a power struggle surrounding ruthless King Lee Hun (Yeo Jin Goo).
To avoid assassination attempts on the king's life, a clown named Ha Sun (Yeo Jin Goo), who happens to look exactly like the king, is brought to the palace to act as his double. As Ha Sun takes the throne and tricks the court into believing he truly is the king, he begins to fall for the beautiful Queen Yoo So Woon (Lee Se Young).
I really love this! Both main characters are so good! I was really impressed with the actor Yeo Jin Goo. So amazing to see him play 2 different personalities. 👍🏻
Queen: Love and War (2019)
Kang Eun Bo (Jin Se Yeon) is a woman on a mission. When her twin sister is murdered, she vows to find the killer and bring them to justice. But during the ultra-conservative Joseon Dynasty era (1392-1910), the only woman with the power to order a manhunt for a murderer is the Queen. So Kang Eun Bo resolves to win the prized rotal title so she can one day avenge her sister's death.
To do so, however, she must first win the heart of Joseon King Yi Kyung (Kim Min Kyu). Yi Kyung grew up in a time of great political unrest, and is less interested in matters of the heart - and more concerned with bringing peace to the realm.
Kang Eun Bo soon discovers that winning the king's favor will not be easy - the royal court is also inundated with beauitful young women, many of who hope to wed the king. But when the king suddenly realizes that he recognizes Kang Eun Bo from a dream, the two begin to form an unlikely bond. Will Kang Eun Bo ever find her twin's killer? And could love bloom between the streetwise Kang Eun Bo and the idealistic king?
I just finished watching this. So good! Love historic TV show. This story plot is good and there was some twist that I wasn't expecting. But worth watching! 👍🏻😁

Jade Renteria
"ART is something that makes you breathe with a different kind of happiness." - Anni Albers
"Writing is hard work. But if you want to become a writer you will become one. Nothing will stop you." - Dorothy Day
See all posts by Jade Renteria →