Must See K-Drama
List of my favorite kdrama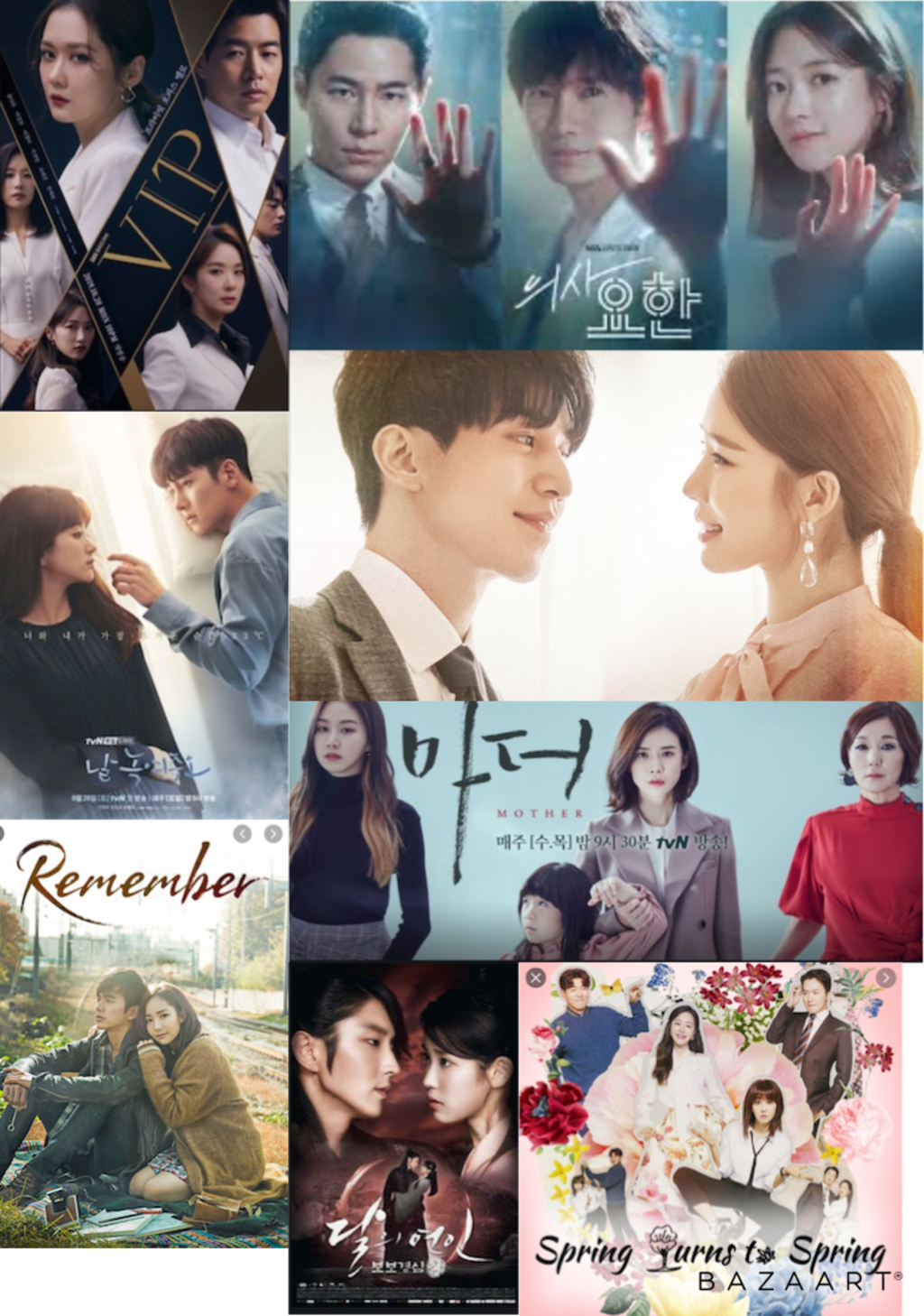 Mother (2018)
How far will she go for a student? Soo Jin (Lee Bo Young) is working a temporary position as a teacher at an elementary school.One of her students Hye Na (Heo Yool) catches Soo Jin's attention because of her unkempt appearance and strange mannerisms. When Soo Jin discovers that Hye Na is being abused at home by her mother, Ja Young (Go Sung Hee), Soo Jin becomes very distraught.
One fortuitous day, Soo Jin sees Hye Na wandering around after dark unsupervised. Through a series of chaotic events, an irresistible impulse gets the better of Soo Jin and she is overcome with the desire to protect Hye Na from any more harm. But how far will Soo Jin go to protect the sweet Hye Na?
This TV show is a must-see! I really love the relationship between Soo Jin and Hye Na. So sweet! 😊❤️ I cried several times while watching this but worth watching.
Spring Turns to Spring (2019)
Young news anchor Kim Bo Mi has always thought everything was only a tool for her to obtain her desires. Being raised as an orphan, she shrived endlessly to take herself where she is at now by working hard. She is a go-getter who puts her past behind by also changing her name from Bom Yi to Bo Mi.
Here's another stranger, Lee Bom. She used to be a top star actress but now lives as a loving mother and wife, always putting her family first. She retired her successful career to marry her husband and support his vocation as an assemblyman. Her husband is doing great, her daughter is adorable, and everything in the household is running in order. Right when these two women thought they were living their best lives, an unexpected turn of events happen.
"Spring Turns to Spring" is a story about these two women with similar names, fining their own happiness in life after experiencing a body-switch with each other. Really love this TV show! So hilarious! 😆
VIP (2019)
Jung Sun is the deupty head of the VIP team in Seongwin Department Store. She seems to be having a happy life as she's recognixed for her competency at work and is always in good terms with her husband Sung Jun, the head of the VIP team.
But on the other hand, no one knows how hard she struggles to be loved by others due to trauma she got from having been abandoned by both her birth mother and stepmother. She firmly believes that Sung Jun would never let her down at least. One day, she gets an anonymous message. "Your husband is having an affair with someone in your team." After receiving this message, she gets to know the secrets of Sung Jun and the women.
This TV show is new and I love it! Give you a lot curiousity. Such a thriller and suspense TV show. 😁😬
Doctor John (2019)
People think it is a doctor's bounden duty to save a patient's life. But things are different now. Things are needed to be considered other than saving one's life. Modern medicine has been developed remarkabl, and it is quite possibel to save a person's life who is on the verge of death. But we need to think about if prolonging a patient's life makes the patient truly happy. Cha Yo Han is a promising doctor who needs only 10 seconds to figure out the patient's condition. While he is gaining his fame with his outstanding skills, he confronts one patient who changes his whole life.
Kang Si Young is a doctor with a warm heart. Her family has been doctored for generations. She takes after her mother's exceptional talent and her father's high empathic ability. But one day, she suddenly leaves the hospital. After a year later, she goes to penitentiary to serve as a temporary medical doctor, and she meet a prisoner who was a former doctor. He is a genius who can grasp the patient's condition within 10 seconds. After meeting him, Si Young's life totally changes. And the day she come back to the hospital, she meets the prisoner again, and this time, he is a professor.
Doctor John is a human medical drama of anesthetists who seek the cause of mysterious pain their patients suffer, like detectives chasing after a suspect. Best medical drama that I have seen! Such a good actors and actresses. 👍🏻
Melting Me Softly (2019)
Go Mi Ran (Won Jin Ah) is a young jobseeker who is told she will be given about $4,200 if she takes part in a cryogenic freezing program. She is told that she will be frozen for just 24 hours and then leave with her money. Also being frozen is Ma Dong Chan (Ji Chang Wook), a popular entertainment TV producer who is cold as ice when it come to working - but tends to get hot and passionate when it comes to affairs of the heart.
but instead of waking up a day later, the duo awakes from cryogenic slumber to find they have slept through 20 years. All the people Mi Ran and Dong Chan once knew have aged by 20 years, but their own bodies and memories have not changed at all. Life 20 years in the future is not easy - and things are made harder for the duo when they discover that should their body template res rise about 33 Celsius, they will die.
When Mi Ran and Dong Chan begin developing feelings for each other, tempatures start to rise...spawning all sprts of dramatic consequences. Will the duo fight back the heat a potentially fatal romance? And will they discover the mysterious reason why they were frozen for two decades - and the role of the enigmatic Dr. Hwang, the shady figure behind the freezing project?
I love the chemistry between Mi Ran and Dong Chan. ❤️😊 Such a good TV show to watch!
Touch Your Heart (2019)
Oh Yoon Seo (Yoo In Na), a famous actress, gets caught in a scandal with a son of a rich family. With her career declining quickly, she looks for one last hope to get back on the screen and lands a role playing a secretary in a drama written by a famous screenwriter. In order to get into character, Yoon Seo starts working as a secretary for 6 months under Keon Jung Rok (Lee Dong Wook), a lawyer who is notorious for being a perfectionis.
I love this TV show! Love the relationship between the main character Yoon Seo and Jung Rok. ❤️
Remember (2015)
Remember is a thriller drama based around the main character who has a special condition called hyperthymesia, which allows him to remember almost every day in perfect detail. He is a lawyer fighting to save his father from being wrongfully executed for murder. He uses his condition to his advantage, but the odds seem firmly stacked against him when he develops Alzheimer's. Will he be able to prove innocence of his father?
This TV show is sad but good at the same time. Such a thrilling TV show to watch. Stay tuned to find out!
Moon Lovers: Scarlet Heart Ryeo (2016)
During a total solar eclipse, a 25-years old 21st-century woman, Go Ha Jin (Lee Ji Eun), is transported back in time to the Goryeo a Dynasty. She wakes up in the year of 941 in the body of Hae Soo, among the royal prices of the ruling Wang family. She initially fall in love with the gentle and warm-hearted 8th Prince Wang Wook (Kang Ha Neul), and later Wang So (Lee Joon Gi), the fearsome 4th Prince who hides his face behind a mask and is given the derogatory label of "wolf dog." As the story develops, Hae Soo finds herself unwittingly caught between the rivalry and politics among the princes over the fight for the throne.
This is one of my top favorite TV show. I love TV show with historical story with their beautiful traditional clothing. I love the chemistry between Hae a Soo and Wang So. So good and also so sad. 😁😩 But worth watching!