Ms. Marvel Review
Episodes 5-6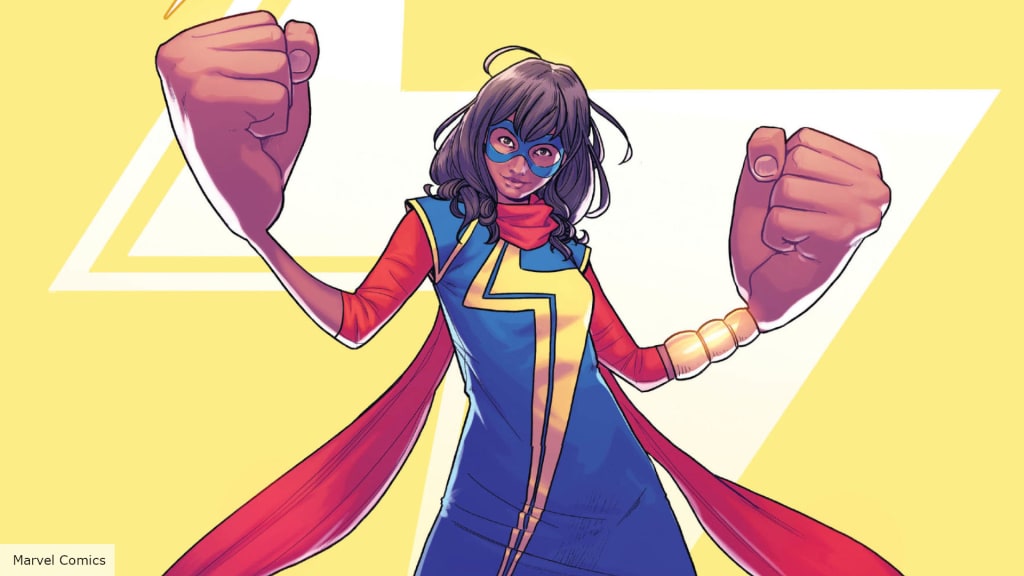 I've been remiss but I finally had time to watch the last two episodes of Ms. Marvel and I am super excited to share my thoughts on the conclusion of this amazing show.
So I am in love with episode 5, we finally get some backstory for Aisha. I think the context was super important and necessary and we got to see the beginning of the Khan family. Now I've said before that I am not the person to speak on representation but I think that bringing in a real piece of history that is very relevant to the generational trauma storyline is really important. Especially considering that the American education system sucks and many, many people have absolutely zero idea what the partition is. I understand that people who have been through horrible trauma (black people, Jewish people, south asian people) don't always want to be represented with their trauma BUT I will say that as someone from none of those groups it's important that other demographics understand history. And like I said before not a lot of Americans understand or even know about the partition, so though I can see possible issues with the representation I do think that it was an important thing to show especially in a show where one of the main themes is generational trauma.
The way Kamala's mom comes to save her is just so freaking cute. Also, the red dagger boy is adorable and I can't handle it. The amount of mother - daughter healing that happens in this show is so incredible. No, no one was strained in the comics but this is better and I will die on this hill. Millenials are making films now about generational trauma and healing and these are important movies for ALL demographics.
Now that the main villain has been taken care of we are now dealing with Kamran having powers and this ridiculous government agency because apparently we need a different one for every Marvel TV show.
Her parents' reactions to Kamala's super powers is so sweet and amazing, I love them so much. "I just want to make sure you're safe out there" WHAT IS HAPPENING. HER MOM MADE HER SUPER SUIT. This is now my favorite TV family and I can't handle it.
The boys are on the run from the stupid department of damage control, and they go to the mosque. Nakia points out that you can't really hide out in a mosque. Bruno is the most helpful boy even to a guy he doesn't like. The commentary Ms. Marvel and Falcon and the Winter Soldier make on government treatment of anyone not white in America is very poignant and makes for very good media. I don't buy into the idea that media is strictly for entertainment, media doesn't happen in a vacuum, media is and has always been for social and political commentary.
This chase through the school between the kids and damage control is actually amazing. It's very high school but it's also brilliant and well thought out. The little moment that Kamala and Kamran have is super cute, glad they didn't kiss though I really want her to end this series by herself.
The fact that this government agency is firing on literal children is so upsetting, and it's supposed to be and honestly is could be commentary on a lot of things in America but it's doing exactly what it's supposed to do.
Also for everyone bitching about the power change, we get to see Kamala expand and change her appearance (even though once again it wasn't ever an actual power change it was simply an addition). Iman is a brilliant actress, with all the CGI that needs to happen for these shows and specifically her powers and it can be very difficult to act in a situation that you can't see or feel. She has the ability to summon such intensity without any visual or physical representation of what she's doing and that is incredible.
The end where Kamala is watching all the Tik Toks about her and she superhero poses in the mirror genuinely made me cry. I loved this show so much and I truly have no complaints or criticisms, for reference the only piece of media I feel that about is The Princess Bride.
Confirming the existence of mutants in the MCU is magnificent, and it was done without a bunch of build up or hype and I really appreciate that.
This show was so freaking good 1000/10 guys.
tv
About the author
Reader insights
Be the first to share your insights about this piece.
Add your insights