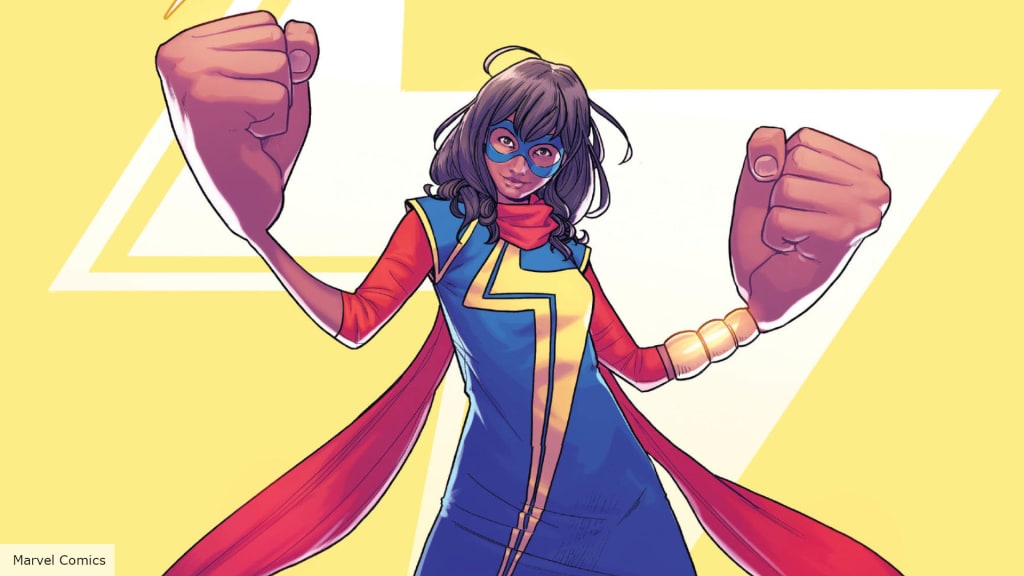 We open with a very necessary flashback of British occupied India in the 40s, the lady from Kamala's vision is there and so is Kamala's great grandmother. She uses the bangle to try and save her people from the British. These women were close, and desperately trying to save themselves. They are all here from another dimension. Kamran is being teased because he clearly has a crush on Kamala and I love it.
It's stated again that the bangle does nothing more than help unlock power that's already within her. Kamala is saddled with the legacy of her great grandmother.
She bursts in to go see Bruno who was freaking out because he hadn't seen her.
Ya'll I simply can not get over how much I love the incredible balance of this show. The narrative is so damn well paced, the character development is amazing and the tone of the show is so perfect for the story and Kamala's character. This creative team is so amazing, the religious aspects of this show are so beautifully done.
The way that Nakia is so wonderfully defensive of her people and her community it's wonderful.
Kamala's mother isn't making it to the wedding and there is clearly still some background stuff we're missing there.
Damage control storming into the mosque was appalling and I love Nakia handled it.
"Good isn't a thing you are Kamala, it is a thing you do", this was just an incredible line that is so impactful for a young person who is struggling and I think it was a beautiful exchange.
Bruno made her her own mask! Oh my god thats so stupid cute, he cares about her so much. Kamala's dad walks into the convenience store where Bruno works and helps translate some pages about the Jin for him. Bruno is so dedicated to helping her and it's so sweet and adorable. He finally tells her that he got into CalTech and tells her he can't go unless he knows she is okay…
Iman is adorable, truly she is an incredible actress who truly understands her character and how to bring depth to this person that she's playing. She is absolutely phenomenal.
Kamala and her mom have such sweet, tender scenes together. Her mom is helping her bandaging up her knee and giving her words of comfort and hope and it's so warm and loving and I really love these moments for her.
Kamran is being sweet and understanding about Kamala's boundaries…I seriously can't pick a boy. My feminist heart says choose neither, she has new powers that she's still navigating and she's trying to find her place in the world, and that place just got a lot more important now that she has the ability to save people and I'm not sure either boy fits into that personal growth narrative. However Bruno keeps her grounded in who she was before her powers, he is supportive and helpful and truly wants the best for her. He wants to help her realize her full potential and fulfill her dreams. And yet Kamran has a background in this magic world that she just found herself in. He knows her in a different way, he understands her culture and her interests and they seem to just fit together so perfectly. Ugh, nope can't choose.
Wedding+Reception scene was so so so good, the massive family dance was so cool, again I am not the person to speak on how the representation is but I truly hope that it is as good as it seems.
Kamaran storms in to warn Kamala about his mom. He is afraid that she is going to kill Kamala's family. Kamala gets them out of there and Kamala is caught up in her first fight with super beings. She is doing a great job of hiding, and then they all summon weapons, getting attacked seemed to help her summon and control her powers. Bruno tries to help her but he gets his ass knocked out, Kamran coming to his aid. And we finally see more of her expanding powers! Kamala is cornered with an injured Bruno, when "damage control" bursts in and captures the group of Jin, unfortunately including Kamran. Friend finds out about Kamala but shes got to dip so she does not also get captured. She finally gets home, and her parents are of course asking legitimate parent questions, and they look both disappointed and exasperated. To have to watch this poor girl keep something like this from her parents is so upsetting.
Kamala's grandmother tells her she saw the train that Kamala just saw in a vision with Kamran's mom.
I really hope we find Kamala's great grandmother, and she makes an appearance in the show.
This show is so brilliant, I really wish I had criticisms of it because that would make for a more interesting review but honestly, I've never had this many consistently good things to say about a show since Avatar the Last Airbender. I love it entirely.