Ms. Marvel
Things to know before the series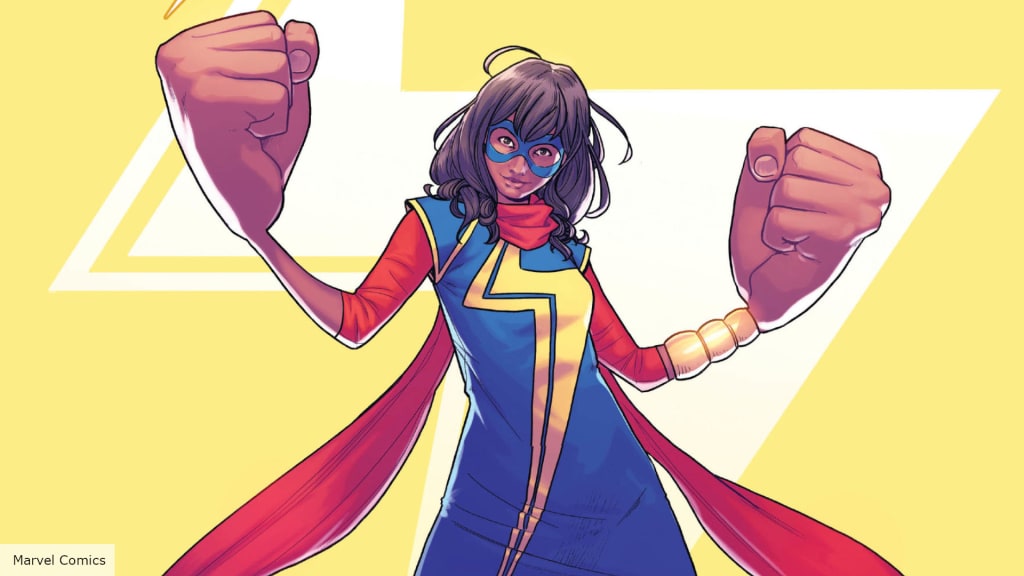 With the Ms. Marvel series about to drop, I thought that it would be a good time to drop a background article for those who don't know who she is or what her background is.
Kamala Khan is the first Muslim character to headline her own comic book, she made her first appearance in Captain Marvel #14 in 2013 getting her own solo series in 2014. What I love about the creation of this character was the amount of care and thoughtfulness that was put into her. Sana Amanat, Steven Wacker, G. Willow Wilson, Adrian Alphona and Jamie McKlevie really wanted to reflect her culture in a way that was accurate and authentic to how modern muslin girls present themselves, and they were careful to not sexualize her as they were very aware of who their target audience was.
Now some of the huge overarching themes present in Ms. Marvel is the struggle to find your identity. She is a young girl and as we all know and remember, being a teenager is something that is extremely difficult and trying to find out who you are and where you fit is its own set of hardships. But when you are a young girl who is different and already has a set of labels saddled upon you it's even more difficult to find a sense of belonging.
Now when the trailer for the new Disney+ series came out there was a lot of internet backlash over the change in Kamala's powers and though comic book accuracy is nice, as long as the characterization of the character is accurate I really don't care about story changes. That said, Kamala's powers are very integral to who she is as a character and how she develops and changing that puts the heart of her character in jeopardy. Even considering that the writers themselves admitted that it would be difficult to transfer her powers to the screen, they look amazing on the page but they were never intended to be transferred. But in a world where ant-man, Mystique, and Mr. Fantastic there really isn't a reason that we can't have Kamala's powers as written. Her comic book powers mainly revolve around image manipulation, she can elongate her body, alter her size, and fully shapeshift. She also has a certain level of healing, though using it extensively wears her out. In the comics she is an Inhuman, one whose powers are activated by the Terrigen Mists. I really enjoy her team up with Spiderman in The Amazing Spider Man #7 because she really does reflect classic Peter Parker and therefore embodies the thing that made millions of people fall in love with Marvel, relatability. Khan's first true, major storyline was when she joined the Avengers. Now this is my favorite thing because you get to see her react, adjust and adapt to being a young woman who dreamed of being a superhero and idolizing the Avengers to being one, the kind of emotional regulation and adjustment that takes can be overwhelming and getting to see her navigate that is a very raw and wonderful story.
I am genuinely very excited to see Kamala Khan hit the screen soon and though I am one of the people who aren't wild about the seemingly drastic change in her powers I remain hopeful that they are true to her character and her story. I know that this series will also pave the way for Ms. Marvel to appear in the Marvels with Carol Danvers and Monica Rambeu, so we may not actually get a whole lot of character development. I am fully expecting this show to be an incomplete picture of her character and I can't wait.
superheroes
About the author
Reader insights
Nice work
Very well written. Keep up the good work!
Top insights
Eye opening

Niche topic & fresh perspectives

Compelling and original writing

Creative use of language & vocab

Easy to read and follow

Well-structured & engaging content
Excellent storytelling

Original narrative & well developed characters
Add your insights