Mr and Mrs Robert Andrews, by Thomas Gainsborough
A look at a famous painting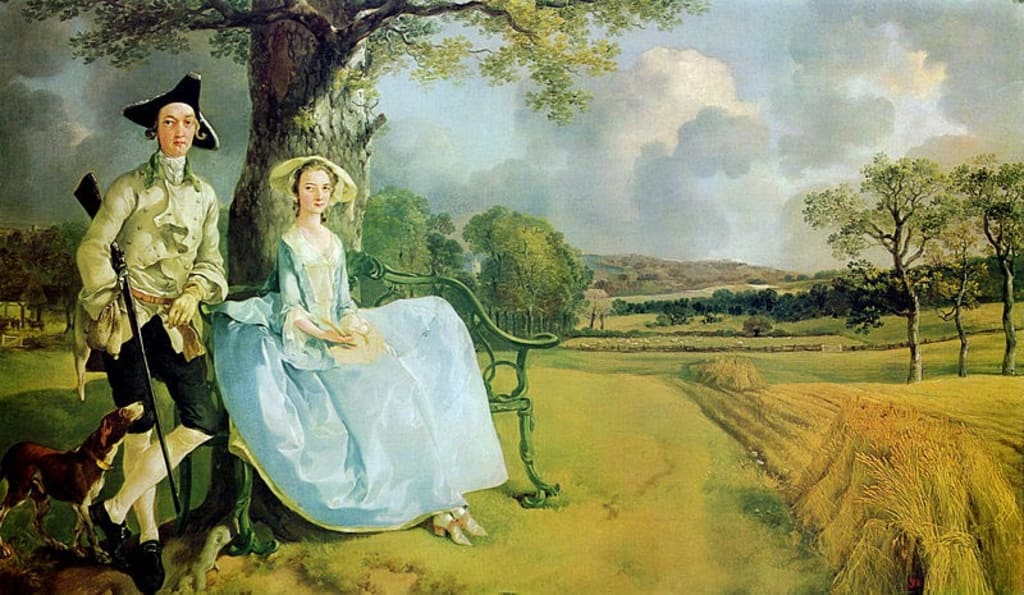 "Mr and Mrs Robert Andrews" is a much-loved painting by one of England's most celebrated artists. But what is the story behind the painting and its creator?
His early life
Thomas Gainsborough (1727-88) was born in Sudbury, Suffolk, to a clothier who was later made bankrupt and became the local postmaster. After being taught to paint by local artists, Thomas left for London in 1740 to be apprenticed to an artist and probably earned a living as a theatrical scene-painter. Before long he was clearly earning enough to be able to marry, which he did in 1746, and he developed an early interest in landscape painting at which he became highly skilled.
He returned to Suffolk in 1748 in the hope of being able to make more money from his landscapes there than he could do in London. However, this proved difficult, and he soon found that there was more call for portraits than for landscapes.
"Mr and Mrs Robert Andrews"
This was his first major success in portraiture, the work being started in 1748 and probably completed (but see below) in 1750. The chief feature of interest in this painting is that Gainsborough produced both a portrait and a landscape on the same canvas. It was not uncommon for portraitists of the time to set their subjects in an outdoor context, but the surroundings were usually derivative and painted to a set pattern, so as not to detract from the person being portrayed. That is certainly not the case with the Andrews portrait.
The painting shows a wealthy young couple on one side of the canvas, with the rest comprising a vista of their estate, stretching away to distant hills and the town of Sudbury, which can just be seen. It is highly likely that the design of the picture was a joint affair, with Robert Andrews being very keen for the painting to show as much as possible of his possessions and his management of the land.
Gainsborough was personally acquainted with the couple, having known them since his childhood in Sudbury. However, they were hardly social equals. Although Robert Andrews had attended the same school as Gainsborough, the former had gone to Oxford University and returned to manage his inherited estate, whereas Gainsborough had had to leave for London. The family of Frances Andrews had helped Gainsborough's father when he became bankrupt. It was therefore no surprise that Robert Andrews would have commissioned Thomas Gainsborough to paint his marriage portrait (Robert was 23 at the time and Frances 16; Thomas was only 21); however, the relationship would have been that of master and servant, with Gainsborough being very aware of his inferior status.
A closer look at the painting
It is interesting to compare the two halves of the painting. Frances sits under an oak tree on a green wrought-iron bench, her voluminous blue dress spreading out on either side. Robert stands with legs crossed, one elbow leaning on the bench, with a flintlock musket held correctly under his arm. His pointer dog nuzzles his leg and looks up at him. Robert is also fashionably dressed and wears a tricorn hat.
However, it is noticeable that the newlyweds do not seem to be aware of each others' presence. They do not touch, or look at each other, but stare blankly out of the painting towards the viewer. Their expressions are haughty and disdainful. Frances sits bolt upright and looks unsure of herself. She appears to be holding a short stick of some kind in one hand, but it is not possible to tell exactly what it is because, strangely enough, the area of her lap and hands has not been finished by the artist.
As portraits, the two figures are not particularly successful. Gainsborough later developed into a highly skilled portraitist as well as a landscape painter, but his inexperience as this stage of his career is evident. The later Gainsborough would have given his subjects much more expression than he does here – for an example, his similarly-composed portrait of "Thomas Heneage and his Sister".
However, when the viewer looks at the other part of the canvas it is a very different story. This scene is, after all, the countryside that Gainsborough knew and loved. He had bunked off school as a child to walk into these fields and sketch the trees and animals and observe the clouds and the effect of shafts of sunlight as they moved across the land. Gainsborough therefore went to a great deal of trouble to paint the scene in considerable detail.
In the foreground are sheaves of corn, which would have been appropriate in a marriage portrait as they are a standard symbol of fertility. However, beyond the sheaves are seen parallel lines of stubble which are evidence that Robert Andrews was using the latest technology of the seed drill. He is a modern farmer who wants this to be recorded for posterity.
Beyond the cornfield can be seen sheep peacefully grazing in a well-fenced field. There is nothing out of order here and no trace of wildness or poor management. Robert Andrews is in charge, and he is the master of most of what the viewer surveys.
Perhaps this also applies to Frances sitting on the bench. Robert's pose seems to suggest that he has just made a new acquisition who is just as much his property as the sheep in the distance. At least, maybe that is the impression that Gainsborough wishes to convey. There is no warmth in the portrayal, and perhaps this is the artist's revenge on the local landowner who had no time for the artist except as just another member of the artisan class.
Gainsborough was paid to do a job, and he did it. However, the time and attention devoted to the landscape as opposed to the people would seem to indicate where his chief interest lay.
A final mystery
Why was the picture left unfinished? Might this have been deliberate on Gainsborough's part, such that he was testing Robert Andrews to spot the omission? One can imagine the painting's commissioner drooling over the magnificent portrayal of his estate, his chief pride and joy, and neglecting to notice that his young wife's image is imperfect.
Or could this possibly have been a private joke between the artist and young Frances, with whom one can imagine Thomas Gainsborough to have had greater fellow feelings? Might she have had a quiet word in his ear one day, along the lines of "Do you think he'd notice if you gave me a little bit more mystery in that part of me that he should be particularly interested in as my new husband?"
Or did Thomas have a secret desire for Frances, which he expressed by leaving blank that part of her dress that covered her nether regions? The message might therefore be: "This is the area I will finish in my own time, given the opportunity. In the meantime, Robert, she is not completely yours".
Whatever the truth of the matter, "Mr and Mrs Robert Andrews" provides an insight to the developing talent of one of Britain's greatest artists, who was to achieve the rare distinction of being a master both of landscape and of portraiture.
"Mr and Mrs Robert Andrews" measures 27 by 47 inches (70 by 120 centimetres). It is on display at the National Gallery, London.