Movie Review: 'Triple Threat'
The millennial musical has arrived and I'm here for it.
The new millennial musical, Triple Threat is debuting at Cinequest and is likely to delight those that give it a chance and don't stop at the words 'millennial musical.' The much maligned millennial generation is now of an age of introspection and they are beginning to examine their lives as Gen-X'ers like myself did and the baby boomers before me. And it will happen to you someday to Zoomer, when you start feeling nostalgic and introspective.
Triple Threat is a movie about three characters who all love each other but struggle to stay in each other's lives because life keeps getting in the way. They at least have a particular anchor to hold them together, they are the driving forces behind a musical that has taken 10 years to make it to the cusp of the big time, Broadway. For a full 10 years, Chloe (Stacey Maltin), Maggie (Margarita Zhitnikova) and Gus (Jay DeYonker), have toiled away to bring Chloe and Maggie's musical, Firefly, to life on stage.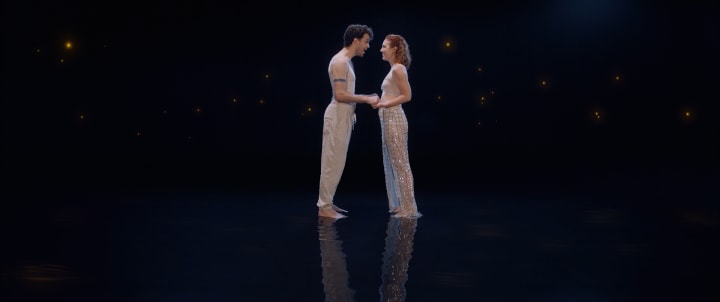 As college students the three had become friends after Gus joined Chloe and her then boyfriend for a threesome that didn't go quite as the boyfriend had intended. Gus and Chloe briefly became a couple, for a time, and Firefly rose to the heights of Broadway adjacency. 10 years later, they appear to be one big break away from moving to the Great White Way when Gus drops a bomb, he wants to have a baby, he wants Maggie to carry it and because they are no longer together, he wants Chloe to donate an egg to be fertilized.
Essentially the three friends would have a baby together though Gus would be the one with the responsibility, once the baby is born. Chloe and Maggie can be as involved or uninvolved as they choose to be once the baby is born. It appears like a no-brainer and they can all keep making their show without any issues. Win-win, right? Or not. These things never go easy and with Gus nursing a decade long crush on Chloe while becoming distracted from being part of Firefly as he dreams of fatherhood, tensions begin to rise and drive our main trio apart.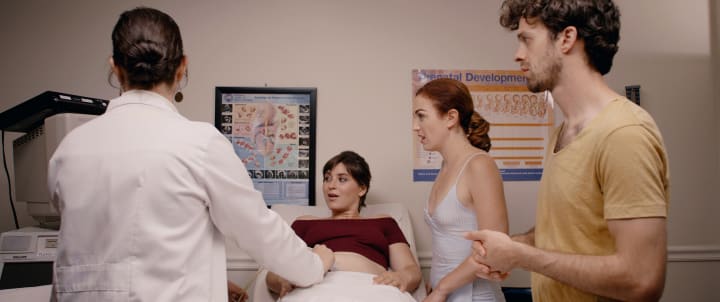 The story of Triple Threat unfolds simultaneously next to the evolution of the musical that the stars are creating and it is like watching two babies be born, an artistic vision and an actual human being. The themes about growing up being adults are all there but not in typical fashion. Rather, these three headstrong characters aren't in need of a lesson in growing up, they need to learn to communicate and listen to each other and that's a lesson many grown ups need.
It's not hard to imagine theater kids watching Triple Threat and being transfixed and falling in love, it's a love letter to those wicked souls who've left it all out on the stage. The energy and life of the stage enlivens Triple Threat in the more straightforward scenes, the dramatic scenes, the dialogue heavy moments, they are improved because of the energy generated during the exhilarating musical moments that carries over throughout the movie.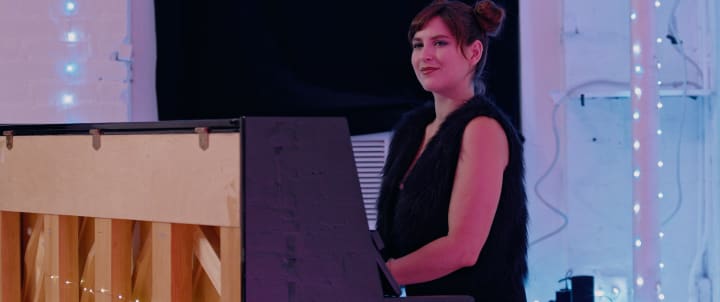 Stacey Maltin stars in and directs Triple Threat and is a producer on the movie as well, essentially a triple threat, and she's incredible. Triple Threat is well paced, the drama has strong motivation and, as I mentioned, the musical interludes are outstanding, filled with life, energy, romance, drama and agony. The performances are spot on, they feel very theatrical because these are theater people, theatrics are what they do.
Triple Threat is debuting at the Cinequest Online Film Festival March 20th and 21st. Find out more at Cinequest.org.
About the Creator
Hello, my name is Sean Patrick He/Him, and I am a film critic and podcast host for Everyone's a Critic Movie Review Podcast. I am a voting member of the Broadcast Film Critics Association, the group behind the annual Critics Choice Awards.
Reader insights
Be the first to share your insights about this piece.
Add your insights