Movie Review: The Menu Serves a Tasty Anya Taylor Joy Performance
The Menu is a terrifically smart, tension filled thriller.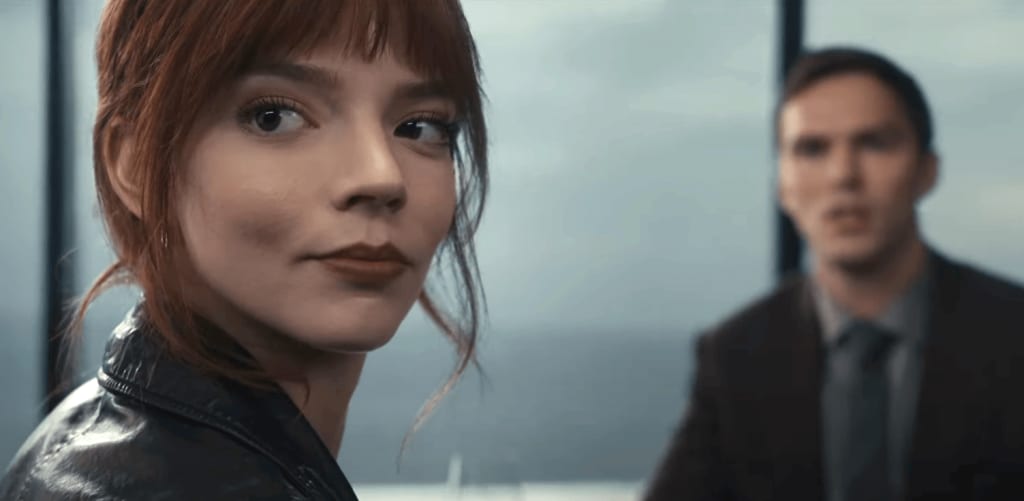 The Menu (2022)
Directed by Mark Mylod
Written by Seth Reiss, Will Tracy
Starring Ralph Fiennes, Anya Taylor Joy, Hong Chau, Nicholas Hoult
Release Date November 18th, 2022
Published November 18th, 2022
Imagine Gordon Ramsey as a character written by Ari Aster and you get a sense of what The Menu is all about. Director Mark Mylod and screenwriters Seth Reiss and Will Tracy have given foodie culture a massive middle finger while honoring the humble food workers of the world from the celebrity Chef to the humble Soux Chef. A group of the fabled One-Percent are gathered at a high end experience restaurant on an island on the coast of a major city for what they think will be the high art equivalent of dinner. What they get is a severe comeuppance.
Anya Taylor Joy is our entryway character, Margot, a young woman who received a last minute invitation to this high end dining experience. Her date, Tyler (Nicholas Hoult), is a food snob and was desperately in need of a date after his girlfriend broke up with him. Margot has no interest in Tyler's food snob nonsense, and is barely tolerating his need to photograph his food and pontificate about the delicacy of Chef Slowik's (Ralph Fiennes) technique in crafting a food experience. According to Tyler, the entire menu is a story and you have to eat to the end to get it.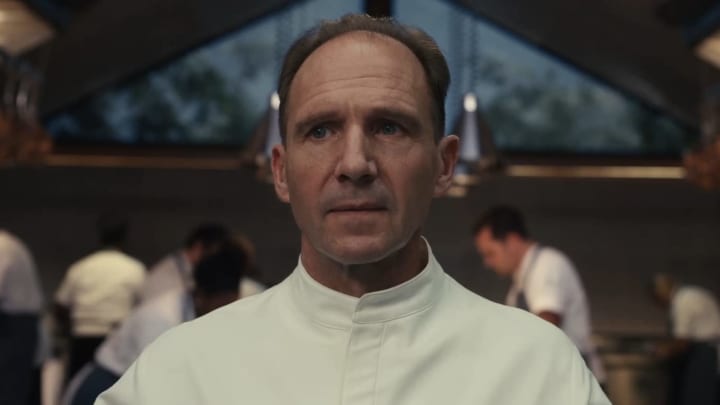 There are only 12 guests at this restaurant which is located on a small island where the Chef and his staff live and cultivate all of their food, growing, raising, butchering, and serving food that is all sourced on the island. The cost of this dining experience is said by Tyler to be $12,000. per person. You get the pretentious attitude for free, thankfully. This particular dining experience is extra special as the diners have been specifically chosen and include Angel Investors, a Famous actor, played by John Leguizamo, and a famed food critic who helped Chef Slowik break into the big time in the world of Food Culture.
Each of the guests on this night at the restaurant known as The Hawthorne have been hand selected. Except for one. That would be Margot and in the first few minutes of arriving at the restaurant, the Chef wants to know why she is here. Then he wants to know which side she is on, the workers or the diners. These questions escalate through the night as the Chef's plan comes more into focus and the fear and dread of the diners radically vacillates from the whole experience being a theatrical presentation to the genuine fear that someone or, perhaps, everyone here is going to die.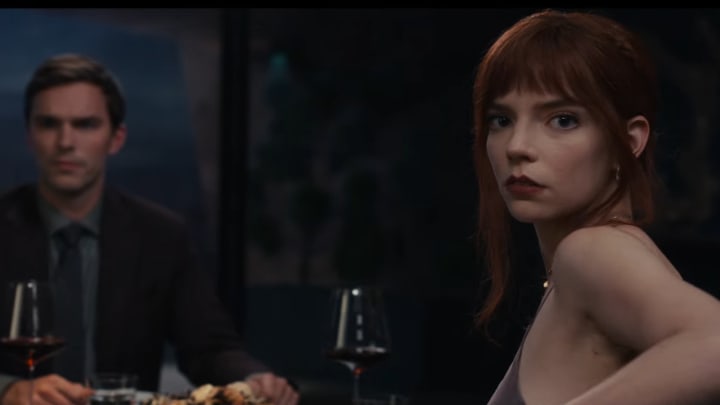 This builds to a final bravura moment that you will not be able to predict, a deconstructed classic of a desert with a visual flair that is audacious and darkly hilarious. I won't spoil it, I don't think I could, but I won't over explain it. It's just a phenomenal final scene and one I want you to experience for yourself. Some of The Menu doesn't quite land, it can be rather hamhanded at times in terms of the motivations of Chef Slowik or obtuse about the villainy of the diners, but those are minor complaints when compared to how great the ending of The Menu is.
Anya Taylor Joy continues to make terrific decisions in the roles she chooses. She has unusual taste and that is well reflected in a filmography that carries few traditional choice and a variety of fascinating oddities like The Menu. Joy could very well have played one of the Kitchen staff or the main Chef as she carries an imperious quality that would fit with those characters Having chosen to play the most traditional audience surrogate available in this story she's equally winning. The script gives her a juicy secret to play with and the story centers on her in a very unique way.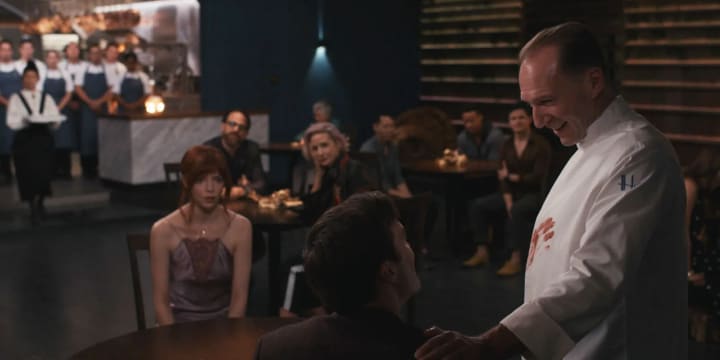 There is no attempt to make anyone of the customers sympathetic but Mylod doesn't gleefully linger on their suffering either. It's very much a catharsis for those who wish to see the privileged take one in the shorts but it's an elegant bit of Karma that plays out, not a chaotic, lowbrow sort of comeuppance. I enjoyed how Mylod wants to make the fates of his varying villains unmistakable while resisting the need to underline their kind of villainy. They represent a culture of taking, a culture of lack of appreciation for the gifts they've received and it is a dark and twisted pleasure to watch those surrogates of privilege be placed in peril.
Fiennes plays his Chef character as an avenging angel of the service industry. His intention is to afflict the comfortable and he afflict them he does via his imperious menu. The character cleverly keeps upping the ante, slowly turning up the heat until all is revealed and then there is still more work to be done, even after the trick has been revealed. It's a rather ingenious series of reveals and it gives the film a unique narrative engine, one that allows for taking time to breath and for thrillingly raising the stakes.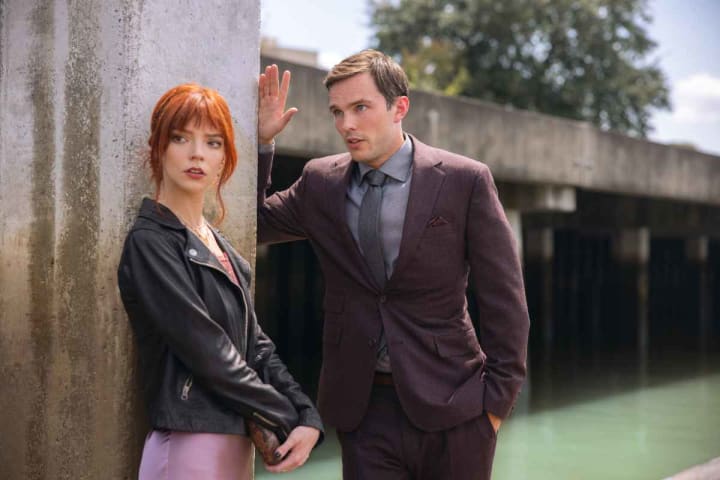 The further I get from The Menu the more I like it. I wasn't sure at first how I felt about the movie. Sitting with it now however, especially the ending, I am really enjoying it. Ralph Fiennes stern charisma and Anya Taylor Joy's easy confidence are a wonder to watch. Then there is the top notch supporting cast including brilliant veterans Judith Light and Janet McTeer bring charm to their clueless, over-privileged, less than sympathetic characters.
I also love the script which delivers a banger of sneaky dark humor every couple of scenes all while turning up the heat throughout the story. Jarring little details get dropped in brilliantly and the movie deftly moves on as the characters sit puzzled by the latest twist in this bizarre story in which they are trapped. Fiennes is in full control and when he takes the center stage with a thunderous clap, you snap to attention in the same startled, frazzled, excited way that his captive restaurant customers do. A masterful example comes in a brief scene where the Chef introduces his mother. Watch for it.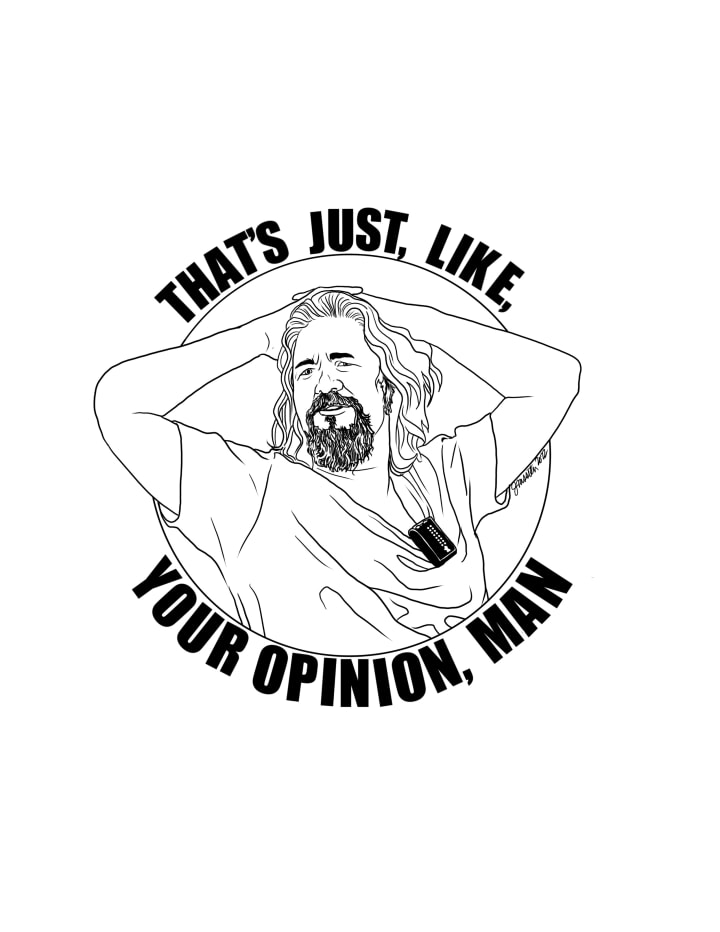 The Menu is in theaters everywhere as of November 18th. Find my archive of more than 20 years and nearly 2000 movies at SeanatheMovies.blogspot.com. Follow me on Twitter at PodcastSean. Follow te archive blog at SeanattheMovies on Twitter. Listen to me talk about movies on the Everyone's a Critic Movie Review Podcast on your favorite Podcast listening app. If you have enjoyed what you have read, consider subscribing to my work here on Vocal. If you'd like to support my writing consider making a monthly pledge or leaving a one-time tip. Thanks!
movie
About the author
Hello, my name is Sean Patrick He/Him, and I am a film critic and podcast host for Everyone's a Critic Movie Review Podcast. I am a voting member of the Broadcast Film Critics Association, the group behind the annual Critics Choice Awards.
Reader insights
Be the first to share your insights about this piece.
Add your insights