Movie Review: 'The Marvels' is So Much Fun
Superhero movies should be fun and The Marvels is so much fun.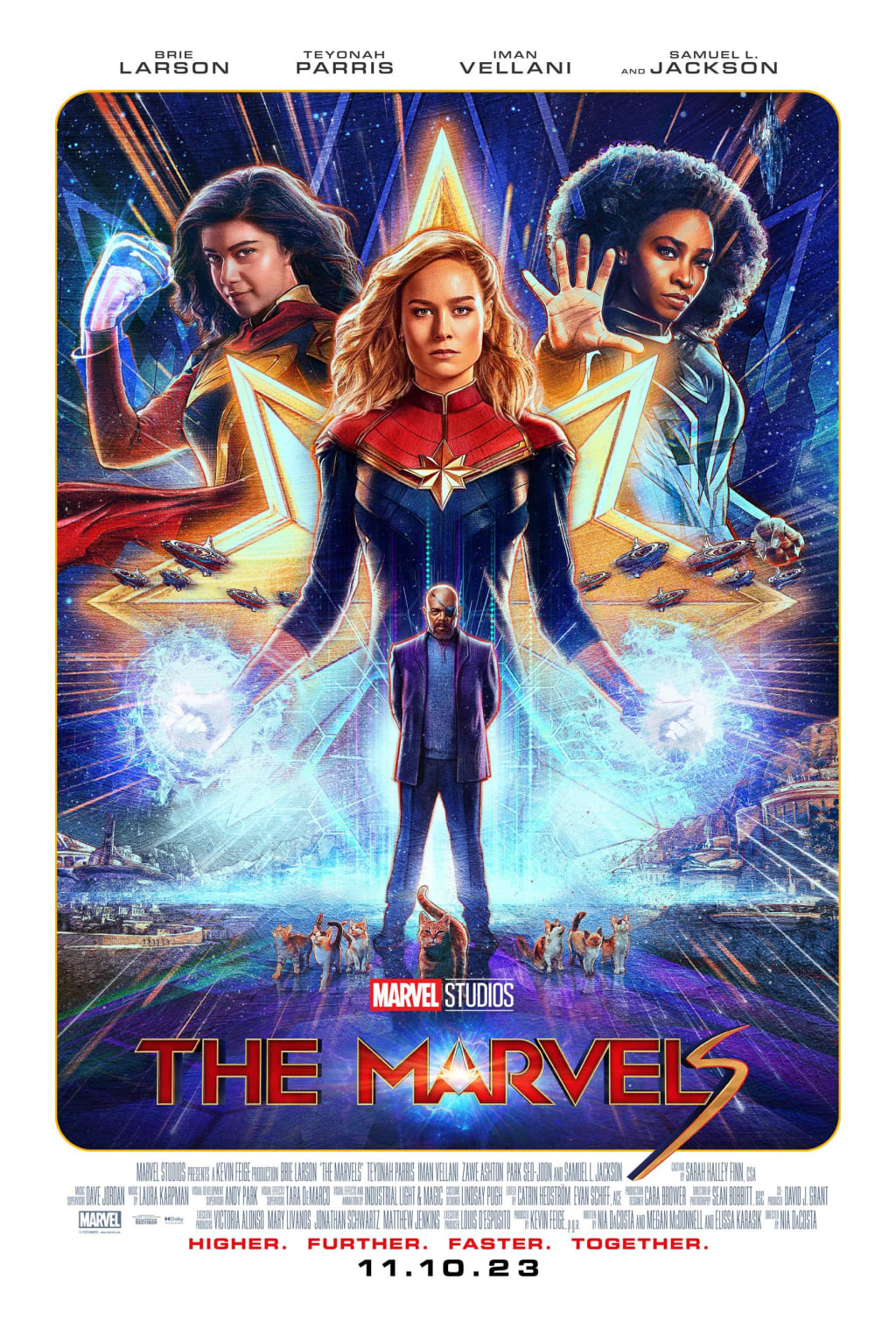 The Marvels (2023)
Directed by Nia DaCosta
Written by Nia DaCosta, Megan McDonnell, Elissa Karasik
Starring Brie Larson, Teyonah Parris, Iman Vellani, Samuel L. Jackson, Zawe Ashton
Release Date November 10th, 2023
Published November 10th, 2023
Superhero movies are supposed to be fun. I don't know why I need to say that but, given the utterly bizarre response that many have had to The Marvels, I feel like this point should be underlined. Superhero movies are supposed to be fun and The Marvels is a lot of fun. Directed by Nia DaCosta, The Marvels is fast paced, funny, and heartfelt. The special effects are spectacular, the action is solid, and, above all else, The Marvels is FUN! The addition of Iman Vellani's Kamala Khan to the MCU with the Disney series Ms. Marvel was terrific but she's even better as an enthusiastic fangirl living out the dream of every young fan by fighting alongside her hero. I loved this.
In The Marvels, the status quo has Captain Marvel, aka Carol Danvers (Brie Larson), living alone in space and still trying to recapture the memories she lost in her years with the Kree. That aside, Carol is still working with Nick Fury (Samuel L. Jackson), who now has a space station and helps protect the universe from various threats while negotiating for peace. The status quo of this effort is upended when a villain named Dar-Benn (Zawe Ashton), with a grudge against Captain Marvel dating back to the events of the first Captain Marvel movie, begins damaging the fabric of the universe. Dar-Benn's goal is part revenge against Captain Marvel and an attempt to rob other planets of resources for her home planet of Hala.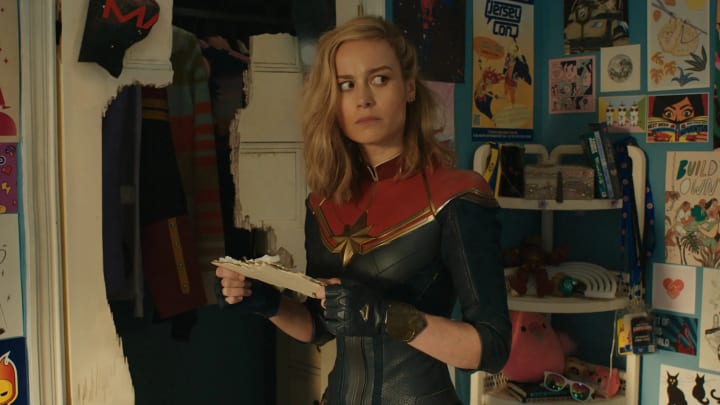 Whatever Dar-Benn is doing to the fabric of the universe it has a massive unexpected effect on Captain Marvel's light powers which have become entangled with those of two of her fellow superheroes, Monica Rambeau (Teyonah Parris), and Kamala 'Ms. Marvel' Khan (Iman Vellani). Now, each time they use their light based powers, the trio switches places, leading to great danger as well as comic mishaps. The unexpected switching of places is very funny at times and used to tremendous effect cinematically as we switch locations at a head spinning clip, much like the characters.
When the trio of heroes are finally together, and able to piece together Dar-Benn's plan, they also have to get over their issues with each other. Kamala's inexperience and youth could prove costly while Carol and Monica are in battle, while Carol and Monica's past, fraught with emotion surrounding the death of Monica's mother, Carol's best friend, Maria Rambeau (Lashana Lynch). And, there is the matter of Carol's years long disappearing act as she went off to fight around the universe and failed to return home as she had promised young Monica, as seen in Captain Marvel.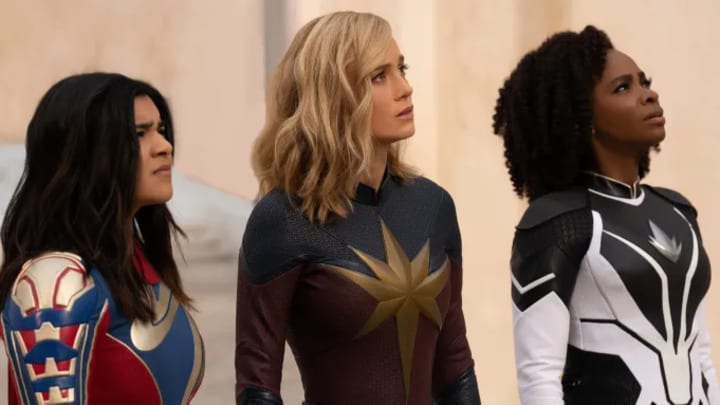 In the midst of all of this, director Nia DaCosta has set a series of terrifically fun action sequences. I mentioned the switching from location to location, but once the trio are together we get a couple more terrific set pieces, one in which they are trying save the last of the Skrulls from Dar-Benn, and a very fun sequence set on a mostly water-based planet where the inhabitants have a very unique and fun quirk that I will not spoil here. I will only say that this planet reminded me of the kind of wacky comic book adventures of the 1970s which I've seen profiled on the YouTube series, Atop the Fourth Wall. It's a terrific throwback to those strange and oft-forgotten years of comic book fun.
And there is that most important word again, Fun. Fun is the key to The Marvels. That's especially true in the performance of Iman Vellani whose excitement and enthusiasm for being a superhero and working with her hero, is infectious. Vellani is a complete delight, just as wonderful as she was on her television series. Playing opposite Larson and Parris, Vellani is just the right amount of starstruck and headstrong. She's a kid with powers beyond her years and she's got a lot to learn but she's also a good hearted hero who proves herself capable in the biggest of moments. It's a simple but well crafted story being told with Kamala Khan and we could not ask for a better young actor to tell that story.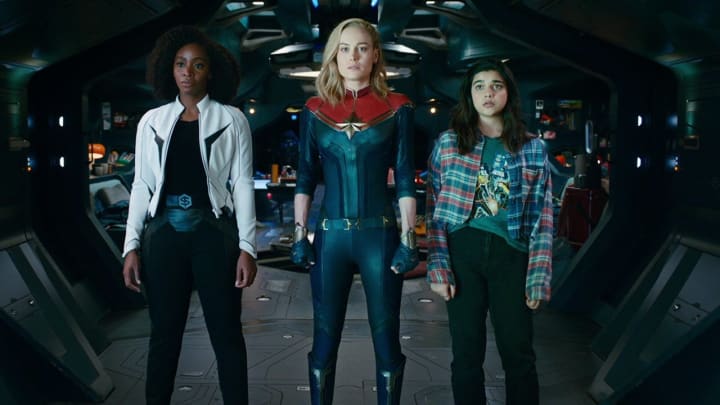 For her part, Brie Larson once again proves to be an exhilarating movie star. She's the right mix of powerful superhero and flawed human being. She has the right mix of seriousness and a sense of fun. It's a tricky role to play in terms of tone because she has to be serious and super strong while not being so much of either of those that she becomes too self-serious. Larson nails the tricky balance with a movie star presence and a knowing sense of the fun and absurdity of this story. This is among the best superhero lead performances in the history of the MCU.
Matching Larson beat for beat is Teyonah Parris, herself growing in movie star presence before our eyes. She may not have Larson's confidence but she has the dramatic chops and sense of humor to match. Monica and Carol's personal dynamic is at the heart of the team conflict of The Marvels and while some bad faith critics on social media wondered if audiences would know the relationship between Monica and Carol, the movie confidently presents their backstory and emotional conflict without spending needless time rehashing past Marvel lore. It's perfectly well presented and even if you haven't seen Captain Marvel, you can easily understand the dynamic at play.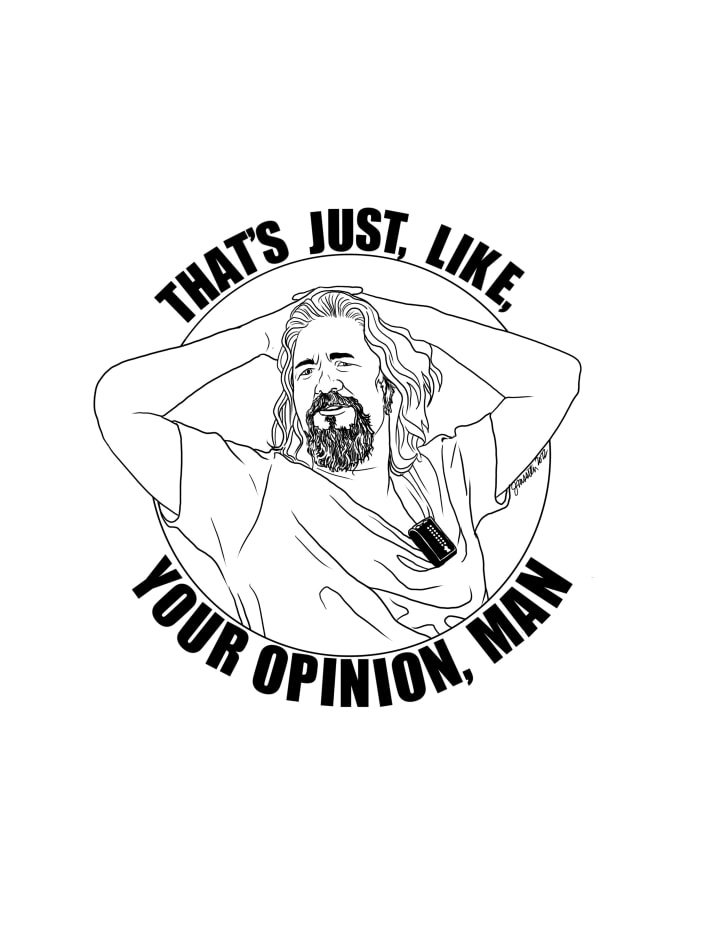 I adore The Marvels. This is the most fun I have had watching an MCU movie since the early days of Ant-Man or the first Captain Marvel movie, which is equally as fun as this one. The action is fun, the characters are fun, and the big set pieces around the universe are so much fun. I laughed, I got a little emotional, and I was invested from beginning to end. I don't know what people who dislike this movie were wanting to see but I got everything I wanted out of The Marvels. I had a fantastic time watching wonderful characters have a terrifically fun, dramatically satisfying adventure. Forget the Marvel movie lore, give yourself over to the adventure, and have fun watching The Marvels.
Find my archive of more than 20 years and nearly 2000 movie reviews at SeanattheMovies.blogspot.com. Find my modern review archive on my Vocal Profile, linked here. Follow me on Twitter at PodcastSean. Follow the archive blog on Twitter at SeanattheMovies. Listen to me talk about movies on the I Hate Critics Movie Review Podcast. If you have enjoyed what you have read, consider subscribing to my writing on Vocal. If you would like to support my writing, you can do so by making a monthly pledge or by leaving a one time tip. Thanks!
About the Creator
Hello, my name is Sean Patrick He/Him, and I am a film critic and podcast host for the I Hate Critics Movie Review Podcast I am a voting member of the Critics Choice Association, the group behind the annual Critics Choice Awards.
Reader insights
Be the first to share your insights about this piece.
Add your insights