Movie Review: 'The Greatest Beer Run Ever' Wastes a Great True Story
How does a story this wild get translated to the screen so boring? Peter Farrelly strikes again.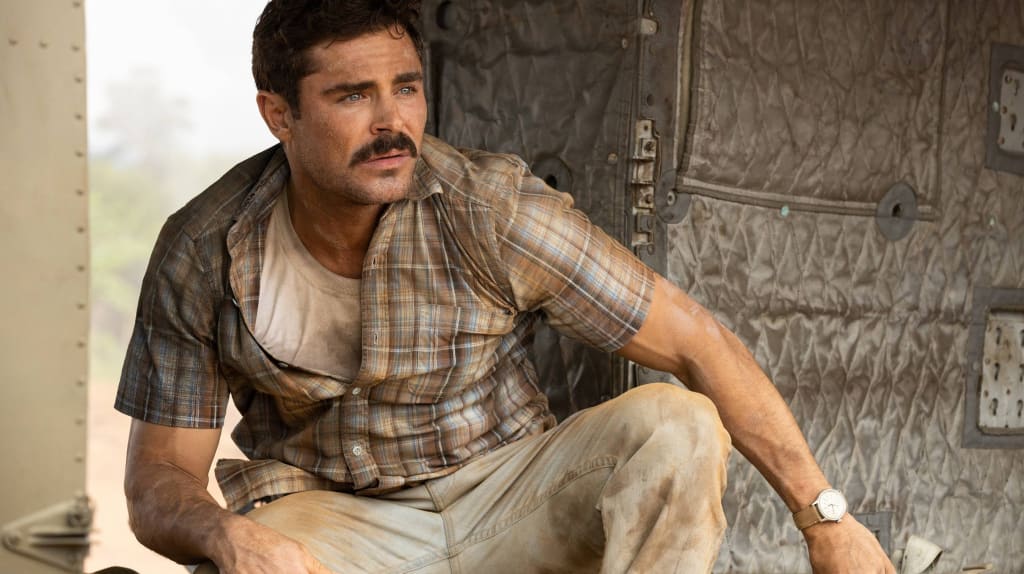 The Greatest Beer Run Ever (2022)
Directed by Peter Farrelly
Written by Peter Farrelly, Peter Currie, Pete Jones
Starring Zac Efron, Russell Crowe, Viggo Mortensen, Bill Murray
Release Date September 30th, 2022
Apple TV
Leave it to Peter Farrelly to take a great story and pull its teeth. In fairness, he was awarded a Best Picture statue for doing just that to the life of Jazz music legend Don Shirley and his longtime friend Nick Vallelonga in Green Book. There however, Vallelonga takes much of the blame for the mediocrity. It was Vallelonga who wrote the self-serving screenplay, much at the expense of the story of Shirley which was lost amid the eye-rolling, uplifting pap in Vallelonga's script and Farrelly's bland direction. Of course it won Best Picture, Hollywood loves to reward uplifting pap.
The proof of concept for my theory about Farrelly being the go-to director for taking a good story and rendering it supremely mediocre however, comes with his latest directorial effort, The Greatest Beer Run Ever. Here we have a story so insane, so unbelievable, it should make an amazing movie. The true story has a guy from New Jersey deciding that he's going to take cases of Pabst Blue Ribbon to his buddies fighting in Vietnam in 1967. John 'Chickie' Donahue really did this! It's impossible to believe right? It should be an amazing movie.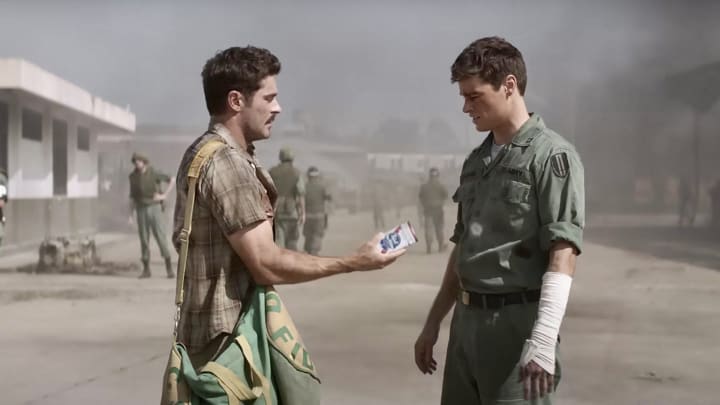 Sadly, The Greatest Beer Run Ever is directed by Peter Farrelly, a director whose movies could be sold as baby-proof for their remarkable lack of hard edges. That's not to say that Farrelly's movies aren't controversial, rather they are controversial for all the wrong reasons. Green Book is an almost complete fabrication, a vile white washing of the life of Don Shirley in favor of burnishing the egotistical legend of Nick Vallelonga. Similarly, The Greatest Beer Run Ever should be b lack comedy in which a very naïve everyman getting taught a lesson about hubris.
Chickie Donahue (Zac Efron) is beloved in his small New Jersey neighborhood though not so much at home. A Merchant Marine by trade, Chickie tends to only work when he feels like it and spends most nights getting drunk in a bar owned by The Colonel (Bill Murray). Chickie and his buddies are former military men who went through Korea as kids while the specter of World War 2 hangs over the heads. While at the bar watching brutal footage of the war in Vietnam on the news, Chickie and his friends are upset that the media only shows the horror and seems to dismiss the soldiers who are fighting and dying.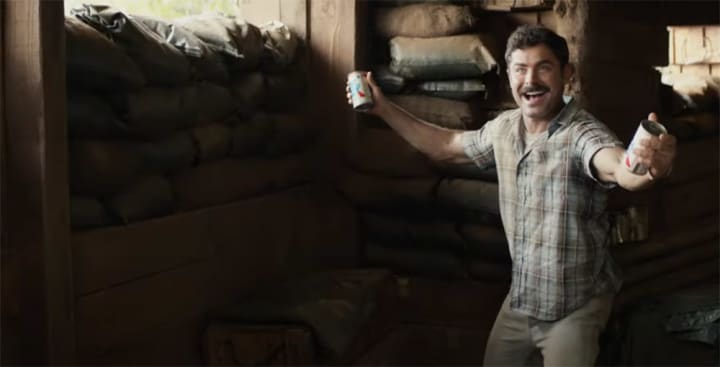 In a moment of drunken bravado, Chickie shouts out the idea that someone should go to Vietnam and give their guys from the neighborhood a beer to show them that people still care about them and their mission, even as no one, not even the Colonel, can say what that mission actually is. The idea quickly morphs from someone should take the beers to Vietnam to Chickie should do it. All he needs to do is take a Merchant Marine gig to Vietnam, load an oversized duffle bag full of Pabst Blue Ribbon and go looking for his friends in the Jungles of Vietnam. How hard could that be?
Well, anyone who isn't Chickie or his closest friends in that New Jersey bar knows that his idea is a ridiculous one. Vietnam is one of the bloodiest and deadliest conflicts in World history and the friends Chickie wants to see are each in the thick of the nightmare. Nevertheless, Chickie is going to try and get to his friends, much to the bewilderment of journalist named Coates (Russell Crowe) who believes Chickie is definitely going to get himself killed. One of the few things I can say kindly about The Greatest Beer Run Ever is how it sidesteps the cliché of Crowe's character seeing Chickie as a news story and having dollar signs in his eyes.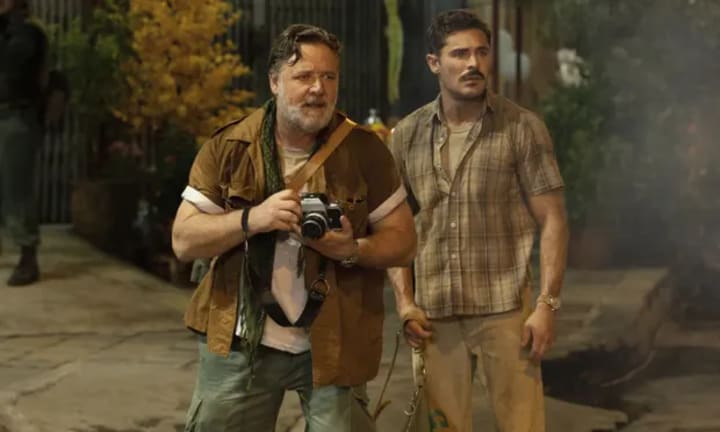 Unfortunately, that means that Crowe doesn't actually have much to do in The Greatest Beer Run Ever Though billed as a co-star, Crowe is barely above a cameo and a plot device in The Greatest Beer Run Ever. That's truly unfortunate as Crowe's magnetism and charisma makes him the most interesting character in the movie. Yes, he's more interesting than the guy who literally brought PBR to his buddies in Vietnam. That should tell you plenty about what is wrong with The Greatest Beer Run Ever.
The arc of the story is Chickie going from his conservative Brooklyn neighborhood, all the way to Vietnam where he learns a harsh lesson about what the Vietnam war was actually like. Then he takes that experience back to New Jersey with a new respect for the soldiers and a disdain for the war. That's not what happens. Instead, a wishy washy Chickie comes off as a cypher, enthusiastic about his self assigned mission and mildly chastened but resolved in his patriotic love for America.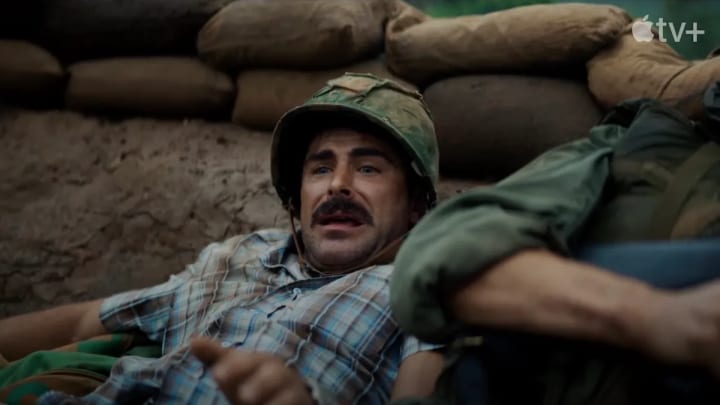 The movie pays lip service to Vietnam protestors with a character played by Ruby Ashbourne but it's clearly intended as a mere acknowledgment of protests but too fearful of being seen as siding with the protestors. Thus the edges are completely shaved off of The Greatest Beer Run Ever. The chaotic violence of Vietnam is the other side of the coin, a weak and ultimately futile presentation of vague threats that Chickie navigates with a stoic dignity belying the grave fear he feels about getting shot in the warzone.
This middle of the road presentation of such a wild story can only be the creation of Hollywood hackery. I am not familiar with the story of Chickie Donahue but I refuse to believe it was as sanitary and inoffensive as it is presented in The Greatest Beer Run Ever. How do you manage to make a story this strange and incredible into a bland star vehicle for Zac Efron? Not to drag Efron too much, but he is out of his depth here. This role requires an actor with a better sense of the absurdity at hand. It needs an actor whose range can go from comic to dark in a fashion we find believable. That said, Efron is the perfect choice for this version of The Greatest Beer Run Ever as his mediocre performance and laughable accent fit perfectly into the edge-less, pointless, monotony of Peter Farrelly's direction.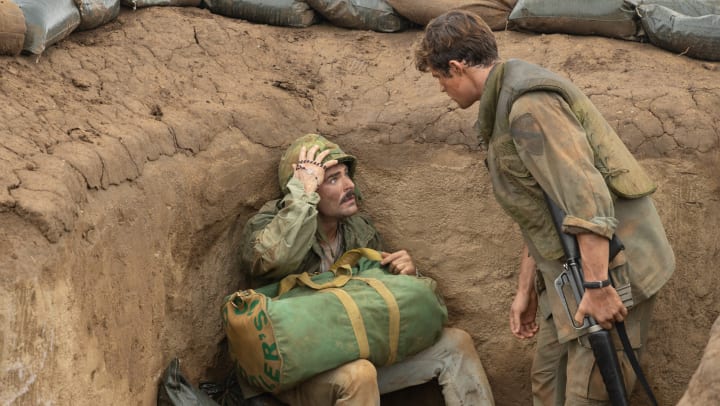 Somehow, the title of the movie is the most transgressive aspect of the entire film. The title, The Greatest Beer Run Ever, sounds a like a wacky comedy about a working class Legend who brought PBR to Vietnam. That's not this movie. Farrelly wants us to take Vietnam seriously while admiring Chickie for his dedication to his friends. There are no laughs here but there should be. What Chickie Donahue did was absurd, not heroic. He's not a guy we should admire for his bravery, as this movie clearly does. His effort, while charming, was incredibly stupid and had the chance to get himself and others killed.
This is supposed to be a dark comedy about a buffoon who gets himself in over his head and learns that maybe, perhaps, that the Vietnam war was not the virtuous, patriotic endeavor he'd convinced himself it was from afar. Now that, is a good story. That would make a great movie. What we get here is bland hokum. We get dull nonsense in which all sides have a good point and there are no real lessons to be learned from Vietnam aside from maybe don't pick on your sister for being a protestor. I am utterly gobsmacked that this movie exists and that any director could screw up an un-guarded layup of a premise like this one.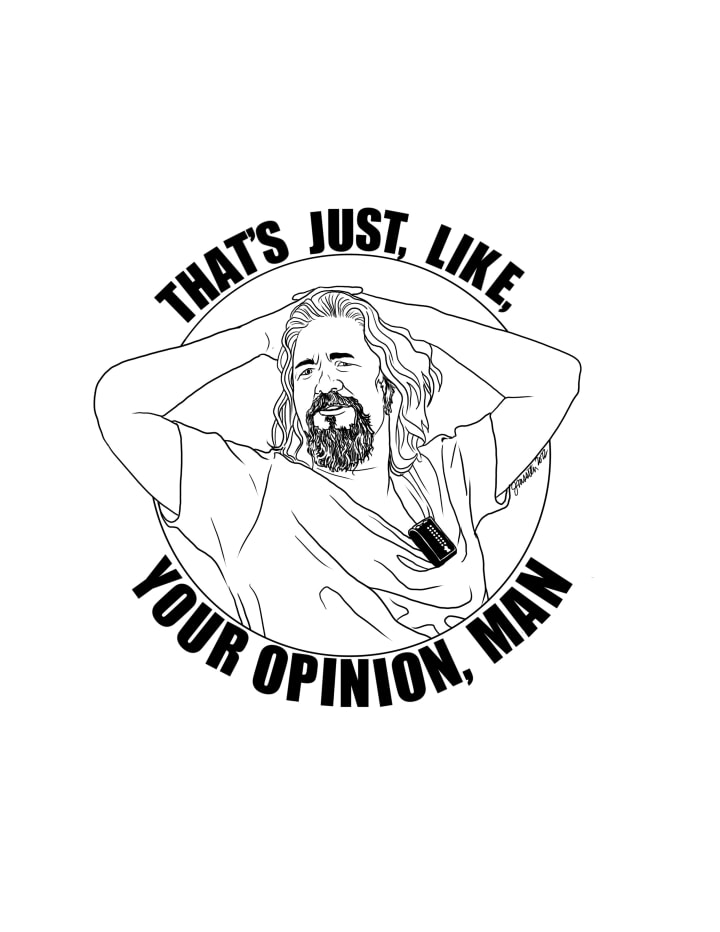 Find my archive of more than 20 years and nearly 2000 movie reviews at SeanattheMovies.blogspot.com. Follow me on Twitter at PodcastSean and follow the archive blog on Twitter at SeanattheMovies. Listen to me talk about movies on the Everyone's a Critic Movie Review Podcast on all podcast listening apps. If you've enjoyed what you have read consider subscribing to my work here on Vocal. You can also support my writing with a monthly pledge or a one time tip. Thanks for reading.
movie
About the author
Hello, my name is Sean Patrick He/Him, and I am a film critic and podcast host for Everyone's a Critic Movie Review Podcast. I am a voting member of the Broadcast Film Critics Association, the group behind the annual Critics Choice Awards.