Movie Review: 'Stealing Chaplin'
Stealing Chaplin is a gormless, charmless attempt at black comedy.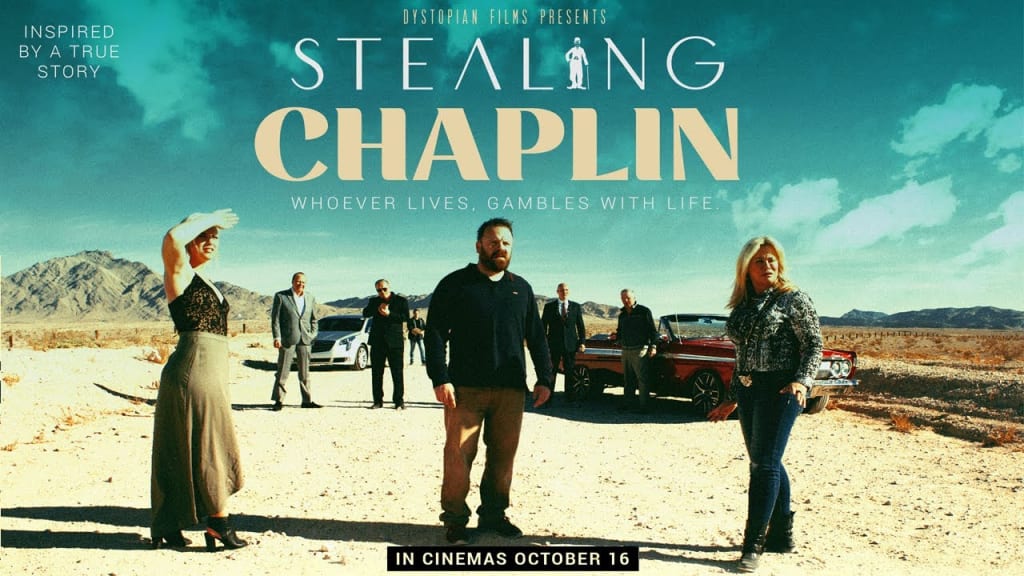 Stealing Chaplin is a charmless black comedy that intends to adopt the cache of Charlie Chaplin, by employing an impersonator as the film's narrator, but comes up short at every turn. Stealing Chaplin stars Simon Phillips as Cal and Doug Phillips as Cal's hapless brother Terry. Together they are low level con artists who are somehow $30,000 in debt to the Las Vegas mob or it's various offshoots.
When we meet Cal and Terry they are dressed as Priests and collecting donations in the fight against Leprosy. Naturally, they aren't really fooling anyone. They are soon chased off by someone who claims they tried to rip her off. That's when they are grabbed off the streets and an exposition gangster tells us about the debt they owe and that must be collected soon and that will drive the plot of Stealing Chaplin.
Somehow these two brothers, who can't even afford their rent on their modest apartment, must raise $30,000 or else. While hiding from the cops they duck into a movie theater and watch a Charlie Chaplin movie. After that, Terry notices that Chaplin is buried right there, in Las Vegas. He posits that because Chaplin was a huge movie star and died with a fortune in the bank, if they were to steal his body, they might be in line for a ransom or a reward if they can pretend to be the heroes who found and returned the body.
Terry suggested the idea on the assumption that his more careful and thoughtful brother would shoot the idea down. When he doesn't, it sets the two on a crazy journey from stealing the body to having to move it to stay ahead of other con artists who want in on the plot and all while avoiding the mob who keep passing the brothers debts from one dead mobster to another. Then, when the mob hears about the Chaplin plan, they want in on that too.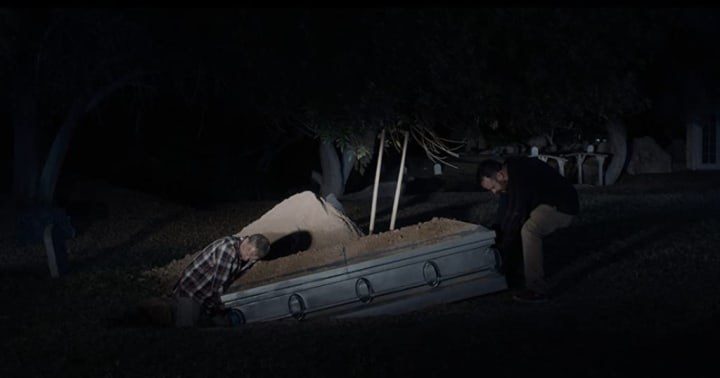 Stealing Chaplin was directed by Paul Tanter from a screenplay by the stars, Doug and Simon Phillips. The screenplay was apparently inspired by the real life attempt to steal the body of Charlie Chaplin, a far more interesting story told in the 2016 Phil Boatswain directed documentary Stealing Charlie Chaplin. In reality, Chaplin's body was buried in Switzerland and dug up shortly after Chaplin's death in 1978.
The comedy of errors and the bizarre twists and turns of the real life Chaplin body theft are perhaps better suited to the documentary form as translated to a comedy set in Las Vegas, they lack the strange charm and high level absurdity of what really happened. This version of the story with sex workers, mobsters and a tacked on romantic subplot stumbles over what should be a comedy of darkly absurd proportions.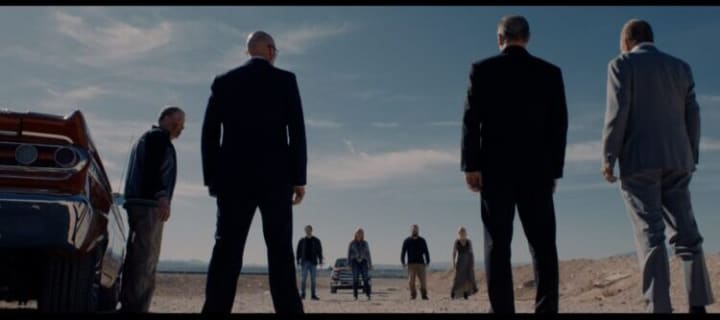 The romantic subplot is especially undercooked as Cal attempts to romance a waitress at a 50's Diner, Helen, played by Bianca Katz. She's sharp and charming but never really sparks with Simon's Cal. It's especially hard to believe that a woman who demonstrates wit and street smarts would fall for a guy so obviously out of his depth. If the film perhaps leaned into just how much she feels sorry for him or how she perhaps has some proclivity for helping downtrodden men, perhaps we might buy this romantic plot but alas, it never plays as anything more than tacked on and perfunctory.
Stealing Chaplin isn't poorly made. Director Paul Tanter and his team have a strong polish on the film but the story meanders when it should be tight and to the point. The lack of laughs in Stealing Chaplin is the most damaging aspect of the movie. This story has a built in absurdity that lends itself to a wild black comedy and that appears to have been the intention behind Stealing Chaplin but sadly it is not the result in Stealing Chaplin.
Stealing Chaplin arrives for on-demand rental services on May 4th, 2021.

Sean Patrick
I have been a film critic for nearly 20 years and worked professionally, as a member of the Broadcast Film Critics Association for the past 9 years. My favorite movie of all time is The Big Lebowski because it always feels new.
See all posts by Sean Patrick →