Movie Review: 'South of Heaven' Starring Jason Sudeikis
Crime drama South of Heaven takes big risks.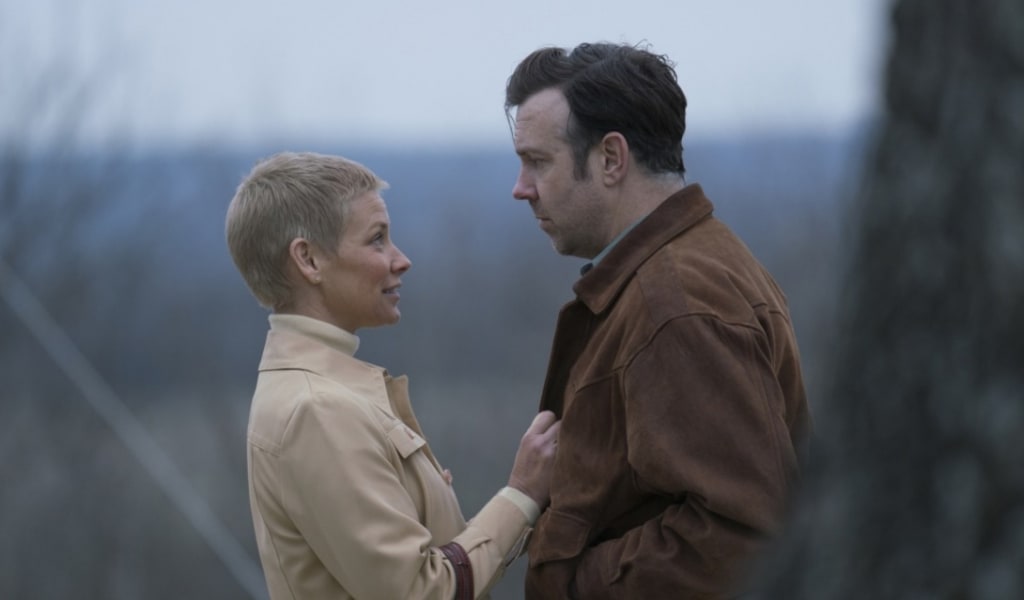 Annie (Evangeline Lilly) is dying. Annie has lung cancer and has been given between 9 and 12 months before her life ends. The diagnosis is recent enough that she got it just before her long term fiancé, 12 years to be precise, Jimmy Ray (Jason Sudeikis) was to go in front of a parole board. Jimmy has spent almost the entirety of their engagement behind bars. It might seem convenient when he tells of Annie's prognosis in front of the parole board but what you come to find out about Jimmy Ray is that bad luck and timing are a big part of his life.
The parole board decides to release Jimmy Ray who promises to spend every minute on the outside caring for Annie, and the lovers are reunited. In a lovely and well observed scene, we see Annie and Jimmy Ray each a little worried about their appearance as well as the overwhelming feelings both feel about Annie's condition just as they are going to bed together. Annie wants to know that Jimmy still loves and desires her and Jimmy desires to be polite, worrying about his own attractiveness and not wanting to be too aggressive, wanting to respect whatever her boundaries are now that they are back together. The scene is polite and leaves on a lovely grace note, fading to the following day.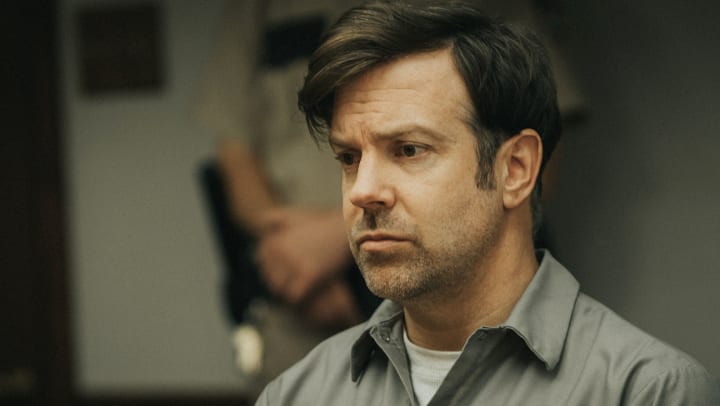 The following day Jimmy's bad luck rears its ugly head when he meets his new parole officer, Schmidt (Shea Whigham). Right away Schmidt is hostile to Jimmy and the tension between the two is palpable. Jimmy can't say anything that Schmidt doesn't take as insubordination and Schmidt's aggressiveness is a trigger for Jimmy. This scene sets up Schmidt as a huge antagonist for Jimmy and you start to think that Schmidt's hard ass attitude, his seeming desire to put Jimmy back behind bars, will be the main conflict of the story.
A quick glimpse at the cast list however, reminds you that Mike Colter is supposed to be in this movie and he hasn't been introduced yet. The second act of South of Heaven takes the movie in a surprising, even shocking direction. It's a direction that brings Jimmy into conflict with a very dangerous man named Whit Price (Colter). Price is a successful businessman who happens to be a ruthless drug dealer. How Jimmy ends up in Price's crosshairs, I will leave you to discover. All I can say is that it is a risky and daring choice and I was surprised how well they pulled it off.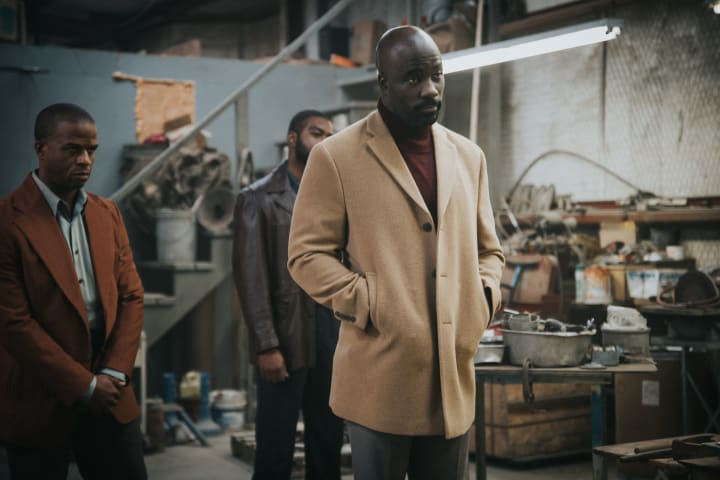 The shift in gears in the second act of South of Heaven is bold and director Aharon Keshales deserves kudos for this and for how he and co-screenwriter, Navot Papashudo, keep finding new and fascinating ways to up the ante on this mid-movie shift in gears. Some will say that everywhere South of Heaven goes plays a little too much with coincidence, just how much bad luck does one guy have, but I really enjoyed how risky South of Heaven is and how willing the filmmakers are to risk keeping the audience on their side.
My favorite scene in South of Heaven is one that many other critics have also held out for high regard. It involves just a conversation between Evangeline Lilly's Annie and Mike Colter's Whit. The chemistry between Lilly and Colter is unbelievable, it's not romantic, don't get the wrong idea of where this movie is going, it's just two people who get each other. The context of the conversation adds to the dark humor of the moment but it is the humanity and vulnerability of these two wonderful actors that carries the scene.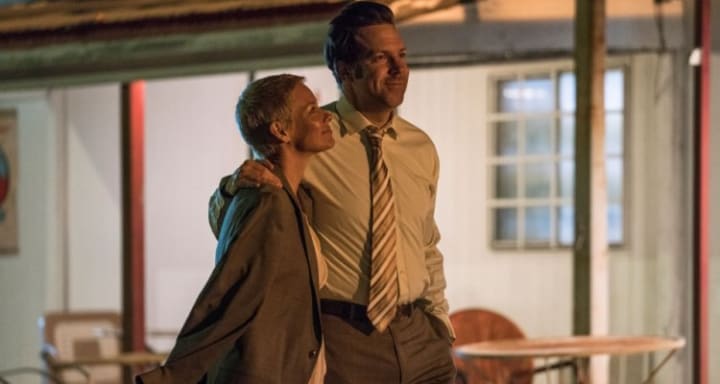 The headline of many reviews will be 'comic actor gets serious' and while that is the truth, Jason Sudeikis is known for being funny and South of Heaven is not a comedy, but that headline is rather reductive and insulting to Sudeikis. Sudeikis is a good actor as he's been showing people with his performance on the Apple TV series Ted Lasso. It shouldn't surprise people too much that Sudeikis can stretch into the role of a man whom fate uses as a chew toy. It's a role of almost comic occurrence as one bad thing after another seems to pile upon poor Roy but Sudeikis never leans into the humor. Sudeikis plays the role with a resigned, exhausted, sadness that morphs into desperation and I bought in on that.
Other, equally reductive takes on South of Heaven call it John Wick-like and while I really enjoy the John Wick movies, the comparison here is not earned. South of Heaven has far different goals and outcomes than John Wick. One is a drama about fate, heartache and sadness, that happens to have gunplay and the other, is John Wick, a film mostly about spectacular gun play that has some smart pathos to drive the action. These are very different movies unless you are eager to dismiss South of Heaven for including a gunfight.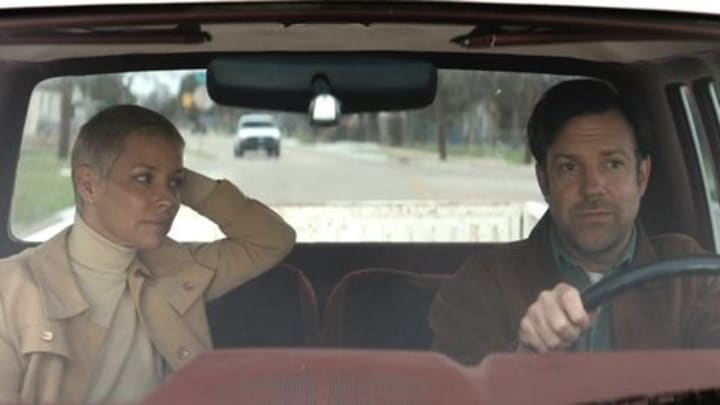 South of Heaven will be released in theaters on Friday, October 8th.
A weird note to cap this review: Actor Shea Whigham has already appeared in a movie titled South of Heaven. In 2008 Whigham played a character named Mad Dog Mantee opposite Napoleon Dynamite's Uncle Rico, John Gries, in South of Heaven. This relates in no way to the 2021 movie South of Heaven, I just found this fact amusing.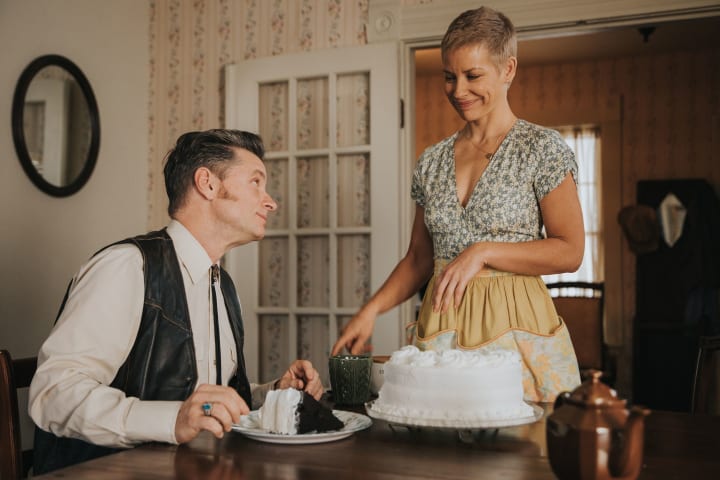 movie
Hello, my name is Sean Patrick He/Him, and I am a film critic and podcast host for Everyone's a Critic Movie Review Podcast. I am a voting member of the Broadcast Film Critics Association, the group behind the annual Critics Choice Awards.