Movie Review: 'Shot'
Noah Wyle stars in and produces 87-minute gun control PSA.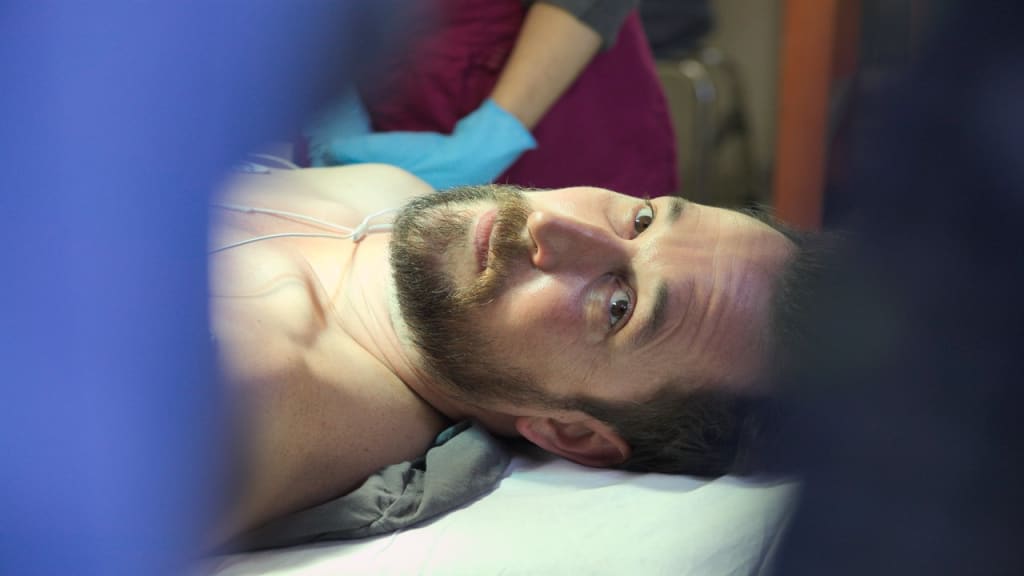 The new-in-theaters drama Shot starring Noah Wyle and Sharon Leal may look like a very special episode of a TV drama but it's a very effective very special episode of a TV drama. This anti-gun message movie, which does also play like an 87-minute public service announcement at times, nevertheless does have a valuable message. The shooting style may not blow you away but the performances are solid and the message is potent.
Things are not going great for Mark Newman (Wyle) on this Friday afternoon. He's just been told that he has 36 hours to finish five days' worth of work he's doing as a sound editor on a movie followed by a lunch date with his soon to be ex-wife Phoebe (Sharon Leal). This portion of his rotten day, however, is about to get worse as not far from where he and Phoebe are finishing another argument a teenager named Miguel (Jorge Lendeborg Jr.) has just been handed a gun which he immediately fumbles and fires, sending a bullet into Mark's chest.
Here's when the film supposedly gets clever as it turns into a real-time drama from the moment Mark is shot, about 7 minutes into the movie, and the next hour or so as Mark lies on the sidewalk, is rushed to the hospital and undergoes an examination by an E.R. doctor played by the wonderful character actor Xander Berkley. These scenes have an exceptional authenticity to them, especially if you've ever been in an emergency medical situation.
The matter-of-fact, professional way that emergency medical professionals do their job has rarely been portrayed as well as it is here. When I say matter-of-fact, I don't mean that as a criticism, although some might see it that way. Rather, they have to be matter-of-fact, emotion beyond simple empathy in this situation is dangerous. Good on the movie for bringing that truth to it and eliminating the forced dramatics we get from most portrayals of emergencies on TV.
That is about the nicest thing I can say however about Shot which in the end is rather preachy, gimmicky feature that would have been better off as a special episode of a TV show. Director Jeremy Kagan, not surprisingly is best known for his TV directing, including a couple episodes of the medical series Chicago Hope. That series likely could have knocked out the same product as Shot as a two-part special event episode and people might actually have seen it.
Unfortunately, Shot is not likely to be seen by as many as would have watched an episode of Chicago Hope or star-producer Noah Wyle's E.R., where he may have actually played out this same plot; I stopped watching after season 5 and before Wyle became the last of the original cast to hang on the show. I would not be shocked to find out that Wyle purloined this script out of a bin on the E.R. set and slipped it to first time feature writer Anneke Campbell for a theatrical polish; there are two other credited writers on Shot whose CV's I didn't look over.
The film even uses a gimmick that Director Kagan might have employed while directing episodes of The West Wing: split screen. From time to time, the action splits between Wyle bleeding on his hospital gurney to Miguel trying to decide whether to turn himself in or get rid of the gun. Young Jorge Lendeborg Jr. is a fine young actor who does what he can with the role of Miguel, especially in a very tense finale that is sadly undercut by the use of trickery.
I've been pretty hard on Shot throughout this review but I can't deny that the film has some pop to it. The presentation maybe sub par, lacking in energy, in favor of a slight bit of realism, but I can't deny that I was moved by it. The film closes on a graphic stating that 90 people a day in America are shot and killed and more than 200 per day are wounded. Among those are people who were simply in the wrong place at the wrong time. The film makes a strong case for more gun control in America even if that case is often pushy and manipulative. Not unlike a lot of episodes of Chicago Hope.
Shot opens in limited release in theaters September 22nd.