Movie Review: 'Sheikh Jackson'
Egyptian movie examines crisis of faith via the King of Pop.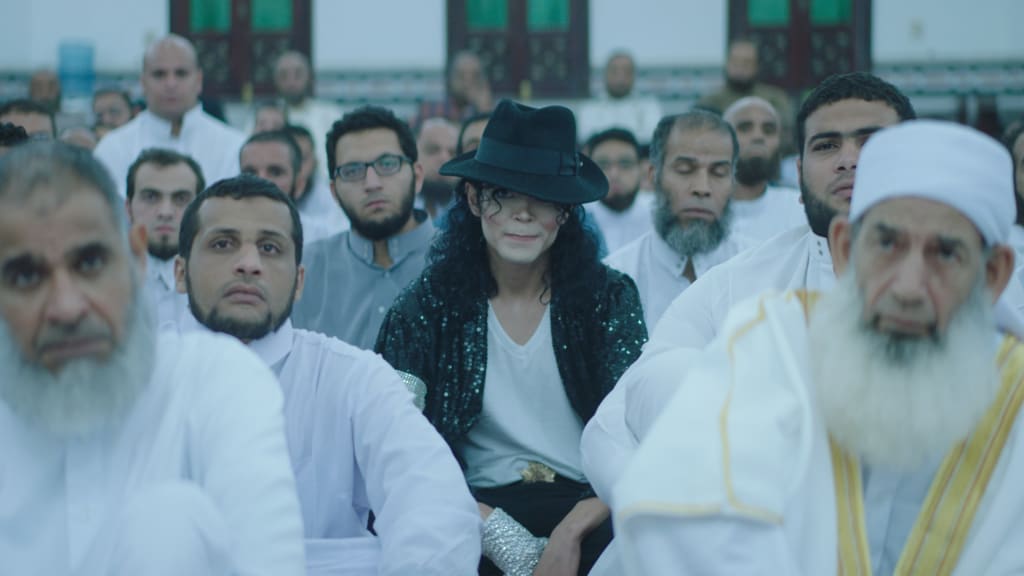 Sheikh Jackson is a rare and wonderful movie. This Egyptian production directed by Amr Salama and co-written by Salama and Omar Khaled, tells the unique and touching story of a Muslim cleric who has a crisis of faith related to the death of Michael Jackson. The story is about a man confronting his faith, his past, his family and his very self and each step of the way, this measured and thoughtful drama rarely misses a beat.
Sheikh Jackson stars Ahmed El Feshawy as Sheikh, that's what people call him anyway, a cleric, a prayer leader, who has found himself unable to cry recently. Tears are urgent reminders for Sheikh that he is in loving fearful worship of God. That he is finding himself unable to reach tears during burial ceremonies and daily prayers is a significant crisis; so significant that he seeks medical attention from a psychiatrist.
The story of Sheikh Jackson shifts back and forth in time with the modern Sheikh a deeply serious and pious man in crisis and the young Sheikh who was rebellious and came to idolize Michael Jackson as a way of getting closer to a girl he liked. There is also a connection between his love of The King of Pop and his late mother, but you will have to see the movie to find out more about that.
Sheikh's crisis of faith happens to coincide with the death of Michael Jackson on June 25th, 2009. He doesn't want to believe that something as superfluous and decadent as a teenage appreciation of an American pop star could cause the very foundation of his faith to be shaken but the journey he goes on isn't nearly that simple. It's a journey home to memories of his mother and his brutish, bullying but loving father.
It's quite a thing for a movie to connect you with another culture so viscerally. Sheikh Jackson portrays a character that we in America have deeply demonized, the faithful Muslim. With his too-serious demeanor and frightening dedication to his faith, we've caricatured people like Sheikh Jackson to the point where we believe he is the next step to the next wave of terrorists.
This makes Sheikh Jackson that much more remarkable for portraying a Muslim character who is serious, dedicated, and yet highly relatable and even likable. Ahmed El Feshawy has eyes that are deep wells of sadness and confusion, and if you can't relate to that pain behind his eyes, I don't know that you can relate to much of anything on a basic human level. It's an exceptional performance from El Feshawy who carries most of the film.
Michael Jackson's death touched a lot of people in a lot of ways that I am sure many didn't realize at the time. He was truly a global icon, and it makes sense that he would be able to penetrate portions of any society, even Muslim society. The use of Michael in Sheikh Jackson is just lovely, especially the visual motifs that director Salama peppers into the film. An extended dream sequence takes Sheikh through much of the dreamscapes of Michael's music videos and it acts as both tribute and visual exposition.
Yes, Michael even appears briefly as a character in the film but the gimmick used sparingly and very effectively. The script is about a crisis of faith that is triggered by memories of childhood, and it makes sense that music, that oh-so remarkable engine for nostalgia, would act as a trigger for such a crisis. Who hasn't heard a song that reminded them of something wonderful or painful or both? For Sheikh, it all dovetails back to a childhood nickname and his God given name and it's brilliant in how it all weaves together.
Sheikh Jackson has some pacing issues early on, but once those are ironed out, the film finds a terrific rhythm and I found the story and especially El-Feshawy's performance to be riveting. As the film reached its heartfelt conclusion I choked back tears both for my ability to relate to this completely foreign character and the simple ways in which our lives reflect each other in the experience of something as silly and yet meaningful as Michael Jackson.
Michael Jackson's death in 2009 did resonate with me, as I am sure it did for any pop culture literate of the time, but it was specific for all of us in strange ways. I immediately flashed back to my sister's bedroom and a poster of Michael playing with Tiger kittens that my sister worshipped. I remember trying to make fun but even my hair band loving friends, and I had to admit that Thriller was an incredible album and that Jackson 5 was amazing. Michael was that rare part of musical culture that created a very large, positive consensus until his decline in his later years of course which created a whole other kind of consensus.
What I never imagined until now was that somewhere in Egypt, even a Muslim cleric might have had memories of Michael Jackson as a child that came roaring back to life in the wake of his death. We take for granted the way popular culture can bind us to a universal experience. Something about us wants to fight the notion that pop culture can matter in such a way but sometimes, sometimes, it just does matter and in his way, as Sheikh Jackson shows, Michael mattered.
About the Creator
Hello, my name is Sean Patrick He/Him, and I am a film critic and podcast host for Everyone's a Critic Movie Review Podcast. I am a voting member of the Broadcast Film Critics Association, the group behind the annual Critics Choice Awards.
Reader insights
Be the first to share your insights about this piece.
Add your insights