Movie Review: 'Safer at Home'
Movies set on phones and apps are here to stay and Stay at Home shows they can be fun.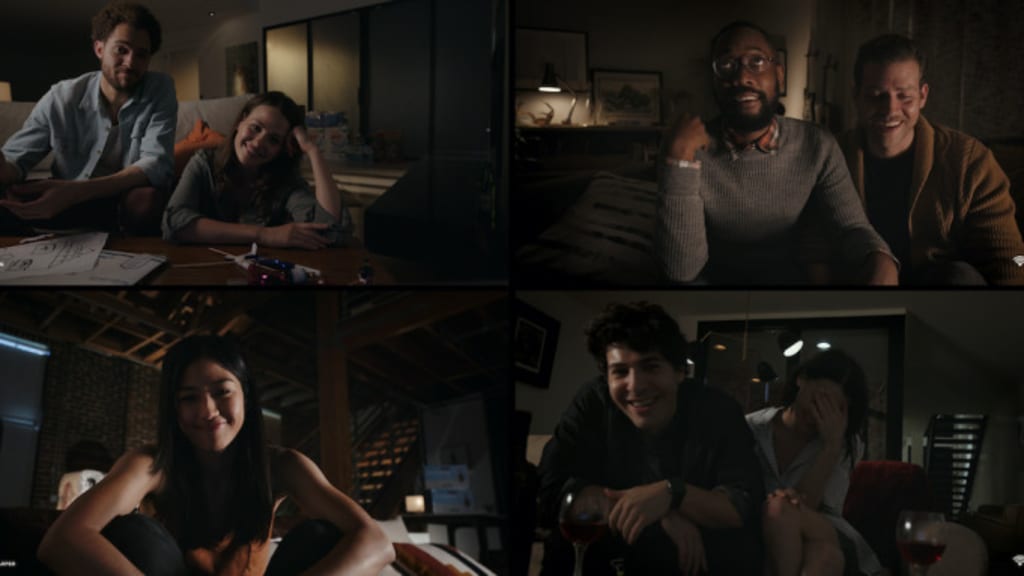 Safer at Home is a thriller set in what hopefully will remain an alternate reality. In Safer at Home, it's 2023 and Americans are under a brand new and even more severe COVID lockdown. We are told that the police and military are in the streets enforcing curfews in major cities and that the death toll has increased severely as new strains of the Coronavirus find new purchase across the country.
This means that friends and family are still at home and still using apps like Zoom to spend time together. In the case of Evan (Dan J Johnson) and his girlfriend, Jen (Jocelyn Hudon), it means inviting their friends to a virtual birthday party for Evan via an unnamed app. On the call are Harper (Alisa Allapach), all alone in Austin, Texas, Ben and Liam (Adwin Brown and Daniel Robaire), a couple in New York City, and Oliver and his new girlfriend, Mia (Michael Kupisk and Emma Lahana) not far from Evan and Jen in L.A though a million miles away because of the pandemic.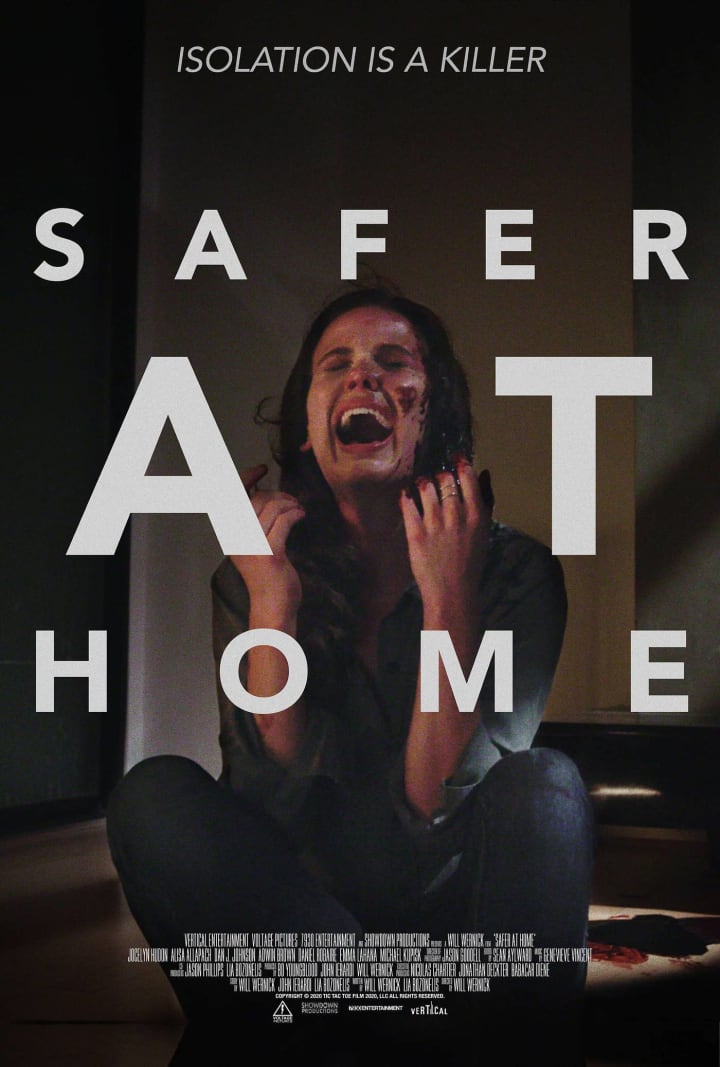 Early on you get the indication that that the driver of the story is going to be Mia who is new to the group. Mia is pressing everyone's buttons with her probing questions, taunting games and overly aggressive affection for Oliver which she is unafraid of expressing on camera, in front of everyone. Mia's questions appear to show the cracks in everyone's relationship dating back years to their days in college.
Oliver has made everything even more edgy with a special gift that he's sent to all of his friends. Before the pandemic, the group had planned on meeting in Las Vegas to celebrate Evan's birthday but since the pandemic appears to have no end, Oliver has sent a little Vegas to everyone. Vegas in this case is a series of cheesy tchotchkes and a hit of MDMA. Oliver wants everyone to trip together over the chat and pretend they are in Sin City.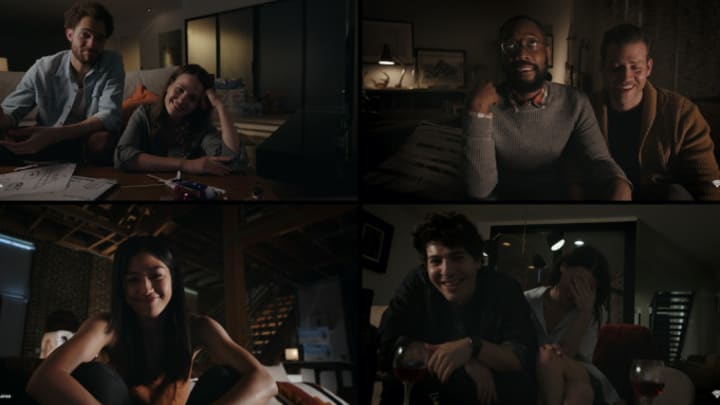 This too appears to be the plan for the plot for Safer at Home but director Will Wernick is merely toying with your expectations of a pandemic, quarantine movie. Don't get me wrong, we aren't getting away from the apps and cell phones any time soon but the plot complexities at play in Safer at Home are far enough out of the box to make things very interesting even as staring at screens for an entire movie stretches your patience.
I am not going to give anything away. I will only say that something happens that spins the movie into a very different direction. The character you assume is going to be our window to this world, our traditional main character, is taken out of the movie for a very specific reason and the rest of the movie becomes a jarring and intense thriller filled with quarantine paranoia and old school low budget filmmaking.
I am not familiar with much of Will Wernick's previous work but this is pretty good. There is a strong tone of dread that grows throughout the movie. The little details and complications are strong and believable and I never found myself wondering why the camera was where it was. People hop on and off the call in reasonable ways. People forget to mute when they should, and others stay riveted to their screens as you might if you were suddenly thrust into a horror movie thousands of miles away starring your closest friends.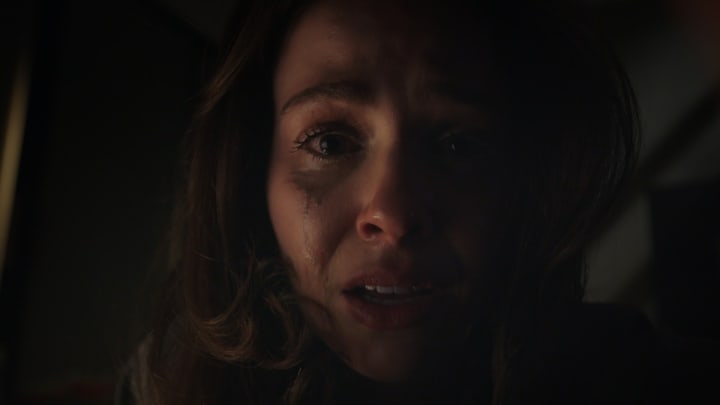 This is not a supernatural thriller. Nothing is crawling through the screens to possess people, there are no ancient curses or any other such thing. Safer at Home proceeds from a very basic and straightforward story and I was consistently impressed throughout with the twists and turns of Will Wernick's clever scripting, co-written by Lia Bozonenlis with a story credit for John Ierardi.
Safer at Home is streaming on many rental services as of Friday, February 26th and is worth it for those seeking movie thrills amid the pandemic.
About the Creator
Hello, my name is Sean Patrick He/Him, and I am a film critic and podcast host for Everyone's a Critic Movie Review Podcast. I am a voting member of the Broadcast Film Critics Association, the group behind the annual Critics Choice Awards.
Reader insights
Be the first to share your insights about this piece.
Add your insights