Movie Review: 'Red Notice'
Dwayne Johnson, Ryan Reynolds and Gal Gadot in one of the most boring movies of 2021.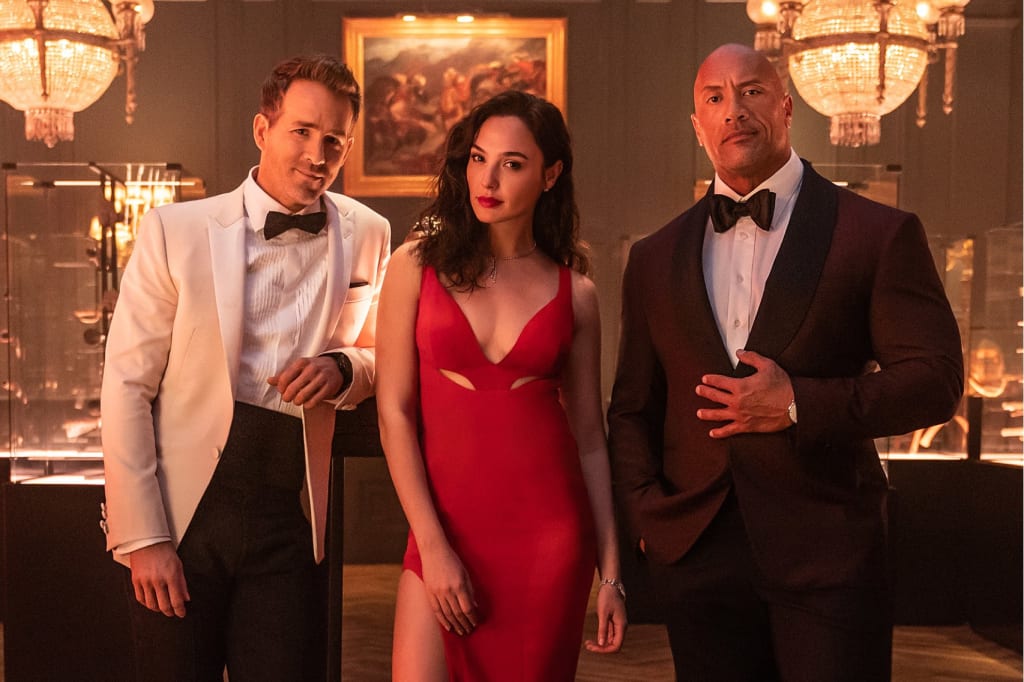 What a waste. Netflix spent $200 million dollars to make the new action comedy Red Notice and they might just as easily have lit $200 million dollars on fire and they would have achieved the same level of artistic success. Red Notice is a dreary throwback to bloated, excessive, action comedies of the past. This derivative and needless action comedy wastes three terrific stars who are completely on auto-pilot as they enact the same kind of humor that has drowned the American comedy throughout this young century.
Red Notice stars Dwayne 'The Rock' Johnson as Agent Hartley, an FBI Profiler who has been assigned to work with Interpol to capture the world's 2nd greatest art thief, Nolan Booth (Ryan Reynolds). Booth is the 2nd greatest art thief after a mysterious thief/informant who goes by the name of Bishop, played by Gal Gadot. All three, Hartley, Booth and Bishop are on the trail of the legendary Cleopatra Eggs, three hand forged golden eggs that were a gift from Mark Antony to Cleopatra centuries ago.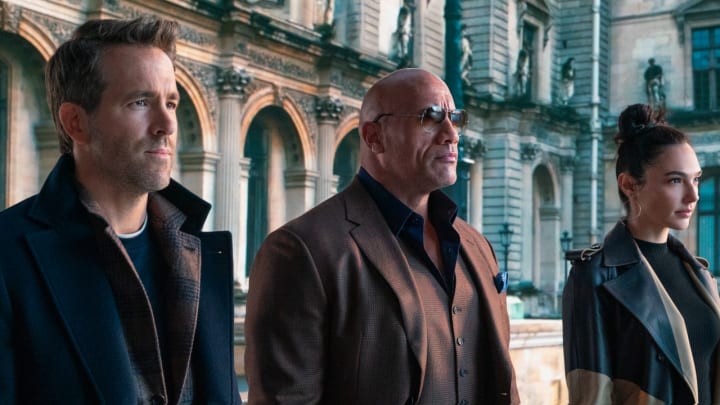 The eggs are a device to get our trio of big stars bounding around the world seeking treasure and getting in each other's way. After Hartley helps Interpol capture Booth, he finds himself the target of Bishop who frames him for stealing the egg which was stolen while he was aiding in the arrest of Booth. Bishop makes it look like Hartley helped her steal the egg by setting up a bank account for him and giving him several million dollars. Hartley is captured by Interpol and, as luck would have it, he's placed in a cell with Booth.
Seeing as they have a common enemy and motivation, Booth wanting to be the number one art thief in the world and Hartley wanting to capture Bishop and clear his name, the two adversaries join forces and set out to find the other two Cleopatra Eggs. One of the Eggs is in the collection of famed terrorist, Sotto Voce (Chris Diamantopoulos), and the other hasn't been seen since it was stolen by the Nazis at the end of World War 2 and smuggled to somewhere in South America.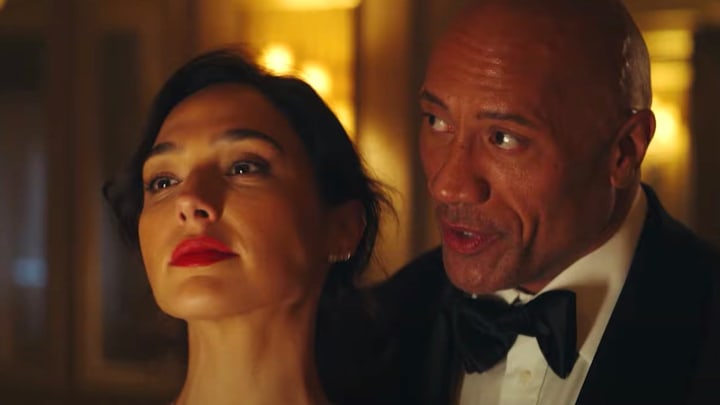 Red Notice was directed by Rawson Marshall Thurber, a thorough and professional director who has been a big part of sucking the humor out of the modern American action comedy. The comedy of Red Notice is so overly familiar that you likely could do the joke in time with the joke being delivered. It's become Ryan Reynolds' default mode, this motor mouthed, reference heavy, patter that rat-a-tats jokes at a mile-a-minute in hopes that one out of every three jokes might land. I am among those that used to find this style charming but now I'm thoroughly over it.
I'm tired of the fast talking hero-anti-hero. I'm weary of the motor-mouthed charmer. I am exhausted from having been served the same style of American action hero for the past 30 years. I am in dire need of a new brand of action comedy, one where the humor isn't the same jumble of leftovers from past movies. Tell me this, what separates the character of Booth from the character Reynolds' played in The Hitman's Bodyguard? RIPD? Safe House? 6 Underground? (I haven't seen 6 Underground, I'm guessing that since it was an action movie that Reynolds delivered the same performance as he always gives. I'd happily be corrected if you've seen it.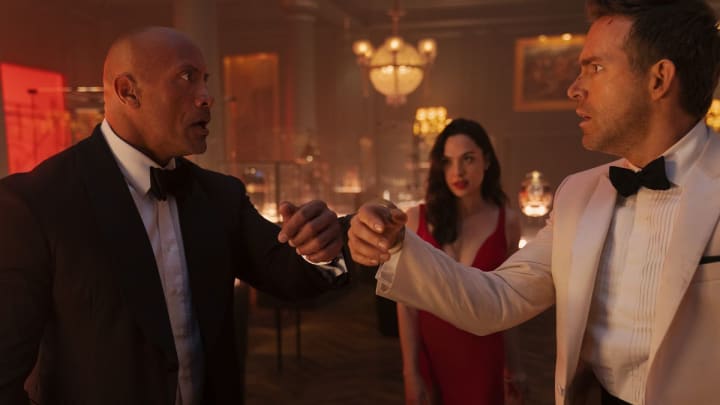 Dwayne 'The Rock' Johnson is no better. Where once Dwayne Johnson was a breath of fresh air in the action genre, a humble giant with wit and charisma to spare, he too has become tired and begun to rehash the same smart aleck action hero over and over again. Johnson may as well be enacting a mad libs version of his persona, a rote repetition of themes regarding how he's very big, how he's smarter than his physique might imply, and how funny it is supposed to be when someone the size of Dwayne Johnson is emotional or vulnerable.
Gal Gadot meanwhile, is thoroughly let down by an under-written, half baked character who provides little more than function to the plot. Gadot's Bishop drives the plot with her machinations but, much to her detriment, she's written as a distaff version of Reynolds and Johnson. She's supposed to be quippy and charismatic but this is not her strong suit and while Reynolds and Johnson have begun to wear out their respective default personas, Gadot struggles to be one of the boys and delivers a performance that is derivative of both.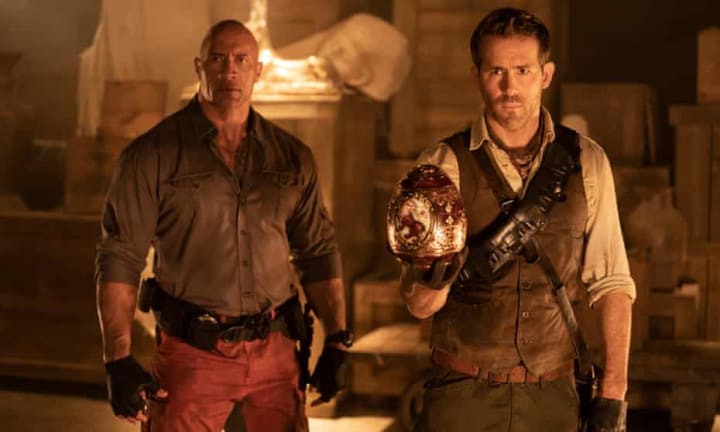 Red Notice is a bloated, derivative, waste of money. Red Notice debuted in theaters on November 5th, 2021 and will debut on Netflix on November 12th, 2021.
movie
Hello, my name is Sean Patrick He/Him, and I am a film critic and podcast host for Everyone's a Critic Movie Review Podcast. I am a voting member of the Broadcast Film Critics Association, the group behind the annual Critics Choice Awards.