Movie Review: 'Plane' is Exactly the Movie You Think it is
It's a Gerard Butler action movie, Plane is exactly what you are expecting and nothing more.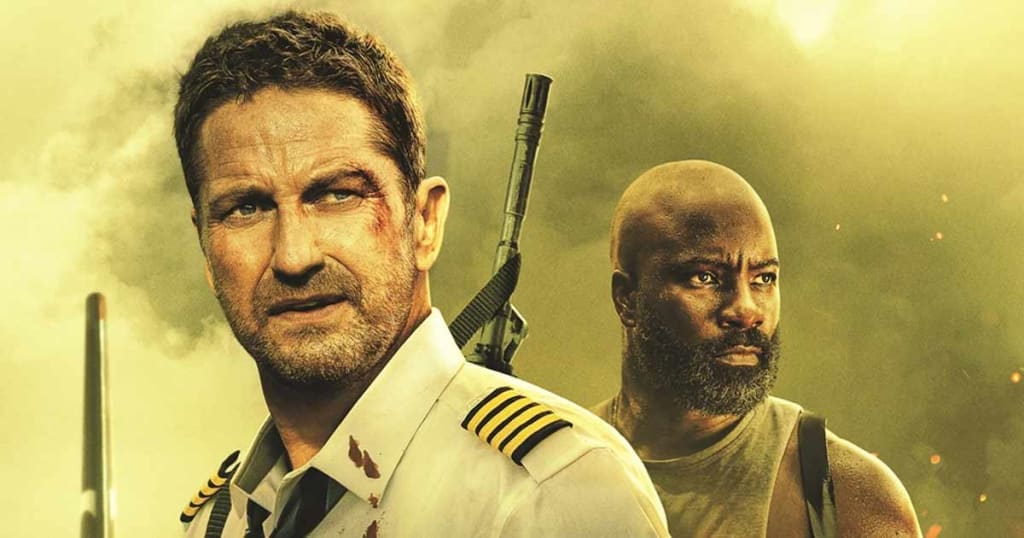 Plane (2023)
Directed by Jean Francois Richet
Written by Charles Cumming, J.P Davis
Starring Gerard Butler, Mike Colter, Tony Goldwyn
Release Date January 13th, 2023
Published January 13th, 2023
Plane stars Gerard Butler as Brodie Torrance, a commercial pilot on a fateful plane flight. Brodie is piloting a flight from Malaysia to Tokyo with plans for himself to go on from there to Hawaii to meet his daughter. Of course, this is a movie, we know that meeting will not happen as planned. Nope, Brodie Torrance is in for a rough flight, one that begins with bad weather, his plane being struck by lightning, a narrowly avoided crash, and a kidnapping of his relatively small number of passengers plus crew members.
After surviving his plane having lost its electronics and much of its fuel, Brodie Torrance has to navigate a jungle on an unknown island where criminals and mercenaries have taken up residence and use any foreign visitors as currency on a worldwide kidnapping market. Somehow, with no radio or cell service, Brodie must rescue his passengers and get them safely off of the island. He's joined by a former soldier and current arrestee for murder, Louis Gaspare (Mike Colter), who was being extradited for his alleged crime until the plane went down. Now, he's Brodie's only ally. What luck that he's former soldier who is good with a gun.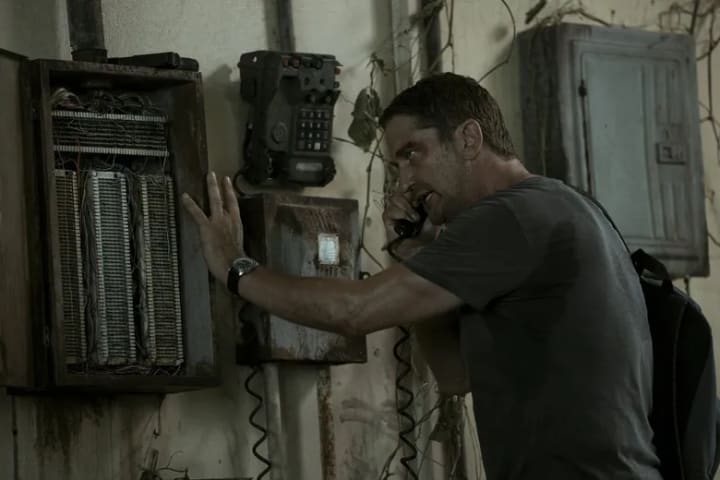 Meanwhile, at the headquarters of the generically named airline, the CEO has called in a fixer. Tony Goldwyn lights up the movie Plane with a charismatic if rather rote performance as Scarsdale, a man who can make things happen for the right price. Scarsdale is the boss of a group of mercenaries for hire who work outside the law to fix P.R problems for major corporations around the globe. That might sound unethical but these guys are the true heroes of Plane as they swoop in to perform the rescue that Brodie and Louis get started.
As for the baddies, they are a group of nameless, generic, terrorists, vaguely racist caricatures, living in squalor and using human beings as currency. They exist to shoot guns at the good guys and die un-mourned deaths. That they perform this task well or not is not important, they are fodder for a Hollywood action movie and could just as easily be replaced by CGI aliens or robots and have the exact same impact on the story. There is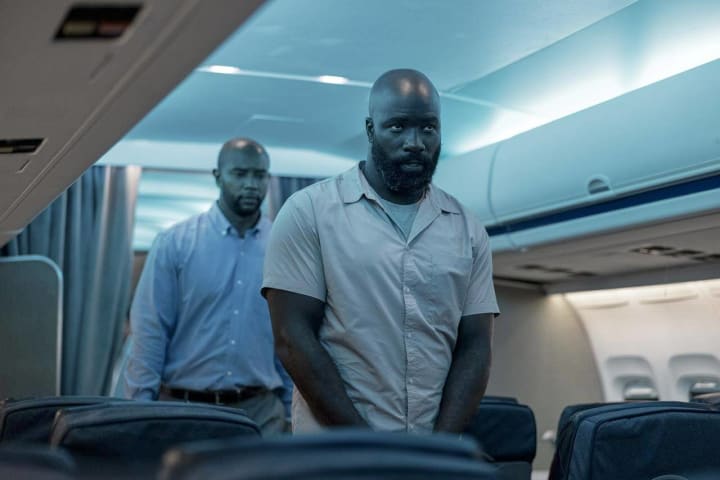 But, of course, as with any Gerard Butler movie, thinking is not welcome here. Do not ponder the bad things about a Gerard Butler movie fore they only exist as a means to give Butler an excuse to be sweaty, shoot guns, and punch people. And this is among the sweatiest of the sweaty Gerard Butler movies. Credit to director Jean Francois Richet, Butler is so gross that you feel as if you can smell his stink through the screen. He has an excuse, he's on an island in the South Pacific, it's deathly hot, but still, the sweat is so prominent in Plane that it deserves a credit at the end of the movie.
There really isn't much else to say about Plane. It's a movie that happened. It has action, it has sweat, it has Gerard Butler. Mike Colter is also there and Tony Goldwyn makes a brief, charismatic, impression. And then it ends exactly as you would predict without ever seeing it. The makers of Plane did not set out to reinvent the action movie, rather, they merely seek to emulate every other similar action movie in hopes of succeeding on familiarity alone. If you enjoy the absolute bare-bones of an action movie, Plane is just not bad enough to satisfy.
Find my archive of more than 20 years and nearly 2000 movie reviews at SeanattheMovies.blogspot.com. Find my modern review archive on my Vocal Profile, linked here. Follow me on Twitter at PodcastSean. Follow the archive blog on Twitter at SeanattheMovies. Listen to me talk about movies on the Everyone's a Critic Movie Review Podcast. If you have enjoyed what you have read, consider subscribing to my work here on Vocal. If you'd really like to support my writing you can do so by making a monthly pledge or by leaving a one-time tip. Thanks!
About the Creator
Hello, my name is Sean Patrick He/Him, and I am a film critic and podcast host for Everyone's a Critic Movie Review Podcast. I am a voting member of the Broadcast Film Critics Association, the group behind the annual Critics Choice Awards.
Reader insights
Be the first to share your insights about this piece.
Add your insights