Movie Review: 'Pinball: The Man Who Saved the Game'
Pinball was banned and if it had remained so, your life would be no different than it is right now.
Pinball: The Man Who Saved the Game (2023)
Directed by Austin Bragg, Meredith Brag
Written by Austin Bragg, Meredith Bragg
Starring Mike Faist, Crystal Reed, Dennis Boutsikaris, Christopher Convery
Release Date March 17th, 2023
Published March 12th, 2023
Pinball The Man Who Saved the Game is a wildly inessential look at a piece of history so inconsequential that it boggles the mind. For reasons that don't bare a need to be repeated, Pinball, the game so righteously lauded by Roger Daltrey in an equally inessential but kind of awesome song, was banned in many big cities in the 1970's. Then, one man, one weird, weird, man, by the name of Roger Sharpe set about to change everything. Forget fighting for equal rights, or battling systemic injustice, Roger Sharpe was going to use his time to rescue pinball. And so incredible is his story that people felt there needed to be a movie about it.
In a needless device, actor Dennis Boutsakaris plays a modern conception of Roger Sharpe. He's being interviewed by the makers of this film, presumably, about how he saved pinball. To tell the story, Roger must go all the way back to 1971 when he met the magical Jesus of Pinball who gave him the gift of a phrase that he would carry forward into the world: 'I can't let it drain.' Pinball Jesus, handing down the commandments of Pinball to the Moses who would save the game, was referring to having Roger take over his machine and not allow the game to end, Pinball Jesus presumably having to inspire others to pinball glory.
Cut to 1975 and we apparently need to know how sad Roger's life was. Roger worked a soulless job in advertising in New York City while nursing the failed dream of all 1970's male movie characters, the dream of writing 'the great American novel.' Roger's failed dreams have led to a failed marriage and, soon after, the loss of his job. Desperate for a place and a purpose in a cruel and remorseless world, Roger happens to hear the siren call of bumpers and bells coming from inside a porno bookshop. Having not played pinball since college, Roger took this as a sign and spent the next several weeks playing pinball while sex workers and perverts plied their trade behind a nearby curtain.
At this point, Roger was unaware that pinball was illegal in New York City but he would soon learn this harsh lesson when the porno bookstore is raided and the only thing taken are the pinball machines which are smashed on the sidewalk as a needless ritual sacrifice by uncaring police officers, unaware that they were breaking a small boy's heart. I'm being unkind, young Roger Sharpe in the film within the faux-documentary flashback, is played by Mike Faist, a gaunt and youthful performer wearing a comical mustache that makes him look like a little boy cos-playing as a business-dad.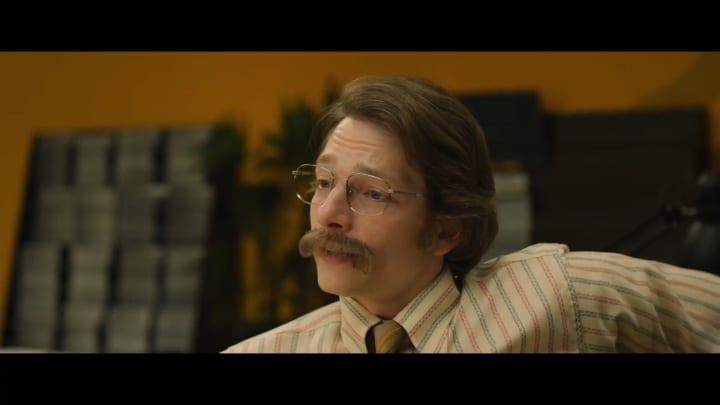 Before the raid that the led to the end of Roger's daily pinball sojourns, Roger's life had been on pinball related upswing. He'd managed to find a new job, working as a writer for upstart men's fashion mag, Gentlemen's Quarterly, aka GQ. Roger has also met a woman, Ellen (Crystal Reed), a single mother to Seth (Charlie Convery), a lovely young kid. Roger isn't quite ready for a relationship, what with all the pinball in the world to save, and the relationship struggles along. Thankfully, Ellen is a female character in a movie in the 1970's so she has the patience of a saint and the questionable taste of someone scripted to be in love. (The real Roger Sharpe did meet an Ellen with a son and went on to have a family, so yeah, the inclusion is accurate. But, as it plays in the movie, it's very hard to believe.)
There really is no need to continue describing the movie as I am sure you are already buying a ticket over the prospect of seeing a man accomplish saving something that really needn't have been saved. Mind you, I have played and enjoyed a game of pinball in my day but if I had never heard of the game, my life would be no different. And therein, dear reader, lies the rub. If Pinball is achingly inessential, how is the story of the man who purportedly 'saved' pinball in any way essential? Why should resources and people's time have been dedicated to telling this story. At most, a magazine feature is probably more than this story really deserves.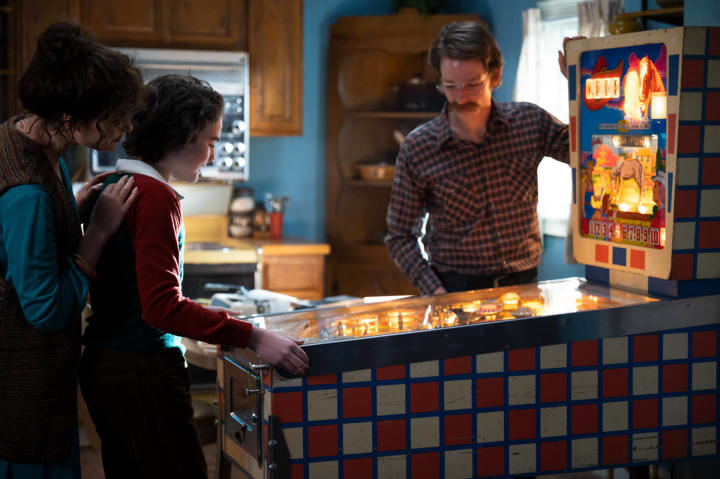 Dedicating 90 minutes of bad wigs and questionably broad production design is more than a little dubious as a needed endeavor. Don't get me wrong, I am happy for the various craftsman, actors, designers, and general crew members who received a paycheck for this work, but beyond that, it's hard for me to find any reason that Pinball The Man Who Saved the Game needs to exist. The film is a celebration of a ludicrous level of privilege. The idea that someone had the time and capability to dedicate their efforts to rescuing pinball, especially in the time we live in now, blows my mind. If the film had dedicated 90 minutes to mocking the notion that this should be a movie instead of sincerely celebrating this story, perhaps it might be worth a few chuckles.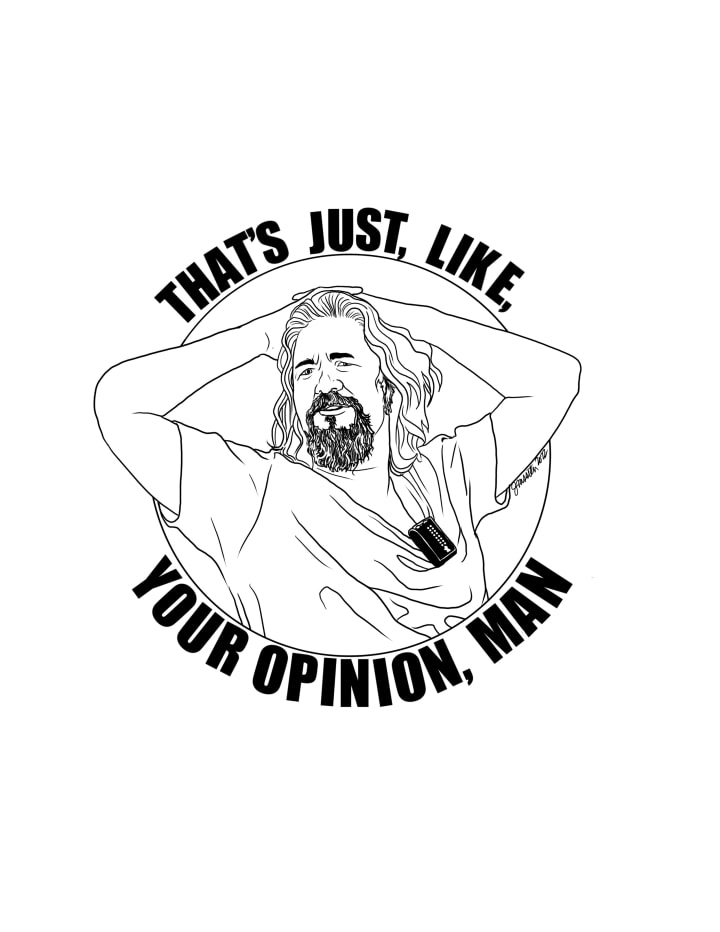 As it is however, Pinball The Man Who Saved the Game feels like a maudlin tribute to one man's unearned vanity. The film ends on a scene of older Roger decrying the very movie he is in by rejecting a scene that showed him selling the first pinball machine he ever owned in order to fund his book. Why? Why put this in the movie? The sight of smiling, smug, Roger seated in front of the various pinball machines that he's been privileged to purchase since the days he helped save the game and benefited from its revival, doesn't feel like a happy ending, it feels like an unearned veneration of one man's ego.
Find my archive of more than 20 years and nearly 2000 movie reviews at SeanattheMovies.blogspot.com. Find my modern review archive on my Vocal Profile, linked here. Follow me on Twitter at PodcastSean. Follow the archive blog on Twitter at SeanattheMovies. Listen to me talk about movies on the Everyone's a Critic Movie Review Podcast. If you have enjoyed what you have read, consider subscribing to my writing on Vocal. If you'd like to support my writing, you can do so by making a monthly pledge or by leaving a one-time tip. Thanks!
About the Creator
Hello, my name is Sean Patrick He/Him, and I am a film critic and podcast host for Everyone's a Critic Movie Review Podcast. I am a voting member of the Broadcast Film Critics Association, the group behind the annual Critics Choice Awards.
Reader insights
Be the first to share your insights about this piece.
Add your insights