Movie Review: Netflix Once Again Cashes in on Marilyn Monroe with 'Blonde'
Netflix is exploiting the corpse of Marilyn Monroe once again with the new feature film biopic, Blonde.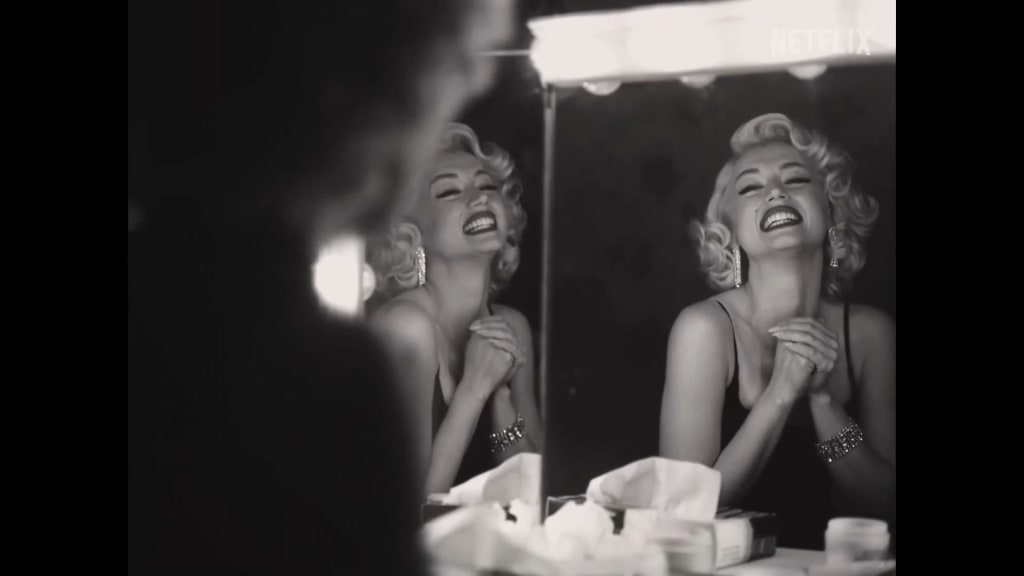 Blonde (2022)
Directed by Andrew Dominik
Written by Andrew Dominik
Starring Ana De Armas, Adrian Brody
Release Date September 23rd, 2022
Netflix
You know what might be nice for us all as a culture? If perhaps we could stop propping up the corpse of Marilyn Monroe for the world to gawk at. Wouldn't that be nice? I realize, for many in Hollywood, especially those at Netflix, profiting off of the life and times of one of the world's most famous people is a cottage industry but it's getting very sad and ugly now and I for one would like to see it come to an end. Really, there is no better ending to this ugly period of Marilyn-sploitation than the deeply troubled and off-putting, Blonde.
From the reductive and pretentious title to writer-director Andrew Dominik's forceful attempts at artiness, Blonde is a miserable and stultifying film experience. Now, I want to be kind, for a moment, Ana de Armas, is working wonders trying to make this movie work. Sadly, the makers of Blonde are determined to drown de Armas' elegant talent in a lot of visual nonsense while exploiting her naked form as much as possible. Yes, some will argue that exploitation is the point and that Marilyn was THE subject when it comes to the concept of the Male Gaze, but Blonde only pretends toward the idea of examining any ideas related to how men informed the life and demise of Marilyn Monroe.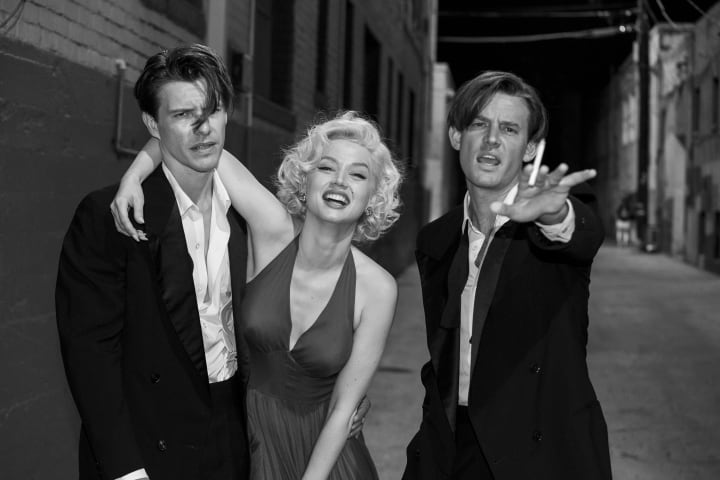 Instead, we get Marilyn in an artsy 3 way with the sons of Charlie Chaplin and Edward G. Robinson. They were Hollywood's first Throuple if Blonde is to be believed. We go inside Marilyn's vagina for another artful scene depicting what I can only contextually assume was Marilyn's third abortion. How do we know we are inside Marilyn's vagina? We can see the speculum enter forcefully as light comes in showing the doctor staring deeply past the speculum. This is a very necessary and ingenious moment is it not? Are you not entertained?
I get it, Marilyn Monroe is the most examined human being in American history but literally taking the camera inside Marilyn's vagina is a bit on the nose don't you think? Then we have the joy of watching President Kennedy force Marilyn's head down to his crotch while he's on the phone talking about national security or some such thing. We get to watch Marilyn perform a blowjob on the President. Why? Who knows. It seems that the world is bent on shaming both the President and Marilyn even without anyone actually knowing whether or not they even ever had sex. One can assume but how does one assume it was a cruel and unkind sex? Were you there? Do you have direct knowledge that JFK was an abusive bastard who got blowies while talking with his Defense Secretary? It makes for a more melodramatic visual I guess.
Don't get me wrong, it's not hard for me to feel that any man born prior to 1930 is some kind of primitive monster who only lived to satisfy their sexual desires by any means necessary, but perhaps we should consider having actual knowledge versus whatever Andrew Dominik and other Hollywood types choose to depict. Was there no nuance to the Kennedy-Marilyn relationship? Was Marilyn simply treated as a whore and nothing more? Perhaps, powerful men tend to be powerful a--holes, but Blonde is perhaps the least subtle and least interesting movie to bring this idea forward.
According to Hollywood in general, and Blonde in particular, Marilyn Monroe was a miserable basket case, exploited by everyone, having no joy in her life, no agency, no ability to think or act. Marilyn is a symbol or pre-feminist woman-hood, a place of constant victimization where you have no friends or family and only people who wish to harm and exploit you. Oh, and how is Hollywood choosing to talk about and tell people about Marilyn's misery and exploitation? By exploiting her misery and exploitation for profit under the guise of an artistic tribute. Ugh!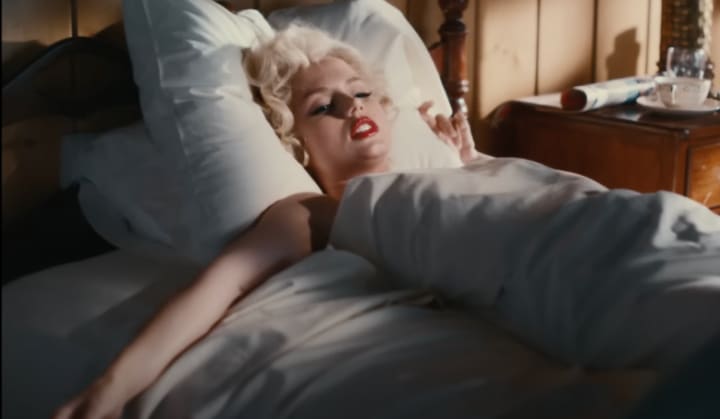 Enough! Enough I say! To paraphrase South Park in a tearful and mournful cry for the late Kenny, "stop, stooopp she's already dead!" Stop beating Marilyn Monroe's corpse! Stop continuing to tell the same stories about how fragile and exploited and miserable she was. Can't someone find something nice to say about Marilyn? Here, I will start: The Seven Year Itch is a classic and Marilyn is brilliant in it. I realize that men like Andrew Dominik wish to reduce that film to just Marilyn's dress in the air and the hoots and hollers of men on set but he's missing everything that's brilliant about that film. Also, in fairness to Tom Ewell, he never circled around Marilyn to get a better look at her backside like he does in Blonde. He looks at her legs and he's clearly excited but he was also her love interest and the scene has them flirting with each other. Context matters.
In an attempt at being fair to Andrew Dominik and Blonde, I am willing to consider the idea that the NC-17 Rating, the needless nudity, the humiliating sex with the President, are all intended as a send up, a heightened broadened reality that shakes the Marilyn persona in its clenched fist in a symbolic allegation to the audience. Perhaps, the movie is trying to point at us and say this is how you see Marilyn Monroe and how it's wrong how our collective cultural memory exploits her so. That might explain all of the arty and broadly pornographic scenes and the misery porn that becomes oppressive as the final act devolves into a chaotic series of gauzy interiors and far away sound design intended to evoke Marilyn's dazed consciousness.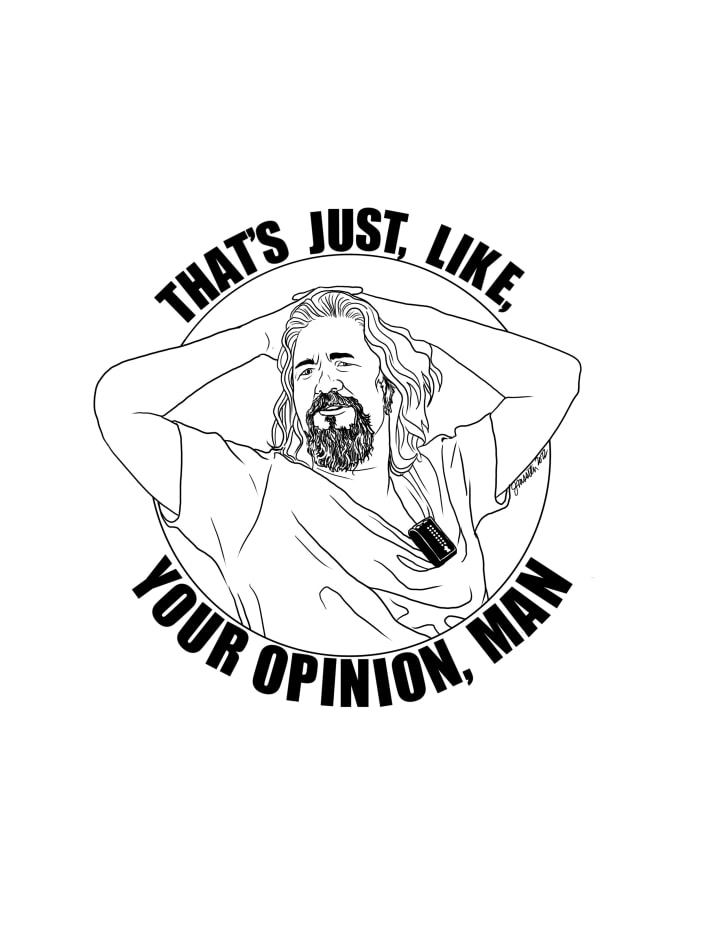 Maybe that's the intent of Blonde. If that is the case sadly, for me, the film has landed in an uncanny valley between its alleged purpose and the employment of exploitation and misery porn as forms of entertainment. For me, Blonde plays like yet another cash in, yet another way for people to make a buck on the legacy of Marilyn Monroe and the well known legends and half truths we've collectively conjured as truth. Only this time, they aren't being subtle about it, slapping on an NC-17 and purpose free nudity as enticements to get you to keep watching. They certainly need that enticement to keep watching because at an ungodly 2 hours and 37 minutes, this latest scavenging of the bones of Marilyn Monroe desperately overstays its welcome.
Find my archive of more than 20 years and nearly 2000 movie reviews at SeanattheMovies.blogspot.com. Follow me on Twitter at PodcastSean. Follow my archive blog on Twitter as well at SeanattheMovies. And you can hear me talking about movies on the Everyone's a Critic Movie Review Podcast on your favorite podcast listening app. If you've enjoyed what you've read then consider subscribing to my work here on Vocal. You can also support my work by pledging a monthly donation or leaving a one time tip below. Thanks for considering it.
About the Creator
Hello, my name is Sean Patrick He/Him, and I am a film critic and podcast host for Everyone's a Critic Movie Review Podcast. I am a voting member of the Broadcast Film Critics Association, the group behind the annual Critics Choice Awards.
Reader insights
Outstanding
Excellent work. Looking forward to reading more!
Top insights
Easy to read and follow

Well-structured & engaging content

Compelling and original writing

Creative use of language & vocab

Eye opening

Niche topic & fresh perspectives
On-point and relevant

Writing reflected the title & theme

Expert insights and opinions

Arguments were carefully researched and presented

Masterful proofreading

Zero grammar & spelling mistakes

Excellent storytelling

Original narrative & well developed characters

Heartfelt and relatable

The story invoked strong personal emotions
Add your insights