Movie Review: 'Missing' Misses the Mark
Convoluted plot undermines the mystery of Missing.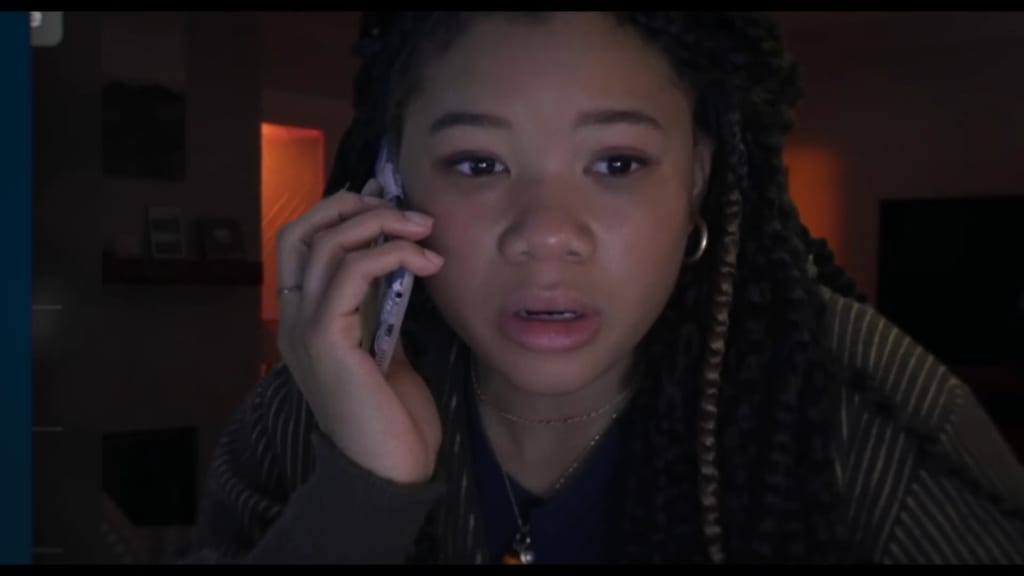 Missing (2023)
Directed by Nick Johnson, Will Merrick
Written by Sev Ohanian, Aneesh Chaganty
Starring Storm Reid, Nia Long, Ken Leung
Release Date January 20th, 2023
Published January 23rd, 2023
Missing captures our modern true crime obsession in a way that few films ever had. Every true crime fan dreams of doing what the main character of Missing does, diving down a rabbit hole of information on your way to solving a mystery. Of course, the main character of Missing has more motivation than your average true crime fan, but that doesn't change the nature of our excitement. All true crime fans want to investigate leads and follow threads to answers in the way that June (Storm Reid) does in Missing, whether it's our family member that is missing or some stranger.
In Missing, June is a typically self-involved teenager who is constantly mortified by how uncool her mother, Grace (Nia Long), is. Mom is always asking her Siri to make calls for her, even while she's already on a call. Mom and June's relationship is strained as Grace is a working single mom juggling her daughter, work, and a new boyfriend, Kevin (Ken Leung), while planning a vacation to Columbia. June is of little help, she's only thinking of the partying she's going to do while Mom and Kevin are out of town.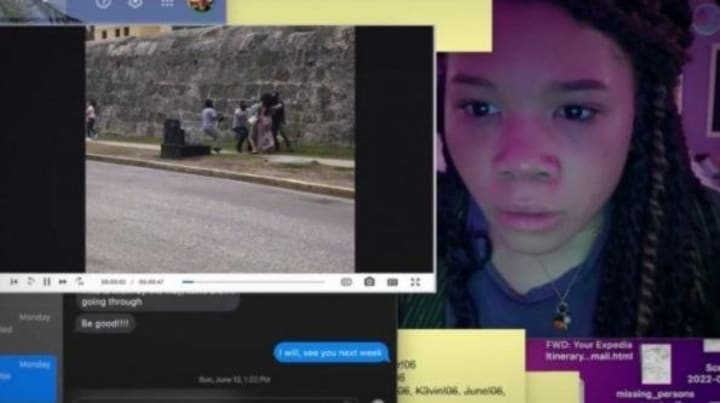 Over the course of five days, Mom checks in rarely, which is unusual, while June parties. Then, when it's time for June to meet Mom and Kevin at the airport, she's left standing there for hours. Mom doesn't come home. Returning to her house, June calls the authorities and falls down a rabbit hole while investigating her mother's whereabouts. In the course of investigating her mother's disappearance from afar, she connects with a man named Javi (Joachim De Almeida), who lives in Columbia and who agrees to investigate on her behalf for a mere $8.00 per request.
Meanwhile, at home, Grace breaks into Kevin's email and begins to discover things about his past, his criminal record, and the many, many, women in Kevin's past who claim that he's stolen money from them. There's also a woman, referred to only as 'babycakes,' who has recently gone missing after trading messages with Kevin. This can't be a coincidence but the movie has a few more twists and turns in play when it comes to Kevin, some you won't be able to predict so easily.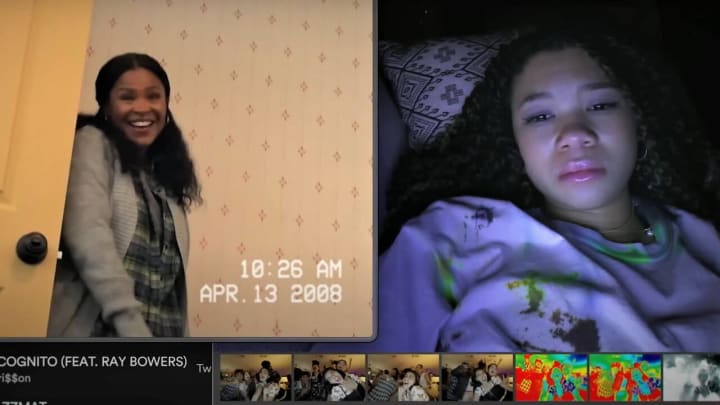 Missing doesn't quite have the skillful presentation of its predecessor, Searching. That film used the medium of internet based sleuthing in service of a much better story. The story of Missing isn't bad but it's far more deeply convoluted than that of Searching. Where that movie had a relative clarity to its logical storytelling, Missing falls short. If you start pulling threads on Missing the story frays with far too much ease. The main plot is rather silly with characters making choices that don't make a lot of sense.
Then the movie tries to justify how little sense the main plot makes by stating that one character is simply 'beginning to spiral.' Basically, it doesn't make sense because this person is crazy and came up with a crazy plan. That excuse didn't work on me, even as I admired so many aspects of Missing. I love this kind of true crime style deep dive into a mysterious disappearance. The movie gives us tantalizing details that are fun to follow but once the final act kicks in, the cracks start to show. Those cracks indicate that no matter how much sleuthing June did, none of it really mattered.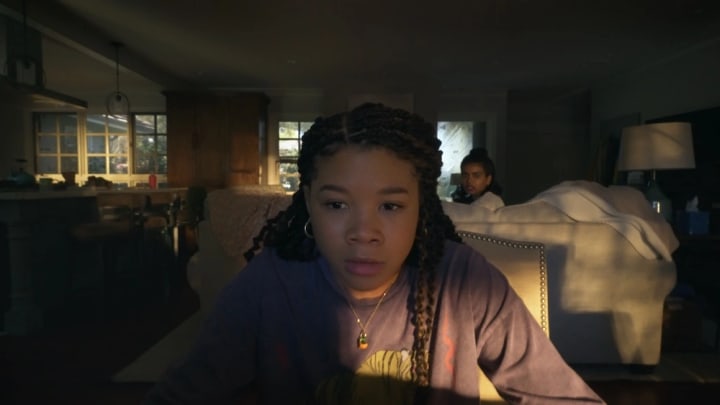 Storm Reid does well to get us not to think about the massive plot holes of Missing. Reid is a terrific actor, charismatic, thoughtful, and highly sympathetic. Sadly, she's let down by a plot culmination that negates much of what she does in the movie. Does the plot make sense? Yes, sort of. I know what happened and what the motivation was for what happened but how we get there is a major issue. If you ask yourself why this plot has to be so overblown you get to a faulty foundation for all of the drama.
Worse yet, the good work of Storm Reid/June is undone because none of what she does in the movie matters. The story of Missing plays out the same way whether June investigates it or not. Thus, all of the fun, the mystery, the search for answers, was all a lot of pointless filler. All of the excitement of uncovering clues and connecting puzzle pieces of a mystery plot are negated when we arrive at a conclusion that would be the same no matter what the main character uncovered. Thus Missing takes a terrific premise and fumbles it away with a clumsy finish.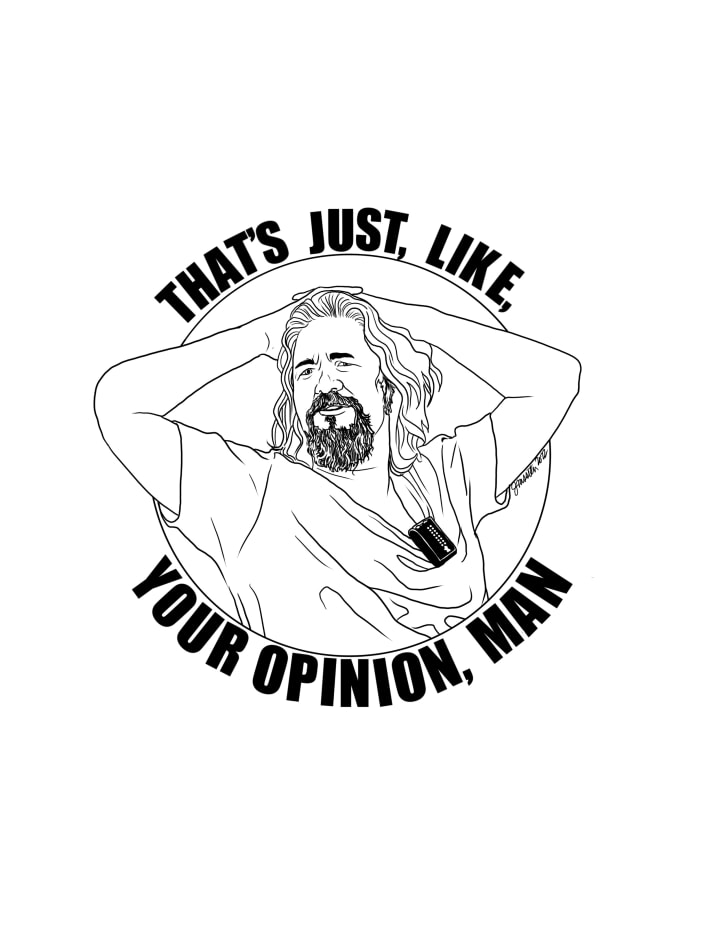 Find my archive of more than 20 years and nearly 2000 movie reviews at SeanattheMovies.blogspot.com. Find my modern review archive on my Vocal Profile, linked here. Follow me on Twitter at PodcastSean. Follow the archive blog on Twitter at SeanattheMovies. Listen to me talk about movies on the Everyone's a Critic Movie Review Podcast. If you have enjoyed what you have read, consider subscribing to my work here on Vocal. If you'd really like to support my writing, you can do so by making a monthly pledge or by leaving a one-time tip. Thanks!
About the Creator
Hello, my name is Sean Patrick He/Him, and I am a film critic and podcast host for Everyone's a Critic Movie Review Podcast. I am a voting member of the Broadcast Film Critics Association, the group behind the annual Critics Choice Awards.
Reader insights
Nice work
Very well written. Keep up the good work!
Top insight
Heartfelt and relatable

The story invoked strong personal emotions
Add your insights