Movie Review: 'Marshall'
Chadwick Boseman gives life to a brilliant legal legend in 'Marshall.'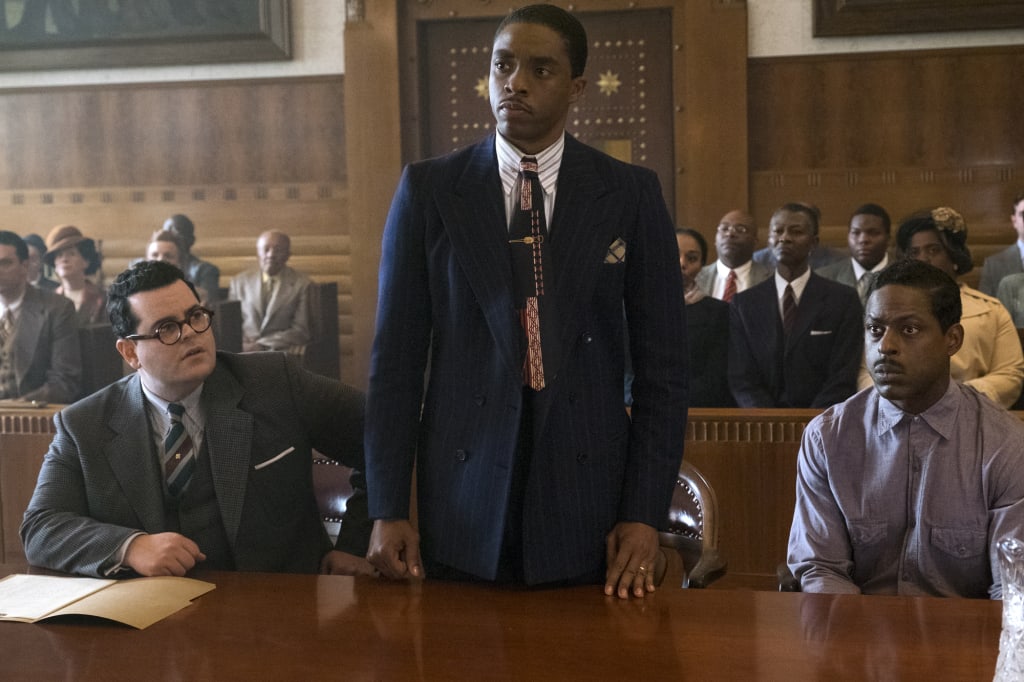 Marshall stars rising superstar Chadwick Boseman in the role of legendary Supreme Court Justice Thurgood Marshall. Set years before Marshall rose to be one of the most respected judges in the country, at a time when black people were still fighting for civil rights, Marshall is a terrific introduction to the man. Boseman, future star of Marvel's Black Panther, demonstrates the supreme intelligence and charisma that Marshall no doubt possessed as he came up through the ranks of the NAACP to become a leader.
Marshall is set in 1940 when Thurgood Marshall was just getting started with the NAACP. In Bridgeport, Connecticut a black man named Joseph Spell (Sterling K. Brown) stands accused of raping the wife of his employer, a woman named Eleanor Strubing (Kate Hudson). The story being told is that Spell raped Strubing twice before forcing her into a vehicle and driving her to a bridge where he threw her over the side. Strubing survived and managed to swim to shore and flag down a passing vehicle to take her to the police.
Marshall arrives in Bridgeport with plans of representing Spell but first he needs a lawyer to sponsor him with the Connecticut bar. Sam Friedman (Josh Gad) had no intention of being that lawyer, but when his brother volunteers him to help, Friedman finds himself thrust into the limelight. Things get further complicated for Friedman when a racist judge, James Cromwell, decides not to allow Marshall to be Spell's lawyer and instead assigns the case to Friedman, who'd never tried a criminal case before.
With the odds stacked against them, Marshall and Friedman must become a team and find some way to defend their client against a system eager to wrap up the case and move on. As you can imagine, the fate of black man in court in 1940 accused of raping a white woman probably seemed like a lost cause, even in the supposedly progressive Northern states. A racist judge and prosecutor, who have a personal connection to one another that should disqualify them, only stack the odds further against our heroes.
Chadwick Boseman, who brought intensity and focus to Jackie Robinson in 42, here finds the charisma and charm that film was lacking. Where 42 was a stuffy biopic/hagiography of Robinson, Marshall is a similarly worshipful biopic but one with a great deal more personality. Boseman finds depth and humor in Marshall, a man who took a barely concealed boyish glee in upending white opponents. Unable to be at the front of the defense in the Spell case, Marshall finds other ways to reach the jury via his manipulation of Friedman.
Josh Gad, in a rare dramatic role, brings good humor to Friedman and his fearfulness over the potential consequences for a Jewish man in 1940 defending a black man. Gad's thoughtful fumbling eventually gives way to a thoughtful, forthright manner that the jury takes to quite well until he makes one mistake that could cost them the case. This scene is fraught with the kind of suspense and tension we love in a good court room drama.
In the end, Marshall is mostly just that, a standard court room pot boiler. Though the movie is named for Thurgood Marshall, with him unable to defend Spell, Marshall is often reduced to spectator as much as star of the movie. Gad actually earns co-billing on Marshall because for most of the biggest scenes in the film, he's the one at the front of the camera. That's not to say that Boseman is overshadowed, his presence is always felt over Gad's shoulder, but this is far more of a duet than you might expect from the title.
Fans of courtroom drama and history will find a lot to love about Marshall. The film tells a terrific true life story filled with legal twists and turns and still manages to make memorable points about the racial history of America. Thurgood Marshall deserves the kind of attention that the movie Marshall gives him. The film shines a light on a man who should be at the forefront of our memories for his remarkable accomplishments including winning the landmark Brown v. Board of Education case in front of the Supreme court to becoming the first African American Justice on the Supreme Court. Marshall's is a life that could spawn a series of movies with Marshall as just a starting point.
About the Creator
Hello, my name is Sean Patrick He/Him, and I am a film critic and podcast host for Everyone's a Critic Movie Review Podcast. I am a voting member of the Broadcast Film Critics Association, the group behind the annual Critics Choice Awards.
Reader insights
Be the first to share your insights about this piece.
Add your insights