Movie Review: 'Marcel the Shell with Shoes On' is a Lovely Film
Jenny Slate and Dean Fleischer Camp create a lovely and fascinating universe in Marcel the Shell with Shoes On.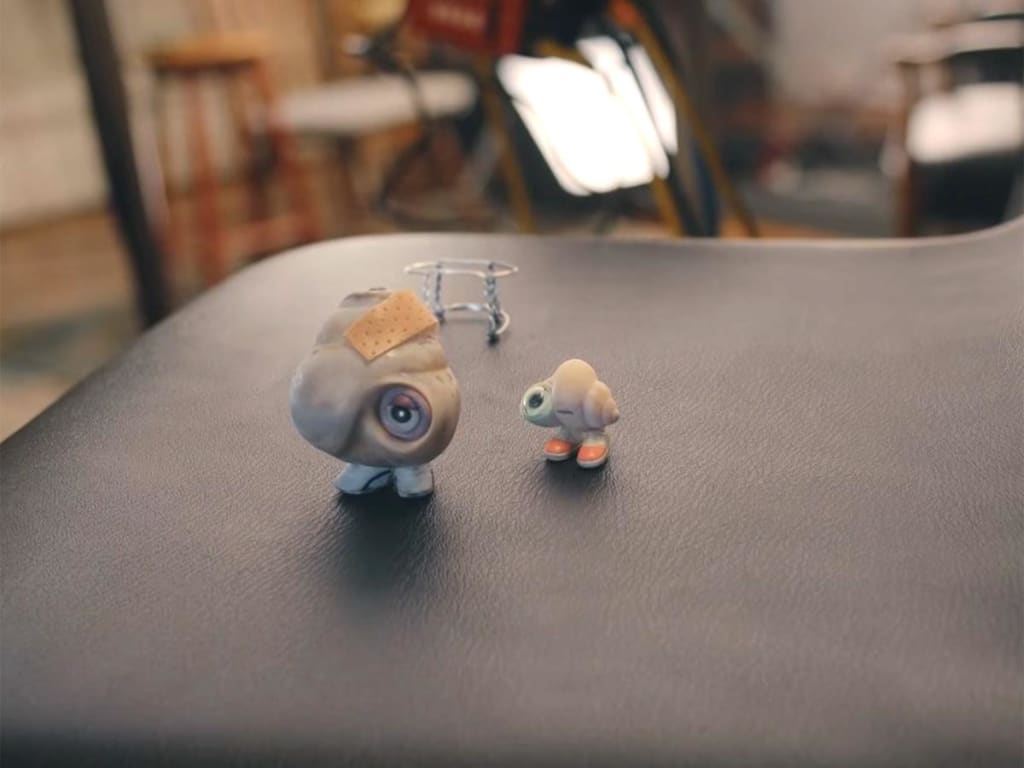 Marcel the Shell with Shoes On bursts forth from the imagination of Jenny Slate and her creative partner, Dean Fleischer Camp. The story of a lonely little shell with shoes on and the documentary filmmaker who briefly lives with the shell and makes a movie about him, Marcel the shell with Shoes On is a wildly inventive and genuinely lovely movie. Vibrant, strange and endlessly beautiful, Marcel the Shell with Shoes on is one of the reasons we love going to the movies.
Marcel, voiced by co-creator Jenny Slate, has lived a lifetime in the last two years. It's been that long since most of Marcel's family of fellow shells disappeared. Since then, it has only been Marcel and his grandmother, Connie (Isabella Rossellini). Together, they've invented ways to survive on their own as one person after another moves into and out of their suburban, multi-bedroom home. What was once the home of a loving couple has become a permanent Air B & B.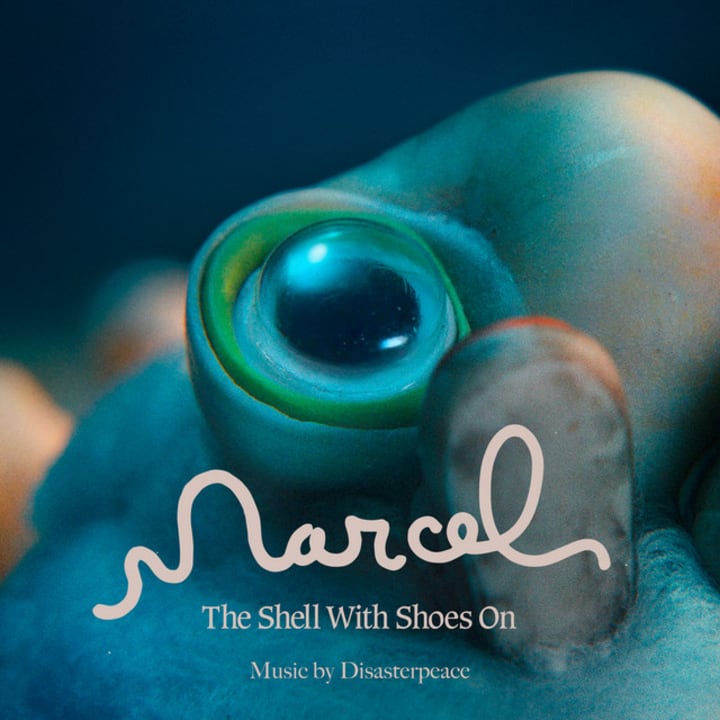 The latest human to take up residence in the home is Dean (Dean Fleischer Camp). How did Marcel and Dean meet if Marcel hadn't met or spoke to previous roommates? We don't know and it doesn't really matter. What matters is that Dean is a documentary filmmaker and he sees Marcel as the perfect subject of a series of short films he plans to upload to YouTube. The shorts follow Marcel's unique survival strategy.
As I mentioned before, Marcel and Connie have come up with a series of inventive survival strategies. Once such strategy finds Marcel using a mixer and some rope to get oranges to fall from a tree outside the house. These types of Rube Goldberg-ian exploits are not only presented but deconstructed to show how they make sense within the world of Marcel the Shell with Shoes On.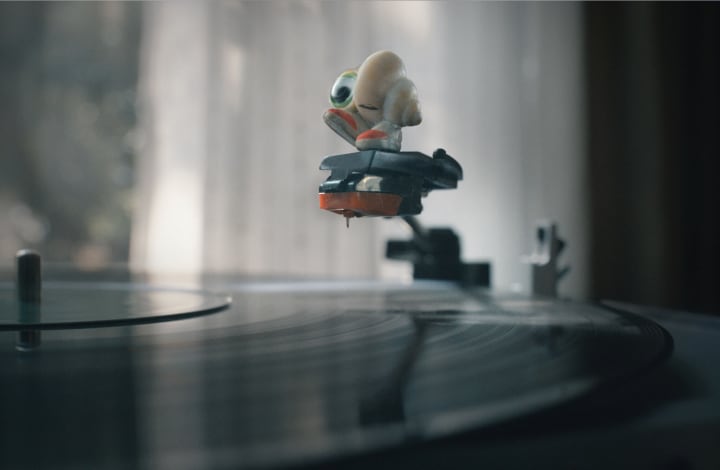 There are multiple tracks of story being told in Marcel the Shell with Shoes On, the most notable is Connie's growing illness. The lovely and whimsical voice of Isabella Rossellini could not be more apt for Connie. She's wise and a little odd and she's also dying, slowly but surely. Her declining health coincides with Marcel finding fame via Dean's YouTube videos. Marcel becomes concerned that his newfound fame is placing undue stress on Connie and he wants to stop it but can't.
Connie meanwhile, hopes that Marcel will recognize that finding fame could be good for him and his other obsession in life, finding his family. As mentioned, two years prior, the former residents of the house moved out and with them accidentally went the dozens of other shells that made up Marcel's family, including his mother and father. When Dean's video catches the attention of 60 Minutes, Marcel and Connie's favorite show, with their favorite reporter, Leslie Stahl, Marcel wants to say no in order to protect Connie but Connie insists that he take on the story.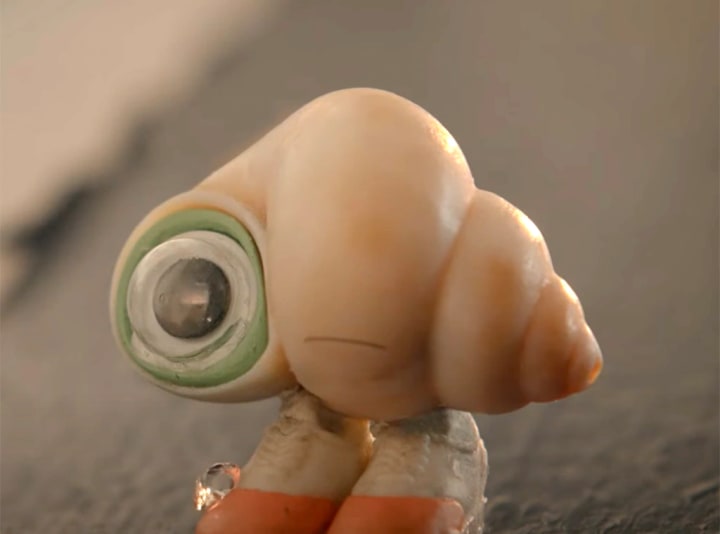 That's just a little of what makes Marcel the Shell With Shoes on so special. Jenny Slate and Dean Fleischer Camp do a wonderful job of slowly revealing new dimensions of Marcel via Connie and Dean. Marcel's main trait appears to be being adorable, but Slate brings a bit of spice to Marcel's personality as the movie progresses. It's not mean or inappropriate, it's a natural extension of Marcel's personality and growing comfort with Dean in front of the camera.
Marcel is not a saintly character, a young and naive character, yes but one who is still growing into who he is going to be and that's a lovely progression to get to see just a little bit of as we see in Marcel the Shell With Shoes On. What begins as a seeming exercise in twee grows new dimensions of imagination and invention as the movie goes on and builds toward its lovely conclusion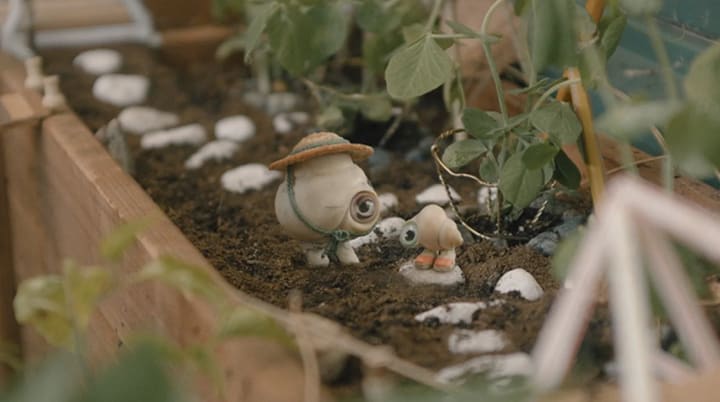 Marcel the Shell with Shoes On is a wonderful, smart, imaginative and gorgeous movie, a must see. Marcel the Shell with Shoes On is now available in theaters nationwide.
movie
About the author
Hello, my name is Sean Patrick He/Him, and I am a film critic and podcast host for Everyone's a Critic Movie Review Podcast. I am a voting member of the Broadcast Film Critics Association, the group behind the annual Critics Choice Awards.
Reader insights
Be the first to share your insights about this piece.
Add your insights