Movie Review: 'Magic Mike's Last Dance' is Really, Really, Sexy
There isn't much to the third Magic Mike movie but the heat between Channing Tatum and Salma Hayek is more than enough.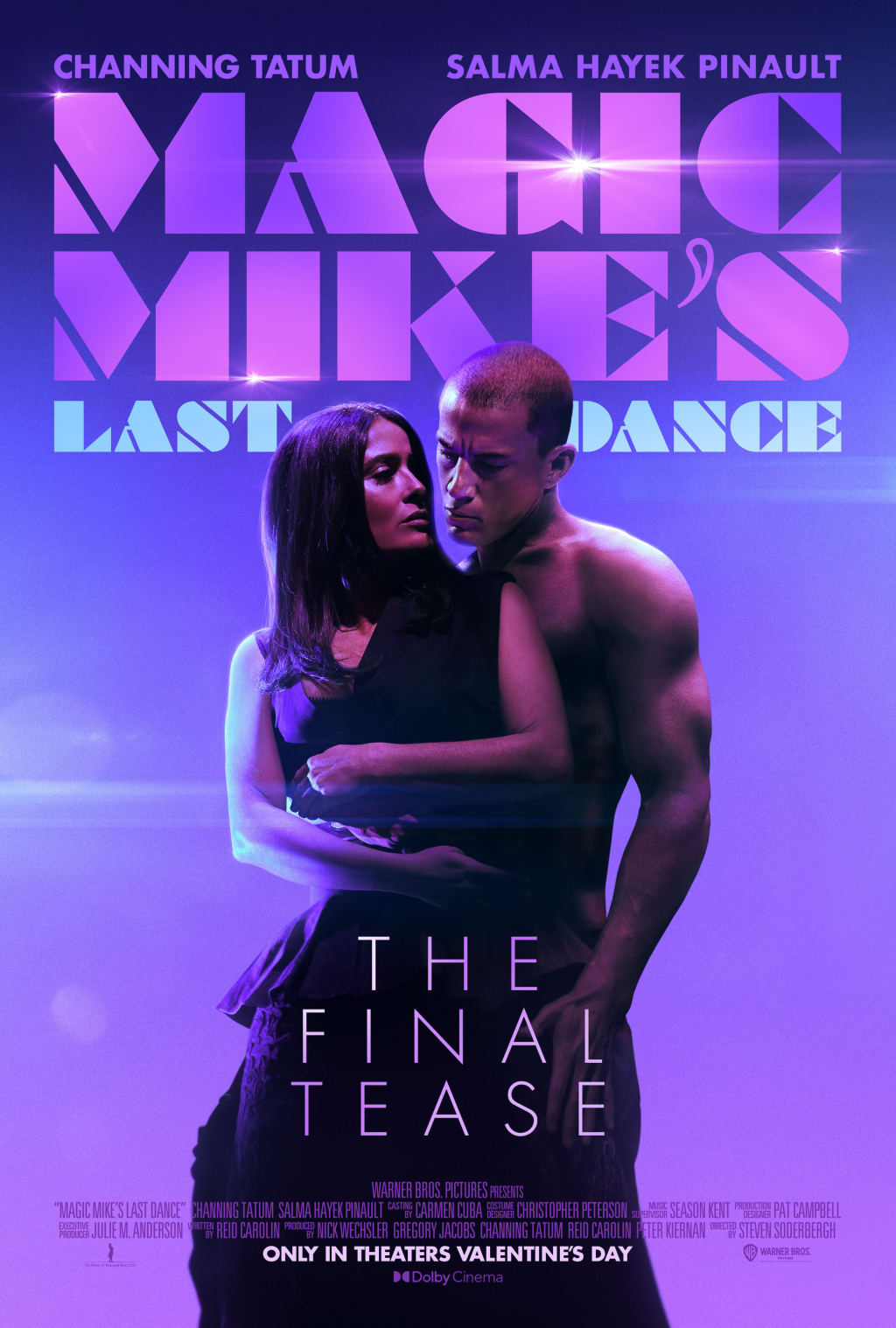 Magic Mike's Last Dance (2023)
Directed by Steven Soderbergh
Written by Reid Carolin
Starring Channing Tatum, Salma Hayek
Release Date February 10th, 2023
Published February 14th, 2023
Can I recommend a movie solely on the strength of the sexual chemistry between the two leads? It seems like a thin premise for recommending a movie. But, Channing Tatum and Salma Hayek are so incredible together, so insanely sexy together, I kind of want to recommend Magic Mike's Last Dance. Even as the plot seems like nonsense and the story feels cobbled together on the fly, the smoldering sexual chemistry of Channing Tatum and Salma Hayek is so fiery, it's kind of worth suffering the nonsense for.
Magic Mike's Last Dance returns Channing Tatum, and his washboard abs, to the role of Mike Lane, stripper turned furniture maker, turned bartender as we join this story. Mike's dream of making handmade furniture failed amid the pandemic and he has sustained himself as a bartender for hire at parties ever since. That's how Mike meets Maxandra (Salma Hayek). She's a bored, rich, soon to be divorced cougar who has hired Mike on the recommendation of one of her employees.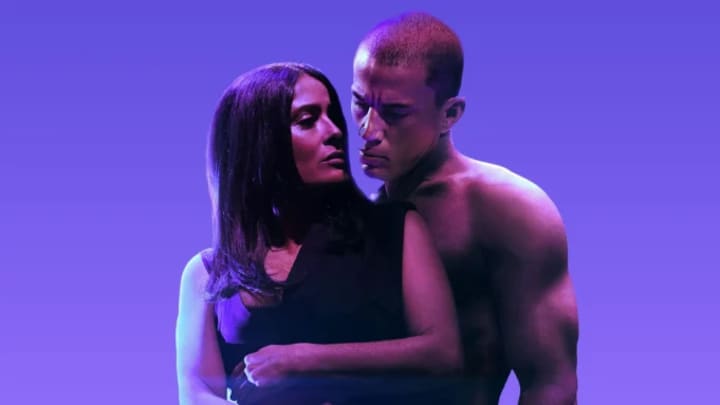 According to said employee, Mike can give Maxandra the kind of experience she's been craving, the kind of male attention she's desired since deciding to leave her husband. Indeed, Mike reluctantly agrees to her terms and provides such an experience. Showing off his insanely sexual lap dance skills, Mike sweeps Maxandra up in a lusty tornado of writhing flesh and she's hooked immediately. Though Mike doesn't want to be a kept man, he can't resist when Maxandra asks him to follow her to London, her primary home.
You might assume, as Mike does, that Maxandra hopes to turn him into a paid for plaything but that's not the case. Rather, inspired by Mike's lapdance, Maxandra wants him to choreograph a sexy dance ensemble that combines stripping with a stage play in a highly unique theatrical hybrid. It's complete nonsense and merely exists as a hanger from which the movie can keep Mike both dancing/stripping and keep Mike and Maxandra making eyes at each other.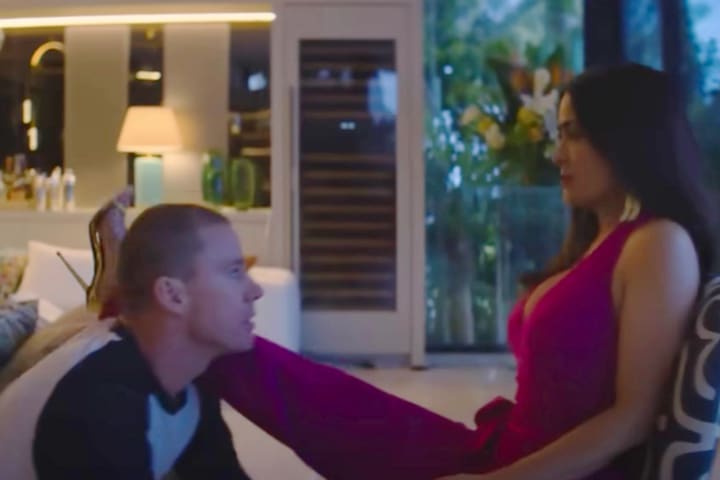 And somehow, for me, that's all that I needed. Magic Mike's Last Dance is not high art or great cinema but as an object of lusty obsession, it really works. This is a supremely sexy movie even as not all that much flesh is bared. In fact, Tatum and Hayek fully clothed in the lapdance scene is hotter and more exciting than every last bit of nakedness in the 50 Shades Movies. Magic Mike's Last Dance demonstrates what a great director and a pair of movie stars can do simply with strong filming technique and movie stars with insanely great chemistry.
Magic Mike's Last Dance is the least interesting of the Magic Mike stories but, it may be the sexiest of the three movies. Tatum and Hayek have just so much chemistry and are just so gorgeous, it makes up for a lot of plot nonsense and placeholder melodrama. It's perhaps a mostly or entirely puerile interest on my part, but I enjoyed Magic Mike's Last Dance. It's the kind of movie you take your romantic partner to to get the engines running, to use a desperately strained euphemism. It's an incredibly sexy movie when it chooses to be and its so sexy that the cracks in the foundation of the movie are easy to overlook.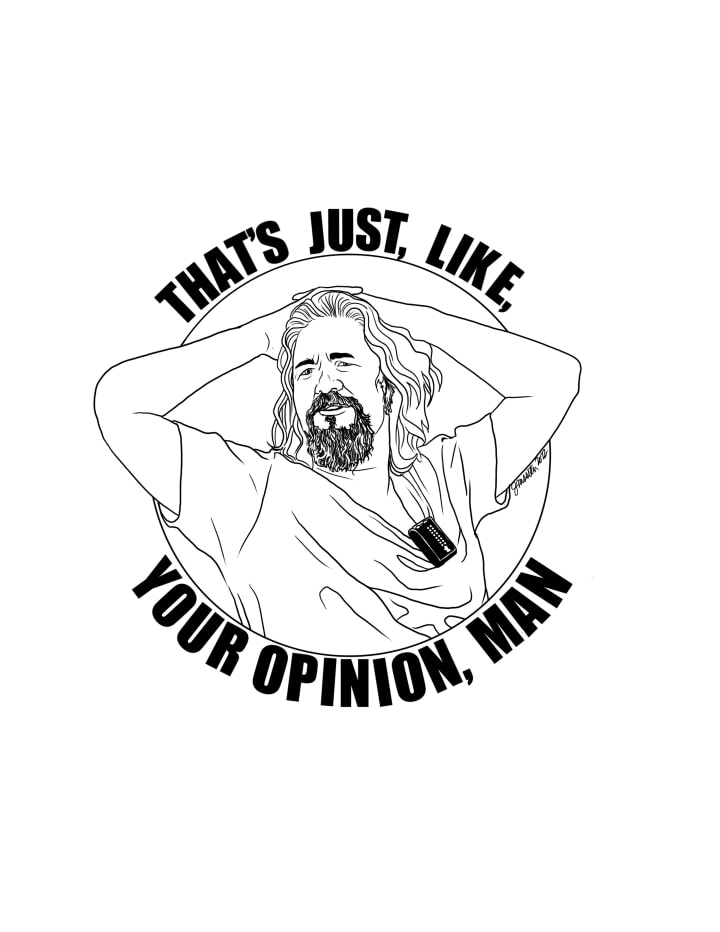 Find my archive of more than 20 years and nearly 2000 movie reviews at SeanattheMovies.Blogspot.com. Find my modern review archive on my Vocal Profile linked here. Follow me on Twitter at PodcastSean. Follow the archive blog on Twitter at SeanattheMovies. Listen to me talk about movies on the Everyone's a Critic Movie Review Podcast. If you've enjoyed what you have read, consider subscribing to my writing on Vocal. If you'd like to support my writing you can do so by making a monthly pledge or by leaving a one-time tip. Thanks!
About the Creator
Hello, my name is Sean Patrick He/Him, and I am a film critic and podcast host for Everyone's a Critic Movie Review Podcast. I am a voting member of the Broadcast Film Critics Association, the group behind the annual Critics Choice Awards.
Reader insights
Be the first to share your insights about this piece.
Add your insights