Movie Review: 'Lipstick Under My Burkha'
The movie India doesn't want you to see, according to the press notes, finally comes to America.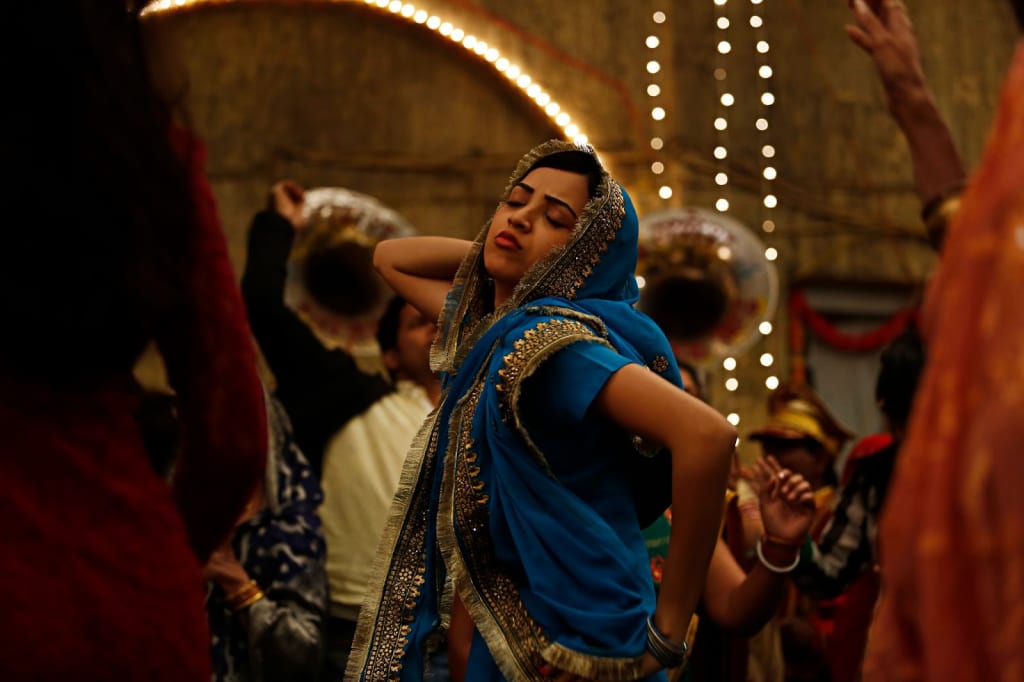 "You know what our problem is? We dream too much?"
That quote is devastating. It comes from the movie Lipstick Under My Burkha from writer director Alankrita Shrivastava. It's a remarkable film about four wonderful characters staring into the face of oppression and still trying to live their dreams. Lipstick is only Shrivastava's second directorial feature and yet she directs with the surety and beauty of a veteran filmmaker. Her eye and ear are perfectly in tune to her characters, who each have big beautiful beating hearts.
Auntie (Ratna Pathak) is at the center of the story, a brilliant, well-respected elder in her community. Yet, she is only 55 years old and a widow and her desires have not cooled with age. Auntie has been Auntie for so long that just trying to say her own name is a challenge. Reclaiming her name is the start of admitting she still has the desires she's been nursing via a romance novel that she reads as the film's narration with the story acting as a not too blatant Greek chorus to the story of the movie.
Auntie's desires come to the fore when she meets a much younger swim instructor whose muscled torso fires the dreams she has of the male character in her book. Pushing her desires ever further she begins to carry on a secret phone relationship with the young man and dreams of perhaps finding the courage to tell him who she really is and how he stirs her soul and so much more. Ratna Pathak could not be better cast in the role of Auntie, still a beauty at 55 with tender eyes and an inner strength radiates to the very end.
Rehana (Plabita Borthakur) is the college aged daughter of a very conservative family, one that requires her to wear a burkha when she attends her college courses. Like Auntie, however, Rehana has desires that no burkha can contain. Each day when she arrives at school she trades her burkha for blue jeans and red lipstick while dreaming of singing Miley Cyrus songs as part of a cool clique of girls who are leading a campus uprising over the school's conservative dress code.
Rehana's desires are possibly even more dangerous than Auntie's as she takes to stealing from a local shopping mall, using her burkha as a way of hiding her crimes. When she finally earns her way into the cool clique she takes her desires even further, allowing herself to be romanced by a bad boy drummer who may or may not be involved with one of her new popular friends. Throughout the film, we watch as Rehana narrowly avoids being discovered by her parents while taking more and more risks.
Shireen's (Konkona Sen Sharma) desires aren't as verdantly sensual as Auntie or Rehana's. Rather, Shireen's desires apply to her life in the workforce. She's taken to working as a saleswoman, and quite a good one. In fact, as we meet her she is making remarkable sales numbers and is about to be offered a promotion to sales trainer. Sadly, this is when her conservative husband Rahim (Sushant Singh) returns from work overseas and begins to curb her freedom.
Shireen's story is filled with secrets and lies that I won't reveal here but it's fair to say that all that happens to her is just as compelling as what happens with the other women's stories. That her story is one about the freedom to work as opposed to the freedom of desire serves to give the film the added weight of feminism beyond just sexual freedom, though there is an aspect of that in her story as well. Konkona Sen Sharma is a wonderful actress with big expressive eyes and a delightful smile. When that smile disappears for a time late in the film and is replaced by an angry scowl it is something to see.
The final member of this remarkable quartet of women is Leela (Aahana Kumra). Leela combines elements of each of the other's stories. She is a working woman with her own goals and desires that she is more able to express. Unfortunately, she's also been promised in an arranged marriage against her will. Leela is in love with a photographer named Arshad (Vikrant Massey) and when we meet them they are scheming for a way to get out of their tiny corner of India and onto a train to Delhi, away from the restrictions of parents and the repression they've grown up in.
Leela is held back by her mother who raised her alone after her father left. Leela's mother is impoverished and has taken a job she is ashamed of so that she can keep a roof over their heads. Leela's arranged marriage to a rich suitor named Manoj (Vaibhav Tatwawaadi) will mean that Leela's mother never has to work again. Whereas, if Leela runs off with the man she loves, her mother will be left with nothing. It's a powerful story with strong emotional pulls in both directions and Aahana Kumra is wonderful at creating a deep well of sympathy for Leela even when she is acting selfishly.
Shrivastava has brought together a powerhouse cast and given them wonderful stories to tell. It's no wonder then that the film is now labeled as 'The Movie India Doesn't Want You to See." Much like its glorious characters, India's restrictive society had kept the movie from playing in full because of the restrictive ratings board which initially refused to give the film a rating, preventing it from playing in the country. The film was finally released last month after cuts were made. Thankfully, the power of the story remains intact.
The repression that these women challenge gives a remarkable emotional weight to their actions whether they be the simple act of self-pleasure, to simply wearing jeans or just acting like a teenager, or the desire to earn a living and support a family. Each story has impact because of what these women are up against and writer-director Shrivastava does a tremendous job of giving each story time to breathe and build momentum toward a finale that is heart-wrenching in its strength and beauty.
Lipstick Under My Burkha is one of the best films of 2017, a powerhouse drama about four powerhouse women. It's a story of liberation, big and little victories, setbacks, tragedies, and heartaches. It's a story of strength and tradition and the ways that we hold ourselves back on behalf of tradition or because we are trying to please others at the expense of ourselves. Lipstick Under My Burkha is a message to repressive societies around the world that you can't keep the world away forever and that desire is what drives humanity, male or female, and it cannot be denied.
There is also something to be learned here in America from a movie like Lipstick Under My Burkha. The film reminds us that repression of any stripe is unacceptable. It reminds us of the richness that desire and the freedom to pursue our dreams regardless of our gender, religion, or race is what makes the world a better, richer and livelier place. Anyone who thinks it is a good idea to try to restrict the dreams of anyone for such arbitrary reasons as gender or skin color should be made to experience a movie like this so that they can understand the consequence of such restrictive nonsense.
review
About the author
Hello, my name is Sean Patrick He/Him, and I am a film critic and podcast host for Everyone's a Critic Movie Review Podcast. I am a voting member of the Broadcast Film Critics Association, the group behind the annual Critics Choice Awards.
Reader insights
Be the first to share your insights about this piece.
Add your insights