Movie Review: 'King Richard' A Strong Showcase for Will Smith and Little Else
Will Smith comes off great even in the desperately uneven drama of King Richard.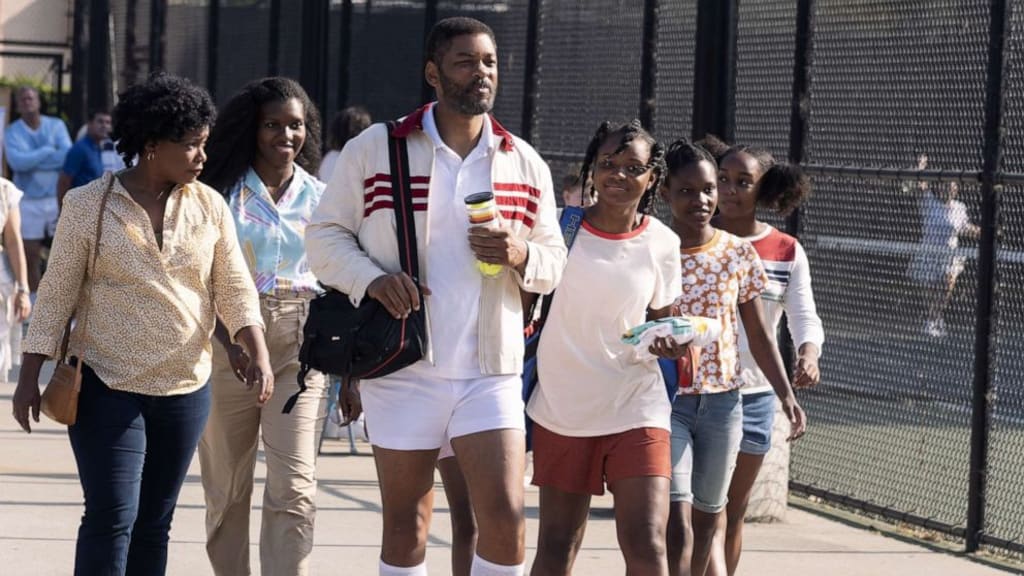 King Richard stars Will Smith as Richard Williams, the controversial father of tennis icons, Venus and Serena Williams. The story of King Richard tracks Richard Williams' deep seated dedication to make his daughters succeed in the world of tennis. As the story goes, Richard was watching tennis on television and saw a player pick up a $40,000 purse. This set off alarm bells in Richard's mind. If someone could make that much from this sport dominated by white people, how well might a pair of incredibly talented black women do in this sport?
This notion became one of many obsessions for Richard, but perhaps his greatest obsession. From their earliest moments of life, Richard began drilling his daughters in tennis. Each day would find Richard playing tennis with his daughters and teaching them the tips he was reading in Tennis Magazine which he read religiously while working his night job as a security guard. Richard felt that his daughters were born great athletes and that tennis was something they could learn about and adapt that innate athleticism to. History proves Richard was right.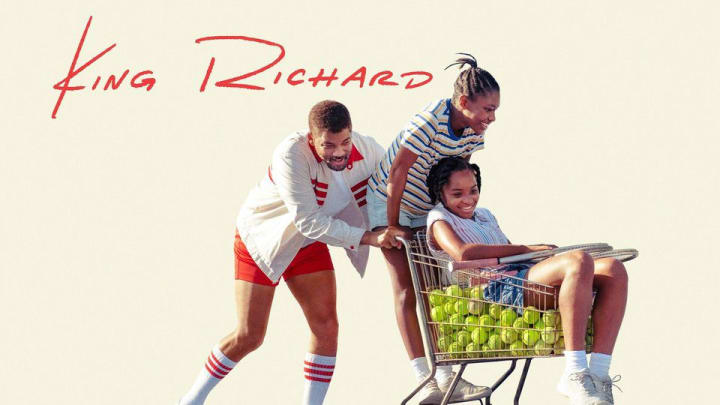 But the story of Venus and Serena Williams wasn't without challenges. Growing up in the crime and drug ridden Compton, California of the late 1980s and early 1990s meant that there weren't many safe places for the girls to play tennis. As several scenes in the early portion of King Richard demonstrate, Richard found his obsession with keeping his girls playing tennis and staying safe from the gang violence around them led to Richard being berated and assaulted by the criminals in the neighborhood.
To truly achieve his goal of turning Venus and Serena into the greatest tennis players on the planet, and help pull the family, including three older sisters, and Richard's other children, out of poverty, Venus and Serena needed a professional coach/sponsor. This would prove incredibly difficult for many reasons, not least of which is the inherent and long history of racism in the tennis establishment. Getting in the door to meet a coach of the caliber needed to harness Venus and Serena's talent was a nearly insurmountable challenge but one Richard was determined to surmount.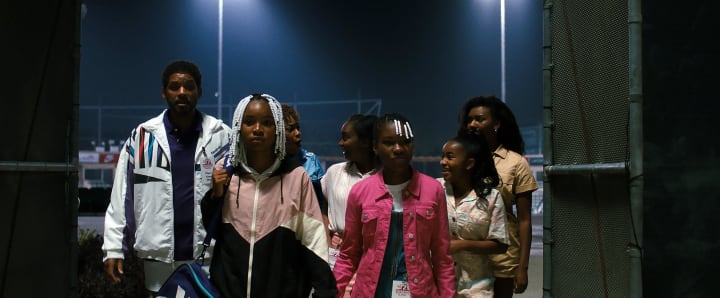 Never say that Richard Williams didn't aim high. Among Richard's first approaches to a coach finds Richard on court during a practice for John McEnroe and Pete Sampras, two of the biggest stars in the world. Richard could care less about the stars however, he's there to talk to their coach, Paul Cohen (Tony Goldwyn). After charming Cohen into letting Venus hit some balls with Pete Sampras, Cohen gives Richard advice that would change the game for the Williams family. It was Cohen who pushed Richard to get his daughters into Junior Tennis competition where Venus would thrive before Richard's legendary stubbornness reared its head.
I say stubbornness but, as portrayed in King Richard, it was more like a fatherly protectiveness. Richard saw the ludicrous pressure that parents and coaches put on kids in the Junior ranks and he was terribly put off. Worried that Venus might burn out before she ever made it to the pro ranks, Richard makes a bold and much maligned decision that is perhaps the dramatic crux of King Richard and the catalyst that carries the movie to the final act in which a new Coach, well played by Jon Bernthal, comes to play a pivotal role.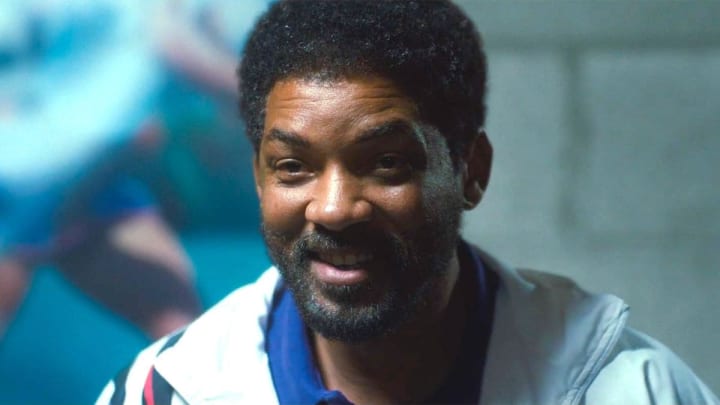 I don't know why I am choosing to avoid 'spoilers' in a true story but here we are. The issue is that King Richard doesn't have much of a dramatic arc, or at least one that is unfamiliar to the general audience. Richard Williams doesn't change much from the start to the finish of King Richard and thus the decisions he made regarding Venus and Serena's careers has to provide the drama of the narrative and because those decisions are rather well documented, there is a distinct lack of traditional drama in King Richard.
The film relies heavily on star Will Smith to make Richard a character we can relate to, a character of many complex traits, love, loyalty, protectiveness, pigheadedness, and outright bullying behavior. It's not an entirely flattering picture. And yet, it feels a little too simplistic. King Richard often seems like punches are being pulled to make Richard slightly more sympathetic than perhaps the real Richard was. In this way, the drama of King Richard feels neutered and quite safe. Will Smith does well to fill out Richard Williams but there is not enough dramatic meat on the bone for my taste. The whole of King Richard, aside from Smith's strong presence, feels a tad bland.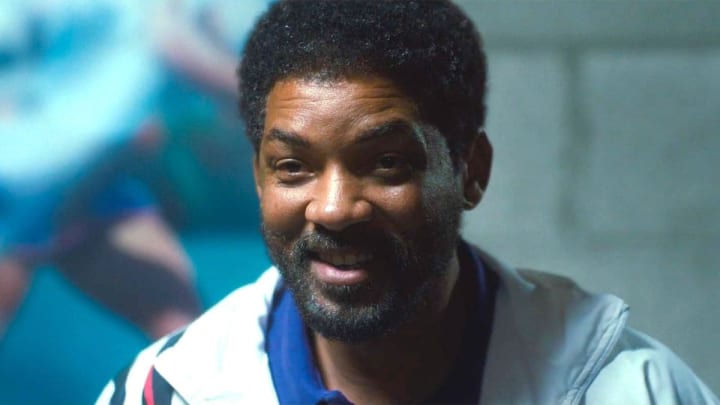 Lost in the story of Richard Williams is that of Venus and Serena who come off flat. The young women playing Venus and Serena do well to capture the physical presence of each but there is very little personality in either characterization of Venus and Serena. This isn't their story, it's Richard's story, but one would hope that we might get a slightly more interesting picture of the young women who became two of the most iconic athletes of the past 30 years. Richard played a huge role in helping them get to where they are but it took their will and intelligence to bring them to where they are today and I wish there had been a scene that showed that will coming to be.
The movie does end on Venus learning a valuable lesson in an early career loss but by then, we've not learned enough about Venus to know what this would mean to her other than being disappointing and a slight bump in the road. There is little insight into Venus and since we know how incredibly she overcame this moment, the drama is lacking. King Richard, as the title suggests, is not about Venus and Serena and thus the movie ending on Venus learning a valuable lesson while Richard is pulling all the focus, makes the whole of King Richard feel disjointed.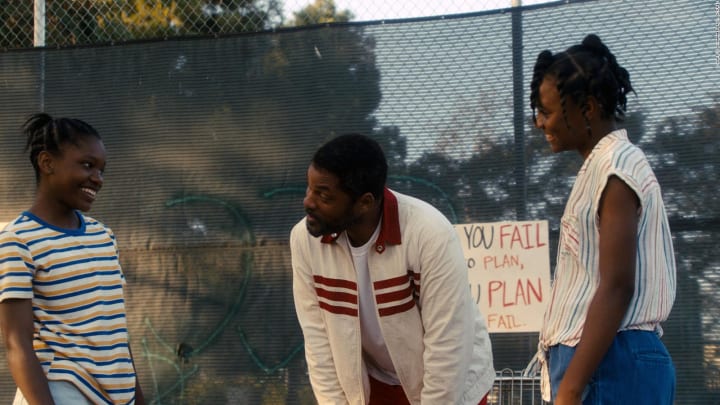 King Richard opened in theaters and on HBO Max on November 19th, 2021.
movie
Hello, my name is Sean Patrick He/Him, and I am a film critic and podcast host for Everyone's a Critic Movie Review Podcast. I am a voting member of the Broadcast Film Critics Association, the group behind the annual Critics Choice Awards.