Movie Review: 'Judy'
Renee Zellweger dazzles us to tears in the story of Judy Garland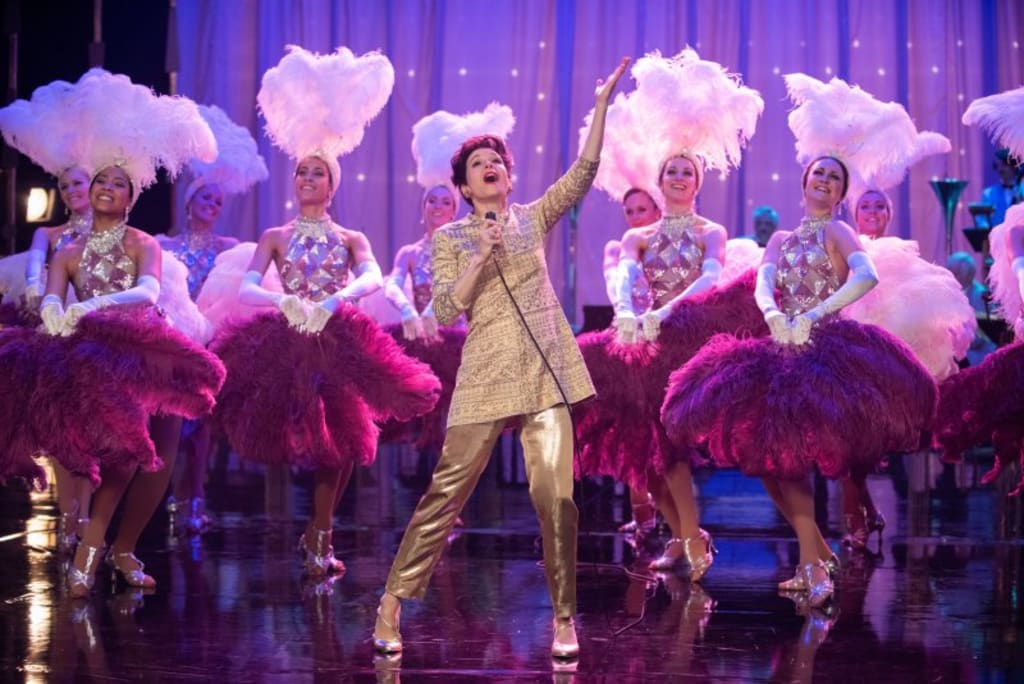 Renee Zellweger sings Clang Clang Clang in 'Judy'
Recently, the Facebook group I am in for the movie Podcast "Unspooled" with Paul Scheer and Amy Nicholson posted a topic asking for members to discuss their movie blindspots. What parts of film culture are you lacking in knowledge or insight? At the time, I had a hard time thinking of one in particular that stood out.
Now however, after seeing and thoroughly adoring the new Judy Garland biopic, Judy, starring Renee Zellweger, I know that one big blind spot for me is the career of Judy Garland. Of course I have seen The Wizard of Oz, as has most of the free breathing world, but I have missed out on most of her career outside of Oz and her exhausting take on A Star is Born.
Judy doesn't exactly make me want to start seeking out her movies opposite Mickey Rooney or anything, but it certainly made me appreciate her gifts, talents and appeal more than I had before. Garland was a consummate entertainer, a performer who ached for the admiration of a crowd. It was a gift and a curse in a way that defies that cliche.
Judy, the movie, picks up the life of Judy Garland as she is destitute and performing in small cabarets with her children, Joey and Lorna, for a pittance. When she is turned away from one of her many hotel homes for being unable to pay her bill, Judy is forced to take her kids back to her ex-husband, Sal (Rufus Sewell in a dapper robe and permanent scowl) while she holes up for the night at the home of her eldest daughter, Liza (Gemma Leigh Devereau).
Liza is having a party and it is at this party that Judy meets her future, fifth husband Mickey (Finn Wittrock). We know that he is going to be yet another in a long line of toxic leeches, sucking the blood and money from Judy, but for a few moments, we can't help but be happy seeing Judy happy; it's a rare and beautiful occurrence.
The good time is short-lived as Judy is informed by her attorney that Sal wants permanent custody of Joey and Lorna. It will take money for Judy to battle for custody but her addictions and unreliability have rendered her bankability in America to next to nothing. There is only one place that will still book her like the star she wants to be, but that means going to London and far from her children.
For six weeks, Judy will perform sold out shows nearly every night at the glamorous Talk of the Town Nightclub, a place where the 1940s seemingly never ended. Audiences turn out in tuxedos and gowns at midnight and greet Judy, at least for a little while, as the conquering screen heroine and showstopper she used to be in the 1930s.
Naturally, the good times are short-lived; Mickey returns to the story, and Judy's myriad insecurities wreak havoc. Worst of all, years of addiction to uppers and downers have rendered Judy unable to get a good night's sleep and the physical toll eventually begins to show on stage to a disastrous degree.
When I first saw the trailer for Judy late in 2018, I was concerned that Renee Zellweger's performance would become a caricature. Oh how wrong I was. Though her Judy Garland is broad and big, this is no mere caricature. Zellweger's Judy is achingly, painfully real. She's the Judy Garland of myth and legend yet rendered real in ways that are heartbreaking and wildly compelling.
Director Rupert Goold's background is in Shakespeare, and that background is strangely apt for the life story of Judy Garland. Much like some of Shakespeare's greatest characters, Judy was surrounded by villains on all sides throughout her whole life and was forced to fight battle after battle for what little bits of life she could make her own.
That's rather reminiscent of some of Shakespeare's take on royalty, that cloistered class in the clutches of propriety where the cage is gilded but still a cage. Judy Garland could relate to that. Judy was a prisoner to the fame gifted to her by L.B. Mayer when he made her MGM's top star in the late 30s and 40s.
Mayer cuts a figure not unlike Shylock the Moneylender. He makes Judy a star in Wizard of Oz and then continues to extract his pound of flesh from Judy for years until he's finally collected all there is to take and casts her out. I can only imagine that these kinds of allusions from the screenplay by Tom Edge appealed to Goold who directs these ideas with what I imagine is the same confidence that made him director of the Royal Shakespeare Company. That director Goold himself plays L.B. Mayer in Judy only further underlines how Shakespearean the character truly is.
Of course, the most talked about aspect of Judy is Renee Zellweger. I have already praised how she humanized the outsized Judy Garland, but there is even more to say here. Zellweger is incredible in every scene of Judy and she's in EVERY scene in Judy. This is a full body performance that captures Garland's manic need to please with her equally manic need for validation.
Many other actresses would have rendered Judy Garland as pathetic, but Zellweger makes her resignedly complicit in her own downfall. The tragedy is so much more real for knowing that Garland eventually seemed to not so much give up as give in to what others asked of her and gave so much of herself that eventually nothing was left. Zellweger makes all of this very easy to believe.
Zellweger has chemistry with everyone on screen in a way I imagine Garland did as well. The wonderful supporting cast includes breakout star of Wild Rose, Jessie Buckley, as the Talk of the Town booking agent tasked with getting Judy Garland on stage every night, a task that should have come with combat pay on many nights. Buckley does a wonderful job of sharing the screen and underplaying her radiance in support of Zellweger's performance.
Michael Gambon, Rufus Sewell and Finn Wittrock round out the cast as the various jackals in Judy's life seeking the last bankable dollars from her before casting her aside. On the opposite side of the spectrum are a pair of gay male fans of Garland who go to every one of her performances at Talk of the Town and eventually, get to spend one fantasy night with their heroine.
The scene between Renee's Judy and Andy Nyman as Dan, one half of this gay couple, is perhaps my favorite scene in a movie in 2019. The scene is filled with warmth and adoration, fantasy and joy. It's a beautiful and humane moment, one that I wish Judy Garland might have experienced. As someone who had so many villains in her life, it would be nice to know that she had a night where no one asked anything of her and she just got to be friendly, drink wine and be un-judged. At the same time, the scene is about fame and the power of celebrity to render even the most mundane moments surreal and fascinating.
Judy is a revelation. Once a movie that looked like a potential trainwreck in the offing, Judy is now revealed as a brilliant, lovely tribute to a life cut tragically short. Renee Zellweger delivers an Academy Award level performance that may actually surpass her previous Academy Award level performance in another wildly charismatic musical, Chicago.
Yes, Judy is just that good.