Movie Review: 'Jezebel' Is a Slice of Unique Life
The early days in the career of a cam girl are explored, without judgment, in Numa Perrier's 'Jezebel.'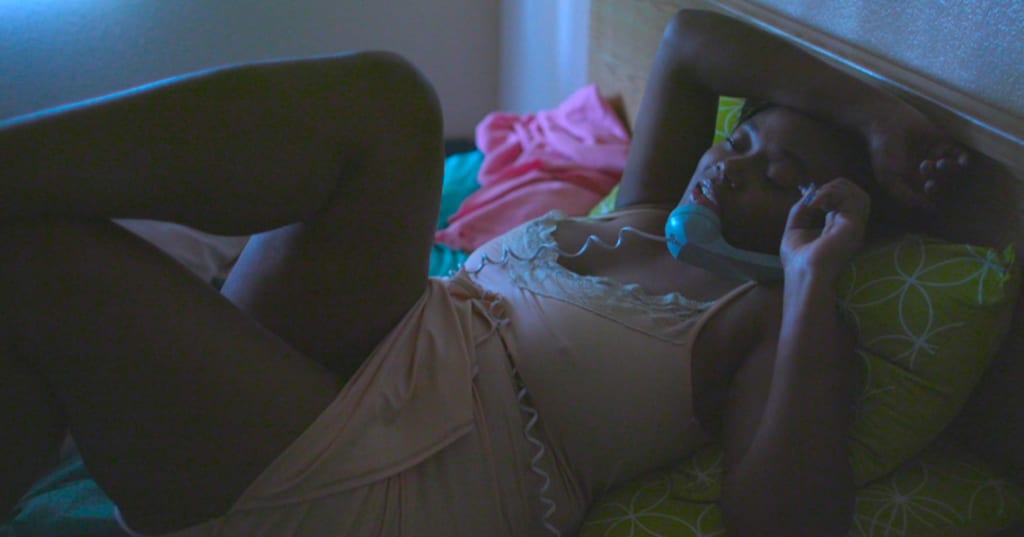 Numa Perrier co-stars and directs Jezebel debuting at SXSW 2019
The audiences at SXSW are going to be very busy, but I do hope that many find the time for Jezebel, the feature length writing and directorial debut of actress and filmmaker Numa Perrier. This thoughtful examination of a very unique life near the bottom of the economic ladder is relentlessly sexy even as it plays fair with the otherwise sad lives of its characters.
Tiffany (Tiffany Tennille) is cramped in a one bedroom apartment with her older brother, her little sister and her breadwinning older sister, along with that sister's loser, creep boyfriend. Their mother is in a nearby hospital in the last days of her life and the family is at a breaking point due to their poverty and proximity.
When Tiffany's sister, Sabrina (Numa Perrier), spies an ad in the newspaper seeking cam girls, she passes it on to Tiffany. Sabrina herself, supports the family in their weekly rent apartment, by working as a phone sex operator. She has no compunction about recommending her 19-year-old, younger sister a job in a related industry, especially if it means making enough money for Tiffany to get her own place.
There is an absurd quality to this slice of life. The life of a cam girl is an unusual one and one that many are inherently dismissive of. Being a cam girl is not like a lot of other jobs where you keep your clothes on. There are odd rules about what a woman can legally do as a cam girl and little tricks to avoid crossing the strange bounds of legality as well as simple personal lines the women themselves would prefer not cross.
Jezebel is forthright about how strange this world is and yet, writer-director Numa Perrier is not being judgmental. This is not about condemning or condoning the life of a cam girl, Jezebel is about an honest depiction of the life of Tiffany. The specificity is important to the story. The specificity is confrontational, it's forcing you to see someone that you might otherwise look away from, dismiss out of hand.
Tiffany is front and center in this movie and you must watch her life in whole and see her as a human being who happens to have a very unusual job, one that you may or may not approve of. Your feelings about her job are for you to determine, Jezebel merely presents you with Tiffany in all aspects of herself, her naïveté, her sadness, her joy and her very direct sexuality in all of its variety and uniqueness.
I love the soundtrack of Jezebel, a big shout out to the music department here, the moody R&B songs on this soundtrack are exceptional. Mood and tone are extremely important for a movie like Jezebel, a character study, slice of life, and the right music essential to how this movie plays. The songs also occasionally act as a greek chorus, but it's not terribly overdone. I only noticed one slightly awkward, on the nose, musical moment but it was blink and you'd miss it in terms of the whole movie.
Jezebel is low budget and grungy and captures the lower rung of the economic ladder setting brilliantly. With limited sets and cinematography that is occasionally beautiful, occasionally ramped up for emphasis, such as in the cam scenes, and mostly natural in lighting and setting, Jezebel has a unique aesthetic that matches the unique and well captured subject. This extends to the clothes as well, the costumes have a timeless quality that echoes a life where clothes are a luxury passed down or acquired second-hand. The occasion of a new piece of clothing cannot be understated, it's a moment of celebration.
Jezebel is unique and lovely. Tiffany Tennille and Numa Perrier have created indelible characters inside a movie that feels like someone carved a piece of real life and put it on the big screen. The naturalism of the look and feel of Jezebel is wonderfully engaging and the performances are stellar in how they invite you in in a fashion that is relatable yet unique. Jezebel is only 86 minutes long and yet there is a great deal of life packed into it—grief, poverty, sex, family, conflict and love. It's a small movie, but with a breadth of life and humanity like few movies.
movie
Hello, my name is Sean Patrick He/Him, and I am a film critic and podcast host for Everyone's a Critic Movie Review Podcast. I am a voting member of the Broadcast Film Critics Association, the group behind the annual Critics Choice Awards.