Movie Review: 'Infinity Pool' Takes on the Moral Crisis of Too Much Privilege
What happens when privilege removes ALL consequences? Infinity Pool explores that idea.
Infinity Pool (2023)
Directed by Brandon Cronenberg
Written by Brandon Cronenberg
Starring Alexander Skarsgard, Mia Goth
Release Date January 27th, 2023
Published January 30th, 2023
Author James Foster (Alexander Skarsgard) has traveled to an exclusive resort with his bored and distant wife, Em (Cleopatra Coleman). James is suffering from writer's block to the point that he hasn't written anything in the six years since his mediocre first novel. James and Em are going through the motions of their lives when James meets Gabi Bauer (Mia Goth) and her husband, Alban (Jalil Lespert). By some strange coincidence, Gabi is one of the few people to have enjoyed James' novel. Though he'd rejected going out to dinner with his wife, when the Bauer's invite them to same restaurant, James' interest is renewed.
The couples become temporary best friends and the following day, they bribe a local to rent them a car so they can go to the beach. This is not a safe thing to do. The country they are in frowns on tourists leaving the resort. That's why this luxury resort is surrounded by a razor wire fence, nobody comes in and no one is supposed to leave. Nevertheless, money talks and the group heads to a gorgeous beach. Naturally, this trip doesn't go well. Gabi's ulterior motives become very clear when she and James end up alone for a moment on the beach.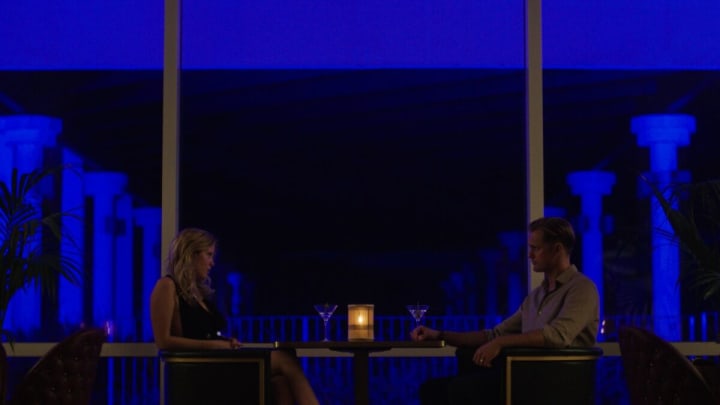 However, the real plot doesn't kick in until the slightly inebriated foursome are ready to drive back to the resort. It's grown dark and James is the least drunk of the group and thus called upon to drive back to the resort. Along the way, the lights on the car short out and James doesn't see a local walk into the street in front of him. The car hits the man and kills him instantly. With everyone now VERY awake, Gabi advises everyone to get back in the car and get going. She says the local cops in this 3rd world travel destination will not treat them well. Okay, she states plainly that if arrested, she and Em will spend the next 24 hours being sexually assaulted while their husbands are tortured.
This scares everyone back into the car and they drive on back to the resort and try to go on with their lives. However, the following morning, the cops have quite quickly followed the evidence and found the car and who was driving it. All four are arrested, though the Bauer's are suspiciously absent as Em and James are separated with each sent to interrogation rooms. The local police captain, played by Thomas Kretschmann, already knows James is guilty of driving drunk and killing a man, the Bauer's have already confessed as has Em, allegedly.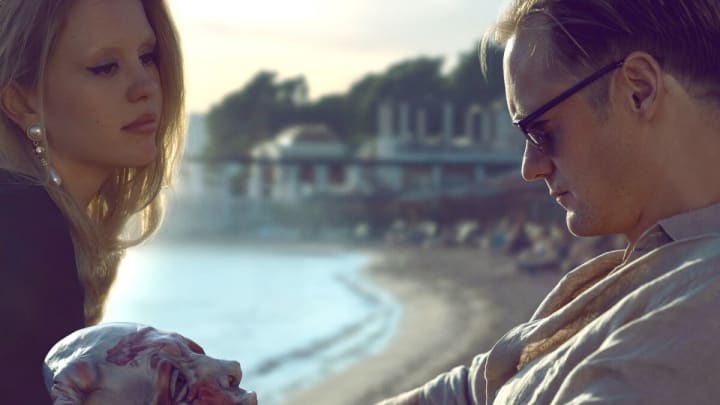 The Captain gives James one chance to save himself. I'm not going to tell you how it happens as it sets the tone for what remains of this fascinating, bizarre, off-putting and yet intriguing, psycho-sexual thriller. Infinity Pool was written and directed by Brandon Cronenberg, son of the iconic David Cronenberg, whose style distinctively carries on his father's weird, creepy, brilliance. Brandon is slowly separating himself from his dad with his taste in production design, lighting, and cinematography, but the father-son duo still share some similar fascinations such as fetishistic sexuality, the male ego, and violence.
The title. Infinity Pool, carries with it the weight of a metaphor for social class and privilege. That metaphor is explored in Infinity Pool as James falls in with the Bauer's and their sadistic, hedonistic group of fellow travelers who clearly come to this resort year after year in order to test the boundaries of what they can get away with. They commit crimes, use drugs, and drink endlessly as they press against the boundaries of what a corrupt government will allow them to get away with. And boy, what do they get away with? Wow! It's rather extreme and it's never enough to satisfy.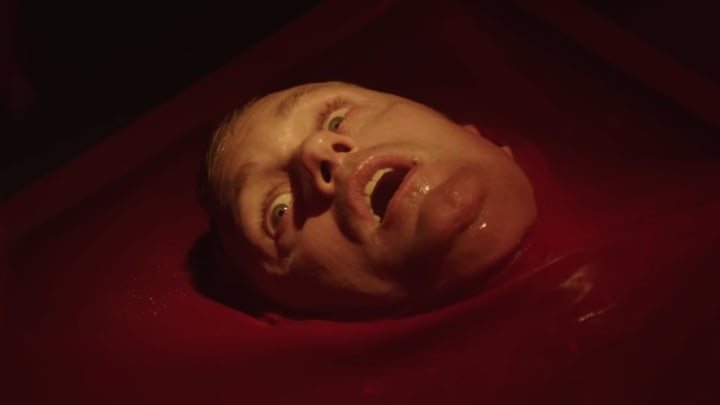 As James is drawn deeper into their circle, he acts as our way into this strange, out of control excessive group whose wealth provides an endless amount of thrilling experiences that have escalated to disturbing levels of debauchery. Much like when taking drugs reaches a point where you develop tolerance to the high you're seeking, the debauched partiers of Infinity Pool have gone to such astonishing excess that they aren't sure where to go next to find something that could increase their high.
Meanwhile, the deeply naïve James is only beginning to explore what he is capable of and through the performance of Alexander Skarsgard, Cronenberg explores aspects of morality, masculinity, privilege, and race. Just how deep is someone willing to go when their doesn't appear to be even a single possible consequence for their action. In that way, I was reminded a little of the brilliant horror movie, Martyrs in which excessive pain and ungodly suffering is the quickest path to seeing God. In Infinity Pool, it's an excess of immoral behavior that cannot be contained, even by death, that is seen, perhaps, as proof that God doesn't exist. I will leave you to discover how I came to that observation.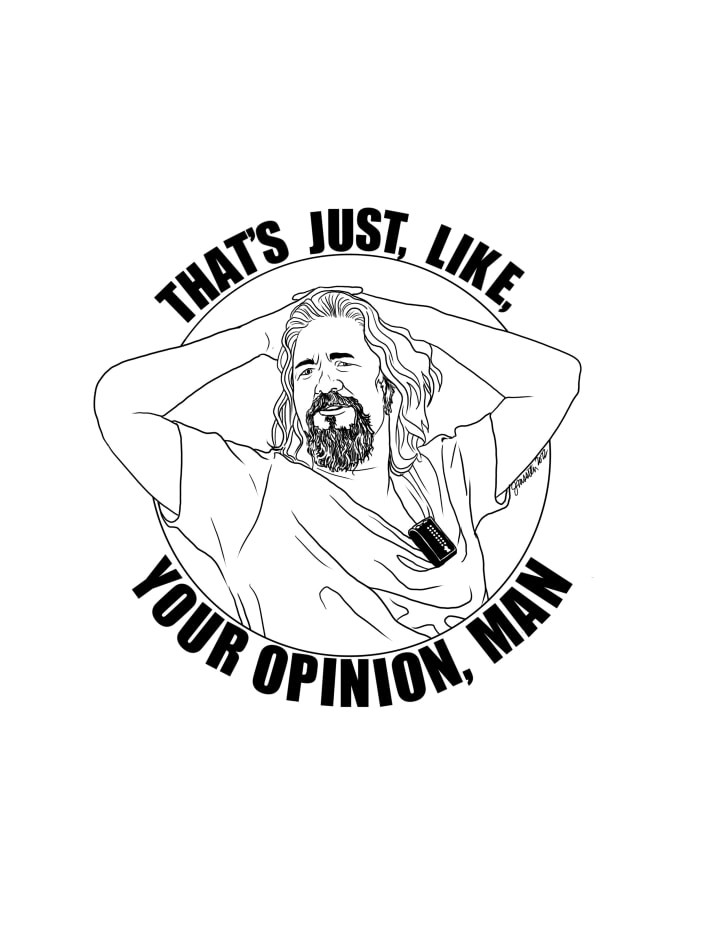 Find my archive of more than 20 years and nearly 2000 movie reviews at SeanattheMovies.blogspot.com. Find my modern review archive on my Vocal Profile, linked here. Follow me on Twitter at PodcastSean. Follow the archive blog on Twitter at SeanattheMovies. Listen to me talk about movies on the Everyone's a Critic Movie Review Podcast. If you have enjoyed what you have read, consider subscribing to my work here on Vocal. If you would really like to support my writing, you can do so by making a monthly pledge or by leaving a one-time tip. Thanks!
About the Creator
Hello, my name is Sean Patrick He/Him, and I am a film critic and podcast host for Everyone's a Critic Movie Review Podcast. I am a voting member of the Broadcast Film Critics Association, the group behind the annual Critics Choice Awards.
Reader insights
Be the first to share your insights about this piece.
Add your insights