Movie Review: 'Hocus Pocus 2' Surpasses the Original
I am no fan of Hocus Pocus but I can recognize a good family movie when I see one and Hocus Pocus 2 is a good family movie.
Hocus Pocus 2 (2022)
Directed by Anne Fletcher
Written by Jen D'Angelo
Starring Bette Midler, Kathy Najimi, Sarah Jessica Parker, Sam Richardson
Release Date September 30th, 2022
Disney Plus Sequel to Hocus Pocus (1993)
The cult of The Sanderson Sisters is far more vast and wide than I ever would have imagined. For me, 1993's Hocus Pocus was a completely forgettable experience. It wasn't that the movie was bad, it merely wasn't for me. Watching it again as I got older I was never very impressed by the over top acting of Bette Midler, Kathy Najimi and Sarah Jessica Parker or the wooden blocks posing as human supporting characters. The story was rather mundane family friendly Disney stuff that to this day holds no interest for me.
What shocks me however is the impact the film had on so many women, my age and younger. Something about the high camp aesthetic reached an audience that immediately became loyal and dedicated to the preservation of Hocus Pocus in popular culture. The cult of The Sanderson Sisters has grown over the past 29 years to such a degree that the fans have willed a sequel into existence nearly three decades later. It's a sequel that is just as camp and formulaic as the original but perhaps a little more energetic thanks to a supporting cast that can actually keep up with Midler, Najimi and Parker.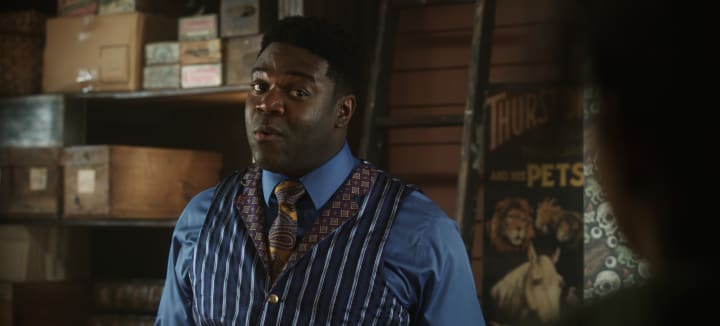 Returning to Salem at Halloween The Sanderson Sisters are still the talk of the town. The legend of the Sanderson Sisters has become something of a tourist attraction thanks in part to the work of Gilbert (Sam Richardson), who has taken over the former cabin of the Sanderson Sisters and turned it into a magic shop. He also happens to be in possession of Book, the enchanted spell book that made the Sisters into a powerful witches coven. The book is under lock and key but, secretly Gilbert has plans to let the book free. He wants to bring the Sanderson Sisters back, unaware that the legends about them eating children and generally being evil are true.
His plan is coming to fruition on this Halloween night because a teenager named Becca (Whitney Peak) is about to turn 16 and with her dalliance with magic as part of a trio of witch loving friends including lovable Izzy (Belissa Escobedo) and Cassie (Lilia Buckingham), Gilbert believes she is the key to raising the Sandersons. As a birthday gift, Gilbert gives Becca a black flame candle. What she doesn't know is that this is the same black flame candle, returned to life by Gilbert, that brought the Sanders son sisters back to life nearly 30 years ago.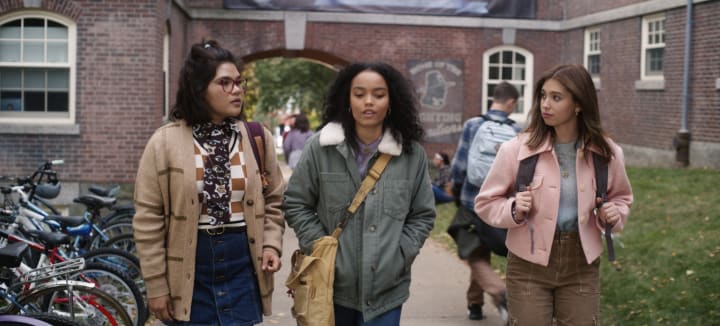 The improvements over the original Hocus Pocus are many, as far as I am concerned. It starts with the look of the film. Hocus Pocus 2 is filled with crisp bright colors even as it remains loyal to a classically fall color palette. The costumes pop, the locations are lovely and the detail on the production design demonstrates the higher budget that clearly has been dedicated for this sequel. That budget in part coming from product placement for Walgreens that, though it is immensely tacky, it does get used for several quite good gags and an important plot device. If you're going to do such naked advertising in your movie, at least make it appear necessary. Hocus Pocus 2 does that at least.
Midler, Najimi and Parker slip easily into their nearly 30 year old personas as Winifred, Mary and Sarah respectively. Their energy is the same, the look is relatively the same, the makeup department has done incredible work to bring them forward as if they'd hardly aged at all. Even better though is the further backstory we get that opens the film. A trio of brilliant young actresses get to play the Sanderson's as teenagers and young Taylor Paige Henderson, as young Winifred, is an absolute star.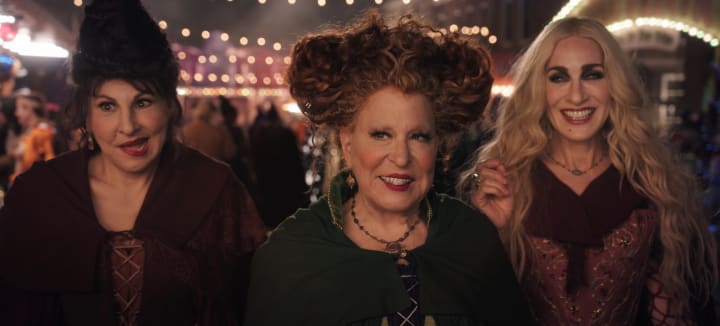 As I mentioned before, this supporting cast is far more interesting than the supporting cast from the original. Rounding out the cast with the talents of Sam Richardson, Tony Hale, and Hannah Waddingham was an ingenious choice. But even still, the standout for me was the brilliant Doug Jones as Billy Butcherson, a zombie and Winifred's purported lover. Jones' physicality is so lithe and athletic it creates a charisma that is matched by his energetic line readings. Jones is paired with Sam Richardson in a subplot and they make a terrific comedy team.
Finally though, the the reason why Hocus Pocus 2 surpasses the original is our trio of teen heroines. Whitney Peak and Belissa Escobedo have wonderful chemistry as lifelong friends who dabble in the paranormal. As for Lilia Buckingham, I enjoyed that the screenwriter, Jen D'Angelo carved out a subplot that provides room for their friendly backstory while keeping the pace of the movie quick. They get to flesh out these characters quickly and develop an arc with a strong payoff in the end.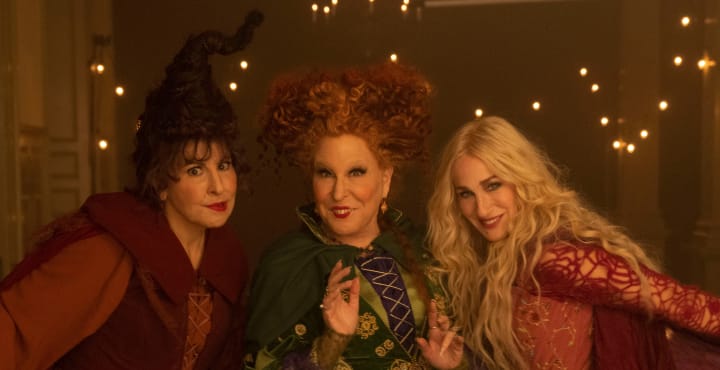 Strong in the sense of a Disney family film where it's important that arcs be simple and easy to follow for the impressionable young target audience. The arcs of these teen characters are simple and brisk while also never being insultingly simple. Each of these young actresses is able to keep up with the Sanderson sisters in that the overpowering camp of Midler, Najimi, and Parker never blows the young trio off the screen.
The strength of these three young actors, the exceptional supporting players and the strong look of Hocus Pocus 2 provided by the guiding hand of director Anne Fletcher, makes for a family film I have no reluctance in recommending. The whole Hocus Pocus thing is still not for me but as an objective observer, I can say it's well put together and should be easy for the target audience to enjoy.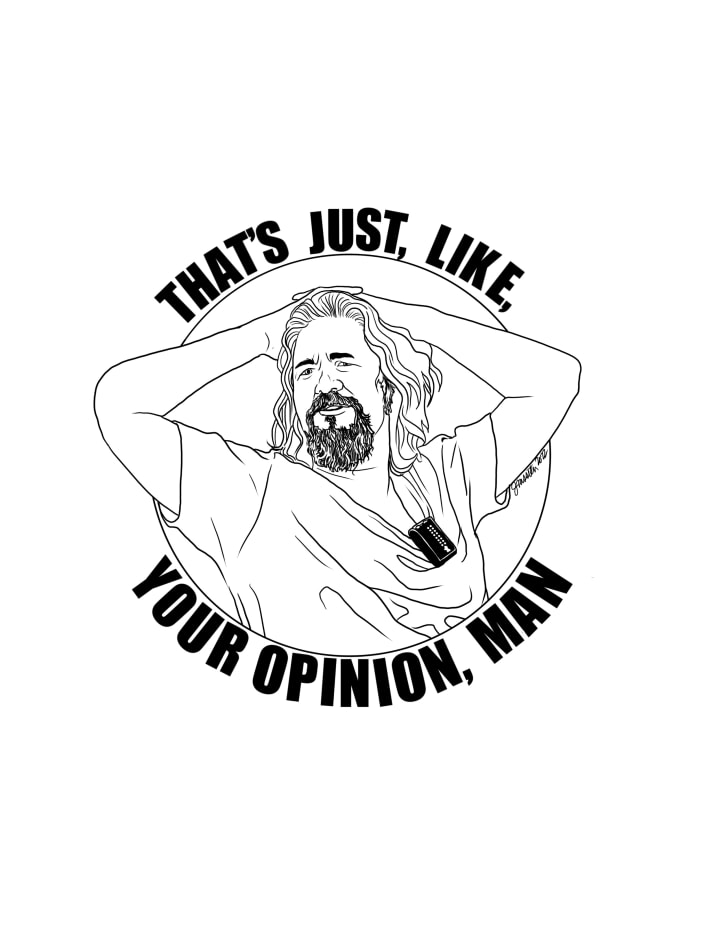 Find my archive of more than 20 years and nearly 2000 movie reviews at SeanattheMovies.Blogspot.com. Follow me on Twitter at PodcastSean. Follow the archive blog at SeanattheMovies on Twitter. And, you can hear me talk about movies on the Everyone's a Critic Movie Review Podcast on your favorite podcast listening app. If you've enjoyed what you have read consider subscribing to my work her on Vocal. You can also support my work by making a monthly pledge or leaving a one time tip. Thanks!
About the Creator
Hello, my name is Sean Patrick He/Him, and I am a film critic and podcast host for Everyone's a Critic Movie Review Podcast. I am a voting member of the Broadcast Film Critics Association, the group behind the annual Critics Choice Awards.
Reader insights
Be the first to share your insights about this piece.
Add your insights