Movie Review: 'Glass Onion A Knives Out Mystery' is a Must See Movie
One of my favorite movies of 2022 is a brilliant sequel to one of my favorite movies of 2019.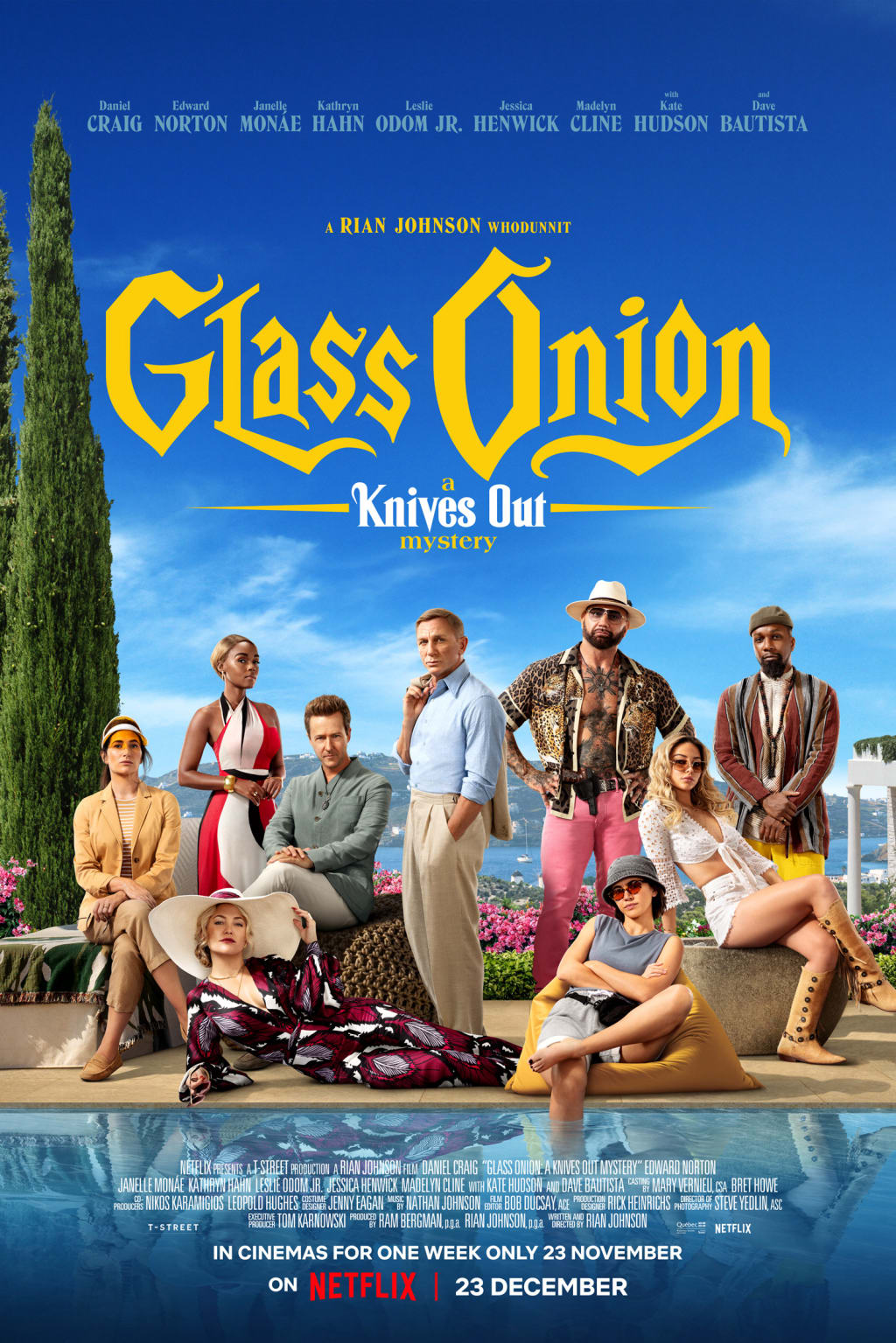 Glass Onion A Knives Out Mystery (2022)
Directed by Rian Johnson
Written by Rian Johnson
Starring Daniel Craig, Janelle Monae, Edward Norton, Kate Hudson
Release Date November 23rd, 2022
Netflix Release Date December 23rd, 2022
Years ago, movies were home to terrific detective characters. For whatever reason, the character of the independent investigator fell out of favor. Perhaps its because independent detectives have rarely been relevant in real life since the days of Humphrey Bogart, or, perhaps, the rise of television gave detectives a more generous home, more time and more varied mysteries to explore. Movie detectives had been in decline for years until 2019 when filmmaker Rian Johnson reminded us how much fun the detective genre can be with his ingenious mystery, Knives Out.
With the release of Glass Onion A Knives Out Mystery, we have proof positive that the detective genre is back and more exciting than ever. This mystery finds the world's greatest detective Benoit Blanc (Daniel Craig) languishing in the boredom of the pandemic. Desperate for something to enliven his intellect, Blanc is surprised and delighted with an invitation to a Murder Mystery Party being thrown by a famous billionaire. Delivering another career best performance, Daniel Craig gives Benoit Blanc a life and charm that echoes through the history of detectives on film, a brand new colorful icon for this beloved sub-genre.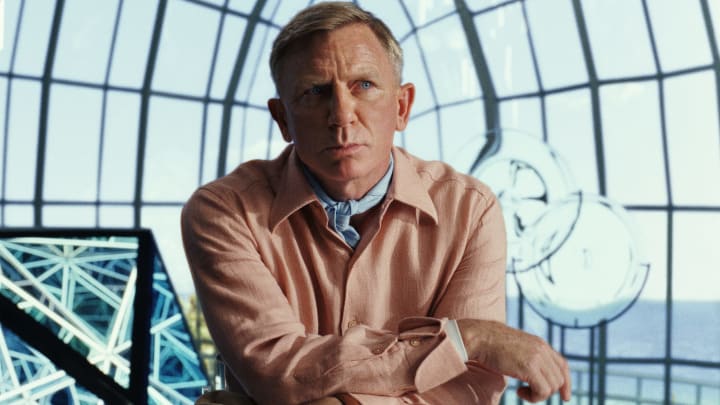 A group of 'friends' have received an invitation to the private island of a billionaire named Miles (Edward Norton). All of the guests are Miles' long time friends but they are also people whose livelihoods and financial well being are linked to the benevolence of Miles and his bank roll. In this group is a regularly cancelled former model, Birdie Jay (Kate Hudson), a superstar Twitch Streamer turned Mens Rights Advocate, Duke (Dave Bautista), his model girlfriend Whiskey (Madelyn Cline), a liberal Gubernatorial candidate, Claire (Kathryn Hahn), and a boundary pushing scientest, Lionel (Leslie Odom Jr.) who may have completely solved our environmental crisis or may be about to blow up the planet.
Interestingly, and quite unexpectedly, another guest for this murder mystery party is Miles' former business partner and best friend, Cassandra (Janelle Monae). This is quite surprising as Cassandra had just sued Miles after ending their business partnership. Miles stole her idea and used his vast army of lawyers to destroy Cassandra while convincing their mutual friends, the other guests at this party, to lie for him in court. So that's awkward.

Even more interestingly though, who invited Benoit Blanc? Benoit received the same strange puzzle box invitation that everyone else did and yet, Miles did not know that the world's greatest detective had been invited to his murder mystery themed weekend. This adds to the layers upon layers of mystery and intrigue that writer-director Rian Johnson has built into this exquisite mystery. But this is no mere mystery, Glass Onion A Knives Out Mystery is also hilariously funny. This group of brilliant actors get laughs effortlessly and organically, never too broad or unrealistically.
The biggest, heartiest laughs are brought about by Kate Hudson. Hudson's dunderheaded model turned influencer turned pandemic entrepreneur is a marvel of a performance. Hudson channels a little of her mom, Goldie Hawn, from her 1960s glory, and more than a little of The Kardashians, to create a wonderful character. Hudson is hilarious throughout Glass Onion whether she's once again on the verge of being 'cancelled' for some social media nonsense or being legitimately catty and suspicious as a potential murder suspect. This is Kate Hudson's best work in years.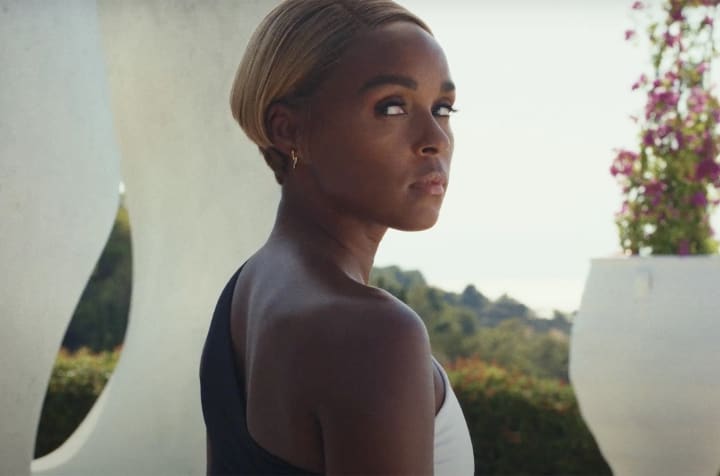 That said, the stand out performance of Glass Onion A Knives Out Mystery comes from Janelle Monae. I don't want to give anything away about the character Monae plays in Glass Onion as it is pertinent to the mystery plot. I will only say that she maximizes every minute of her screen time. It's an ingenious performance of many layers. It's a performance with a high degree of difficulty and Monae pulls it off flawlessly. Honestly, she belongs in the Best Actress conversation, she's that good in Glass Onion A Knives Out Mystery.
And that is saying something because Monae is in an absolute murderers row of scene stealers and utterly brilliant comic actors. Kathryn Hahn is an absolute genius, Leslie Odom Jr. acts as a grounding source for all of the wackiness unfolding as the smartest character among the group of friends. Dave Bautista channels the awful energy of the right wing man-o-sphere in a way that is broadly hilarious and somehow doesn't make you hate this character. And Edward Norton is in career best form as he delivers a pitch perfect deconstruction of an arrogant billionaire, combining elements of the most famous and infamous rich guys in the world today.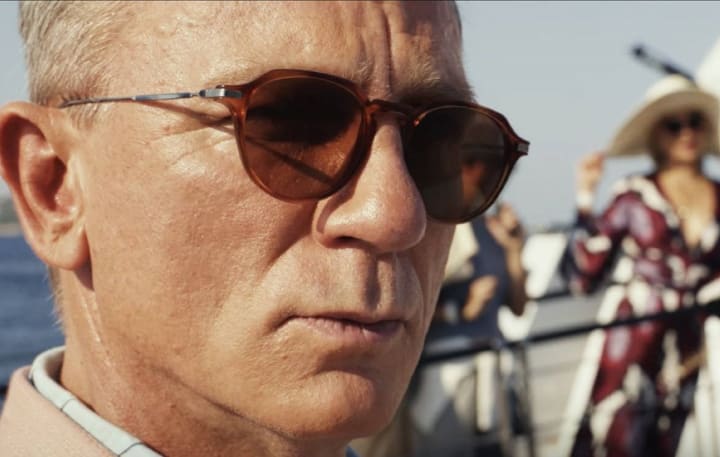 But, of course, the performance that ties it all together is that of Daniel Craig. I never loved Craig as James Bond, his version of 007 as a boring modern action hero left me cold. Here however, I can see what people saw in Craig before he became famous as the world's greatest super-spy. Craig feels so remarkably at home in the character of Benoit Blanc. The homespun hero, the plain spoken genius, the world's greatest detective, it all fits with Craig's conception of the character. He's just perfect and the little actorly choices that Craig makes, ones that might appear cloying or cute in the hands of a lesser performer, are brilliant touches in his skillful hands.
I adore Glass Onion A Knives Out Mystery. This film genuinely belongs in best of the year conversations. It's so much fun and so remarkably well accomplished. The trick that Rian Johnson pulls off here is extraordinary. He creates a light and fun movie that is also an intricate, precisely tuned mystery that requires your care and attention. Glass Onion is as involving as it is fun and that is a rare combination in the day and age when everyone is checking their cellphone during a movie. Rather than chastise people for being on their phone, Rian Johnson has accepted a challenge and accomplished a movie that causes you to never want to look at your phone out of fear you might miss something. If you want audiences to pay attention, give them a movie worthy of their full attention. That's Glass Onion.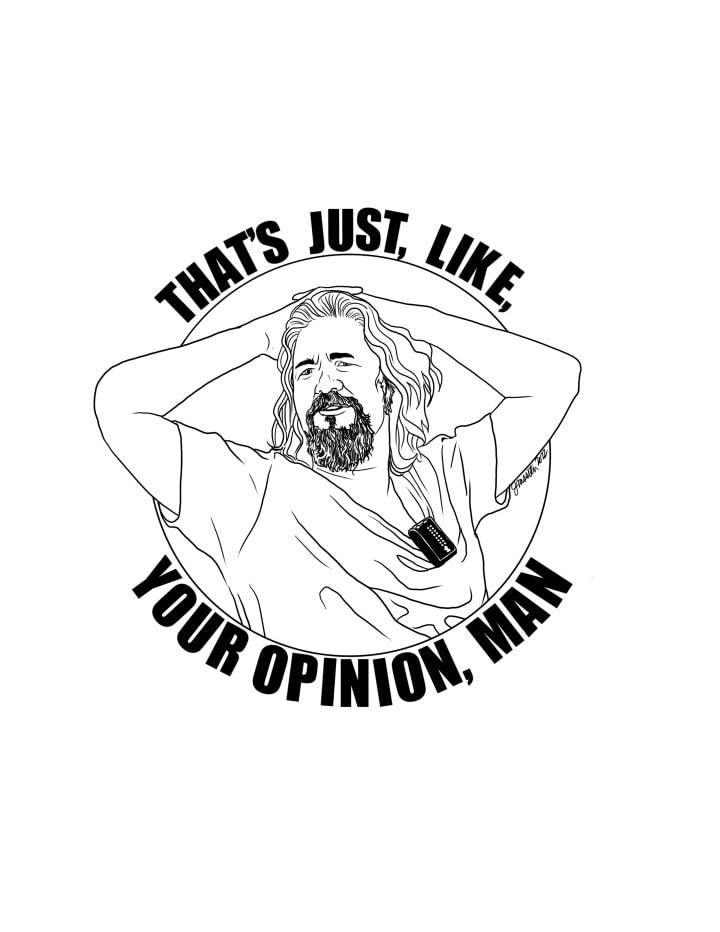 Find my archive of more than 20 years and nearly 2000 movie reviews at SeanattheMovies.blogspot.com. Find more than 1000 reviews of movies from the past four years on my Vocal profile, linked here. Follow me on Twitter at PodcastSean. Follow the archive blog at SeanattheMovies on Twitter. Listen to me talk about movies on the Everyone's a Critic Movie Review Podcast on your favorite Podcast listening app. If you have enjoyed what you have read, consider subscribing to my work here on Vocal. If you'd like to support my writing you can do so by making a monthly pledge or by leaving a one-time tip. Thanks!
About the Creator
Hello, my name is Sean Patrick He/Him, and I am a film critic and podcast host for Everyone's a Critic Movie Review Podcast. I am a voting member of the Broadcast Film Critics Association, the group behind the annual Critics Choice Awards.
Reader insights
Be the first to share your insights about this piece.
Add your insights