Movie Review: From Justin to Kelly
First time watching From Justin to Kelly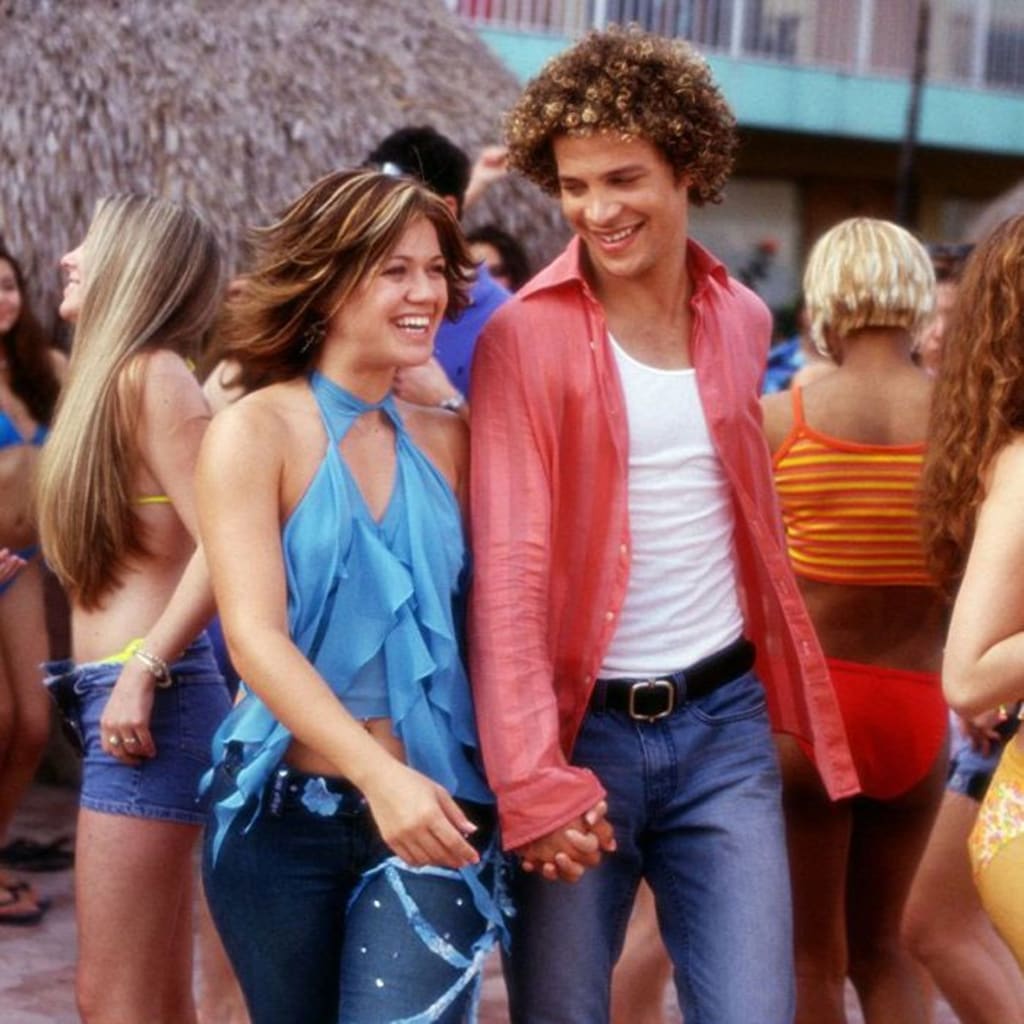 Kelly Clarkson as Kelly and Justin Guarini as Justin In From Justin to Kelly
This film was dubbed as the worst teen musical romantic film according to critics and of course Kelly herself who starred in the film. Now that YouTube made the film now available for free I decided to watch it for the very first time to watch since pop singer Ariana Grande disagreed with Clarkson and film critics.
If you would like to know more stories about Kelly Clarkson and Justin Guarini read my article story about them👇👇👇👇👇👇
The film opens with Kelly (played by Kelly Clarkson) singing in an empty bar with a band. Luke asks her out she declines. Her friends: Alexa and Kaya (played by Katherine Bailess and Anika Noni Rose) her to come to Miami for a spring break vacation. She accepts to go with them. We meet Justin (played by Justin Guarini) and his friends: Brandon, the trouble one and Eddie, the nerd looking for his online love (played by Gregory Siff and Brian Dietzen) are in Florida. Kelly and her friends arrived at Florida they stop at the beach. They sing "The Bounce (The Luv)" with Lame choreography. Brandon's rap was alright. The two meet at a bathroom after they sang "Forever part of me" She tries give him his number but that failed when it fell in the water but then one of her friend becomes a Backstabber and gives him her number believing that's Kelly's number. Meanwhile Kaya finds love with a waiter Carlos. She and Carlos go to salsa club her singing was phenomenal and her dancing was gorgeous then fade to black and that was it I didn't get that part. The beststabbing friend enters her in a whip cream Contest even though Kelly doesn't want to be a apart but it backfires when she sees Justin and pies him in the face with whipped cream. They met up again outside of a burger truck and makes it up to her with a date on a boat. They sang "Timeless" it seems a like a cute pop ballad love song. After the song, they awkwardly shook hands. After the date, Kelly and Justin agreeds to meet again on a second date. However, Alexa, The backstabber keeps trying to stop Kelly to seeing Justin. Alexa singing "Wish Upon a Star" was completely garbage, hated the beat, her voice horrible, and it makes me vomit. Whoever wrote the song should have never wrote the song but the choreography was fine. Alexa tricks Justin that Kelly has a boyfriend but Justin wasn't buying it until Alexa develops a plan to call Luke to come to Florida. I liked the "Madness" song it was filled with more soul and a little more energy.
After the song ends, Luke kisses Kelly in front of Justin believing that Alexis was right. Luke and Justin were about to fight until the two ended up challenging each on a hovercraft challenge to win Kelly's heart until Luke got hurt badly. Luke got eight stitches and told Kelly that Alexa was the one called him to come to Florida. When Kelly met with Alexa, she called her a "backstabber" which is obvious I know that not surprised by that. Alexa lies to Kelly that Justin wanted to meet with her and he kissed her.
Such a horrible liar and singer as well.
Kelly learns the truth when Alexa drops her phone picks it and saw all the messages. The funniest part was when Kelly admits why she did it and Alexa admits that she was jealous of her. Wow! That's funny! I mean it is beyond true. And she's freaking crying about it and I thought Cassie from Euphoria was worst and she was a backstabber towards Maddie. The ending is kind of quick after she found out the truth from her backstabbing friend then she had to tell Justin and then Justin had to find her and they kissed. Honestly, I don't think this film was bad, could have been better but it was a little Disney-ish. I feel like they were trying to make a Romeo and Juliet musical teen flick. I only like the song with Anika Noni Roses character and Kellys character when they were at the pool. The songs could have been better. The outfits in the film were especially Clarksons outfits. They made her outfits very 2000s iconic.
Director: Robert Iscove
Writer: Kim Fuller
Producers: Robert Engelman
Nikki Boella
Cast: Kelly Clarkson, Justin Guarini, Anika Noni Rose, Katherine Bailess, Brian Dietzen,Gregory Siff,Jason Yribar
Choreographer: Travis Payne
Cinematography: Francis Kenny
Edited by Tirsca Hackshaw, Casey O. Rohrs
Music: Greg Siff, Michael Wandmacher
Production Company: 19 Entertainment
Distributor: 20th Century Fox
Release date June 20, 2003
Running time: 81 minutes
Country: United States
Language: English
movie
About the author
Hello, My name is Gladys W. Muturi. I am an Actress, Writer, Filmmaker, Producer, and Mother of 1.
Instagram: @gladys_muturi95
Twitter: @gladys_muturi
Facebook: facebook.com/gladystheactress
YouTube channels in the works
Reader insights
Be the first to share your insights about this piece.
Add your insights