Movie Review: 'Faces Places'
The Magic of Agnes Varda In What May Be Her Final Film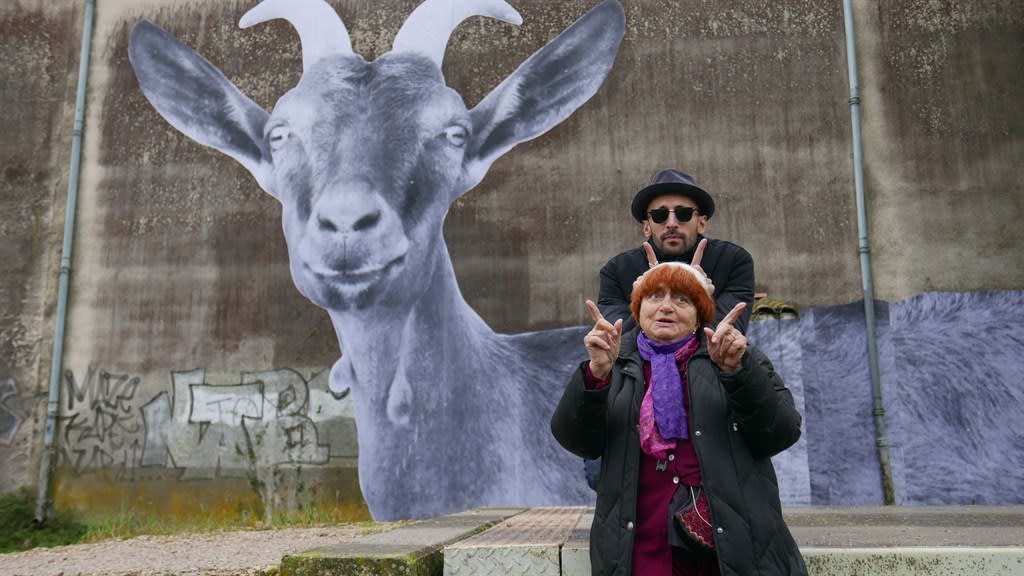 The grand lady of the French Cinema, Agnes Varda, may have made her final film. In interview with Indiewire.com, Varda told writer Eric Kohn that her new film, Faces Places, made with innovative French artist JR, would be a fitting final film. In the interview, Varda compares herself at 89 years old to a boxer potentially staying for one fight too many. She's not "going to bed," as she puts it, she still has art installations to work on, but indeed the curtain may have come down on Agnes Varda at the Cinema.
If that is the case, Faces Places isn't merely appropriate, it rings beautifully true as a summation of her filmic spirit and her lifelong dedication to the visages of the French lower middle class. Faces Places finds Varda working with JR, a French artist who has made his name with large scale installations in unusual places. JR travels France in a truck that looks like a giant camera. Indeed, it is a camera, inside, average people load in and get their picture taken and the photo emerges in large scale from the side of the truck like a Polaroid.
JR and Agnes' sensibilities are the same as their ages are so very different. While they are feisty towards each other at times over their shared vision, Faces Places captures their warmth and obvious care for each other even as they entered the project as near strangers. Varda in many ways seems to be bestowing some of her legacy upon the young artist who is making the move into the cinema for the very first time with Faces Places, though whether he intends to stay in the film world is not mentioned in the film.
Throughout Faces Places this wonderful pair of artists roam the French countryside looking for unique faces and places to install large scale photography that is pasted to the sides of any structure people will allow them. In one of my favorite moments in any film in 2017, JR and Varda happen upon a rusty, rundown coal town that is preparing to tear down the last of a set of row-houses that once housed hundreds of coal miners and their families.
Agnes is familiar with the village from her youth when through some sort of serendipity, she received a box of postcards featuring unique candid photos of the coal miners of this very French town. Here they meet a woman who is the last holdout of the row house dwellers. She's refused to leave the home she's lived in for longer than she can remember. As Agnes and JR set about memorializing the coal miners with giant blown up, cut out photos on the sides of the now empty row houses, the ones from Agnes's postcard collection, they get the idea to memorialize this wonderful woman by wrapping her small stone cottage with a picture of her. The tears in her eyes as she sees herself all over the side of her home is glorious, a perfect capsule of the work of Agnes Varda.
Each of these unique installations is a marvel for the eye. The care that JR takes when blowing up the images to remarkable size to be pasted on the sides of buildings, industrial park walls, homes, and a group of playful fish on the side of a water tower, are done with a painter's touch. It's remarkable to look at and it stirred me to want to visit France and seek out these small towns to see if these remarkable works have lasted since filming ended late last year.
The final act of the film is a deeply emotional journey into Agnes Varda's past as she plans a trip to Switzerland for a chance reunion with her longtime friend and French New Wave compatriot, Jean Luc Godard. Traveling with JR you can sense Agnes's excitement and unease, she's not seen Godard in years and doesn't know what to expect from her friend turned recluse. I will leave you to discover how things turn out but being that IMDB only lists Godard appearing in archival footage, you can imagine the scenario.
I'm making Faces Places sound a little sad what with Varda saying it could be her last film and what I mentioned about the meeting with Godard near the end of the film, but this is not a sad movie at all. Faces Places is a joyous feast for the eyes. The images created and captured by Varda and JR are magnificent and the film never lingers, it reaps joy from each of Agnes and JR's stops along the way and moves on before we get to comfortable with the images and stories of people that you could genuinely want to spend hours with if you had the chance.
Faces Places is one of the finest films of 2017.
About the Creator
Hello, my name is Sean Patrick He/Him, and I am a film critic and podcast host for the I Hate Critics Movie Review Podcast I am a voting member of the Critics Choice Association, the group behind the annual Critics Choice Awards.
Reader insights
Be the first to share your insights about this piece.
Add your insights