Movie Review: 'Chip N Dale: Rescue Rangers' is Deeply Misguided
Why did anyone think a plot about Cartoon Human Trafficking was a good idea for a kids adventure comedy?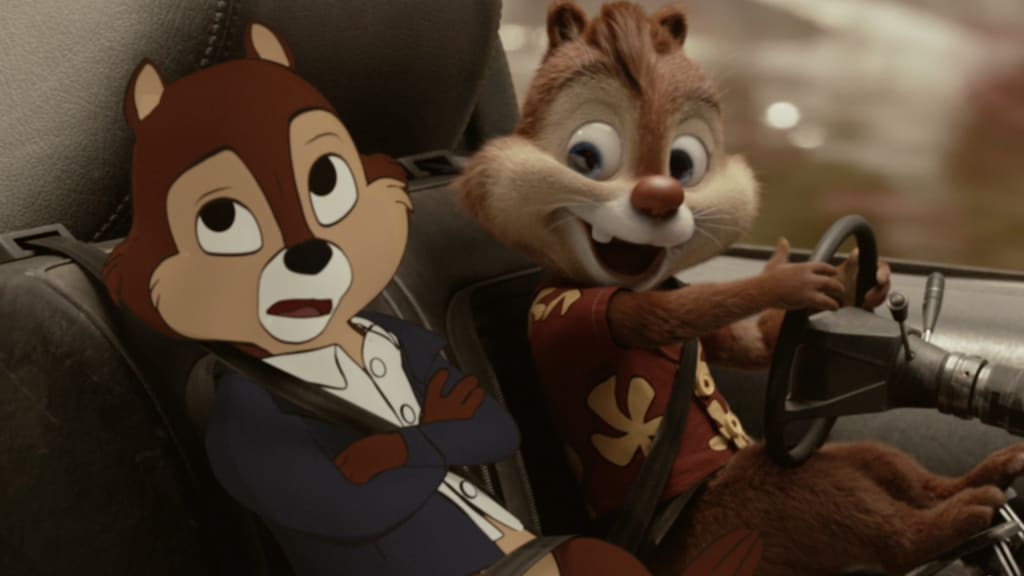 The underlying story of Disney's Chip and Dale Rescue Rangers reboot is human trafficking. Before you freak out and tell me I'm overreacting, hear me out. The plot of the new Chip N' Dale Rescue Rangers has the newly reunited chipmunk friends searching for their missing friend, Monterey Jack. Jack has been kidnapped by a nefarious gang, his face has been altered, and he's been sold to an overseas animation company to star in knockoff cartoons against his will.
Now, I do understand that the juxtaposition of a Disney kid flick and the dark reality of human trafficking is the dark and very adult joke that is intended to add a kinky adult joke to this otherwise bland kids show remake, but I'm not laughing. I simply cannot get on board with human trafficking treated like joke. I understand dark humor but, for me, this is a step too far. Regardless of the other minor pleasures and mostly banal existence of Chip N' Dale Rescue Rangers, the core of the movie is rotten.
Monterey Jack Kidnapped and Sold Into Slavery
Comedian John Mulaney and Andy Samberg provide the voices of Chip and Dale, the now former Rescue Rangers, as we join the story. In flashback we see the heyday of the Rescue Rangers and how Dale's attempt at a spinoff ended the shoe prematurely. Today, Dale is working conventions, signing autographs and dreaming of the fame and friends he'd lost years ago. Chip, meanwhile, is now working as an insurance salesman. He has a very large dog and lives a quiet but quite lonely existence.
The plot of Chip N' Dale Rescue Rangers kicks in when old pal Monterey Jack (Eric Bana) calls Chip for help. Jack is in debt to a group of gangsters who are behind a series of kidnappings of cartoon characters. Jack fears he's going to go missing if he can't make a deal of some kind. When Jack does go missing it brings Chip and Dale back together. Putting aside their differences, they will work together to rescue Jack.
A Mix of Animation, Live Action and Human/Cartoon Trafficking
The most obvious influence on Chip N' Dale Rescue Rangers is Who Framed Roger Rabbit, Roger even has a cameo in the movie. Rescue Rangers mixes animated and live action characters with Kiki Layne playing the main human character, a police detective. She provides key information as Chip and Dale make discoveries in the criminal world that Police had failed to make. But can she be trusted? Someone inside the Los Angeles Police Department is definitely on the bad side.
Akiva Shaffer, Andy Samberg's Lonely Island cohort, directs Chip N Dale Rescue Rangers and he spends most of his time wrestling with the tone. Is this an earnest kids movie or is it a deeply ironic adult comedy that's mostly kid safe? Shaffer and his creative team seem to want it both ways. When they want the movie to be earnest it's a blandly mild kids adventure comedy. But, we're also talking about kids movie with a plot rooted in a metaphoric human trafficking.
Remember Flounder from Little Mermaid? Watch him kidnapped and enslaved
Many well known animated characters make an appearance in Chip N Dale Rescue Rangers. Most notably among the cameos is Flounder from The Little Mermaid. The sweet natured fish is seen being kidnapped, having his mouth erased and his body repainted before he's sold into slavery at a non-descript foreign animation studio making knock off Disney movies. I can hear you whining that it's a cartoon and not a person but I am just not capable of ignoring this bizarre choice.
Why? Why make a human trafficking plot in a Chip N' Dale Rescue Rangers movie? Why did anyone think that was a good idea? There were plenty of avenues for comedy and cartoon action available to this creative team and they went for a dark comic riff on human trafficking. I'm sure the creators are proud of themselves for sneaking such a bleak bit of dark comedy into their mainstream kids movie. And I am sure many will mock people like me for taking it too seriously.
All of that said, if you're someone who doesn't mind this ludicrously inappropriate premise, enjoy Chip N Dale Rescue Rangers on Disney Plus.
movie
About the author
Hello, my name is Sean Patrick He/Him, and I am a film critic and podcast host for Everyone's a Critic Movie Review Podcast. I am a voting member of the Broadcast Film Critics Association, the group behind the annual Critics Choice Awards.
Reader insights
Be the first to share your insights about this piece.
Add your insights