Movie Review: 'Cherry'
Tom Holland tries drugs to grow up onscreen in Cherry.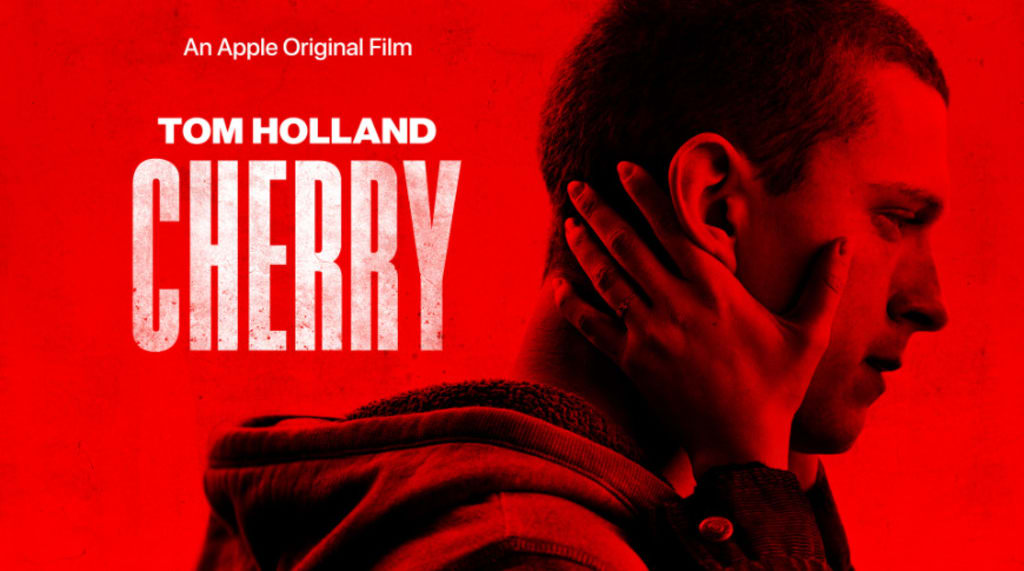 Tom Holland is an actor I like a great deal. He has an earnest face and boyish charm that make him a near perfect fit for Peter Parker and Spider-Man. He's proven as part of a series of Marvel Movies that he can hang with big stars and take the lead himself and all while maintaining an air of approach-ability. These qualities, unfortunately, don't translate into more gritty or dark roles. The evidence for that is the new Apple Original movie Cherry, a failing attempt at translating Holland's charm into something grimy and dramatic.
Cherry is the name of the character played by Tom Holland, a college student who falls in love with an unpredictable young woman named Emily (Ciara Bravo). When Emily breaks Cherry's heart his response is to join the army. He's thrown for a loop when she returns to him and begs to get back together only to find that he's going to Iraq. The film is set in 2003 when Iraq was still front page news with many troops still in grave danger.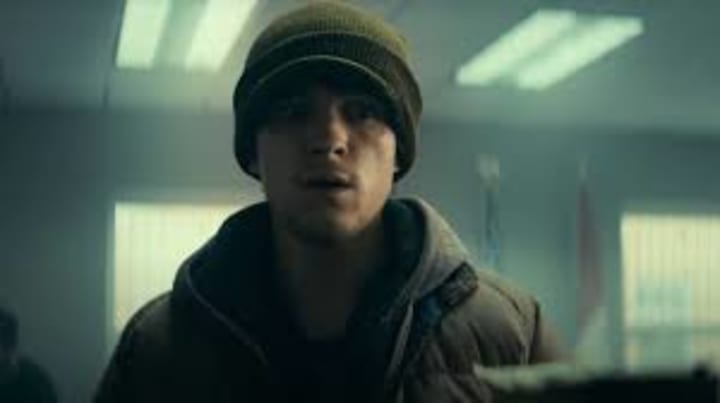 Rather than once again break up with Cherry, Emily suggests that they get married before he leaves and they do, in a small courthouse wedding with a honeymoon at a local Subway sandwich shop. Then, Cherry is off to basic training. Here, and in subsequent scenes set in Iraq, the directors Joe and Anthony Russo attempt to mimic the tone of movies like Full Metal Jacket or Jarhead but Cherry lacks the dark wit of those two films.
There are jokes but no real investments in being funny in Cherry. The humor is maudlin rather than funny and Holland's voiceover lacks the edge to sell what I assume are attempts at humor including unfunny swipes at drill sergeants and failing attempts at satirizing the military as boys playing with toys. I know what the film was going for, mirroring the dark humor that real soldiers often employ to cope with the rigors of what they do but the makers of Cherry come off as poseurs.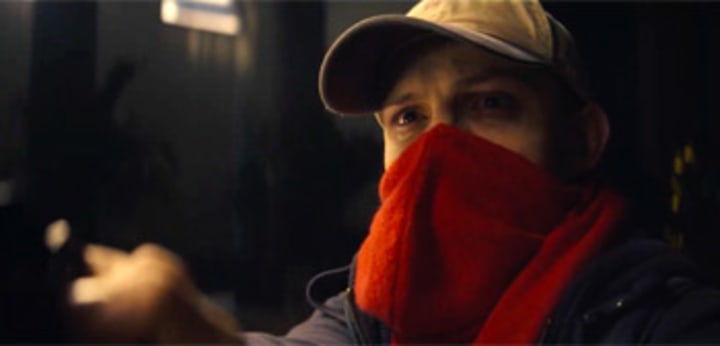 Once Cherry leaves Iraq and returns to life in Cleveland, Ohio, he falls into a world of drugs and PTSD flashbacks. He can't sleep, he's troubled by the awful experiences of Iraq. He begins to take Prozac but it doesn't work. A friend introduces him to Oxycontin and suddenly he's able to sleep. After finally getting worn out over her husband's drug problems, Emily starts taking the Oxy as well. When that stops working, the duo graduates to Heroin.
The simplistic cause and effect narrative of PTSD to drug abuse is the greatest flaw of Cherry. The filmmakers imply, whether intentionally or not, that there is a simple straight line progression from trauma to drug addict to bank robber stealing to get drug money with zero nuance. This may be based on a true story, the book was by former soldier turned drug addict bank robber, Nico Walker, but it plays far too simplistically in movie form.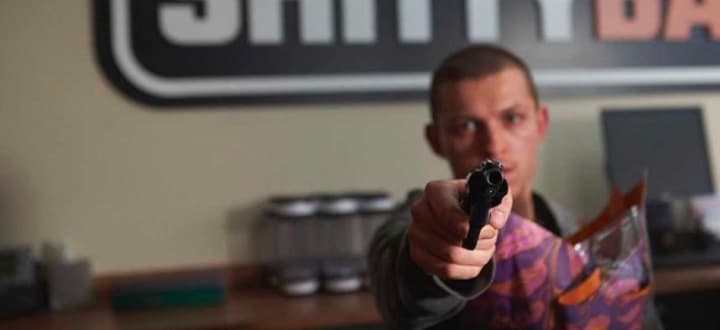 This is not to say that Cherry is a bad movie. Rather, Cherry is mostly a mediocre movie with pretensions toward being something more. The performances aren't bad; they are just overly familiar and a little misguided. A character played by Jack Reynor, nicknamed in the film 'Coke and Pills,' feels as if he was lifted from a less ambitious movie. The same could be said of the big, sort of, villain of the movie, a drug dealer named Black, who appears to be the result of what might happen if Deebo from the Friday movies were taken seriously.
I can't fault the honest effort in Cherry. There is an earnest attempt by all involved to make Cherry feel important and to be truthful to those who struggle with trauma and addiction. Unfortunately, the attempts to recreate the dark humor of soldiers, the shift to crafting a sympathetic portrayal of drug abuse and crime, never feel as authentic as intended by the Russo Brothers. A movie like The Hurt Locker makes a movie like Cherry look inauthentic by comparison and that is a feeling that permeates Cherry, a notion that Cherry is emulating better movies but not equaling them.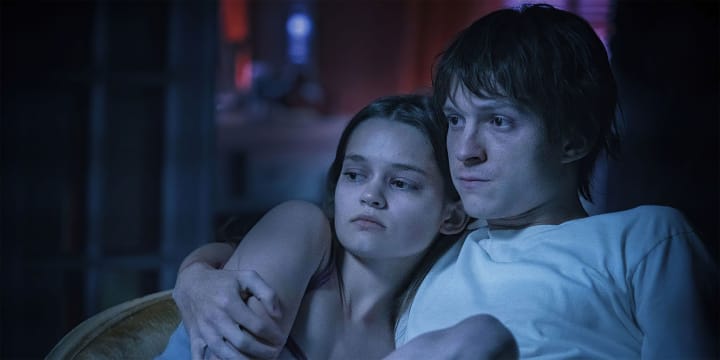 There is a pretension to Cherry that rubbed me the wrong way. It's an assumed air of importance, the way in which Cherry mimics other, better movies on similar topics, such as Full Metal Jacket or even something simpler and yet more impactful like The Town, and how Cherry attempts to wear the same importance that those movies earned. The assumed bigness and importance of Cherry appears to be based more on expectations of the blockbuster directors, The Russo Brothers, than on any evidence found in the movie.
Cherry has a sheen of professionalism and uniformly good performances but there is nothing in the movie that feels special. Leads Tom Holland and Ciara Bravo often come off like kids wearing adult clothes that do not fit them. Their childlike qualities are not intended, they are a function of the often stunted and childish storytelling from The Russo Brothers. The humor of Cherry is immature and off-putting with an unearned smugness. For instance, characters played by Pooch Hall and Thomas Lennon who are jokingly referred to as Sgt Whoever and Dr Whoever. The same joke twice and not funny either time.
Cherry will open in theaters on February 26th and on Apple TV on March 12th.

Sean Patrick
I have been a film critic for nearly 20 years and worked professionally, as a member of the Broadcast Film Critics Association for the past 9 years. My favorite movie of all time is The Big Lebowski because it always feels new.
See all posts by Sean Patrick →