Movie Review: 'Black Widow'
Scar-Jo says goodbye to the Marvel Universe in Black Widow.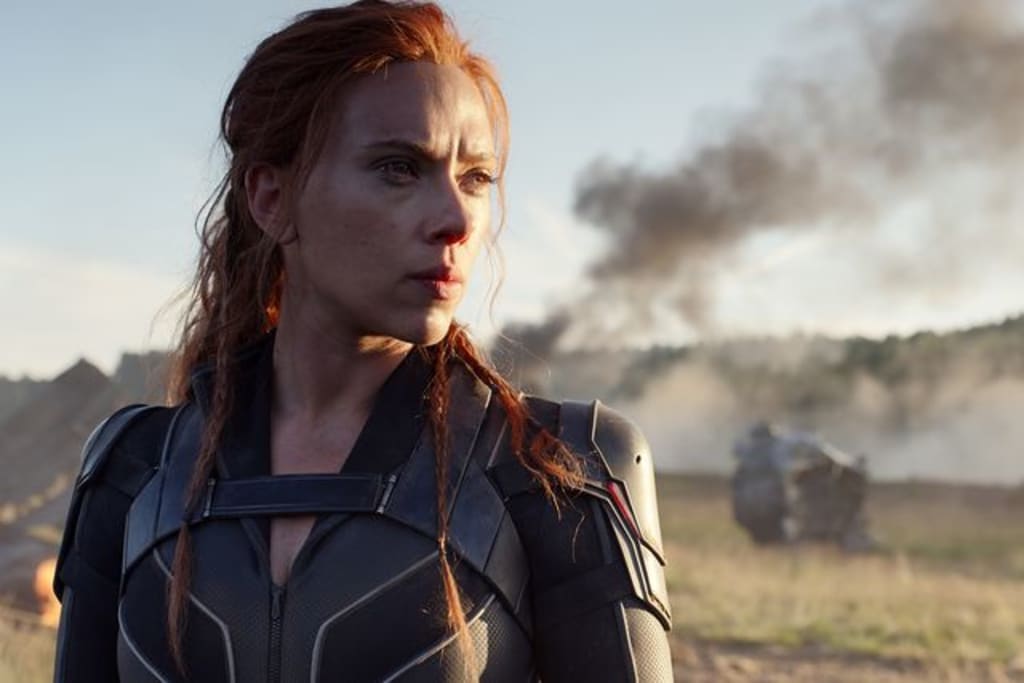 The legendary pop song American Pie has a small role to play in Black Widow. The song features early in the movie acting as comfort for a little girl who grows up to be Black Widow's little sister Yelena Belova (Florence Pugh). It reprises later in the movie as a reminder of a more innocent time in Yelena's life. It's a bit on the nose but I appreciated it nonetheless, an all time great pop song about America's loss of innocence reflecting the loss of innocence for one of Marvel's great heroes.
The story of Natasha 'Black Widow' Romanoff, is all about the loss of innocence. Previous entries in the Marvel canon gave us Black Widow's backstory but the newest blockbuster entry in the Marvel Universe, titled Black Widow, dives deeper into the young woman who would become an all time great killer before becoming an Avenger. The story is filled with roller coaster thrills and emotions and while it doesn't all land quite the way the filmmakers intended, it works well enough for me to recommend it.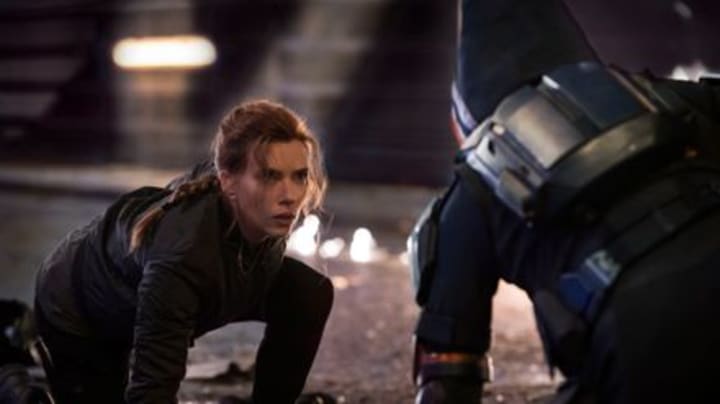 Black Widow takes us back in time to 1995 when Natasha Romanoff was a pre-teen living in a small town in Ohio. Are you confused by that sentence? It's okay, you're supposed to be off-balance. You already know that Natasha is Russian so seeing her living in an American suburb, playing with her little sister in the backyard and sitting down to dinner with her parents, Melina (Rachel Weisz) and Alexei (David Harbour), is jarring.
Soon enough however, the plot reveals itself. Melina and Alexei are Russian operatives hiding in the suburbs as a boring suburban family. Alexei has just returned home from completing their mission and the family is being rushed out of the house and leaving their cover story behind. Soon Natasha and her little sister will be separated and placed under the control of the Red Room and its mastermind Dreykov (Ray Winstone). Both will be trained to become assassins for the Russian government.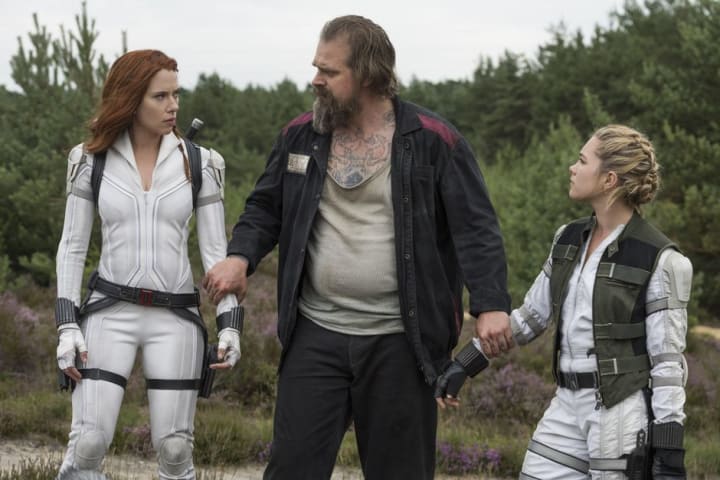 All of this happens before the opening credits of Black Widow which will eventually reunite the sisters with a mission to kill the man who orchestrated the end of their suburban fairy tale family and tortured them into becoming world class killers. To get to Dreykov, the sisters have to reunite the entirety of their former family which means rescuing Alexei from a Russian prison and finding Melina training pigs somewhere in a Russian forest, deep in the mountains.
We will come to find out that Alexei was a super-soldier, made from the same stuff that created Captain America. Melina meanwhile, is a former Widow, the name given to all of Dreykov's operatives, young women identified almost at birth for having particular traits that might make them good trained killers. Together, this former family unit will have to put aside their shared past of lies and betrayal to stop Dreykov from kidnapping and destroying more young women by torturing them into becoming killers using severe mind control methods.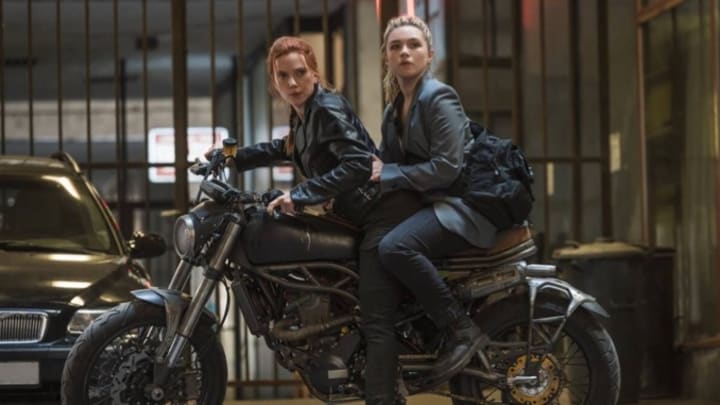 Black Widow was directed by Cate Shortland and it's a very solid effort. The look of Black Widow is slick and professional, very much part of the classic Marvel canon. I wouldn't call it special but it's solid, professional and polished. The action set pieces of Black Widow are well staged and rarely stretch credulity, in terms of what has been established in Marvel canon. The film is also well written in that the story unfolds in a sensible fashion.
The performances are also very good with Florence Pugh delivering yet another in her series of star making performances from Fighting with My Family to Midsommar to Little Women. Pugh is more than ready to step into the Marvel universe where it is apparent that she will be replacing Scarlett Johansson. That's not a spoiler, this movie is set prior to the reveal of Natasha's grim fate that was settled in Avengers Endgame.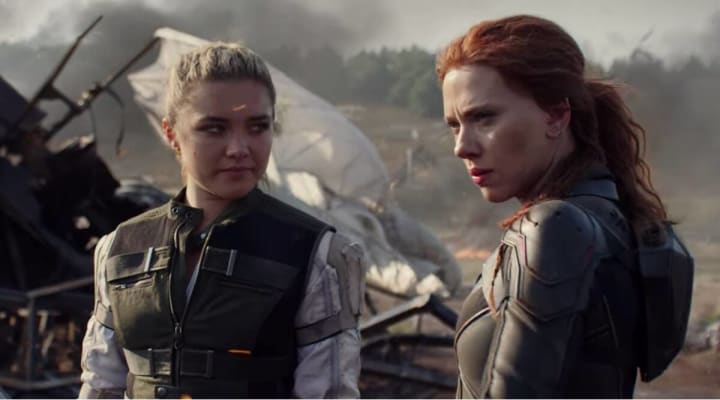 So what of Scarlett Johansson? In her final bow in the Marvel Cinematic Universe, Johansson is as good as ever. Comfortable, confident and charismatic, Johansson puts Natasha Romanov behind her with a terrific performance that captures so much of what fans have loved about this character. She's still as tough as ever while the arc of her growing emotional vulnerability is bolstered here in ways that enrich her roles in the Avengers movies.
I have reservations about Black Widow. David Harbour, for one, is rather hammy and his Russian Captain America character doesn't seem to make much sense from what we know from previous movies, but that's a minor issue. The pace could occasionally use a kick in the pants as well but the movie never slows to a point where it ruins the action. It's more of an occasional stall for exposition before we leap back to big action.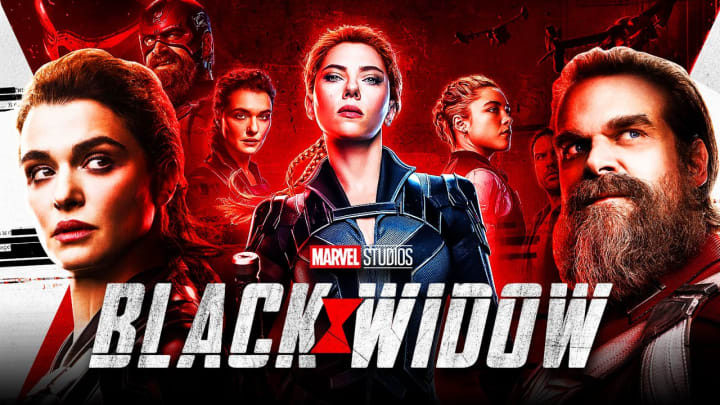 Reservations aside, I enjoyed Black Widow. It doesn't have the resonance of the best of the Marvel Universe, including Black Panther or Captain America Winter Soldier, but it has enough excitement and big action to carry it near the top of the middle tier of the Marvel Cinematic Universe where it can sit comfortably aside Captain America Civil War, Iron Man 2 and 3, and the Spider-Man movies.
Black Widow opens in theaters on Disney Plus on July 9th, 2021.
movie
Hello, my name is Sean Patrick He/Him, and I am a film critic and podcast host for Everyone's a Critic Movie Review Podcast. I am a voting member of the Broadcast Film Critics Association, the group behind the annual Critics Choice Awards.