Movie Review: 'Back to the Wharf' is the First Great Movie I've Seen in 2023
Crime thriller Back to the Wharf debuts on Video on Demand on January 17th.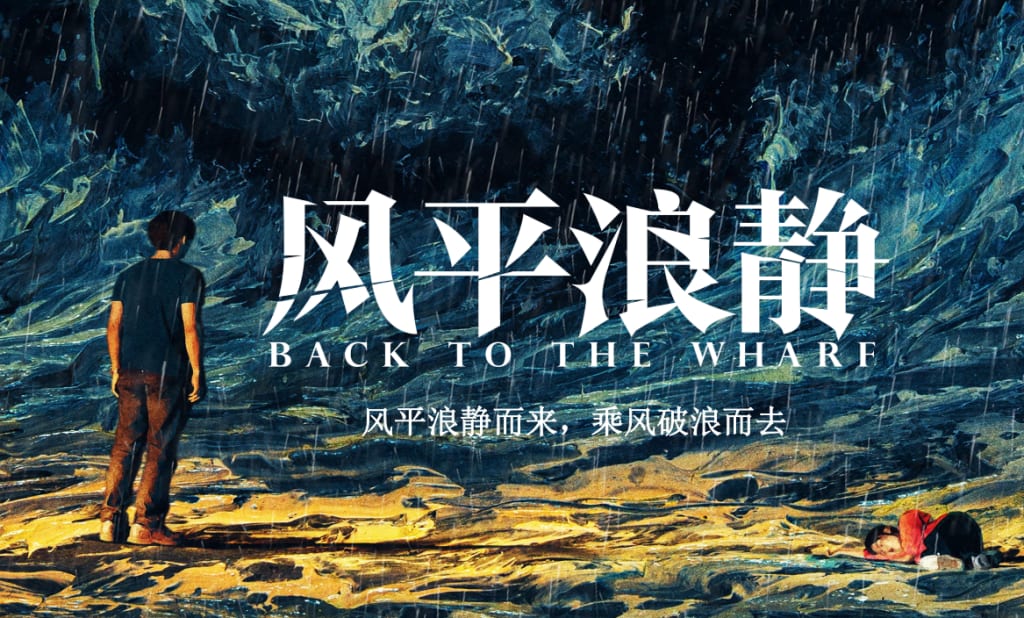 Back to the Wharf (2023)
Directed by Xialfeng Li
Written by Xin Yu
Starring Yu Zhang, Jia Song, Yanhui Wang
Release Date January 17th, 2023
Published January 10th, 2023
Back to the Wharf is a noir crime thriller about the impact that one moment in life can have. It's about how a crime can reverberate through time with unimaginable impact. Directed by Xiaofeng Li, from a script by Xin Yu, Back to the Wharf is haunting, sad, and incredibly absorbing. It features performances by Yu Zhang, Jia Song, and Yanhui Wang that are absolutely superb. A first rate cast, tremendous writing and direction and an excellent story make Back to the Wharf a January release gem, a great way to start 2023.
A teenage boys life is changed forever when he finds out that the college scholarship he thought he had secured is given to another student. Looking to confront that other student, who happens to be a close friend, our protagonist finds himself entering the wrong home. There, he is confronted by the homeowner who assumes he is there to commit a robbery. This leads to a fight wherein the homeowner ends up dead. Well, not right away, there is another part to this story that our protagonist isn't aware of, one that compounds the tragedy.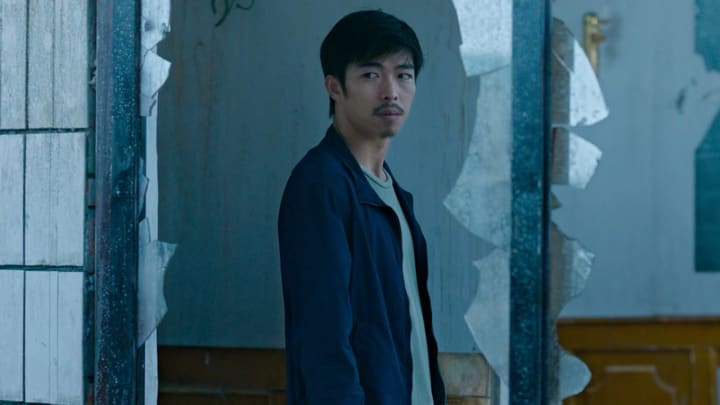 In the immediate aftermath of the death, our protagonist, played as an adult by Yu Zhang, has fled his hometown, blown off college, and taken on the job of a laborer, far from home. When his mother dies, he must return home and confront the past, including his deeply distant father, now a powerful public official with deep ties to the criminal empire run by our protagonists former High School friend. The father has already moved on from his wife's death and has plans to retire and leave the country to escape the corruption he's become a party to.
At his mother's funeral, the depth of differences between father and son are made plain. After our protagonist meets his father's new family, including not only a new wife but also a son, the father tells his eldest son "Your upbringing was a failure; I needed another son." That gut punch would be enough to level any man. Thus our protagonist looks to leave town as soon as possible. His plans hit a bump in the road when he meets a former High School classmate, played by Jia Song, who makes it her mission to keep him from leaving.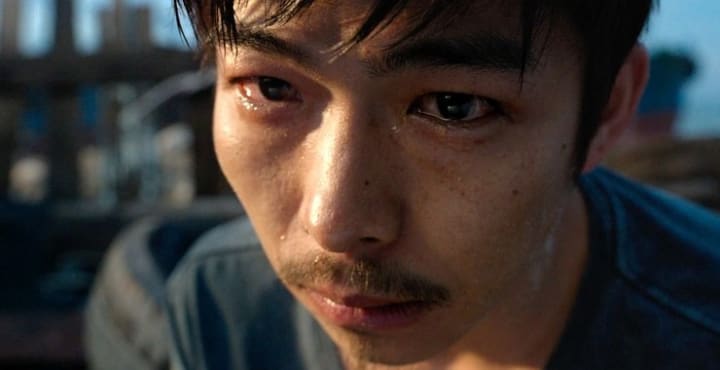 The love story between our troubled protagonist and the girl who has loved him secretly since they were kids provides a big beating heart for this otherwise grim story. Jia Song is wonderful in Back to the Wharf. Her performance steals the entire movie for a time. Her performance is filled with surprises and her character's actions are rarely predictable. She is determined to turn our protagonists life around with the sheer force of her love and care and Song is brilliant at making that seem like a reasonable thing to do.
I haven't even mentioned a major subplot in this film and I won't go into detail. I will only mention it exists and leave you to discover it when you watch this exceptional film. Back to the Wharf is filled with grief, regret and sorrow, but it also has an incredible love story that underscores the tragedy that reverberates through the length of this story. Director Li Xiaofeng paces the film brilliantly, uses his characters to unfold the story at a pitch perfect pace.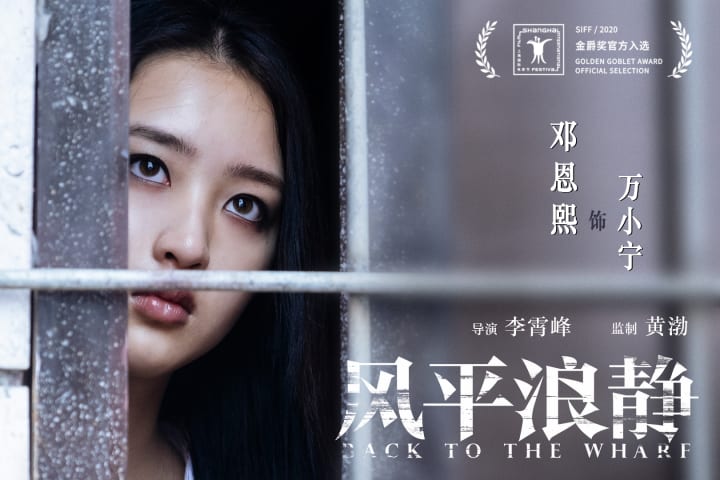 In star Yu Zhang, Director Xiaofeng has an actor who wears soul aching despair like a comfortable set of clothes. Yu Zhang's sadness is palpable and because it is based on something he never could have predicted or prepared for, it carries a sympathetic quality only slightly undermined by the lies necessary to secure his freedom. But what freedom is it when the past never let's go. Our protagonist suffers and suffers again for his crime in a fashion that is perhaps far worse than any legal punishment might have been.
Then there is Jia Song who I absolutely fell in love with while watching Back to the Wharf. Something about the way she is introduced to the story indicates her innate charisma. She's only briefly glimpsed but her odd manner, bright eyes, and big smile let you know that she has a role to play in this story. When she pops up again, you know she's here to stay and as her complicated romance with our protagonist unfolds, it takes on an air of suspense as she is in the dark about why her love is so eager to leave town despite his obvious feelings for her.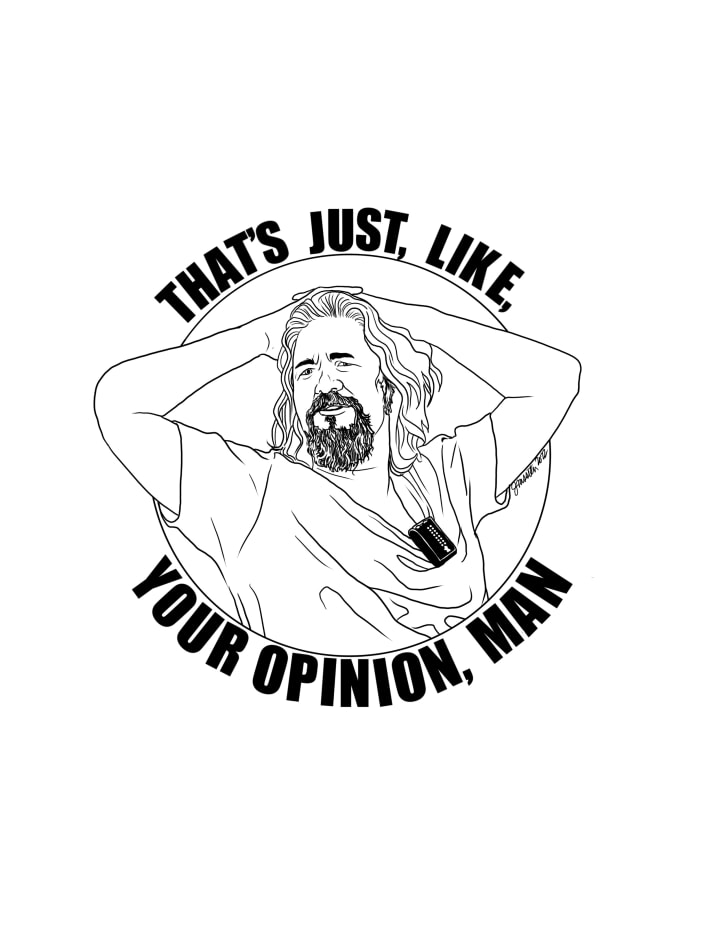 Back to the Wharf arrives on Video on Demand services on January 17th, 2023. For fans of crime movies, suspense thrillers and world cinema, it's an absolute must see film. Find my archive of more than 20 years and nearly 2000 movie reviews at SeanattheMovies.blogspot.com. Find my modern review archive on my Vocal Profile, linked here. Follow me on Twitter at PodcastSean. Follow the archive blog on Twitter at SeanattheMovies. Listen to me talk about movies on the Everyone's a Critic Movie Review Podcast. If you have enjoyed what you have read, consider subscribing to my work here on Vocal. If you'd like to support my writing, you can do so by making a monthly pledge or by leaving a one-time tip. Thanks!
About the Creator
Hello, my name is Sean Patrick He/Him, and I am a film critic and podcast host for Everyone's a Critic Movie Review Podcast. I am a voting member of the Broadcast Film Critics Association, the group behind the annual Critics Choice Awards.
Reader insights
Be the first to share your insights about this piece.
Add your insights